24 Mar
A Foreign Perspective, News and Analyses
Nearly all of these are English-edition daily newspapers. These sites have interesting editorials and essays, and many have links to other good news sources. We try to limit this list to those sites which are regularly updated, reliable, with a high percentage of "up" time.
Recommended:
A playful polar bear cub in Berlin, a hopaway wallaby in Texas and a roaming vicuna in Ecuador
The last of Africa's big tusker elephants roam in a vast, remote wilderness in Kenya. In partnership with the Tsavo Trust and the Kenya Wildlife Service, Will Burrard-Lucas spent months photographing these animals. His series of portraits are compiled in a book, Land of Giants
Photograph: Will Burrard-Lucas/Tsavo Trust
World Politics
Israel
PM gets Washington photo ops after Trump recognises Israeli sovereignty over Golan Heights
Israel's April election has at times felt like it might be Benjamin Netanyahu's last. But even as he tries to fend off a string of corruption accusations, the prime minister cannot be counted out. He has survived 13 years in office, and he now has a Trump card up his sleeve.
Netanyahu will use that card on Monday when he arrives in Washington to bask at the White House in the warmth of his relationship with Donald Trump, whose popularity has soared in Israel as it has sagged almost everywhere else in the world.
Even before the Israeli prime minister's arrival, Trump bestowed an electoral gift, declaring US readiness to endorse Israeli sovereignty of the Golan Heights, a plateau Israel captured from Syria and occupied more than half a century ago. Accepting the annexation of conquered land is unprecedented in modern US history and runs counter to the founding principles of the United Nations. The US secretary of state, Mike Pompeo, was on hand in Jerusalem to celebrate with Netanyahu when Trump tweeted out his decision on Thursday.
Pompeo, an evangelical Christian, helped amplify Netanyahu's tendency to frame the current political moment as an echo of biblical episodes when the very survival of the Jews was at stake. Asked by an evangelical broadcasting network whether Trump was a latter-day Queen Esther, an ancient heroine celebrated as the saviour of the Jews in this week's Purim holiday, Pompeo replied: "As a Christian, I certainly believe that's possible."
The shared theological – frequently apocalyptic – language, has helped bond an alliance with American evangelicals which is key to Netanyahu's clout in US politics. Pompeo underlined the symbolism of that coalition by visiting the Western Wall in Jerusalem with Netanyahu, becoming the first senior US official to visit the contested Old City accompanied by an Israeli counterpart.
Coming after the decision to recognise Jerusalem as Israel's capital and to move the US embassy there, Thursday's Golan declaration served to boost the central message of Netanyahu's campaign: that only "King Bibi" could get an American leader to implement hawkish policies on Syria, Iran and the Palestinians that previous US presidents dismissed as catastrophic for Middle East peace.
Giant campaign billboards show Netanyahu and a beaming Trump shaking hands under the words "A Different League".
Next week, the Israeli election campaign will shift to Washington, as Netanyahu and his opponent, Benny Gantz, make duelling appearances at the pro-Israel US lobby group, Aipac.
But when Gantz makes his speech, Netanyahu will be on screen at the White House, alongside Trump. The president will also host the prime minister at dinner on Tuesday evening.
On Thursday, Trump denied he was providing Netanyahu a formal presidential endorsement, going as far as to claim unfamiliarity with the 9 April elections.
"You can't say that he is actively involved in the Israeli election," Tamara Cofman Wittes, former deputy assistant secretary of state for Near Eastern affairs. "But they support each other politically and rhetorically."
Wittes pointed out that when Trump was under fire for allowing antisemitism to fester after 11 American Jews were killed by an extremist in a Pittsburgh synagogue, Netanyahu went to his defence.
It is a far cry from the Netanyahu's frosty relationship with Trump's predecessor. In 2015, Barack Obama declined to meet with Netanyahu ahead of elections citing non-interference, although it was interpreted at the time as a deliberate snub due to differences over Iran policy and the occupation of the Palestinian territories.
"This is the first time during more than a decade in office that Bibi has a Republican in the White House," said Daniel Levy, head of the US/Middle East Project thinktank. "Bibi has been all about making this a partisan rather than a bipartisan relationship between two states. It would be surprising if Trump does not reciprocate."
One of Netanyahu's campaign themes has been to list the gifts Trump has bestowed on him, which range from the embassy move to the shuttering of Palestinian diplomatic offices in Washington and closure of the US's own consulate that serves the Palestinian people.
The US president has also moved towards embracing Israel's argument that millions of Palestinians should no longer be counted as refugees and therefore lose any claims to land Israel controls. Last year, Trump pulled out of the Iran deal, a move Netanyahu has been pushing for.
One of the major questions hanging over Netanyahu's visit to Washington is whether the promised recognition of Israel's possession of the Golan Heights, could lay the groundwork for an even more consequential move: approval of Israeli rule over of the West Bank.
A section in a recent state department report on the West Bank and Gaza Strip, areas that Israel also captured in the 1967 Middle East war, did not refer to those Palestinian territories as being "occupied" or under "occupation",. Palestinians fear that the peace plan that Trump administration has said will be unveiled after the Israeli elections, will dispose of basic principles that guided past land-for-peace negotiations.
"Trump is seeking to dismantle the parameters underpinning the peace process until now," said Khaled Elgindy, non-resident fellow at the Centre for Middle East Policy at the Brookings Institution. "To overturn that is pretty radical, especially if you are not replacing it with anything meaningful. What they are doing is legitimising Israeli-made realities on the ground."
Elgindy added: "if Netanyahu wins, the right are going to be even more emboldened. They are going to say the door is wide open."
Great Britain
Deputy PM is mooted as interim leader, but his pro-remain record would be a problem
Lidington, seen here outside No 10, has been one of May's closest allies over the last year. Photograph: Peter Nicholls/Reuters
D

avid Lidington, who is mooted to take over as interim prime minister should Theresa May be ousted, may scarcely register with the general public, but within his party he is known for being on the pro-remain wing, having served as Europe minister from 2010 to 2016.
That means he is at least well-versed on the subject that has torn the Conservatives apart for more than three decades and which threatens to take down another prime minister – but it may not endear him to the pro-Brexit European Research Group.
The MP for Aylesbury took over from Damian Green as May's de facto deputy in a reshuffle in January 2018, becoming Cabinet Office minister, and has been one of her staunchest allies over the last chaotic year.
Born in 1956, the same year as May, Lidington read history at Cambridge, and captained his college, Sidney Sussex, to victory in University Challenge in 1978.
He served as as an adviser to Douglas Hurd – also a former Europe minister before stints as home and foreign secretary – and ran unsuccessfully for the Vauxhall constituency in 1987.
Eventually elected in 1992 to his safe Buckinghamshire seat, Lidington is ostensibly a one nation Tory, although his views are socially conservative – he voted against lowering the age of consent for gay sex to 16 and opposes same-sex marriage.
Although back benchers widely respect him and he is said to have no enemies in the Commons, his elevation to the top job would cause ructions within the Tory party due to his pro-Europe stance.
"If you think the Tories are split now," one minister told the Mail on Sunday, "just wait till Mr Europe takes the reins."
Another MP from the party's remain wing told the Mail: "Lidington's reputation is so pro-EU the Brexit hardcore in the ERG will eat him alive."
In an interview with the Observer during the referendum campaign in 2016, Lidington criticised Conservative colleagues who wanted to leave the bloc. "I do find it extraordinary that those who want Britain to leave the EU seem to hold to two utterly contradictory propositions at the same time," he said.
He continued: "Their first belief is that inside the EU we cannot achieve any meaningful change and that too often the other countries are in some sort of nefarious conspiracy against our interests.
"But their second belief, which they hold equally firmly, is that outside the EU these very same countries and governments would rush to give us some new deal that has all the benefits of EU membership with none of the things that apply to others."
In that 2016 interview he also pointed to the positions of Switzerland and Norway, which are often held up as templates for Britain's future outside the EU. "They both have higher EU migration rates than we do, they both have to pay into the EU budget, they both have to accept EU rules and regulations as the price for access to a free-trade single market. There is no getting away from that.
"I think the leave campaign is still in a state of confusion about what they actually mean by leave."
United States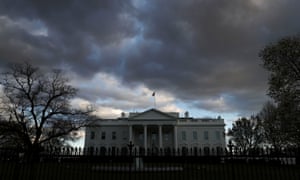 The White House at dusk on Friday, after Robert Mueller handed in his report. Photograph: Leah Millis/Reuters
W

e may never know for sure whether Donald Trump colluded with Vladimir Putin to obtain Russia's help in the 2016 election, in return for, say, Trump's help in weakening Nato and not interfering against Russian aggression in Ukraine.
Trump and his propaganda machine at Fox News have so aggressively undermined the legitimacy of Robert Mueller's inquiry – repeatedly conjuring a "witch hunt" and maintaining a drumbeat of "no collusion" – that Mueller's report, whatever it shows, will almost surely be overwhelmed by a fog of alt-interpretation and epistemological confusion. What's "collusion?" What's illegal? What's unethical? Has Trump been vindicated or not?
The real danger is that as attention inevitably turns to the 2020 campaign, controversy over the Mueller report will obscure the far more basic issues of Trump's competence and character.
An American president is not just the chief executive of the United States, and the office he (eventually she) holds is not just a bully pulpit to advance policy ideas. He is also a moral leader, and the office is a moral pulpit invested with meaning about the common good.
A president's most fundamental responsibility is to protect our system of government. Trump has weakened that system
As George Washington's biographer, Douglas Southall Freeman, explained, the first president believed he had been entrusted with something of immense intrinsic worth, and that his duty was to uphold it for its own sake and over the long term. He led by moral example.
Few of our subsequent presidents have come close to the example Washington set, but none to date has been as far from that standard as Trump.
In the 2016 presidential campaign, when accused of failing to pay his income taxes, Trump responded "that makes me smart". His comment conveyed a message to millions of Americans: that paying taxes in full is not an obligation of citizenship.
Trump boasted about giving money to politicians so they would do whatever he wanted. "When they call, I give. And you know what, when I need something from them two years later, three years later, I call them. They are there for me." In other words, it's perfectly OK for business leaders to pay off politicians, regardless of the effect on our democracy.
Trump sent another message by refusing to reveal his tax returns during the campaign or even when he took office, or to put his businesses into a blind trust to avoid conflicts of interest, and by his overt willingness to make money off his presidency by having foreign diplomats stay at his Washington hotel, and promoting his various golf clubs.
These were not just ethical lapses. They directly undermined the common good by reducing the public's trust in the office of the president.
A president's most fundamental responsibility is to uphold and protect our system of government. Trump has weakened that system.
When, as a presidential nominee, he said a particular federal judge shouldn't be hearing a case against him because the judge's parents were Mexican, Trump did more than insult a member of the judiciary. He attacked the impartiality of America's legal system.
When Trump threatened to "loosen" federal libel laws so he could sue news organizations that were critical of him and, later, to revoke the licenses of networks critical of him, he wasn't just bullying the media. He was threatening the freedom and integrity of the press.
When, as president, he equated neo-Nazis and Ku Klux Klan members with counter-protesters in Charlottesville, Virginia by blaming "both sides" for the violence, he wasn't being neutral. He was condoning white supremacists, thereby undermining equal rights.
When he pardoned Joe Arpaio, the former sheriff of Maricopa county, Arizona, for a criminal contempt conviction, he wasn't just signaling it's OK for the police to engage in brutal violations of civil rights. He was also subverting the rule of law by impairing the judiciary's power to force public officials to abide by court decisions.
When he criticized NFL players for kneeling during the national anthem, he wasn't really asking that they demonstrate their patriotism. He was disrespecting their – and, indirectly, everyone's – freedom of speech.
In all these ways, Trump undermined core values of our democracy.
This is the essence of Trump's failure – not that he has chosen one set of policies over another, or has divided rather than united Americans, or even that he has behaved in childish and vindictive ways unbecoming a president.
It is that he has sacrificed the processes and institutions of American democracy to achieve his goals. By saying and doing whatever it takes to win, he has abused the trust we place in a president to preserve and protect the nation's capacity for self-government.
The Mueller report must not obscure this basic reality.
President in Florida as wait for news enters second day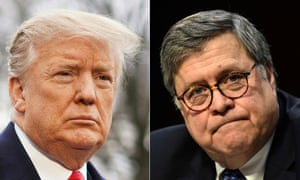 Donald Trump and his attorney general, William Barr. Photograph: Mandel Ngan/AFP/Getty Images
America woke on Sunday to a second day of waiting. to find out what is in the Mueller report – and to more uncharacteristic circumspection from the president.
Donald Trump was in Florida, at his Mar-a-Lago resort, his Twitter account dormant for more than a day until brief tweets on Sunday morning wished his followers "a great day" and declaimed: "MAKE AMERICA GREAT AGAIN!"
On Friday night Trump briefly addressed a Republican gathering but he did not mention Mueller or his work, until now the subject of countless tweets, complaints and defiant statements.
On Saturday the White House merely repeated the statement it issued on Friday when Robert Mueller delivered his report – that it had not been briefed.
The president played golf. The deputy White House press secretary told reporters Trump was "good" but would not say who the president played with or what was discussed on the course.
But as Trump knows well, in the age of social media it is hard to keep things quiet. The rock-rap musician Kid Rock tweeted a picture with the president and wrote: "Another great day on the links! … What a great man, so down to earth and so fun to be with!!"
Trump wore a red cap with "USA" emblazoned on the front. Kid Rock wore stars-and-stripes trousers.
Meanwhile, in Washington, attorney general William Barr scoured the special counsel's report on the Russia investigation, deciding how much Congress and the public will get to know about the two-year investigation of Trump and Moscow's work to help him reach the White House.
Barr was set to release his first summary on Sunday, people familiar with the process said. That seemed certain to set off a fight with Democrats, who want access to all of Mueller's findings – and supporting evidence – on whether Trump's 2016 campaign coordinated with Russia and whether the president sought to obstruct the investigation.
Trump's firing of James Comey in May 2017, an act he later told NBC was prompted by "this Russia thing" is one focus of such interest.
On Saturday Barr and deputy attorney general Rod Rosenstein – who appointed Mueller and oversaw much of his work and has repeatedly found himself the focus of controversy – worked to produce a summary of main conclusions.
Rosenstein wrote the memo with which Trump justified firing Comey because of his handling of investigations into Hillary Clinton, Trump's rival in 2016. Fired FBI deputy director Andrew McCabe has alleged Rosenstein said the president ordered him to do so.
Mueller delivered his report on Friday. There would be no further indictments, officials said, but Mueller has illuminated Russia's assault on the US political system, painted the Trump campaign as eager to exploit hacked Democratic emails to hurt Clinton, and exposed lies aimed at covering up Russia-related contacts.
Barr must weigh protocol of not releasing negative information about people who are not indicted against extraordinary public interest.
Democrats are citing recent precedent of norm-breaking disclosures, including during the Clinton email investigation, to argue they are entitled to the entire report and evidence. House Speaker Nancy Pelosi said Barr's offer to provide a summary of principal conclusions was "insufficient" and told Democrats she would reject any classified briefing.
Trump also faces a justice department investigation in New York into hush money payments to two women who say they had sex with him years before the election. He has been implicated in a potential campaign finance violation by his former lawyer, Michael Cohen, who says Trump asked him to arrange the transactions.
Federal prosecutors, also in New York, have been investigating foreign contributions to the president's inaugural committee.
Trump was never interviewed in person by Mueller's team but submitted answers in writing. Justice department legal opinions hold that sitting presidents may not be indicted. Democrats say Trump should not be immune.
Associates and family members have been dogged. They include Donald Trump Jr, who had a role in arranging a Trump Tower meeting with a Kremlin-linked lawyer, and Trump's son-in-law, Jared Kushner, who was interviewed at least tw
Mueller charged 34 people, including campaign chair Paul Manafort and national security adviser Michael Flynn. Three Russian companies were indicted, as were 25 Russians on charges related to election interference. Five Trump aides pleaded guilty and agreed to cooperate and a sixth, Roger Stone, is awaiting trial on charges he lied to Congress and engaged in witness tampering.
Peter Carr, spokesman for the special counsel, said on Saturday the case of former Trump aide Rick Gates will be handed off to the US attorney for the District of Columbia. Gates was a key cooperator and court papers show he continues to help with several federal investigations.