14 Jul
Nearly all of these are English-edition daily newspapers. These sites have interesting editorials and essays, and many have links to other good news sources. We try to limit this list to those sites which are regularly updated, reliable, with a high percentage of "up" time.
Recommended:

The far-right fringe of Germany's populist Alternative for Germany party is gaining ground. Politicians in the party who once opposed the wing and its leader, Björn Höcke, have abandoned their resistance and are taking steps to embrace the extremists.
This week: Hungary's insect of 2019, and bluehead wrasse courtship and sex change
This lion cub (Panthera Leo) was seized in India by the Wildlife Crime Control Bureau and West Bengal Forest Department on its way to the UK from Bangladesh. The World Customs Organization and Interpol said they conducted 1,828 seizures across 109 countries in June, rescuing nearly 10,000 live turtles and tortoises, 23 live apes, 30 live big cats, as well as seizing hundreds of pieces of elephant tusk, 500kg of ivory and five rhino horns.
Photograph: AP
A koala sleeps high up a eucalyptus tree on Kangaroo Island, Southern Australia. A parliamentary report recommended the state declare koalas, western grey kangaroos, long-nosed fur seals and little corellas overabundant, and that culling should be considered
Photograph: Marco Taliani de Marchio/Alamy
On The Environment:
Mayors in major cities have pledged to support those targeted by Sunday's 'enforcement operations'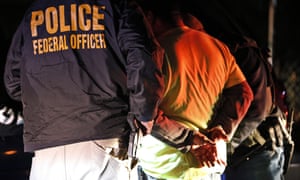 Federal officials plan to launch Ice raids in major cities across the country on Sunday. Photograph: Steve Helber/Associated Press
When CG heard that Donald Trump had announced raids by the immigration enforcement agency Ice a few weeks ago, she turned to her husband. Get groceries, she told him, like a storm is coming.
"Bananas, milk and bread," CG lists off, remembering what she told him, "Because who knows when we'll leave the house."
Those raids were later postponed in June. But now they are back and scheduled to begin on Sunday and CG, who is undocumented and asked to be identified by her initials out of a fear of the authorities, is afraid again.
Federal officials have said the operation will target undocumented families who have been issued final removal orders. On Thursday, media reports listed 10 cities across the United States where the raids would take place, affecting more than 2,000 immigrants. They include New York, Los Angeles, San Francisco, Chicago and other major cities across the country. CG's hometown of Atlanta is also on the list.
Atlanta's mayor, Keisha Lance Bottoms, who has been a vocal opponent of Ice raids, told the Guardian: "The White House is compounding an already spiraling humanitarian crisis with detention centers. If they want to truly help cities, they should ask us what we need, because political shows of force will only harm – not help."
Bottoms has closed city detention centers to Ice agents, she mentioned in a Friday interview on CNN, "because we don't want to be complicit in family separation".
An Ice spokeswoman in Atlanta did not respond to specific questions because, as the agency has said, it "will not offer specific details related to enforcement operations".
Still, CG, who came to Georgia from Mexico 12 years ago and has had a green card application in process for years, is bracing for the worst.
She hasn't been driving much for fear of being stopped.She will refuse to leave her house on Sunday morning, and then will decide day by day if she can leave the safety of her home to clean homes to pay the bills again.
Since the start of the Trump presidency, she has educated herself on her rights through immigrants' rights groups who have made increased efforts to reach immigrant communities.
For example, Project South, an Atlanta advocacy group plans to deliver information to South Asian shop owners about their rights if Ice agents show up at their business. The Georgia Latino Alliance for Human Rights has also canvassed immigrant-heavy neighborhoods telling residents that if federal agents want to enter her home, they must have an arrest or a search warrant from a judge.
The picture is the same elsewhere. Campaigns across the US have spread through major cities as news of raids spread through immigrant communities, said Adelina Nicholls, the executive director for GLAHR.
"We've reached more than 4,600 people since we started our campaign after Trump was elected," Nicholls recounts. In addition to the campaign, they plan to document the raids in real time on Facebook Live.
"We can't stop them but we can make noise," she says.
If the aim of the raids is to create widespread fear among immigrant communities, then many activists see them as already working. Charles Kuck, a veteran immigration lawyer, said he has received calls from dozens of clients with work visas and green cards whom he says have nothing to fear.
"The number [Ice] will be getting is very small but the impact will be broad," said Kuck. "We will see a real impact when people don't go to work [and] don't go to church this weekend."
After the announcement of last month's raid, Kuck heard from employees at local chicken processing plants that more than half of the employees didn't show up to work for a week.
Veronica, who is undocumented and wants to be identified by her first name only, made the trip from Mexico to the United States 20 years ago.
"I feel like I'm in another country," she said of the atmosphere in recent months. "Every day, it is a risk," she added, of being on the street, driving your own car or even going to a shopping center.
"In white neighborhoods, you have signs that say 'neighborhood watch'. We have to have our own network now." Veronica points to her phone. "A friend sent me a text message this morning to tell me the police are in the neighborhood. I wasn't there but I passed it on to my network."
This Sunday, as she hunkers down with her family, her network will be busy passing on information if they see the white Ice vans patrolling their streets, too, she says.
"It doesn't make sense. They're not trying to arrest terrorists or criminals, just undocumented people," she said. "We just want to pay the bills."
World Politics
United States
Tim Alberta of Politico has written a compelling, alarming and scoop-heavy history of the fall of the party of Lincoln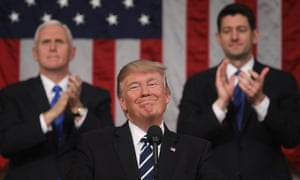 Mike Pence and Paul Ryan applaud as Donald Trump delivers his first address to Congress in February 2017. Photograph: Jim Lo Scalzo/Pool/EPA
L

ike the deity on the sixth day of creation, Donald Trump has recast the Republican party in his own image. Aggrieved and belligerent is the new normal. The soul of the party has migrated from the sun belt to the Bible belt, from the suburbs to rural America, from a message suffused with upward arc to one brimming with resentment.
The 45th president has won the hearts and minds of the faithful while turning off the rest of America. According to a recent poll, Trump has garnered the approval of seven in eight Republicans even as he trails Megan Rapinoe, the star of the champion US women's soccer team, 42%-41%. All this despite an economy that moves forward.
Tim Alberta, Politico's chief political correspondent, has written a masterful must-read. Across 600-plus pages, he chronicles more than a decade of transformation and turmoil within what was once but is no longer the party of Abraham Lincoln.
Over the past half-century, the GOP has dramatically changed. New England and New York's tony bedroom communities are now Democratic. The old Confederacy is a contiguous sea of Republican red. In the 2018 midterms, the GOP captured 9% of the black vote. In 1972, they got twice that.
The Reagan Republican wing beat the Rockefeller Republican wing. And now the Trump wing beat the Reagan wing

Paul Ryan
Subtitled On the Front Lines of the Republican Civil War and the Rise of President Trump, American Carnage delivers a lively tick-tock on how the party moved from George W Bush's "compassionate conservatism" to the jagged contours of Maga. Trump emerges as the vehicle and voice of white evangelicals and white Americans without a four-year degree, the operative word being "white".
Alberta is mindful that the winds of proto-Trumpism were present before Bush had left office. In his telling, Sarah Palin – who once bragged of her husband and herself: "He's got the rifle, I've got the rack" – was a harbinger of a post-Bush world.
American Carnage records Karl Rove, Bush's political brain, branding Palin "vacuous" and evidencing a Republican tropism toward "wanting people who would throw bombs and blow things up". While Trump was the "ultimate expression" of that impulse, Rove says, Palin was an "early warning bell".
As framed by Paul Ryan, the former House speaker and 2012 vice-presidential candidate: "The Reagan Republican wing beat the Rockefeller Republican wing. And now the Trump wing beat the Reagan wing." Against the backdrop of failure in Iraq, the Great Recession, displacement and globalization, Trump delivered "hope" to voters Hillary Clinton discounted as deplorable.
Alberta's storytelling is bolstered by his access to powers that be and were. Trump, Ryan and John Boehner, another ex-speaker, all go on the record. American Carnage is filled with scoop. It is an exercise in a pulling back the curtain, not breathlessness.
For example, Alberta lets us know the fix was in at Fox News for Trump during the Republican primaries, in a manner akin to the Democratic National Committee putting its thumb on the scales for Clinton. Ted Cruz, Texas' grating junior senator, never had a real chance with the network built by the late Roger Ailes.
One Fox staffer told Cruz: "We're not allowed to say anything positive about you on the air." Or, as Cruz put it after Ailes' death in 2017: "I think it was Roger's dying wish to elect Donald Trump president." Alberta lets us know that Ailes believed Barack Obama "really was a Muslim who really had been born outside the United States".
American Carnage is filled with scoop. It is an exercise in a pulling back the curtain, not breathlessness
American Carnage also crystalizes Trump's own penchant for eavesdropping. In early 2012, as the primaries were heating up, Matt Rhoades, Mitt Romney's campaign manager, met with Michael Cohen, Trump's then consigliere who is now a resident of a federal correctional facility. They discussed the prospect of Trump meeting Romney. Alberta lays out what happened next: "Cohen was suddenly interrupted by a voice crackling over a speakerphone on the table. It was Trump. He had been listening the entire time …"
In describing the 2012 race, Alberta conveys the mistaken belief held by Romney's team that that he would win based upon pre-election polling. American Carnage, however, makes no mention of a poll circulated on the Saturday night before the election by Alex Gage, which showed Obama with at least 300 electoral votes. Gage was a veteran of the Bush 2004 re-election effort and Romney's 2008 campaign. His then wife, Katie Packer, was Romney's deputy campaign manager.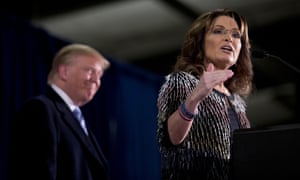 Sarah Palin endorses Trump during a rally at Iowa State University in January 2016. Photograph: Mary Altaffer/AP
Alberta sheds light on Trump's thinly reported May 2016 meeting with Rove. Corey Lewandowski, Trump's then campaign manager, called the get-together "good" without saying more. American Carnage brings color and detail.
Trump appears both ignorant of the realities of the electoral map and appreciative of the tutorial. The two men review Trump's path to an electoral college majority, Rove correcting his eager but pride-filled pupil. Trump poses the possibility of winning California, New York and Oregon, only to be shot down. The last time any of those states went Republican was more than 30 years ago.
Rove explains that Iowa, Pennsylvania and West Virginia are winnable if the campaign husbands its time and energy. Trump turns to Steve Wynn, a casino magnate subsequently felled by allegations of sexual misconduct, and exclaims: "Why aren't people in my campaign talking to me about this?"
Alberta makes clear that Trump was the only candidate capable of harnessing populist fury into something more than a collection of raw emotions. Clinton's worship at the altars of identity politics and political correctness helped cost her the election, just as Trump's lack of a filter endeared him to his base.
Although Clinton finished with nearly 3 million more votes, Trump sits in the Oval Office. As Alberta observes, authenticity remains in high demand, more so than reality.
Trump is embattled but far from despairing. "I fucking love this job," he "howls" to no one in particular, backstage at a rally in Columbia, Missouri, in November 2018.
He knows he is transformative.
"Honestly," Trump tells Alberta. "Can there even be a question?"

President: 'You can't leave fast enough'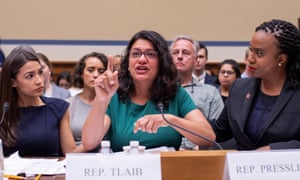 Rashida Tlaib reacts during testimony as Alexandria Ocasio-Cortez and Ayanna Pressley comfort her during a House hearing on the Trump administration's child separation policy. Photograph: Erik S Lesser/EPA
Donald Trump aimed a guaranteed-to-be-controversial attack at "the Squad" on Sunday, saying the four progressive Democratic congresswomen who have clashed with their own party establishment should "go back and help fix the totally broken and crime infested places from which they came".
"You can't leave fast enough," he added.
Trump did not name his targets but the high-profile members of "the Squad" are Alexandria Ocasio-Cortez of New York; Ayanna Pressley of Massachusetts; Rashida Tlaib of Michigan; and Ilhan Omar of Minnesota.
Their run-in with House speaker Nancy Pelosi, initially over her support for funding to be spent by the Trump administration on the humanitarian crisis at the southern border, has eaten up column inches and dominated the Democratic presidential primary.
In a series of tweets on Sunday morning, Trump wrote that it was "so interesting to see 'progressive' Democrat congresswomen, who originally came from countries whose governments are a complete and total catastrophe, the worst, most corrupt and inept anywhere in the world (if they even have a functioning government at all), now loudly and viciously telling the people of the United States, the greatest and most powerful Nation on earth, how our government is to be run.
"Why don't they go back and help fix the totally broken and crime infested places from which they came. Then come back and show us how it is done. These places need your help badly, you can't leave fast enough.
"I'm sure that Nancy Pelosi would be very happy to quickly work out free travel arrangements!"
The presidential trolling, just ahead of the weekly political talk shows, seemed guaranteed to light a fire – potentially as a distraction from Immigration and Customs Enforcement raids announced by Trump and due to be carried out in major cities on Sunday.
On CNN's State of the Union Ken Cuccinelli, acting director of US Citizenship and Immigration Services, appeared to be questioned about the raids. He was asked if Trump's tweets "feed into this impression that the president is racist and is pushing a racist agenda".
Cuccinelli said the tweets were examples of "rhetoric for the presidential race".
Only one of the congresswomen singled out by Trump was not born in the US.
Omar was born in Somalia and came to the US at the age of 12, after a spell in a refugee camp.
Elected to Congress in November as one of the first two Muslim women to achieve that honour, she has emerged as a hate figure among Republicans, Fox News hosts and Trump's hard-right base of support.
Tlaib, the other Muslim woman in Congress, was born to Palestinian immigrants in Detroit.
Pressley, who is African American, was born in Cincinnati and raised in Chicago.
Ocasio-Cortez was born in New York City to a family with roots in Puerto Rico.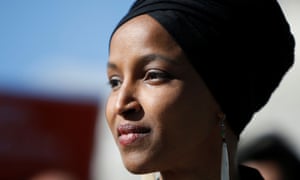 Congresswoman Ilhan Omar was born in Somalia and came to the US in the 1990s. Photograph: Jim Bourg/Reuters
None immediately commented on Trump's tweets on Sunday. All have emerged as prominent opponents of the Trump administration and key voices in a Democratic party increasingly split over the best way to beat the president next year.