18 Jul
Nearly all of these are English-edition daily newspapers. These sites have interesting editorials and essays, and many have links to other good news sources. We try to limit this list to those sites which are regularly updated, reliable, with a high percentage of "up" time.
Recommended:

For the first time in more than 50 years, a German will head the European Commission. It was a close vote, and the role of the Social Democrats raises questions.
PATRICK SEEGER/EPA-EFE/REX
Ursula von der Leyen reacts after a vote at the European Parliament in Strasbourg, where she was elected the new president of European Commission.
Remember the Social Democratic Party's (SPD) campaign poster from the European elections in 2014? "A German will only become president of the European Commission if you elect Martin Schulz and the SPD," it read. At the time, Schulz was the party's leading candidate throughout Europe. The message, though, was addressed squarely at German voters.
Nearly five years later, a German will indeed be heading the European Commission — but without the SPD's help. Germany's center-left Social Democrats in the European Parliament refused to vote for Ursula von der Leyen, a center-right Christian Democrat who, until yesterday, was also the German defense minister. That is, if one can believe their proclamations. The vote in parliament, after all, was a secret ballot.
Fortunately, the vast majority of the European electorate is quite obviously convinced that no one country should reign supreme over any other. The quality of a Commission president isn't measured by that person's land of origin, but by what that person says and does. Case and point: Pro-European parties won more than two-thirds of the votes in the May election.
But of course, a candidate's nationality isn't entirely meaningless either. The fact that Germany gets to appoint the head of the Commission for the first time since Walter Hallstein in the 1950s and 1960s is truly good news.
It's good news for Europe because Ursula von der Leyen is a genuine, dyed-in-the-wool European.
And it's good for Germany because as defense minister, von der Leyen was simply in the wrong office. Europe suits her much better. Her story could even inspire more people to identify with the EU.
It's an added bonus that von der Leyen will form one half of a Franco-German duo at the heart of the EU, with Christine Lagarde as the new head of the European Central Bank making up the other half.
Von der Leyen won Tuesday's election by a narrow margin of only nine votes. She may have drawn support from Hungarian parliamentarians loyal to that country's authoritarian leader, Viktor Orbán. Staunch pro-Europeans like the Greens or the aforementioned members of the SPD, however, denied her their votes.
Does that make von der Leyen a worse president? Or worse, a president in debt to Orbán? No. It would be intellectually lazy for those who didn't vote for von der Leyen to complain that she wasn't their choice.
What's important is what von der Leyen says — and what she does.
Actions Speak Louder Than Words
She had already delivered a strong oratorical performance on Tuesday with her application speech. Indeed, she created a European moment, articulating her feelings and positioning herself squarely against the danger from the populist right. "It's the most precious thing we have," von der Leyen said. At the end, she exclaimed: "Es lebe Europa, vive l'Europe, long live Europe!"
It was good to hear such an emotional speech.
Because even if von der Leyen is only prosaically the boss of a European mega-administrative body, perhaps she will nevertheless succeed in filling this technocratic office with political temperament.
Ursula von der Leyen will have to let her actions speak louder than her words. She will have to work internally to temper the divisions being stoked by right-wing populists. And she'll have to work externally to strengthen Europe as a model of democracy in the world. The issues at the forefront include migration policy, social security, the unfair distribution of wealth and European sovereignty. To name a few.
Her speech on Tuesday prevented those on the far right of the European political spectrum from taking credit for her election, as Hungary's Orbán had tried to do following her nomination by the leaders of the EU member state. It was a defeat for the far-right. And also Germany's Social Democrats.
A Sigh of Relief
The fact that the center-leftists couldn't bring themselves to vote for their former Christian Democratic colleague, from a government which they run together, was nothing short of political pettiness.
Were they so attached to the leading candidate model that they voted against von der Leyen out of principle? If so, why didn't they fight for the conservative top European People's Party candidate, Manfred Weber, who had represented the victorious party family? Even Frans Timmermans the Dutch leading candidate for the social democrats in the European Parliament, signaled his support for von der Leyen while his SPD comrades were still voicing their opposition.
In truth, the SPD had maneuvered itself into a strategic impasse from which it was unable to get out of in time. The Social Democrats were very lucky that von der Leyen's election didn't fail because of them. It was close enough as it was. There were more than a few people in the SPD who breathed a sigh of relief when the results of the election were announced.
Unfortunately, those people aren't members of the European Parliament.

Amid widespread US heatwave, experts predict dangerous extremes in summer temperatures will only get worse
Without further action to reduce global heat-trapping pollution, parts of Florida and Texas could feel like 100F or hotter for over four months out of the year.
As the climate crisis progresses, the number of extremely hot days around the US could more than double, according to a peer-reviewed study and report from the Union of Concerned Scientists.
By mid-century, an average of 36 days a year could feel like 100F (37.7C) or hotter. Toward the end of the century, 54 days a year could feel that hot, researchers with the science advocacy group found.
The new data comes as an oppressive heat wave spreads across the eastern two-thirds of the United States, with heat warnings and advisories issued in nearly half of all US states. The heat index – or how hot people feel from air temperatures and moisture combined – will be as high as 110F (43C) in some places, according to the National Weather Service.
"We basically are looking at increases in the kinds of conditions we're seeing this week across the country," said Erika Spanger-Siegfried, lead climate analyst for the UCS.
The group's report "shows a hotter future that's hard to imagine today," said Kristina Dahl, a co-author. "Nearly everywhere, people will experience more days of dangerous heat even in the next few decades."
The data shows what would happen under current climate policies. Global reductions in the heat-trapping pollution from power plants, cars and other human activities would keep summers from becoming as hot.
For example, even slow action to cut emissions could help Washington DC avoid 11 days a year that feeler hotter than 100F by the middle of the century. It could help the city avoid 32 days a year of heat that high by the end of the century.
Average global temperatures have already risen about 1.8F (1C) hotter since industrialization, and research shows they are on track to rise as much as almost 6F (3.3C) by the end of the century.
Without further action to reduce global heat-trapping pollution, parts of Florida and Texas could feel like 100F or hotter for a total of five months out of the year. Most of those days would surpass a heat index of 105F.
Some days could exceed the upper limit of the National Weather Service's heat-index scale, which tops out at 127F. These "off-the-charts" days in the US now occur only in the Sonoran Desert, on the border of southern California and Arizona. By the end of the century more than one-third of the US population could experience at least a week of those days.
The south-east US and southern Great Plains could bear the brunt of the extreme heat, the study found.
Phil Duffy, a climate scientists and director of the Woods Hole Research Center, called this week's heat wave "a sweltering demonstration of how growing carbon pollution in our atmosphere is pushing summer heat to dangerous extremes".
In preparation for rising temperatures, the Red Cross Red Crescent Climate Centre this week launched a heat wave guide for cities.
Julie Arrighi, a lead author, said cities will need to create more green spaces, paint roofs white to reflect heat, and design buildings to stay cooler, as well as providing places for vulnerable people to cool off.
"Heat risk is on the rise," Arrighi said. "The positive message is that we can prevent the deaths that are associated with [heat waves] with relatively simple, low-cost actions. We just need to take those actions and to be ready for that hotter future."
The birds, whose population plummeted last century, have two new chicks: Nos 1,000 and 1,001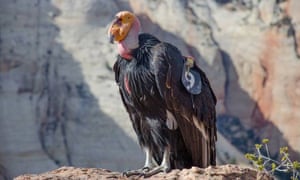 California condor chicks No 1,000 and 1,001 hatched in May this year, signalling a success for the species. Photograph: Zion National Park
Nestled among the red-rock cliffs of Zion national park and the Grand Canyon, California condor chicks No 1,000 and 1,001 blinked into this world. Their birth signalled success for a decades-long program to bring North America's largest bird back from the brink of extinction.
As a result of hunting, diminishing food and dwindling territory, the number of birds in the wild numbered just 22 in the early 1980s. Lead poisoning was also a major killer, caused by inadvertently ingesting bullets that hunters left inside dead animals that the enormous birds, which have a wingspan of 9.5ft and weigh up to 25lb, scavenged for food.
Facing imminent extinction, the few remaining wild birds were placed into a captive breeding program in 1987 and slowly released back into the wild starting in the early 1990s. Biologists estimate that the 1,000th and 1,001st chicks hatched in May this year, but they were only able to confirm their existence over the past several days, because the raptors build their nests inside caves carved into steep, sometimes inaccessible cliffs. "You know, condors can be secretive," said Janice Stroud-Settles, a wildlife biologist at Zion National Park in Utah.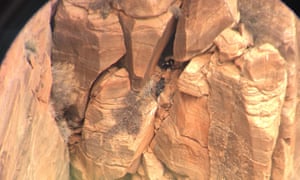 Zion national park biologists confirmed a California condor chick in a nest on the cliffs near the north rim of the Grand Canyon. Photograph: Zion National Park
After noticing that one condor couple seemed to be taking shifts scavenging for food, "we suspected that they'd hatched a new chick", Stroud-Settles said. Field researchers eventually captured a photo of the 1,000th chick after rappelling off a cliff across from the birds' nest cave. "When we confirmed it … it was just this feeling of overwhelming joy," she said.
The 1,000th hatchling's parents were both born in captivity, and the mother has already lost two chicks. Her firstborn probably died – as many baby condors do – in an initial, unsuccessful attempt to fledge (AKA fly) the nest, park officials say. She found herself unable to properly care for her second chick after her mate died of lead poisoning.
"Now that she's re-coupled with a new mate, we're hoping this chick will successfully fledge once it's old enough to fly – sometime in the fall," Stroud-Settles said, noting that the nesting site she chose has a large "porch" area where the growing chick can practice flapping before taking its perilous first flight.
The 1,001st chick, which was also born to parents bred in captivity, lives in a nest near the north rim of the Grand Canyon. And researchers are currently searching for up to four more chicks that may have hatched since, said Tim Hauck, who manages the condor program at The Peregrine Fund, a non-profit focused on protecting birds of prey. The government keeps a "Condor Gossip Chart" to help biologists track new couplings and births.
The fact that so many chicks are being born into the wild, "is really special – a sign of progress", Hauck said.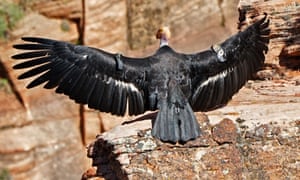 The mother of the 1,000th condor chick was born in captivity at the San Diego zoo. Photograph: Zion National Park
But the species is still classified as critically endangered by the IUCN and faces multiple threats, including the ongoing menace of lead poisoning.
A law that went into effect this month has made it illegal to use lead ammunition to hunt any game in California. In Utah and Arizona, however, conservationists have taken a different approach. Because a straight ban could alienate hunters, conservationists are encouraging locals to reduce their use of lead bullets through a voluntary program. "Ink on paper doesn't necessarily change behavior," said Chris Parish, the director of global conservation at The Peregrine Fund. "People aren't inclined to follow rules they don't understand, so here in Utah and Arizona we're focusing on education and explaining to hunters why it's important to cut down on lead bullets."
The total living population of California condors now numbers more than 500, with more than half in the wild. The oldest bird being tracked in the condor restoration program is 24, but researchers estimate that California condors can live up to 70 years. They are very gregarious animals who get together in large groups and "like humans, tend to mate for life", noted Stroud-Settles.
"I just love them," she said. "They might look a little weird, but there's so much beauty behind the ugliness."
More On The Environment:

World Politics
United States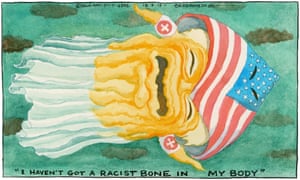 Bernie Sanders, Kamala Harris and Elizabeth Warren denounced the president after rally erupted into chants of 'send her back'
Democrats rushed to condemn Donald Trump after his supporters erupted into chants of "send her back" at the mention of Minnesota congresswoman Ilhan Omar, one of the targets of the president's recent racist tweets.
The Vermont senator Bernie Sanders was one of the first to offer his support to Omar following the chants at the Trump rally in North Carolina on Wednesday night, accusing the president of "stoking the most despicable and disturbing currents in our society" and called him the "most dangerous president in the history of our country".
Omar is a US citizen, who was born in Somalia and arrived in the US almost 30 years ago as a child refugee.
The California senator and 2020 Democratic candidate Kamala Harris labeled the behavior as vile, cowardly and racist.
The Massachusetts senator Elizabeth Warren, who is also a leading 2020 Democratic candidate, said impeachment proceedings against Trump must begin. "He's trying to divide us and distract from his own crimes, and from his deeply unpopular agenda of letting the wealthy and well-connected rip off the country. We must do more," Warren said.
Trump used the 2020 campaign rally in Greenville to attack Omar and three other Democratic congresswomen – Alexandria Ocasio-Cortez of New York, Ayanna Pressley of Massachusetts and Rashida Tlaib of Michigan – calling them "hate-filled extremists". The group, which calls itself "the Squad", has been the focus of racist attacks by Trump this week, kickstarted by tweets posted on Sunday in which he said the lawmakers, all women of color, should "go back" to other countries.
Omar, of Minnesota, arrived in the United States at age eight as a refugee of war from Somalia and was naturalized as a US citizen as a child. She reacted to the chants with a tweet on Wednesday evening, in which she quoted a poem by Maya Angelou: "You may shoot me with your words, You may cut me with your eyes, You may kill me with your hatefulness, But still, like air, I'll rise." She later posted: "I am where I belong, at the people's house and you're just gonna have to deal."
Republican reaction to the moment in Wednesday night's rally has been much less robust, with only a handful chiming in.
The former Massachusetts governor Bill Weld said he challenged "every Republican to watch Donald Trump's rally last night, complete with chants of 'Send her back', and ask if that is the Party of Lincoln and Reagan we signed up for".
Weld, who is mounting a highly improbable primary challenge against Trump for the Republican nomination, continued: "We are in a fight for the soul of the GOP, and silence is not an option."
The North Carolina congressman Mark Walker said he "struggled" with the "send her back" chant, downplaying the outburst by calling it "brief". Walker continued: "Her history, words & actions reveal her great disdain for both America & Israel. That should be our focus and not phrasing that's painful to our friends in the minority communities."
The Fox News host Laura Ingram chided the media for "conjured up" outrage over the chant and for "fram[ing] the entire rally around this one section of the crowd's reaction".
Meanwhile, leading British politicians including Jeremy Corbyn and London's mayor, Sadiq Khan, are among thousands to sign a letter of support for the Squad created by the anti-racist charity Hope Not Hate. The letter described the four US congresswomen as "the best of America", and condemns Trump's "blatant, unashamed racism".
Going after the four Democratic congresswomen one by one, a combative Trump turned his campaign rally into an extended dissection of the liberal views of the women of color, deriding them for what he painted as extreme positions and suggesting they just get out.
"Tonight I have a suggestion for the hate-filled extremists who are constantly trying to tear our country down," Trump told the crowd in North Carolina, a swing state he won in 2016 and wants to claim again in 2020. "They never have anything good to say. That's why I say: 'Hey if you don't like it, let 'em leave, let 'em leave.'"
Eager to rile up his base with the some of the same kind of rhetoric he targeted at minorities and women in 2016, Trump declared on Wednesday night: "I think in some cases they hate our country."
Taking the legislators on one at a time, Trump ticked through a laundry list of what he deemed offensive comments by each woman, mangling and misconstruing many facts along the way.
Omar came under the harshest criticism as Trump played to voters' grievances, drawing a chant from the crowd of: "Send her back! Send her back!"