23 Jul
Nearly all of these are English-edition daily newspapers. These sites have interesting editorials and essays, and many have links to other good news sources. We try to limit this list to those sites which are regularly updated, reliable, with a high percentage of "up" time.
Recommended:

Our extreme weather is making me nostalgic for the damp conditions of my English childhood. But despite the climate emergency, capitalism continues regardless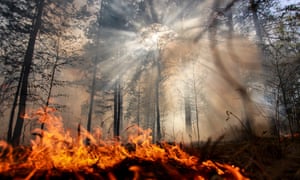 Wildfires, such as this one in the Irkutsk region of Russia, are common in the northern hemisphere in summer, but this year have been further north and unusually intense. Photograph: Kirill Shipitsin/TASS
D

o you remember when the weather was a reliable source of innocuous small talk? "Hot today, isn't it?" you would observe to a colleague as you stood awkwardly in the lift together. They would reply with something about the garden needing rain, then you would go back to ignoring each other. Talking about the weather was uncontroversial. It was safe. It was oddly soothing.
As large sections of the Arctic burn, major cities sizzle. New York, where I live, has just emerged from a heatwave that the mayor declared a "local emergency". The city's infrastructure, which is held together by chewing gum and rat droppings at the best of times, buckled under the strain of millions of heaving air conditioners, leaving more than 46,000 New Yorkers without power on Sunday. Now it is Europe's turn to swelter; the Met Office says temperatures could reach 37C (99F) in London on Thursday.
What makes this extreme weather even more uncomfortable is the grim realisation that we have done this to ourselves. The climate crisis has made heatwaves the new normal. You can't turn to a colleague and remark: "Hot, isn't it?" without thinking about the fact that, unless something drastic is done, it is going to get hotter and hotter. According to scientists at the Crowther Lab in Switzerland, nearly 80% of cities will undergo dramatic climate changes by 2050; London, for example, will feel like Barcelona does today. Residents of cities such as Jakarta and Singapore, meanwhile, will experience "unprecedented climate conditions" characterised by extreme rainfall and severe droughts.
As the implications of the climate crisis become impossible to ignore, many of us are growing increasingly terrified. The climate emergency isn't just damaging the planet; it is also harming our mental health – a phenomenon called "eco-anxiety". As Alexandria Harris wrote in her 2015 book Weatherland, "small alterations in familiar places can disturb us more than dystopian visions". I spent every summer of my childhood shivering on damp Cornish beaches and can't quite wrap my head around England's heatwaves. I feel a sense of bereavement for an England that seems to be disappearing; on a climate level, the place I grew up in is starting to feel like a different country. Indeed, Harris said in her book that "the years to come … may be the last years of English weather". Now is the time, she says, to build a "great storehouse" of weather memories.
We are going to need a lot more than a storehouse of memories to weather what is coming, of course. We need to significantly change our behaviour and, even more importantly, overhaul our economic system. After all, only 100 companies are responsible for 71% of global emissions. But you know all this already; we all do. But our politicians still are not taking meaningful action. Capitalism is carrying on with business as usual. The world is literally on fire – and it feels as though we are fiddling with paper straws while it burns.
•

Arwa Mahdawi is a Guardian columnist
More On The Environment:
World Politics
Great Britain
Former foreign secretary will succeed Theresa May as Britain's next prime minister after beating Jeremy Hunt
'Deliver Brexit and unite the country': Boris Johnson's first speech as Tory leader – video
Boris Johnson will become Britain's next prime minister after winning a convincing victory over Jeremy Hunt in the Conservative party leadership race.
The former mayor of London, who has long cherished an ambition to lead his country, won 66% of the votes – 92,153, to Hunt's 46,656. Turnout was 87.4% among 159,320 party members.
In a characteristically lighthearted acceptance speech, Johnson conceded that even some of his own supporters may "wonder quite what they have done".
He claimed the Tory party had historically demonstrated it could "manage the jostling instincts in the human heart" – such as those of owning a home and helping the poorest in society.
"Today, at this pivotal moment in our history, we again have to reconcile two noble sets of instincts – between the deep desire for friendship and free trade and mutual support and security and defence between Britain and our European partners; and the simultaneous desire, equally heartfelt, for democratic self-government in this country."
He reminded his audience of ministers and party staff of his campaign mantra: "Deliver Brexit, unite the country and defeat Jeremy Corbyn."
Saying "some wag" had pointed out that this spelled "dud", he joked that the final e – "E for energise" – had been left out. "I say to all the doubters: dude, we are going to energise the country!"
And Johnson said he would "get Brexit done by 31 October" with a "new spirit of can-do".
"We are once again going to believe in ourselves and what we can achieve, and like some slumbering giant we are going to rise and ping off the guy-ropes of self-doubt and negativity."
The result of the contest was announced by the joint chair of the backbench 1922 Committee, Cheryl Gillam. Her colleague, Charles Walker, first urged MPs to be "kinder" to the new leader than they had been to Theresa May.
Brandon Lewis, the Conservative party chair, introduced the slick event at a conference centre in Westminster, saying the race had shown that his party was fundamentally united.
Johnson's victory was almost immediately welcomed by Donald Trump, who tweeted: "He will be great!"
Johnson will address Tory MPs at a meeting of the 1922 Committee on Tuesday afternoon, as well as thanking party staff and his own campaign team.
He will not take office formally until Wednesday afternoon. May will face her final prime minister's questions in the House of Commons before tendering her resignation to the Queen.
Johnson will then go to Buckingham Palace himself for his appointment to be confirmed – before being driven to Downing Street to give a speech in front of the black door of No 10.
He takes charge at a perilous political moment. The Conservatives' wafer-thin parliamentary working majority is expected to be eroded further next week – to just two – if the Liberal Democrats win the Brecon and Radnorshire byelection.
Johnson has faced a furious internal revolt even before arriving in Downing Street, with several key cabinet ministers, including the chancellor, Philip Hammond, saying they will resign rather than serve under him.
They have been alarmed by Johnson's insistence that he is willing to countenance leaving the European Union without a deal on 31 October, rather than postpone Brexit once again – even if that meant proroguing parliament.
Despite painstaking media management, his campaign has been dogged by a series of controversies, including the revelation that police had been called to a noisy argument at the home he shares with his partner, Carrie Symonds.

Puerto Rico
US island territory hit by general strike

Ricardo Rosselló insists: 'I am a good man'
Puerto Rico police fire teargas at protesters demanding governor's resignation – video
Police in San Juan fired tear gas on Monday night to disperse thousands of protesters demanding Puerto Rico's governor resign over offensive chat messages, the latest scandal to hit a bankrupt island struggling to recover from 2017 hurricanes.
Police moved in at about 11pm to break up protesters still on the streets of San Juan's old city following day-long demonstrations by hundreds of thousands of residents. It follows Governor Ricardo Rosselló's attempt to cling on to power despite resigning as president of the ruling New Progressive party and announcing he will not run for re-election next year.
A general strike took place across the US territory on Monday morning, protesters chanting the now familiar cry of "Ricky resign!", waving flags and banging drums. Demonstrations have gripped the island since hundreds of pages of leaked text messages between the governor and 11 members of his inner circle were published on 13 July.
The messages contain homophobic and sexist slurs against political rivals and cultural figures. They also contain a joke about dead bodies during Hurricane Maria, which devastated the island in September 2017.
Puerto Rico's largest mall, Plaza de las Américas, closed before Monday's demonstration along with many other businesses. Last week police used teargas and rubber bullets to disperse protesters at a huge rally outside the governor's residence in the island's capital, San Juan.
Carmen Portela, 40, was among those protesting on Monday. The founder of Local Guest, a Puerto Rico-based travel company, Portela said that Rosselló "has demonstrated that he's not capable of governing".
"I think it's time to have a new Puerto Rico and that begins with a new government … This chat gave light to what we all already knew, that this is a very corrupt government."
In the Oval Office on Monday, Donald Trump once again laid into Rosselló and the mayor of San Juan, Carmen Yulín Cruz, a vocal critic of the governor and the president.
"He's a terrible governor. You have an even worse mayor of San Juan," Trump said. "We did a great job in Puerto Rico. They don't want to give us credit … I have many Puerto Rican friends."
Trump has frequently inflated the amount of aid Washington has given to Puerto Rico following Maria. Although Puerto Ricans are American citizens, those living on the island cannot vote in presidential elections and have no voting member of Congress.
A number of senior Republicans and Democrats have called on Rosselló to resign but the White House has not formally called for him to go.
Protest organizers branded the planned Monday shutdown "660,510 + 1", representative of the number of people who voted for Rosselló plus one, in order to reject the governor's suggestion that he is not resigning due to his popular mandate.

United States
Movement promising fundamental reforms to the US criminal justice system, including ending mass incarceration and the death penalty, is gaining steam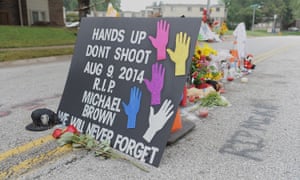 A memorial where Michael Brown Jr was killed in Ferguson, Missouri. Brown's death propelled Wesley Bell, prosecuting attorney for St Louis county, to enter politics. Photograph: Michael B Thomas/AFP/Getty Images
On a muggy August afternoon nearly five years ago, criminal justice professor Wesley Bell saw protesters march past his front porch in Ferguson, Missouri.
The killing of Michael Brown, an unarmed black teenager, by the white police officer Darren Wilson set off protests in the black-majority city over police brutality and long simmering tensions around racial inequality. The unrest transfixed a nation and propelled the Black Lives Matter movement into the political mainstream.
Bell joined the demonstrations demanding justice for Brown.
The experience was formative for Bell's political aspirations. In April 2015, he won a seat on the Ferguson city council. Then, last August, he shocked the state's Democratic political establishment by roundly defeating a seven-term incumbent to become prosecuting attorney for St Louis county.
The protester was now the prosecutor. And Bell had won on a radical platform promising to end mass incarceration, dramatically reform the cash bail system, end the death penalty and decriminalize marijuana possession in the county of just under a million people.
Bell is part of a movement. Across the country, progressives have won office in district attorney and prosecutor races. They have claimed victories in major cities like Philadelphia and Chicago but also in places like Portsmouth, Virginia, where in February 2015, Stephanie Morales, 31, became the city's first ever woman elected to the office of commonwealth's attorney. Pending a recount in the Queens DA race, the democratic socialist Tiffany Cabán could become the latest.
These candidates have bucked a decades-long "tough-on-crime" trend adopted by both major parties, in favor of fundamental reforms to criminal justice. They have been aided by armies of volunteers through traditional door-to-door campaigning, digital organizing, and – in some cases – funding from the billionaire George Soros and national progressive groups.
The Guardian interviewed more than half a dozen of these office-holders to take the pulse of a movement gaining steam, even as Donald Trump has appointed and confirmed more than 100 conservative federal judges. In the Trump era, this struggle over who will define the future of the American criminal justice system may endure long after the president exits the White House.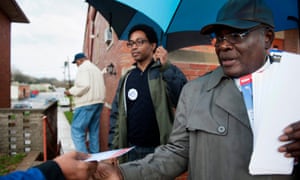 Wesley Bell in 2015. Within his first 100 days as prosecuting attorney for St Louis county his office had reduced the county's jail population by 12%, taking it to its lowest level since 2002. Photograph: Sid Hastings/EPA
The new Democrats often act quickly. Bell, for example, fired the veteran St Louis county prosecutor who had presented grand jury evidence in the Michael Brown case (a grand jury declined to bring charges against Wilson). Within his first 100 days, his office said it had reduced the county's jail population by 12%, taking it to its lowest level since 2002. And, within his first six months, Bell established an independent unit to tackle wrongful convictions and abuse by police.
"As progressive prosecutors, we have the opportunity to lead the way in reducing mass incarceration," said Bell.
And more like Bell are emerging in every part of the country, says Chris Lazare, organizing director for the Real Justice Pac, an organization that consults and endorses candidates running for these offices, so often held by white men.
"A lot of black and brown lawyers are stepping up," said Lazare.
'We are in the fight'
Philadelphia's district attorney, Larry Krasner, tends to ramble off at tangents. He can jump from discussing Michelle Alexander's The New Jim Crow to the legislative minutiae of ending cash bail, often in the same breath. He likens mass incarceration to a "gulag". He is also the most powerful law enforcement official in the nation's sixth largest city.
Krasner won a shock victory in the May 2017 Democratic primary. As arguably the most high-profile progressive district attorney in the country, Krasner is a darling for social justice activists and a hated villain for his powerful enemies. They include the city's police union, the Republican-controlled Pennsylvania legislature and the Democrat attorney general, Josh Shapiro.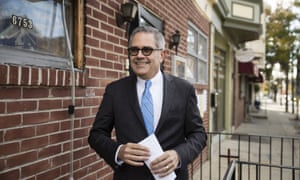 The Philadelphia district attorney, Larry Krasner, is a darling for social justice activists and a hated villain for his powerful enemies. Photograph: Matt Rourke/AP
"We've accomplished enough so the institutions woke up," Krasner said, listing accomplishments like reducing the city's jail population, ending cash bail for low-level crimes and exonerating eight individuals facing life sentences through an accountability unit he created. "This is what happens when you have moments for social change and they start to change. There's a commotion."
The resistance to Krasner's policies reached a peak last month when the state legislature passed a law, known as Act 58, giving authority to Shapiro to prosecute certain firearms violations in Philadelphia – and nowhere else in the state. The effort to wrest power from Krasner was "an attack on democracy" Krasner said. Shapiro backed down.
The episode, Krasner said, was indicative of this cultural moment. "If you look at it as a movement, we are past the laughing, we are past the ignoring," said Krasner. "We are in the fight. The only step left is winning."
Sustaining a movement
It was the 1994 Crime Bill that truly altered the nation's criminal justice system. It established the infamous "three strikes" mandatory life sentence policy for repeat offenders, allocated money to hire 100,000 new police officers and granted nearly $10bn for new prisons.
The nation's prison population soared, devastating communities of color in every city in America, said Rachael Rollins, the district attorney for Suffolk county in Massachusetts, which includes Boston.
Rollins says she knows firsthand the impact of these policies. Two of her siblings are incarcerated.
"My life experience is a little different from traditional DAs," she said.
Rollins won a five-way race last September in a competitive primary that laid bare party divisions. She assembled a broad coalition across gender, racial and class lines, particularly in Boston's working-class neighborhoods, to beat her leading opponent, Greg Henning, an assistant district attorney backed by Boston's political class.
Rollins pledged to not prosecute minor crimes like trespassing, shoplifting and drug possession and to increase efforts to decriminalize poverty, addiction and mental illness through newly created diversionary programs.
On her first day in office, Rollins issued a memo that included a "do not prosecute list" of 15 types of offenses for the 300 prosecutors she inherited. The resistance from the city's law enforcement institutions and its statehouse allies was fierce.
The National Police Association accused Rollins of "reckless disregard" for Massachusetts law in a written complaint to the state's bar association. Then came a letter from a member of the Republican governor Charlie Baker's cabinet condemning her memo.
Rollins continued to push through her agenda, despite the blowback. Last month, her office won a preliminary injunction against US Immigrations and Custom Enforcement (Ice) blocking immigration arrests at state courthouses.
She has, though, come under criticism from advocates. In March, CourtWatch MA, an oversight group, found many of the crimes from Rollins' "do not prosecute list" were still being prosecuted within her first 100 days in office, but just in different ways. Rollins acknowledged the process had been slow.
The criticism highlighted the political reality for insurgent candidates elected to office on promises to undo policies crafted over decades. Three years ago, Kim Ogg became the first Democrat elected district attorney in Harris county – which includes Houston – in nearly 40 years on a progressive platform. Heading into her 2020 re-election campaign, she faces a challenger from her left – democratic socialist Audia Jones – who says she has failed to fulfill her promises.
The stakes are high for the movement because voters newly interested in these races expect results quickly, said David Alan Sklansky, a Stanford law professor who studies district attorneys.
Falling crime rates in a number of urban areas in recent years have been important in making this movement politically possible, Sklansky added.
Still, the movement itself – despite the resistance it has faced in nearly every place where a progressive has won office – is ultimately a response to the will of voters who want to see reform, said Marisa Maleck, a lawyer and conservative legal commentator who clerked for the supreme court justice Clarence Thomas in 2015.
"The tough-on-crime approach works to put people away," said Maleck, who identifies as Libertarian. "But, in these races, voters clearly are saying that's not working."
Future for movement?
Since before Trump was elected, conservative organizations in Washington, like the Judicial Crisis Network and the Federalist Society, have methodically guided the president to their preferred judicial picks to both federal courts and to the supreme court.
The moves have demoralized Democratic voters who see the long-lasting consequences of these choices. Republican-led state houses have pushed through a slew of anti-abortion laws emboldened by the right's hold on the nation's top court.
The battlefield for progressives has, thus, shifted from the sSupreme court to the prosecutor's office.
"Our supreme court is gone as an agent of good in seeking justice," said Krasner, who argues that winning more and more prosecutor's offices is critical to long-lasting reform.
The progressive prosecutor movement is still in its nascent phase, Krasner and others interviewed agreed. But Sklansky, the Stanford law professor, still counts this era as historic.
"I can't think of another moment where there was as broad a movement nationwide to moderate criminal justice policies," he said. "The fact that dystopian rhetoric from its opponents hasn't stalled this movement is some sign that it's durable."