25 Jul
Nearly all of these are English-edition daily newspapers. These sites have interesting editorials and essays, and many have links to other good news sources. We try to limit this list to those sites which are regularly updated, reliable, with a high percentage of "up" time.
Recommended: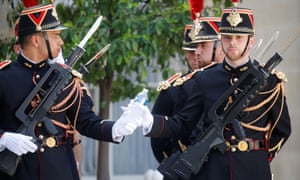 French Republican Guard soldiers pass water to each other in the courtyard of the Élysée Palace on Wednesday. Photograph: Philippe Wojazer/Reuters
Belgium, Germany and the Netherlands all logged their highest ever national temperatures on Wednesday, with forecasters warning they were likely to be exceeded on Thursday.
The new Dutch record of 39.3C, set in Eindhoven, lasted until 2.40pm when a weather station at the Gilze-Rijen airbase, in the south of the country, registered 39.4C, the KNMI meteorological service said.
Germany's DWD weather service said the mass of hot air was hanging "like a bell" over an area stretching from the central Mediterranean to Scandinavia, squeezed between low-pressure zones over western Russia and the eastern Atlantic.

As authorities across the continent handed out free water to homeless people, placed hospitals and residential care institutions on high alert and opened municipal buildings to anyone seeking shade, trains were slowed in several countries to avoid damage to lines, which could buckle in the heat.
France's SNCF rail operator and the Métro in Paris advised travellers to postpone their trips if possible. "I ask everyone who can avoid or delay their journeys to do so," the French environment minister, Élisabeth Borne, said. "When it is this hot it is not just people in a fragile state who can have health problems."
Météo-France said the conditions "require particular care, notably for vulnerable or exposed people". The prime minister, Édouard Philippe, said people "must take care of themselves but above all others, especially those who are alone".
Major French cities including Lille, Rouen, Dijon and Strasbourg were set to register new all-time highs, the national weather service said, joining a dozen others – including Bordeaux – to have set new records this week.
The government remains haunted by the heatwave of summer 2003, which led to 15,000 premature deaths, particularly of elderly people, and heavy criticism of authorities for not mobilising fast enough. The health minister, Agnès Buzyn, said temperatures in the capital on Thursday could be 2C higher than in 2003.
With water restrictions in place in many areas, low river levels prompted officials to ban cruises on a 37-mile (60km) stretch of the River Danube in Germany. A zoo in Belgium said it was feeding frozen chickens to its tigers and watermelons encased in ice to its bears.
The peak of the latest heatwave is forecast to peak on Thursday, with cooler weather and rain expected to provide relief from Friday. But in the meantime, 20 départements in northern France, 13 Italian cities and all of Belgium remained on red alert.
The extreme temperatures follow a similar heatwave last month that made it the hottest June on record. The Czech Republic, Slovakia, Austria, Andorra, Luxembourg, Poland and Germany all set new monthly records, while France recorded its highest ever temperature of 45.9C in the southern commune of Gallargues-le-Montueux.
The World Meteorological Organization said the climate crisis was causing summer heatwaves to happen more often, start earlier and become more intense. Scientists have estimated that manmade global heating makes heatwaves five times more likely.
A study published this year by the Swiss Federal Institute of Technology in Zürich said the 2018 summer heatwave across northern Europe would have been "statistically impossible" without climate change driven by human activity.
Belgium's new all-time high of 40.2C was set on Wednesday at Angleur, the country's meteorological office said, while Germany recorded a probable record of 40.5C at Geilenkirchen in North Rhine-Westphalia, surpassing the previous high of 40.3C recorded in Bavaria in 2015. The reading was taken at a Nato weather station, not one operated by DWD, and has yet to be officially confirmed.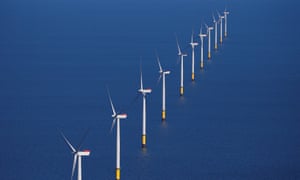 The government has thrown its weight behind the offshore wind sector. Photograph: Phil Noble/Reuters
The government's annual "energy bible" confirms a string of record green energy records broken in recent years, as the UK undertakes more renewable energy projects and shuts down old, polluting coal plants.
National Grid said earlier this year that the UK had recorded its greenest ever winter due to windy weather and dwindling coal-fired power.
This followed the second greenest summer, which fell narrowly short of the 2017 record for renewable energy due to a long heatwave. Very hot weather can have a negative impact on renewable energy generation because high pressure weather systems can suppress wind speeds, and solar panels produce less electricity if temperatures climb too high.
The rise of renewables has edged out coal and gas plants which together made up less than 45% of the UK's electricity last year.
Gas generation fell to 39.5% of the generation mix last year, from 40.4% in 2017. Coal generation continued to decline, falling to 5.1% last year after the Eggborough coal plant shut and Drax converted one of its units to burn biomass instead.
Only five coal plants will be left running by the end of the coming winter after SSE announced plans to shut its last coal plant at Fiddler's Ferry near Warrington, Cheshire, in March 2020.
Emma Pinchbeck, the deputy chief executive of Renewable UK, said the record-breaking figures "clearly show that investment in renewables and the government's championing of offshore wind is delivering rapid change to our energy system".
"As well as helping keep prices down for consumers and boosting the competitiveness of our businesses, renewables are a huge economic opportunity, bringing employment and investment to all parts of the UK," she said.
The government threw its weight behind the offshore wind sector earlier this year by promising developers the chance to compete for a share of £557m of state subsidies in exchange for industry investment of £250m over the next 11 years.
The deal could help offshore wind grow to 30% of the UK's electricity by 2030 as the UK works towards a 2050 target to cut emissions from the economy to net zero.
But ministers have refused to lift a block on support for new onshore wind farms, which are unable to compete for subsidies despite being one of the cheapest forms of electricity.
"To achieve its net zero ambitions, the new government needs to go further and faster – and the first steps should be removing the barriers to onshore wind which is our cheapest source of power, and building on our successes in innovative technologies like tidal energy and floating wind where the UK can be a world leader," Pinchbeck said.
More On The Environment:
World Politics
United States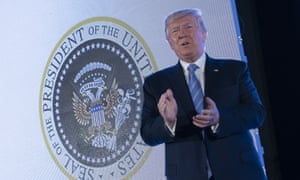 Donald Trump at the Turning Point event, featuring a two-headed eagle with golfing gear. Photograph: UPI/Barcroft Media
Dr. Caffrey, thank you very much for all the hard work you have done on our behalf over the years. I hope you will someday soon have the opportunity to practice science unfettered by bureaucratic bullshit.
This is exactly what you get when the right wing of politics is in power. Profit is the only thing that matters to them, even if it causes death and destruction and in this case the destruction of our planet.
We should be grateful to scientists who are prepared to lose their jobs to expose the truth. Its called having morals. It is something that those in power know nothing about and have little interest in.
And the those who vote for them don't care. They are the me me me voters. The world can go to hell, just as long as they get their tax breaks.
The McGlynn
limate Scientist