26 Mar
A Foreign Perspective, News and Analyses
Nearly all of these are English-edition daily newspapers. These sites have interesting editorials and essays, and many have links to other good news sources. We try to limit this list to those sites which are regularly updated, reliable, with a high percentage of "up" time.
Recommended:
lone protester sits outside the White House in Washington DC after US attorney general William Barr sent a letter to congressional leaders summarising a report by Robert Mueller. Picture: EPA
Exclusive: chair of Elders group also says fossil fuel firms have lost their social licence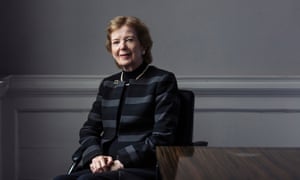 Mary Robinson: 'I believe that climate change denial is not just ignorant, it is malign, it is evil.' Photograph: Johnny Savage/The Guardian
The denial of climate change is not just ignorant, but "malign and evil", according to Mary Robinson, because it denies the human rights of the most vulnerable people on the planet.
The former UN high commissioner for human rights and special envoy for climate change also says fossil fuel companies have lost their social licence to explore for more coal, oil and gas and must switch to become part of the transition to clean energy.
Robinson will make the outspoken attack on Tuesday, in a speech to the Royal Botanical Gardens at Kew in London, which has awarded her the Kew International Medal for her "integral work on climate justice".
She also told the Guardian she supports climate protests, including the school strikes for climate founded by "superstar" Greta Thunberg, and that "there is room for civil disobedience as a way of communicating, though we also need hope".
Robinson is chair of the Elders, an independent group of global leaders founded by Nelson Mandela that works for human rights. She will say in her speech: "I believe that climate change denial is not just ignorant, it is malign, it is evil, and it amounts to an attempt to deny human rights to some of the most vulnerable people on the planet."
"The evidence about the effects of climate change is incontrovertible, and the moral case for urgent action indisputable," she will say.
"Climate change undermines the enjoyment of the full range of human rights – from the right to life, to food, to shelter and to health. It is an injustice that the people who have contributed least to the causes of the problem suffer the worst impacts of climate change."
Robinson, a former president of the Republic of Ireland, told the Guardian her angry words were the result of seeing the impact on people's lives. "In Africa, I saw the devastating impacts on poor farmers, villagers and communities when they could not predict when the rainy season was going to come."
She also attacks big oil, gas and coal companies in her speech. She is expected to say: "We have entered a new reality where fossil fuel companies have lost their legitimacy and social licence to operate." She says exploration for new reserves must end, given that most of existing reserves must be kept in the ground if global warming is to be tackled.
Robinson condemns the UK government for the £4.8bn support given by its export finance body for fossil fuels from 2010-16. "It stirs painful memories of past exploitative behaviour to see the UK and other rich, industrialised countries proclaim their good intentions and act in a progressive way at home, whilst effectively exporting their emissions to poorer foreign countries and leaving them to pay the price socially and environmentally."
The US president, Donald Trump, is also criticised by Robinson for his "egregious act of climate irresponsibility" in withdrawing from the Paris climate agreement. "Bad leadership has consequences now that are really bad for the people in the poorest communities, including in the US," she told the Guardian.
Robinson says as well as taking personal action – she has given up meat – people need to get angry with those who have more power and are not meeting their responsibilities, saying: "Just as the suffragettes needed to embrace militant tactics to win the fight for female emancipation, so today we need to be fiercely determined to challenge vested interests, especially in the fossil fuel sector."
There have been several strong attacks on climate change denial in recent months, with critics saying that proposals in the US for a new national security council panel of climate change deniers are "Stalinist".
In November, the New York Times columnist Paul Krugman said: "Smoking kills people, and tobacco companies that tried to confuse the public about that reality were being evil. But climate change isn't just killing people; it may well kill civilisation. Trying to confuse the public about that is evil on a whole different level. Don't some of these people have children?"
The BBC accepted in September it gets coverage of climate change "wrong too often" and told staff: "You do not need a 'denier' to balance the debate."
More On The Environment:
Editorial board says Vatican tried to discredit them after they denounced abuse of nuns
The announcement was made in an editorial and in an open letter to Pope Francis. Photograph: Vincenzo Pinto/AFP/Getty Images
The founder and all-female editorial team of the Vatican's women's magazine have resigned over what they say was a campaign to discredit them following the publication of an article that lifted the lid on the widespread abuse of nuns.
Lucetta Scaraffia, the founder of the monthly glossy Women Church World, said she had written a letter to Pope Francis in which she explained that the team was "throwing in the towel" because they felt "surrounded by a climate of distrust and progressive de-legitimisation". The resignation letter will also be published in the April edition of the magazine.
The editorial team of 11 had worked together on the magazine, which has been published alongside the Vatican's newspaper, L'Osservatore Romano, since its launch in 2012. "We are very sad," Scaraffia said.
The decision to resign was taken after an announcement earlier this year that Andrea Monda, the male editor of L'Osservatore, would be taking over at the magazine too.
Scaraffia said Monda reconsidered after the editorial board threatened to resign and the Catholic weeklies that distribute translations of Women Church World in France, Spain and Latin America, told her they would stop distributing.
"After the attempts to put us under control, came the indirect attempts to delegitimise us," Scaraffia told Associated Press, citing other women brought in to write for L'Osservatore "with an editorial line opposed to ours". The effect, she said, was to "obscure our words, delegitimising us as a part of the Holy See's communications".
An article written by Scaraffia in February had highlighted cases of nuns being raped or abused by priests and bishops, or being forced to have an abortion or leave the church if they fell pregnant as a result.
Pope Francis acknowledged the issue for the first time a few days after the article was published.
He said more needed to be done to confront the issue, while pointing to the action taken by Pope Benedict XVI against a French order after nuns there had been reduced to "sexual slavery" by priests. The pontiff's comments came two weeks before a landmark Vatican summit addressing paedophilia within the church.
In Women Church World's final editorial, the editorial board said the "conditions no longer exist" to continue working with L'Osservatore, citing its initiatives with other female contributors.
"They are returning to the practice of selecting women who ensure obedience," the editorial read. "They are returning to clerical self-reference and are giving up that 'parresia' [freedom to speak freely] that Pope Francis so often seeks."
The abuse of nuns has been widely known for years, but much like clerical abuse against children, the Holy See – the Catholic Church's governing body – has been silent and failed to take concrete action against accused priests.
Monda took note of the resignations on Tuesday, thanked the women for their work, and added: "In the few months since I was appointed director, I guaranteed to professor Scaraffia, and to the women's editorial team, the same total autonomy and the same total freedom that have characterised the monthly supplement since the day it was born, refraining from interfering in any way other than to offer my dutiful contributi
World Politics
United States
Cartoon
Source: AP
Chairman of the US house of representatives judiciary committee, Jerrold Nadler, tells a news conference on Sunday that his committee plans to call on attorney general William Barr to answer questions about Robert Mueller's Russia report.
Following the submission of special counsel Robert Mueller's Trump-Russia investigation findings to the attorney general, William Barr, high-profile senators including Bernie Sanders, Kamala Harris and Chuck Schumer are demanding that the report is made public. Speaking at a rally in San Diego on Friday night, Sanders said: 'Nobody, including the president of the United States, is above the law'