10 Aug
Nearly all of these are English-edition daily newspapers. These sites have interesting editorials and essays, and many have links to other good news sources. We try to limit this list to those sites which are regularly updated, reliable, with a high percentage of "up" time.
Recommended:

This week, wild elephants, baby baboons and sharks that glow in the dark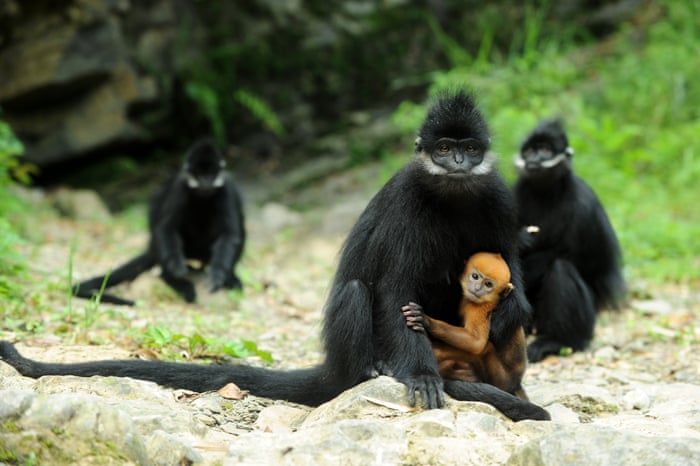 Langurs, an endangered monkey species, at the Mayang River National Nature Reserve in Guizhou province, south-west China. The landlocked mountainous province has been putting environmental protections in place as part of a long-term plan to develop regional ecotourism
Photograph: Yang Wenbin/Xinhua/Barcroft Media

Giovanni Tamacas starved himself for 10 days in the US capital to protest about a 'criminally complicit' government's inaction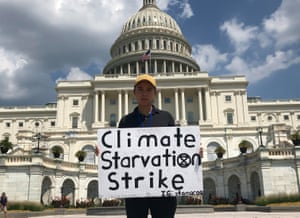 Giovanni Tamacas, who was experiencing fatigue, anxiety and dizziness one week into his hunger strike, protests at the US Capitol. Photograph: Courtesy Giovanni Tamacas
F

ood shortages, social disruption and riots. That's the future 19-year-old Giovanni Tamacas envisioned during the 10 days he starved himself in the nation's capital in a hunger strike protest at the lack of action to thwart the climate crisis.
A student at the University of California in San Diego, Tamacas spent seven days baking in the sun in front of the White House and three more at an American Civil Liberties Union advocacy institute. He also staged a "die-in" in front of the US Capitol building.
Tamacas's mother is from Vietnam, and his father is from El Salvador – two places expected to be hit hard by the chaotic climate changes that will come from rapidly rising temperatures.
In an interview at the Smithsonian Natural History Museum, Tamacas recited the projections that scare him the most: an ice-free Arctic and a disrupted jet stream that will lead to droughts, floods and grain scarcity. Walking through the dinosaur fossil exhibit, he compared humanity's trajectory to previous mass extinctions.
In the shorter term, Tamacas's relatives in Vietnam could face rice shortages, higher food prices and civic unrest.
His father's family in El Salvador is seeing coffee and corn crops failing. At least 1.4 million climate migrants could flee their homes in Central America in the next three decades.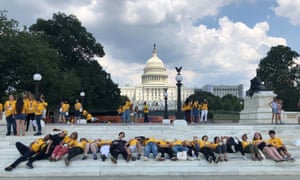 Tamacas and friends from an American Civil Liberties Union program for students stage a 'die-in' at the US Capitol to symbolize what's at stake from the climate crisis if politicians don't act now. Photograph: Courtesy Giovanni Tamacas
"I have to do something like this in order to show people how hungry my generation will be," Tamacas said.
About a week into his strike, Tamacas could only sleep four or five hours a day. One night he got up to refill his water bottle and collapsed from dizziness.
Tamacas was visiting Washington DC in the middle of a historic heatwave, with temperatures some days feeling as hot as 110F. Global data shows this July was the hottest ever recorded.
The heat and physical weakness compounded Tamacas's anxiety over the climate crisis.
"I did cry. And I did feel extreme frustration and hunger and just overwhelming feelings of sadness at times," he said. "But at the end of the day I remembered what I was fighting for and that's what kept me going"
People from a wide spectrum of political affiliations approached Tamacas in front of the White House, he said. One called him an idiot. But others were shocked when he explained the urgency of the climate emergency, as well as an ongoing extinction crisis.
In a blogpost explaining his hunger strike, Tamacas said: "People need to be terrified. We are racing toward the extinction of human beings." He calls the US government "criminally complicit".
Tamacas also protests with the group Extinction Rebellion. On his campus, he has chained himself to trees and camped in a tent outside the university library during final exams.
More On The Environment:

Event billed as rally to 'guard our children's future' given permit by authorities, unlike others planned for weekend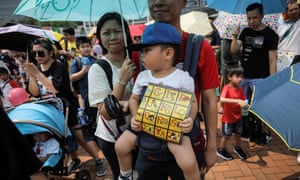 Families take to streets in Hong Kong on 10 August to show support for pro-democracy protests. Photograph: Vivek Prakash/AFP/Getty Images
Armed with balloons and strollers, several hundred families took to the streets in Hong Kong on Saturday to show support for pro-democracy protests that are now in their third month.
The colourful and calm atmosphere at the rally was a far cry from the increasingly violent confrontations that have marked recent demonstrations by activists calling for greater freedoms in the city.
A leaflet featuring an alternative alphabet was circulated, offering "demonstration" for the letter D, "angry" for A and "protest" for P.
Faye Lai was attending with her three-year-old niece and said she hoped the rally would help children understand the tumult that has engulfed the international financial hub in recent weeks.
"We have to tell children about the current situation in Hong Kong, and educate them about what the right kind of society is," said Lai, a stage assistant.
"The future belongs to the children. Hong Kong's future is theirs. We are fighting for rights that children should have," she said.
Protests that began in opposition to a controversial bill to allow extradition to mainland China have morphed into a broader movement calling for greater freedoms, including direct election of the city's chief executive.
The family event, billed as a rally to "guard our children's future" received a permit from authorities, unlike several other protests that activists have organised for the weekend.
"At this stage, we need to come out for any event, especially those for the future generation, not just protests and marches," said Roger Cheng, a 50-year-old office worker.
"Like today, it's for the next generation to know about the importance of having a future … Although they don't understand [everything] yet, they might be able to experience freedom, the human need to just do what they want."
Activists plan to ramp back up their demonstrations over the weekend, including with a three-day sit-in at the airport that began on Friday and attracted thousands of people.
Earlier on Saturday, older people staged a "silver hair" rally, delivering letters to police headquarters and the office of chief executive Carrie Lam in support of the protests.
Activists also plan marches over the weekend that authorities have not authorised, raising the possibility of fresh clashes between protesters and police.
World Politics
United States
State officials were left scrambling to cope with the human fallout after being kept in the dark about Wednesday's mammoth immigration raids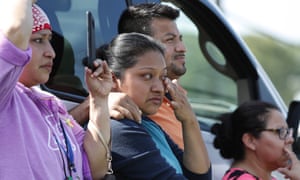 Friends, coworkers and family watch as US immigration officials raid the Koch Foods Inc plant in Morton, Mississippi, on Wednesday. Photograph: Rogelio V Solis/AP
D

istraught relatives wept alongside distressed children in school lobbies this week, trying to grapple with the reality that agents from the United States Immigration and Customs Enforcement (ICE) agency had taken their parents away.
Agents stormed the workplaces and loaded up about 680 employees whom they claimed were undocumented immigrants. The agents arrested and tased at least one US citizen.
The ICE raids, carried out under the leadership of a Donald Trump-appointed US attorney, took place at seven food processing plants in six Mississippi cities. Photographs of crying children left distraught when their parents were taken into custody immediately went viral worldwide.
Father Jeremy Tobin, a Catholic priest who works with the Mississippi Immigrants Rights Alliance (Mira), told the Guardian he had been flooded with worried calls and messages from immigrants, documented and undocumented alike.
Tobin, who was based in Carthage, one of the cities federal agents raided, from about 2005 to 2014, said he knows personally many of the families affected.
He said he spoke to one girl whose immigrant family members are all in the US legally. "She said her family is so torn up about this," he said. "They all have [their immigration] papers. They all have green cards."
Despite their legal status, the girl told Tobin, the family is living in a state of fear and anguish in the aftermath. "To see this happen, it's so painful," the girl told him. "And I'm glad you can understand."
The raids on Wednesday came on the same day Trump traveled to El Paso, claiming he wanted to help unify the country after a suspected white supremacist gunman killed 22 people at a Walmart there. A manifesto attributed to the gunman said he was concerned about a "Hispanic invasion", echoing rhetoric Trump has used on Twitter and in stump speeches. While Trump spoke of unity in front of cameras to the west, though, chaos unfolded in Mississippi.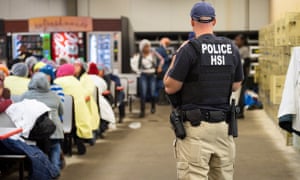 A handout photo made available by US Immigration and Customs Enforcement (Ice) shows police duirng a worksite enforcement operation in Canton, Mississippi, on Wednesday. Photograph: A Mason/Ice/Handout/EPA
The state's child protective service agents were not notified about the raid in advance, nor was the state's department of human services nor the Mississippi attorney general's office. Caught unawares, school districts and daycare centers scrambled to figure out what to do with affected children in their care.
Luis Espinoza, a Mira organizer, said he had spent the past two days working with affected families. In some cases, a mother and a father worked at the same food processing plant on alternating shifts so one could stay home and care for the child while the other worked.
"In most of the cases now, the father was working and has been detained," said Espinoza, who has been working with families in Canton, one of the cities Ice targeted for raids, just north of the capital.
Fears of returning to work
"But even if they have been released, they cannot go back to work because the plant is going to say, 'No. We don't want any problems any more,'" Espinoza said.
Even if they could, the parents who were not at work at the time of the raids are afraid of going back to work. Not all parents were released, and if another raid happened at the facility, or another workplace, it could leave the children with neither parent.
For those families, though, even if a parent has been released, they suddenly have no income, leaving them with no way to pay rent, buy groceries or get medications.
"Right now, the community [members] are helping each other," Espinoza said, explaining that Mira is working with churches and other organizations in the targeted areas to help get food and other resources to distressed families.
Released detainees will have to wear ankle monitors. They will also need attorneys to help them fight their immigration cases.
The immediate aftermath of the raids left hundreds of children with no parents to go home to; infants at daycare centers with no one to pick them up; and children crying out for disappeared parents in workplace parking lots.
Child protective services in Forest, Mississippi, worked diligently on Wednesday evening to unite about 30 children with relatives. Then, on Thursday morning, Constance Slaughter-Harvey, the Scott county youth court prosecutor, watched as a handful of those children reunited with parents whom Ice had released.
Like other child protective services agents, Slaughter-Harvey said the federal government gave her no warning about the imminent raids.
In the school districts affected, many of the children were at their first day of school when the raids happened. Tobin, the priest, said he thinks that date was intentionally chosen. The raids took months to plan. At a rally with other Mira organizers on Thursday, Tobin compared Ice to the Nazi-era Gestapo.
"This is totally unAmerican," he said afterwards. "When I got up there and talked about the Gestapo, I meant that. We've got to abolish Ice. This is nothing more than a hit squad. It's inhuman. The whole process is dehumanizing … These Trumpites just need someone to scapegoat."
He compared Trump's rallies to Adolf Hitler's Nuremberg rallies. It is all about "white supremacy", Tobin said.
"They've got to have somebody to hate. The weakest group in the country: undocumented immigrants. They can't pick on black folks like that any more because we got laws passed, right? They're citizens. But they can pick on the immigrant. And that's what they do."

Donald Trump has been criticised for using a hospital visit in El Paso to boast about crowd numbers at a rally held several months ago. He made the comments while visiting the Texas city after a gunman killed 22 people in a shopping centre. He also hit out at Beto O'Rourke, an El Paso local and Democratic presidential candidate. Trump's administration then turned the El Paso visit into a campaign video