13 Aug
Nearly all of these are English-edition daily newspapers. These sites have interesting editorials and essays, and many have links to other good news sources. We try to limit this list to those sites which are regularly updated, reliable, with a high percentage of "up" time.
Recommended:

Jeffrey Epstein appears in court in West Palm Beach, Florida. Epstein has died by suicide while awaiting trial on sex-trafficking charges.
Report finds 2018 was the fourth-warmest on record since the mid-to-late- 1800s and sea levels were the highest on record

Greenhouse gas levels topped 60 years of modern measurements and 800,000 years of ice core data, the study found. Photograph: Charlie Riedel/AP
The gases heating the planet in 2018 were higher than humans have ever recorded, according to an authoritative new report from the American Meteorological Society and the US government.
Greenhouse gas levels topped 60 years of modern measurements and 800,000 years of ice core data, the study found. The data used in the 325-page report is collected from more than 470 scientists in 60 countries.
The global annual average for carbon dioxide – which is elevated because of human activities like driving cars and burning fuel – was 407.4 parts per million, 2.4 ppm higher than in 2017.
The report finds 2018 was the fourth-warmest on record since the mid-to-late- 1800s. Temperatures were .3C to .4C higher than the average between 1981 and 2010.
Sea levels were the highest on record, as global heating melted land-based ice and expanded the oceans. Sea surface temperatures were also near a record high.
As the National Oceanic and Atmospheric Administration put it, the report "found that the major indicators of climate change continued to reflect trends consistent with a warming planet".
Arctic and Antarctic sea ice extent was near a record low, and glaciers continued to melt and lose mass for the 30th year in a row.
Despite recent massive wildfires in the US and the Arctic, 2018 fire activity around the globe was actually the lowest on record. That is because humans have turned the savannas that have burned frequently into agricultural areas.
Mexico reported its third warmest year in its 48-year record, and Alaska reported its second warmest in its 94-year record. There were 14 weather and climate events in the US that each caused over $1bn in damage – the fourth highest since records began in 1980.
The Caribbean saw coral reef bleaching and South America experienced seven extreme snowfall events. Europe was a hotspot, with its second warmest year since at least 1950. And Australia had its third warmest year since 1910, with a rapidly intensifying and expanding drought and significant fires.
More On The Environment:
Hundreds of demonstrators stage new rally a day after shutdown at key transport hub
'You're not sorry': Hong Kong protesters block travellers from entering departure gates – video
Hong Kong's airport authority has suspended flights for a second day as thousands of protesters staged another rally at the busy international travel hub.
Tuesday's action marked the fifth consecutive day of protests at the airport, as pro-democracy demonstrations in the Chinese territory entered their 10th week, with both sides showing few signs of backing down.
"Terminal operations at Hong Kong International Airport have been seriously disrupted as a result of the public assembly at the airport today," the airport authority said, adding that check-in service for departing flights had been suspended since 4.30pm (0930 BST).
The unprecedented cancellation of all flights on Monday came as Beijing made the latest in an increasingly threatening series of statements. A Chinese official said "terrorism" was emerging in the city, while in Hong Kong authorities demonstrated water cannon for use in crowd control.
Late on Monday night, two Chinese state media outlets ran videos showing armoured personnel and troop carriers purportedly driving to Shenzhen, which borders Hong Kong.
On Tuesday, the territory's chief executive, Carrie Lam, warned that violence was pushing Hong Kong in a dangerous direction. "Violence, no matter if it's using violence or condoning violence, will push Hong Kong down a path of no return, will plunge Hong Kong society into a very worrying and dangerous situation," she said.
Lam, who faced fierce questioning from local reporters and at one point appeared to be on the verge of tears, appealed for calm.
"Take a minute to think, look at our city, our home, do you all really want to see it pushed into an abyss," Lam said, although she again refused to make any concessions to the protesters.
Clad in black and wearing face masks, the unofficial uniform of the protests, demonstrators at the airport on Tuesday chanted, "Stand with Hong Kong, fight for freedom" as passengers scrambling to catch rescheduled and delayed flights passed through the airport.
Operations had resumed early on Tuesday morning, but a massive backlog of cancelled flights meant many take-offs were delayed or cancelled. Later in the day came the announcement that check-ins had been suspended again.
The airport authority said it did not expect arriving flights to be affected, though dozens of arriving flights were already cancelled. It advised the public not to come to the airport.
"Sorry for the inconvenience, we are fighting for the future of our home," read one protest banner.
World Politics
United States
Communities in Mississippi are on edge after 700 immigrants arrested in raids last week, with reports of more to follow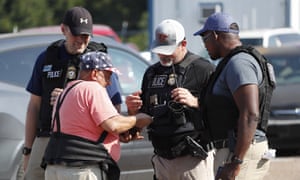 A registered immigrant shows federal agents his identification as he prepares to leave a food plant in wake of last week's immigration raids in Mississippi. Photograph: Rogelio V Solis/AP
Ovidio Miguel watched last week as business dried up at his grocery store in the wake of a large-scale immigration raid at the local poultry plant in Forest, Mississippi.
Immigration and Customs Enforcement (Ice) agents arrested nearly 700 people on 7 August as part of a series of raids at worksites in Mississippi.
Those raids, conducted at the behest of the Trump administration, have left the small town's sizable Latino community paralyzed with fear. Miguel's grocery, Tienda Latino, is getting half as many customers as usual, he said.
"Hispanic people are scared to go out," Miguel told the Guardian from across the counter of his store on a rainy Saturday. "They're afraid Ice is still around. I'm worried about my business. It's so slow. People came out. Now no one is coming out."
Tienda Latino is on a strip of road near fast-food chains such as Burger King and Sonic, where on that evening sat a crimson red Dodge Ram pickup truck decorated with Confederate flags on its front plate and rear window.
The franchises stand in contrast to the nearby historic Forest downtown, at the center of which is the Scott county courthouse. Painted stone roosters stand watch around corners of the courthouse, chests puffed out, symbolizing the pride the town takes in its flagship poultry plant.
Now, though, they also represent the horror that gripped residents when Ice stormed the Koch Foods plant, leading workers out with their arms bound in zip ties and loading them onto buses. Some workers that Ice agents initially grabbed were released after they demonstrated they had current work visas. Later that evening, the agency released 300 parents, but with ankle bracelets to monitor their movements while they await court dates.
Kimberly Padilla, who works at her immigrant family's south side grocery store, La Moreliana, told the Guardian they have seen a significant drop in business since the raid. Not only are members of the community fearful to go out in public, she said, but they are afraid to use money.
"They don't want to go anywhere and spend money because they don't know what's going to happen. I don't really know what's going to happen," she said.
Among those captured, Padilla said, was a woman who is friends with her boyfriend's family. The government released the woman with an ankle bracelet on the evening after the raids, though, because she has a small child who she lives alone with.
The Padillas worry business could slow dramatically in the coming weeks. For now, former Koch employees and their families are still getting paychecks. Soon, though, they will have no income – and getting a job won't be an option.
"Some of the parents that have permission to work are going to stay and work, but the ones who don't, they can't do anything anymore," Padilla said. "With the ankle bracelets, they're basically tracked, and if Ice finds out they're still working even after getting taken and processed, it'll be worse for them in the end."
Half a mile from La Moreliana, a "now hiring" sign hangs on the metal fence at the entrance of the Koch Foods plant, which has ceased operations because Ice took too many of its employees for it to continue operations. Train tracks delineate downtown Forest from the town's largely Latino south side, where the chicken plant and the La Moreliana are.
Tony McGee, the superintendent of public education for Scott county, said business owners are also telling him that they are struggling. Other businesses who do jobs for Koch Foods, like bringing goods to them or receiving them, have also had to cease some operations.
"It does affect more than just the workers of the plant. It extends out into the entire community," McGee saud as he cooked tuna at his home in Kosciusko.
The fallout even extends to Walmart, America's largest brick-and-mortar supermarket chain. Locals entering the Forest store were not welcomed by the usual smiling greeter wearing a dark blue and yellow Walmart vest with the words "How may I help you?" on the back.
Instead, in the greeter's place stood a stoic woman with a pistol on her hip.
"Didn't you hear about El Paso?" said one Walmart worker, who did not share his name, when asked about the armed guard.
He and another worker said the store had begun employing an armed guard after a white supremacist gunman killed 22 people at a Walmart in El Paso last week. In a supposed "manifesto" posted online minutes before the shootings, the alleged gunman claimed he was doing it in response to a "Hispanic invasion" in the state, echoing Donald Trump's repeated warnings over the past year about an "invasion" of immigrants and refugees from south of the US-Mexico border.
In Forest, though, a measure designed in part to set the local immigrant at ease instead set off a fresh wave of anxieties with some. Rumors spread that the guard was an Ice agent who checked IDs when people entered the store, Padilla said.
"So a lot of people are scared to be going to Walmart, and a lot of people have been warned not to go because of all the shootings," she said.
Children scared to go to school
At the schools in Scott county, McGee told the Guardian, many children still have not come back. Chaos ensued as the raids unfolded on 7 August because Ice did not inform the school districts affected nor local Child Protective Services until after the raids had happened. With hundreds of parents in Ice custody, schools and daycares struggled to find relatives to care for children in the meantime.
The next day, on Thursday, 154 students in the Scott county public school district were out, McGee said. By Friday, 52 students still had not come back to school.
"Of course, right now, there's still a lot of unease within our Hispanic community, as far as feeling like they can get out in the community, go to school, and go shopping, those types of things," McGee said. "It's just fear."
The schools have put academics "on the back burner" for now, he said, to focus on the children's wellbeing. Therapists from the University of Mississippi Medical Center have been in contact with the district and plan to come in to help the children deal with the trauma of the raids.
On Friday night, McGee said, school administrators loaded up on a bus and took 25 meals and care packages out to children in nearby Morton, Mississippi, another town in Scott county targeted by the Ice raids. The district, McGee said, plans to continue doing that for families affected by the raids, starting with children who have yet to return to school. He wants to help rebuild as much of a sense of trust and safety as possible.
"You definitely see [immigration issues] differently when it affects you and has a direct bearing on your children," McGee said. "And you know, all those kids are our kids."