15 Aug
Nearly all of these are English-edition daily newspapers. These sites have interesting editorials and essays, and many have links to other good news sources. We try to limit this list to those sites which are regularly updated, reliable, with a high percentage of "up" time.
Recommended:

The massacre in El Paso is the consequence of growing racist extremism in the United States. As president, Donald Trump's task should be that of uniting the country, but he himself has contributed to the climate of hate.
UPI/ laif A surveillance camera showing two angles of the Walmart shooter.
It's a warm summer evening not long after the massacres in El Paso and Dayton and several hundred demonstrators have gathered on an arterial in Fairfax, Virginia, and are holding candles. Behind them is a blue building of steel and glass that is visible from the highway out of town. High up on the facade are five words in red lettering: National Rifle Association of America.
Inside, nobody seems particularly interested in the protesters. The lights are still on in some of the offices, but it's quiet otherwise. NRA employees, the most powerful weapons lobby in the world, know the drill: Every time a gunman mows down some people in the latest mass killing, the protesters show up. Following the two massacres that took place in the first weekend of August, the NRA posted a brief note on its website, saying that its "deepest sympathies" were with the victims and their families, but the organization would continue defending the right of Americans to bear arms. Six lines for 31 deaths. Plenty.
On the street down below, a woman begins singing "We Shall Not Be Moved," a song from the Civil Rights movement. Then, the Rev. David Miller steps onto a small, improvised podium. He's a muscular man in a dark gray, collared shirt. Empty phrases are no longer enough, he says. "The time for thoughts and prayers has come to an end. The time for us to act is now!"
"Amen," the crowd responds, "Amen! Amen!" The reverend seems to feed off the passion of those surrounding him on this evening. There are schoolchildren, university students and a Democratic lawmaker in the audience. One of the signs reads: "Our blood, your hands." Many marchers are holding pictures of those who died in the El Paso bloodbath.
There have been so many massacres, the reverend says. But after the attack on the Sandy Hook Elementary School in Connecticut in 2012, in which 26 people died, 20 of them children, he says he actually thought that things would finally change. He thought the same after the massacre in Parkland, Florida, in 2018, with 17 deaths. But even the protests by the students who survived in Parkland didn't result in any changes to U.S. gun laws. Now, though, the reverend says, we have really reached a decisive moment. "Now, the tanker is beginning to turn." He stops for a moment and looks at the evening sky: "At least I hope so."
There has been no lack this week of warnings to finally come to reason in the face of ongoing hate and violence in the U.S. In 2019 alone, some 250 people have already been killed in mass shootings in America.
Spreading a Racist Ideology
The phrase "mass shooting" doesn't adequately describe the massacre carried out by Patrick Wood Crusius in El Paso, just as it is insufficient in other such bloodbaths. The suspected shooter was angry, but he didn't choose his victims at random. He drove 10 hours from a Dallas suburb to the Mexican border, where the Latino share of the population is particularly high. The target of his attack was a Walmart, which does excellent business on cross-border traffic.
Crusius didn't just want to kill people, he wanted to send a political message. And he had a role model: the gunman from Christchurch, who killed 51 people in two New Zealand mosques earlier this year — and who invoked the right-wing extremist Anders Breivik, who killed 77 people in Oslo and on the island of Utoya in 2011.
Crusius' assault was intended as a terrorist attack. He wanted to frighten all those who aren't white, and he wanted to spread his racist ideology. In the four-page manifesto posted online shortly before he opened fire, he wrote that he was "simply trying to defend my country from a supposed ethnic and cultural replacement brought on by an invasion." The theory of cultural replacement is one that has been circulating for some time among right-wing extremists in the United States.
Following the Islamist terrorist attacks on Sept. 11, 2001, President George W. Bush launched two wars that would cost the lives of thousands of soldiers. He also created the Department of Homeland Security, which employs 240,000 people and has a budget of at least $40 billion (35.7 billion euros) per year. It's mission was primarily that of protecting the U.S. from foreign terrorists, but now, it has become increasingly clear that a perhaps more dangerous threat is developing. And it is coming from what seems to be an extremely unlikely source: quiet, leafy suburbs like Allen, Texas, where Crusius lived and became radicalized — until he ultimately packed an assault rifle into his car and headed for the Mexican border.
SHAWN THEW/EPA-EFE/REX
Donald Trump hasn't been shy about appealing to his electorate's basest instincts.
Holger Esser couldn't believe it when he heard the news from El Paso. The software engineer from the German town of Düren has lived in the U.S. for 20 years and he lived on the same street as Crusius. They would say hello to each other when Esser took his dog Millie for her morning walk. Esser never really thought much about Crusius, a quiet, inconspicuous young man in his early 20s who went to nearby Collin College. He parked his Honda Civic in front of his grandparents' place, where he lived most of the time.
'Rotting From the Inside Out'
"I was shocked just like everyone was when I heard about the shooting. I knew the grandparents — nice, friendly people," Esser says. Larry and Cynthia Brown, regular churchgoers according to Esser, live seven houses down from Esser. The two of them, he says, took in their grandson Patrick around two years ago, shortly after he graduated from high school. In his senior yearbook, it says that Crusius finds the "world of law enforcement" to be quite fascinating. Former classmates have described him as a quiet loner who was avoided by many and made fun of by some.
Esser has read Crusius' manifesto, saying he wanted to understand what was going on inside his neighbor's head. "When you live here, how can you seriously be worried that Mexicans are going to take your job?" Esser asks. Homes in the area cost up to a million dollars and those who live here have come pretty close to achieving the American dream. It's a place of two-car garages with a third car parked out front and perfectly tended front yards. But Crusius apparently saw it as a world that was approaching collapse: "America is rotting from the inside out, and peaceful means to stop this seem to be nearly impossible," he wrote in his manifesto.
Terror attacks perpetrated by whites against the country's minorities have plagued the United States from the very beginning. In 1787, the country agreed on the first democratic constitution in the modern era, but the document was only able to find support from all 13 founding colonies because it bowed to pressure from the southern states and allowed them to continue their brutal system of slavery. It was only in 1865, with the North's victory over the South in the Civil War, that slavery was abolished. Yet it was only just over a week ago that police on horseback in the Texan city of Galveston led a black suspect on a leash through town — almost as though the abolishment of slavery had never taken place. The image triggered widespread anger and the police department was forced to apologize.
Right-wing terror in the U.S. has a long history. Up until the attacks on the World Trade Center in 2001, Timothy McVeigh held the dark record for the bloodiest terrorist attack in U.S. history. An eager consumer of right-wing conspiracy theories, McVeigh set off a bomb in 1995 at a federal administration building in Oklahoma City, killing 168 people. The nongovernmental organization ADL has calculated that in the last 10 years, three quarters of all murders motivated by extremist ideologies have been committed by right-wing extremists.
Just how clear-and-present the danger is, was demonstrated in August 2017 when racists paraded through the streets of Charlottesville, Virginia, while chanting: "Jews will not replace us!" One woman died when a Hitler-admirer sped his car into a group of counterdemonstrators. Donald Trump, though, didn't find it necessary to assign blame, instead saying that there were "some very fine people on both sides."
Fine Nazis? Charlottesville made it clearer than ever that Trump willingly flirts with the extreme right fringe of the American political spectrum and that he is unwilling to criticize those who praise him. The result is that many white racists feel they have found an ally in Donald Trump.

For the threatened and endangered native animals in breeding programs at the Aussie Ark wildlife sanctuary at Barrington Tops, New South Wales, the weekend's unusually cold snap proved quite a curiosity. The sanctuary is home to Tasmanian devils, eastern quolls, parma wallabies, brush-tailed rock wallabies, long-nosed potoroos, rufous bettongs, southern brown bandicoots and Manning river turtles
Cold play: Tasmanian devils scuttle in the snow at Aussie Ark. Devils, which were once native to mainland Australia, are now found only in the wild in Tasmania.
Photograph: Lachlan Gilding/Aussie Ark
A long-nosed potoroo displays a light dusting of powder.
Photograph: Lachlan Gilding/Aussie Ark

Climate activist Greta Thunberg has set sail from Plymouth on what could be her most daunting challenge yet – crossing the Atlantic in a solar-powered racing yacht.
'I feel a bit seasick and it's not going to be comfortable but that I can live with,' said the 16-year-old climate activist ahead of her two-week voyage.
Thunberg is making her transatlantic trip on board the 60-foot yacht Malizia II to avoid travelling by air. The yacht is fitted with solar panels and underwater turbines that produce electricity onboard, with the aim of making the journey zero-carbon.

A

lexandria Ocasio-Cortez enters a boardroom at her constituency office in Queens, New York, after a short delay which, a political aide hopes, hasn't been caused by a constituent waylaying her in the corridor. ("They can get really excited to meet her.") Greta Thunberg is in her home in Sweden, her father testing the technology for the video link while the teenager waits in the background. The activists have never met nor spoken but, as two of the most visible climate campaigners in the world, they are keenly aware of each other.
Thunberg, now 16, catapulted to fame last year for skipping school every Friday to stand outside the Swedish parliament, protesting against political inaction over the climate crisis and sparking an international movement, the school strike for climate, in which millions of other children followed suit. Ocasio-Cortez, the Democratic Representative for New York's 14th congressional district is, at 29, the youngest woman ever to serve in Congress, whose election over a well-funded incumbent in 2018 was a huge upset to politics-as-usual. She has been in office for less than a year, which seems extraordinary given the amount of coverage she has generated. In February, Ocasio-Cortez submitted the Green New Deal to the US House of Representatives, calling for, among other things, the achievement of "net-zero" greenhouse gases within a decade and "a full transition off fossil fuels", as well as retrofitting all buildings in the US to meet new energy efficient standards.
The Green New Deal, while garnering support from Democratic presidential candidates Elizabeth Warren, Kamala Harris and Amy Klobuchar, was mocked by speaker Nancy Pelosi ("the green dream or whatever they call it"), and defeated in the Senate by Republicans. Like Thunberg, however, Ocasio-Cortez gives every appearance of being galvanised by opposition, and has the kind of energy that has won her 4.41 million Twitter followers and makes establishment politicians in her path very nervous.
In the course of their conversation, Ocasio-Cortez and Thunberg discuss what it is like to be dismissed for their age, how depressed we should be about the future, and what tactics, as an activist, really work. Ocasio-Cortez speaks with her customary snap and brilliance that, held up against the general waffle of political discourse, seems startlingly direct. Thunberg, meanwhile, is phenomenally articulate, well-informed and self-assured, holding her own in conversation with an elected official nearly twice her age and speaking in deliberate, thoughtful English. They are, in some ways, as different as two campaigners can get – the politician working the system with Washington polish, and the teenager in her socks and leggings, working from her bedroom to reach the rest of the world. There is something very moving about the conversation between these young women, a sense of generational rise that, as we know from every precedent from the Renaissance onwards, has the power to ignite movements and change history.
Alexandria Ocasio-Cortez It's such an honour to meet you!
Greta Thunberg You, too!
People say, 'Don't politicise young people.' It's almost a taboo. I find it very condescending
AOC Thank you. I'm so excited to be having this conversation. I remember first hearing your speech a few months ago – I was hanging out with a friend in Harlem, who said, "Have you listened to this young woman?" And I heard your speech and was thrilled, because here in the United States, even when I was running, people were saying there's no need to convey this kind of urgency [about the climate], and it's radical, and it's unnecessary. To hear you articulate the belief that I've had as well is so exciting and validating. So I wanted to thank you for your work and your advocacy.
GT Thank you so much for standing up and offering hope to so many people, even here in Sweden.
AOC One of the things I'm interested in hearing from you is that often people say, "Don't politicise young people." It's almost a taboo. That to have someone as young as you coming out in favour of political positions is manipulative or wrong. I find it very condescending, as though, especially in this day and age with the access to information we have, you can't form your own opinions and advocate for yourself. I'm interested in how you approach that – if anyone brings that up with you?
GT That happens all the time. That's basically all I hear. The most common criticism I get is that I'm being manipulated and you shouldn't use children in political ways, because that is abuse, and I can't think for myself and so on. And I think that is so annoying! I'm also allowed to have a say – why shouldn't I be able to form my own opinion and try to change people's minds?
But I'm sure you hear that a lot, too; that you're too young and too inexperienced. When I see all the hate you receive for that, I honestly can't believe how you manage to stay so strong.
AOC I think the thing that people sometimes don't realise is that here in the United States, because of the gap between the rich and the poor, people really identify Wall Street as a very potent political force. With our rules, politicians are allowed to accept campaign contributions on a level that is probably beyond what happens in other parts of the world.
But what people don't recognise is how strong the fossil fuel lobby is. The Koch brothers in the US have essentially purchased the entire Republican party, but people forget they made their money off oil and gas. That is where their fortune comes from. And I think that's what we're up against. So the severity of the pushback indicates the power that we are challenging. You can look at that with despair, or you can look at it with hope. That's how strong we are: we're so strong that we're able to take this on credibly and actually build a movement against it.

'Why should we argue about who or what needs to change first? Why not take the leading role?' Photograph: Stephen Voss, Anna Schori/The Guardian
GT Yes, I mean, the oil lobby is huge in the US, and we also have that kind of lobby in Sweden. Not as much, but…
AOC What is the most effective tactic in gaining attention for the environmental movement? What have you done, or what have been the practices that have been most galvanising?
GT I think this whole movement in which I just sat down in front of the parliament, alone – I think that had a huge impact, because people saw it and were moved, and became emotional. Millions of children around the world, striking and saying, "Why should we study for a future that may not exist any more?" This is not only me, but everyone in the movement.
AOC Another question I have for you is that a lot of people talk about Sweden and other Nordic countries as an inspiration. People say that [advanced thinking around the climate crisis] could never happen in the US, because we're a multiracial democracy – the fact that Sweden and other places are more homogenous means they're able to get along better. That because of the racial diversity here, and issues with immigration and so on, there's no way we can come together in order to combat this. I'm interested in what you say in response to that.
GT Many people, especially in the US, see countries like Sweden or Norway or Finland as role models – we have such a clean energy sector, and so on. That may be true, but we are not role models. Sweden is one of the top 10 countries in the world when it comes to the highest ecological footprints, according to the WWF – if you count the consumer index, then we are among the worst per capita.
In Sweden, the most common argument that we shouldn't act is that we are such a small country with only 10 million inhabitants – we should focus more on helping other countries. That is so incredibly frustrating, because why should we argue about who or what needs to change first? Why not take the leading role?

World Politics
United States
Mural in downtown Las Vegas by British artist Izaac Zevalking meant to draw attention to America's founding by immigrants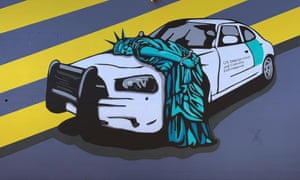 Mural by Izaac Zevalking. Photograph: Artwork by Izaac Zevalking. Photograph courtesy Mat Luschek / Las-Vegas Review-Journal
A mural of the Statue of Liberty, handcuffed and slammed on the hood of a police cruiser, is drawing attention in downtown Las Vegas, a day after a top Trump administration official in charge of immigration suggested the statue's famous inscription be amended to include a test of means.
Under the pseudonym Recycled Propaganda, artist and British immigrant Izaac Zevalking painted the image on a wall late last month, before citizenship and immigration services director Ken Cuccinelli – jokingly – suggested amending Emma Lazarus's sonnet inscribed on the statue to read: "Give me your tired and your poor who can stand on their own two feet and who will not become a public charge."
Zevalking told Las Vegas station KTNV: "My purpose of doing what I did with the Statue of Liberty is to try and draw analogies with America's past and how it was founded and how it was largely built by immigrants, to really make an analogy out of that so that people can apply that to contemporary society and contemporary issues a little bit more."
Since Cuccinelli made his suggestion to NPR, administration officials have sought to play down its significance.
The White House adviser Stephen Miller said he wouldn't "get off into a whole thing about history here". But he added: "The Statue of Liberty is a symbol of American liberty lighting the world. The poem that you're referring to was added later and is not actually part of the original Statue of Liberty."
Still, the exchange underscores the change last week in administration policy toward immigrants applying for permanent residency status or green card. Under the new rules, immigration services will be able to reject applicants who have spent more than a year on food stamps, Medicaid or other public benefits.
Asked which immigrants will now be welcome to the US, Cuccinelli said: "All immigrants who can stand on their own two feet, self-sufficient, pull themselves up by their boot straps – as in the American tradition."
But critics of the rule fear it will be used to prevent poorer immigrants from ever setting foot in the US.
"Aliens will be barred from entering the United States if they are found likely to become public charges," revealed a White House fact sheet. "Aliens in the United States who are found likely to become public charges will also be barred from adjusting their immigration status."
The Migration Policy Institute estimated the change could result in more than half of all family-based green card applicants being denied. About 800,000 green cards were issued in 2016.