19 Aug
English Online International Newspapers
Nearly all of these are English-edition daily newspapers. These sites have interesting editorials and essays, and many have links to other good news sources. We try to limit this list to those sites which are regularly updated, reliable, with a high percentage of "up" time.
Recommended:

Local politician urges Denmark to grant independence to territory rather than sell to US
100 years after hundreds of African Americans were reportedly killed in Elaine, Arkansas, a memorial is set to bring details of the tragedy to light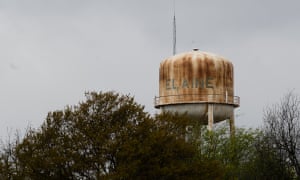 Some observers say the number of people who died in Elaine in 1919 could be more than 800, which would make it the deadliest massacre of African Americans in US history. Photograph: Albert Cesare/AP
Charlie McClain was surprised to learn that he was related to one of the Elaine Twelve.
It came out when McClain, 58, asked his mother earlier this year about the largely forgotten mass killings in his Arkansas Delta home town a century ago, when white mobs murdered scores of African Americans, but only a dozen black men were ever prosecuted for any crime during the disturbances.
"When I got off the phone, I went back and looked at my notes, and I recognized the name: Paul Hall," McClain said.
The Elaine Twelve were a group of black defendants sentenced to death for what transpired in the autumn of 1919, after an all-white jury found them guilty within eight minutes. Black witnesses later testified that they had been tortured into giving false testimonies and the 12 were eventually released – though no white people were ever charged for any crime.
The lessons that we can learn from 100 years ago are relevant today as we navigate race relations in the 21st century.

Arkansas Governor Asa Hutchinson's office
"It was a kangaroo trial," said Audrey Evans, a retired federal judge, who is part of the planning committee for the Elaine Massacre Memorial in nearby Helena. They are now preparing to commemorate the town's bloody and largely forgotten past.
What happened a century ago is still a point of contention, but the general consensus today is this: a white mob, upset over African Americans organizing to demand fair wages, descended upon a church in the township of Hoop Spur, just up the road from Elaine, on 31 September 1919.
A shot was fired – by which "side" is still up for debate – and a white man was killed. News of a "black insurrection" spread to neighboring communities and hundreds more white men poured in, including federal troops, the Arkansas governor, Charles Brough, and newly deputized soldiers from the American Legion.
The violence spread beyond the church to more communities, and African Americans were killed in their homes and streets. There's a commonly told story of a family who were off celebrating their son's return from the first world war, who were pulled off of a train on their way home and killed.
In the end, hundreds of African Americans were reportedly killed. The most frequently touted number is 237, but some observers say the number could be more than 800, which would make it the deadliest massacre of African Americans in US history.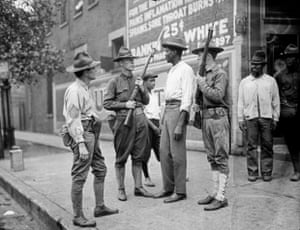 In this 1919 photo provided by the Chicago History Museum, armed national guard and African American men stand on a sidewalk during race riots in Chicago. Photograph: Chicago History Museum/AP
"It's hard without a number. A lot of people sort of gauge these, rank these by the number of dead," said Brian Mitchell, an assistant professor at the University of Arkansas in Little Rock, explaining that they came toward the end of the Red Summer – a year where an unprecedented number of African Americans were attacked across the US, including dozens killed in cities like Chicago and Washington DC.
"One of the things that's fascinating about Elaine is so much of what we consider the Red Summer was urban, you know, big cities with immigrant communities and poor whites butting up against blacks for resources as blacks begin to migrate to the industrial north. Elaine is rural, and the dynamics are also labor, but it's more controlling. Making sure things don't change. That blacks remain in their position. That they're not getting higher pay."
Despite the horrific story, the news of the mass killings has been largely absent from popular consciousness in Elaine – and indeed the Red Summer as a whole is little known across the US.
Not only did McClain never hear about his ancestor's role as one of the Elaine Twelve until recently, he also never learned about the massacre at all until he was in his 30s and had left Arkansas.
"Imagine growing up in a place where something this tragic happens and you find out decades later," he said.
McClain isn't the only one who grew up unaware of the tragedy that took place in a place he loved, that has shrunk to a community of about 500 to 600 people.
Faye Duncan-Daniel, who grew up just down the road in Ratio, learned about the massacre when she got to college in Boston. There, she stumbled across it while researching another topic.
"If it was mentioned, it was not given the kind of weightiness that would spark your memory," Duncan-Daniel said, who is part of a small group of people gathering donations and resources for the future Elaine Legacy Center.
With the centenary quickly approaching, more attention is being devoted to educating and investigating everything that happened so long ago.
Next month, the Elaine Massacre Memorial will be unveiled and will sit directly across from the courthouse where the trials for the Elaine Twelve were held. The committee includes descendants of both the victims and perpetrators.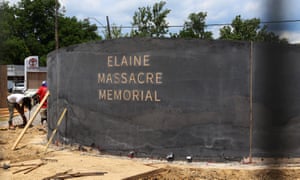 A monument under construction in June, honoring victims of the Elaine Massacre. Photograph: Noreen Nasir/AP
"The Elaine Massacre marked one of the darkest moments in our state's history," the office of Arkansas's governor, said in an email. "The 100th anniversary is re-energizing a statewide conversation about a tragic event in our history. The lessons that we can learn from 100 years ago are relevant today as we navigate race relations in the 21st century. I'm grateful that we as a state are taking the opportunity to remember the history and learn from it."
The issue of reparations has also arisen, as victims' descendants and activists start digging more actively into the past and demand justice, especially for the thorny issue of land allegedly grabbed from blacks by whites in the aftermath of the killings.
Stories of stolen land have been passed down in families to the point where there are now calls to investigate the claims. Wendell Griffen, a circuit judge and pastor who chaired a truth-telling commission earlier this year, said a "false narrative" has been presented about what happened in Elaine.
"That narrative has disregarded and worked to conceal and/or attempt to discredit reports that ownership of thousands of acres of land owned by black people in Elaine and South Phillips county mysteriously changed from black people to white people in the aftermath of the massacre," Griffen wrote.
But so far no documents have emerged to corroborate any oral claims of land theft, according to Brian Mitchell. Together with his graduate students, Mitchell has tracked down more than 10,000 documents, often going through attics and old office buildings.
"In fact, we looked at the 1910 census to see if there was substantial land ownership there, and we didn't see much black land ownership and we haven't seen any documents that pull that narrative together," Mitchell said.
He also expects it to be difficult for descendants to claim reparations based on the fact that there is still no complete record of who was killed. While some estimates are high, some, including one former mayor of Elaine, maintain the number of those killed is much smaller, or never happened at all.
"I did a presentation at the Arkansas Historical Association, and there was one guy who kept yelling, 'Show me a body!'" Mitchell said.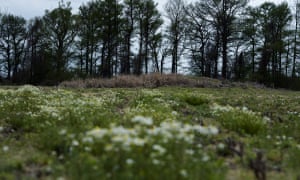 A mound in a field in Wabash, Arkansas that is believed by some to be a mass grave of victims of the 1919 massacre in Elaine. Photograph: Albert Cesare/AP
Mitchell said finding bodies of those killed in 1919, especially in alleged mass graves around Elaine, would help answer a lot of questions. Mitchell and others are currently pushing for state officials to be more involved in conducting investigations into what happened and unearthing and marking gravesites.
"Even if the numbers are at 100 or slightly above that, there would have had to have been burials of these individuals," Mitchell said. "As it stands, even for the people we know who died there, no one knows the exact location."
Some Elaine and Helena residents interviewed for this article talked about visible mounds of earth that have changed in size, due to flooding and the Mississippi River shifting course over the last 100 years. Mitchell says there's no certainty that's where the bodies are buried.
"If I did [know where they were], I would be out with a shovel. I'd be on the phone with archeologists right now, going out to excavate," Mitchell said.
As for McClain, he is more interested in getting answers than reparations.
"I'm not out to get even with anyone, but just for my peace of mind, I'd really like to know what happened," McClain said.

Nation commemorates the once huge Okjokull glacier with plaque that warns action is needed to prevent climate change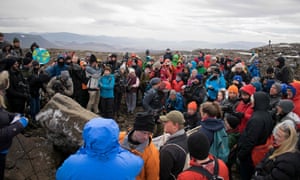 A ceremony to mark the passing of Okjokull, Iceland's first glacier lost to climate change. It once covered 16sq km but has melted to a fraction. Photograph: Jeremie Richard/AFP/Getty Images
Iceland has marked its first-ever loss of a glacier to climate change as scientists warn that hundreds of other ice sheets on the subarctic island risk the same fate.
As the world recently marked the warmest July ever on record, a bronze plaque was mounted on a bare rock in a ceremony on the barren terrain once covered by the Okjokull glacier in western Iceland.
Around 100 people walked up the mountain for the ceremony, including Iceland's prime minister, Katrin Jakobsdottir, former UN human rights commissioner, Mary Robinson, and local reseachers and colleagues from the United States from who pioneered the commemoration project.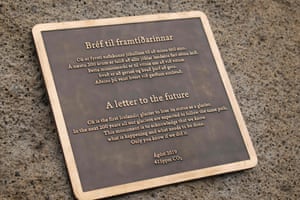 The plaque, which is titled 'A letter to the future'. Photograph: Jeremie Richard/AFP/Getty Images
"I hope this ceremony will be an inspiration not only to us here in Iceland but also for the rest of the world, because what we are seeing here is just one face of the climate crisis," Jakobsdottir said.
The plaque bears the inscription "A letter to the future", and is intended to raise awareness about the decline of glaciers and the effects of climate change.
"In the next 200 years all our glaciers are expected to follow the same path. This monument is to acknowledge that we know what is happening and what needs to be done. Only you know if we did it," the plaque reads.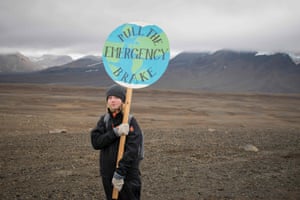 A girl poses with a placard walks to the plaque site. Photograph: Jeremie Richard/AFP/Getty Images
It is also labelled "415 ppm CO2", referring to the record level of carbon dioxide measured in the atmosphere last May.
Julien Weiss, an aerodynamics professor at the University of Berlin who attended the ceremony with his wife and seven-year-old daughter, was one of those moved by the occasion.
"Seeing a glacier disappear is something you can feel, you can understand it and it's pretty visual," he said.
"You don't feel climate change daily, it's something that happens very slowly on a human scale, but very quickly on a geological scale."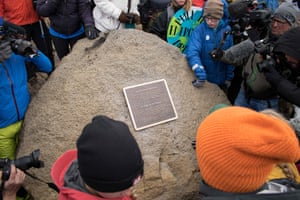 The plaque is unveiled. Photograph: Jeremie Richard/AFP/Getty Images
The plaque is "the first monument to a glacier lost to climate change anywhere in the world", according to Cymene Howe, associate professor of anthropology at Rice University in Texas.
"By memorialising a fallen glacier, we want to emphasise what is being lost – or dying – the world over, and also draw attention to the fact that this is something that humans have 'accomplished', although it is not something we should be proud of."
Iceland loses about 11bn tonnes of ice per year, and scientists fear all of the island's 400-plus glaciers will be gone by 2200, according to Howe. Glaciers cover about 11% of the country's surface.
Glaciologists stripped Okjokull of its glacier status in 2014, a first for Iceland. In 1890, the glacier ice covered 16sq km (6.2 square miles) but by 2012 it measured just 0.7sq km, according to a report from the University of Iceland in 2017.
In 2014, "we made the decision that this was no longer a living glacier, it was only dead ice, it was not moving", Oddur Sigurdsson, a glaciologist with the Icelandic Meteorological Office, told AFP.
More On The Environment;

World Politics
United States

The former congressman has put $24m of his own cash into an increasingly quixotic presidential run – and he's ploughing on despite a near total lack of support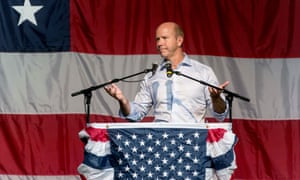 John Delaney speaks at the Wing Ding fundraiser in Clear Lake, Iowa. What Delaney lacks in support, he makes up for in optimism. Photograph: Brian Cahn/Zuma/Rex/Shutterstock
J

ohn Delaney has poured a staggering $24m of his own money into running for president. He has been campaigning for the White House for more than two years, and in that time has held more than 200 events in Iowa.
On one recent Thursday morning, these efforts translated into a grand total of 11 people coming out to see Delaney, at a campaign event in the small town of Algona, in the north of the state.
The former Maryland congressman, former businessman and formerly much wealthier candidate is one of a slew of long-shot candidates for the Democratic nomination. In a crowded, historically diverse field, Delaney is part of a group of white, middle-aged men who are forging ahead with their increasingly quixotic presidential campaigns in spite of a collective lack of support.
Delaney strode into Miller's Sports Bar & Grill, one of a chain of bars across Iowa, just after 10am. One of his team had taped a couple of Delaney 2020 campaign posters to a wall in the back of the bar, and a sign-up list was on a table. The crowd, all silver haired apart from a thirtysomething man who walked in late, were sitting patiently at four different tables.
Clad in the off-duty politician's uniform of open-necked shirt, blue jeans and casual brown shoes, Delaney got to work, vigorously shaking 11 hands. One member of the crowd was immediately impressed with the 56-year-old.
"You actually look even better than you do on TV," one woman said.
"I think I'm just going to stay around here," Delaney quipped.
If Delaney was disappointed with the turnout, he didn't show it. Besides, in a way, the 11-person crowd was a positive. The night before, on Delaney's Facebook page, just two people had said they would attend, and one of those was his campaign director.
Delaney, who served in Congress for six years before resigning to run for president, was joking when he said he might just stay around Iowa. But in fact, it would be hard for him to spend more time here. The 58-year-old has made 34 separate visits to the state in two years. This trip was the first of three in August. And the actual vote in Iowa – the state's caucuses – is still six months away.
It's a grueling schedule. On Thursday alone, Delaney was scheduled to hold five different events in the space of nine and a half hours.
With the pleasantries over at Miller's Delaney dived into his pitch. The two most important questions in 2020, he said, are: "Who can beat Trump?" and: "Who is the best leader for this country at this moment in time?"