21 Aug
English Online International Newspapers
Nearly all of these are English-edition daily newspapers. These sites have interesting editorials and essays, and many have links to other good news sources. We try to limit this list to those sites which are regularly updated, reliable, with a high percentage of "up" time.
Recommended:

Team of NYU scientists study shifting landscape of country one member calls 'the end of the planet'
Former Vatican treasurer, and most senior Catholic cleric in the world to be convicted of child sexual assault, maintains innocence after losing appeal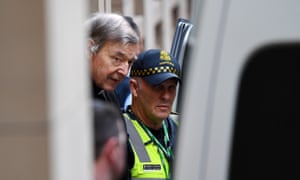 Cardinal George Pell is taken from the court in Melbourne, Australia, back to jail after his appeal against child sexual abuse convictions was dismissed. Photograph: James Ross/AAP
The most senior Catholic cleric in the world to be convicted of child sexual abuse, Cardinal George Pell, has lost his appeal against his conviction, but maintains he is innocent.
In a brief statement issued after the decision the Vatican reiterated that Pell maintained his innocence, and that it was now "Pell's right to appeal to the high court".
"At this time, together with the church in Australia, the Holy See confirms its closeness to the victims of sexual abuse and its commitment to pursue, through the competent ecclesiastical authorities, those members who commit such abuse," the statement also said. No mention was made of stripping Pell of his cardinal title.
On Wednesday the Victorian court of appeal in Melbourne, Australia, dismissed Pell's appeal, with two of the three appellant judges describing the complainant who accused Pell as a compelling, truthful witness.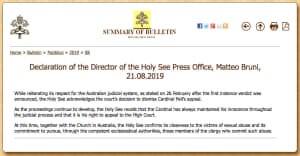 The Vatican's response. Photograph: Declaration of the Director of the Holy See Press Office, Matteo Bruni, 21.08.2019
The jury had not been unreasonable in convicting Pell on one count of sexual penetration of a child under the age of 16 and four counts of an indecent act against a child under the age of 16, the chief justice, Anne Ferguson, and appeal court president justice, Chris Maxwell, found.
A third judge, Mark Weinberg, disagreed, finding the complainant was inclined to embellish aspects of his testimony and that he could not exclude the possibility that some of what he said was concocted. But in the court of appeal judges are required only to reach a majority decision.
Pell was escorted back to jail, where he will continue to serve a six-year sentence for sexually abusing two 13-year-old choirboys in 1996, while he was archbishop of Melbourne. After Sunday solemn mass at St Patrick's Cathedral in Melbourne, Pell orally raped one of the boys in the priest's sacristy and indecently assaulted both of them. Pell offended again against one of the boys about a month later, when he grabbed the boy's genitals in the church corridor, once more after Sunday solemn mass.
"Throughout his evidence, [the complainant] came across as someone who was telling the truth," Ferguson said. "He did not seek to embellish his evidence or tailor it in a manner favourable to the prosecution. As might have been expected, there were some things which he could remember and many things which he could not. And his explanations of why that was so had the ring of truth."
The judges unanimously agreed that Pell's other two grounds of appeal, which concerned legal issues, failed. He will be eligible for parole in 2022.
Through his lawyer the complainant issued a statement, saying: "Some commentators have suggested that I reported to the police somehow for my own personal gain.
"Nothing could be further from the truth. I have risked my privacy, my health, my wellbeing, my family. I have not instructed any solicitor in relation to a claim for compensation. This is not about money and never had been. Although my faith has taken a battering it is still a part of my life, and part of the lives of my loved ones."
The second victim died of a heroin overdose at the age of 30 in 2014, and his father shed tears after the appeal dismissal.
In a statement, Pell's spokeswoman said the cardinal was "obviously disappointed with the decision today".
"However his legal team will thoroughly examine the judgment in order to determine a special leave application to the high court. Cardinal Pell maintains his innocence. We thank his many supporters."
When he learned his fate in the court, Pell bowed his head slightly, but did not show any expression.
Pell was made a Companion of the Order of Australia in 2005 for his service to the Catholic church and for his work in education and social justice. Following the court decision, Australia's prime minister, Scott Morrison, said he believed Pell would be stripped of those honours.
"That is a process that is done independently, and that course will now follow," he said.
The archbishop of Melbourne, Peter Comensoli, called upon the public to respect the court's decision. He said that his thoughts and prayers were with the man who had brought Pell before the courts.
"I humbly acknowledge it has been a challenging time for him, and I stand ready to offer pastoral care and spiritual help, should he seek it," Comensoli said. Pell, too, would receive care. "In Christian charity, I will ensure that Cardinal Pell is provided pastoral and spiritual support while he serves the remainder of his sentence, according to the teaching and example of Jesus to visit those in prison," he said.
The president of the Australian Catholic Bishops Conference, Archbishop Mark Coleridge, offered similar sentiments, saying: "This has been and remains a most difficult time for survivors of child sexual abuse and those who support them".
"We acknowledge the pain that those abused by clergy have experienced through the long process of the trials and appeal of Cardinal Pell," Coleridge said. "We also acknowledge that this judgment will be distressing to many people."
The decision and reasons from the appellant judges ran to some 300 pages, but Ferguson read a summary of the judgment to a court packed with media, survivors and Pell supporters on Wednesday.
"Cardinal Pell's conviction and this appeal have attracted widespread attention, both in Australia and beyond," she said.
"He is a senior figure in the Catholic church and is internationally well known. As the trial judge, Chief Judge Kidd, commented when sentencing Cardinal Pell, there has been vigorous and sometimes emotional criticism of the cardinal and he has been publicly vilified in some sections of the community. There has also been strong public support for the cardinal by others. Indeed, it is fair to say that his case has divided the community."
She said it was important that Pell was not made a scapegoat for any perceived failings of the Catholic church to address child sexual abuse. But she was unequivocal about her and Maxwell's judgment in relation to the five charges on which Pell was convicted.
"The complainant was a very compelling witness, was clearly not a liar, was not a fantasist and was a witness of truth," she said.

World Politics
United States
US president faces criticism for calling off Denmark trip after he is told Greenland not for sale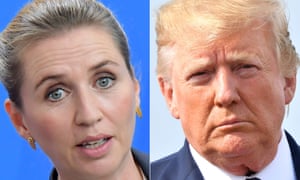 Denmark's prime minister, Mette Frederiksen (left), rebuffed Donald Trump's interest in purchasing Greenland, an autonomous Danish territory. Photograph: Tobias Schwarz/AFP/Getty Images
Bemusement has turned to fury in Denmark after Donald Trump called off his planned visit to the country over Copenhagen's refusal to sell Greenland to the US.
Politicians from across the spectrum were united in their condemnation of the US president, and the prime minister, Mette Frederiksen, who had previously branded Trump's Greenland proposal "absurd", is due to give a press conference in the afternoon.
"There are already many good reasons to think that the man is a fool, and now he has given another good reason," Eva Flyvholm, the foreign policy chair for Denmark's Red-Green Alliance, told Danish media.
The former prime minister Helle Thorning-Schmidt tweeted that the move was "deeply insulting to the people of Greenland and Denmark," while Villy Søvndal, a former foreign minister, said the decision "confirms that Donald Trump is a narcissistic fool".
Trump had been due to visit Denmark in early September but announced on Twitter late on Tuesday night that there was no longer any point in the visit. "Based on Prime Minister Mette Frederiksen's comments, that she would have no interest in discussing the purchase of Greenland, I will be postponing our meeting scheduled in two weeks for another time," Trump wrote. The White House later confirmed the visit had been called off.
Søvndal told the Danish newspaper Berlingske that Trump's decision showed he was unaware of the basic rules of diplomacy. "If he had been a clown in a circus, you could probably say that there is considerable entertainment value. The problem is that he is the president of the most powerful nation in the world," he said.
The awkwardness was compounded by the fact that just a few hours before Trump made his announcement, the US ambassador to Denmark had tweeted her excitement about the upcoming visit. "Denmark is ready for the POTUS visit! Partner, ally, friend," she wrote.
A spokeswoman for the Danish royal household, which had formally invited Trump, said she was surprised by the cancellation.
Greenland, a vast island bordering the Arctic Ocean that is 85% covered in ice, was a Danish colony until 1953. In 1979 it gained "autonomous territory" status but the island's economy depends heavily on Danish subsidies. It has 55,000 inhabitants, many of whom favour full independence from Denmark.
Initially, many in Denmark had assumed the story of Trump's desire to buy the large, sparsely populated island was either meant in jest or as a distraction tactic. Trump even tweeted a photograph of a small Greenland village with a large Trump tower Photoshopped in. But it appears the president was serious about the proposal, or at least offended by the firm rebuff it received.
What Greenlanders say about Trump's interest in their country – video report
Kristian Mouritzen, Berlingske's defence and security correspondent, said the initial reaction was one of "shock and amazement" that the question of buying Greenland was seriously being raised. "In my long life I can never recall a friendly nation making a meeting dependent on a willingness to sell part of your territory. It's like trying to buy Scotland. It's out of the question."
He said Trump's move had led to a rare moment of unity among all major Danish political forces, but added that once the dust has settled, the government would look to salvage whatever was possible from the disaster. "We have a lot of issues with the US: climate change, the Iran deal and now also Greenland, so I think now the government will look to play it safe and try to build some bridges via diplomatic channels."
Government officials in Greenland made it clear the island was not for sale but welcomed increased US interest.
"The ridiculous idea of ??building a Trump tower in a village in Greenland makes us laugh. At the same time, his interest in Greenland has sparked a new debate about Greenlandic independence from Denmark," said Poul Krarup, the editor-in-chief of Sermitsiaq, one of Greenland's two newspapers.
The US has an airbase and a radar station in Greenland, and Krarup said there was a willingness to discuss further military cooperation with the US, including more airbases or submarine monitoring stations. He said it was baffling that China had so far shown much more interest than the US in partnerships with Greenland.
"It is only now under Trump that the US understands Greenland's importance to US security policy. If Trump is prepared to spend money on development in Greenland, he is most welcome. It will help Greenland achieve more economic independence from Denmark," said Krarup. "But we are not for sale."

President's remarks seemed to refer to a perception that Jewish Americans have a dual loyalty to both America and Israel
Trump: Jewish people who vote Democrat show 'great disloyalty' – video
Donald Trump used an apparently antisemitic trope when accusing Jewish Americans who vote for Democrats as showing "either a total lack of knowledge or great disloyalty".
The remarks came as part of a barrage of disparaging comments that threaten to re-ignite an ongoing feud with the Democratic congresswomen Ilhan Omar of Minnesota and Rashida Tlaib of Michigan. They seemed to refer to a perception that Jewish Americans have a dual loyalty to both America and Israel.
Trump, who recently encouraged Israel to block Tlaib's visit to see her family in the occupied territories, lashed out after the congresswomen criticized Benjamin Netanyahu's government for denying them entry, vowing that the Israeli leader would not "succeed in hiding the cruel reality of the occupation from us".
Calling Omar a "disaster" for Jews, Trump said he didn't "buy" the tears Tlaib had shed Monday at an emotional press conference during which Tlaib talked about her decision not to travel to Israel to see her elderly grandmother, who lives in the occupied West Bank.
"Where has the Democratic party gone?" Trump asked reporters at the White House. He then went on to apparently refer to Jewish Americans' supposed loyalties to Israel and how voting Democratic was disloyal to the country. "Where have they gone, where they're defending these two people over the state of Israel? And I think any Jewish people that vote for a Democrat, I think it shows either a total lack of knowledge or great disloyalty."
Accusing Jewish Americans of having dual loyalties to America and Israel is widely seen as an antisemitic trope. The comment provoked immediate condemnation from a raft of American Jewish leaders.
Jonathan Greenblatt, the chief executive of the Anti-Defamation League, pointed out on Twitter that charges of disloyalty "have long been used to attack Jews … It's long overdue to stop using Jews as a political football".
J Street, the progressive Jewish American lobbying group, released a statement in which it called Trump's remarks "dangerous and shameful". It noted that 70% of American Jews voted for Hillary Clinton against Trump in the 2016 presidential race, adding "this vast majority of our community rejected and continues to abhor the xenophobia, bigotry and extremism of Donald Trump and his allies".
Bernie Sanders, the independent senator from Vermont who is a leading contender for the 2020 Democratic nomination, also waded in. Calling himself "a proud Jewish person", he said: "I have no concerns about voting Democratic. And in fact I intend to vote for a Jewish man to become the next president of the United States."
This is not the first time that Trump has been castigated for invoking the "dual loyalty" antisemitic trope. In April he called Netanyahu "your prime minister" in front of the annual meeting of the Republican Jewish Coalition in Las Vegas.