23 Aug
English Online International Newspapers
Nearly all of these are English-edition daily newspapers. These sites have interesting editorials and essays, and many have links to other good news sources. We try to limit this list to those sites which are regularly updated, reliable, with a high percentage of "up" time.
Recommended:

There have been more than 72,000 fire outbreaks in Brazil so far this year, up 84% on the same period in 2018, according to the country's National Institute for Space Research. More than half were in the Amazon. It followed reports that farmers were feeling emboldened to clear land for crop fields and cattle ranches because the new Brazilian government was keen to open up the region to economic activity. The Brazilian president, Jair Bolsonaro, instead accused environmental groups of starting fires
Jair Bolsonaro claims NGOs behind Amazon forest fire surge – but provides no evidence
Why people should be worried about the blazes and increased deforestation in Brazil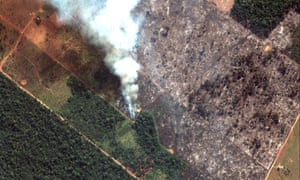 A satellite image shows smoke rising from Amazon forest fires in Rondônia state, Brazil. Photograph: Reuters
What is happening in the Amazon?
Thousands of fires are burning in Brazil, many of them in the world's biggest rainforest, which is sending clouds of smoke across the region and pumping alarming quantities of carbon into the world's atmosphere.
Does this happen every year?
Yes, but some areas have suffered far more than usual. In the worst-affected Brazilian state of Amazonas, the peak day this month was 700% higher than the average for the same date over the past 15 years. In other states, the amount of ash and other particulates in August has hit the highest level since 2010.
What is the cause?
Most of the fires are agricultural, either smallholders burning stubble after harvest, or farmers clearing forest for cropland. Illegal land-grabbers also destroy trees so they can raise the value of the property they seize. But they are man-made and mostly deliberate. Unlike the huge recent blazes in Siberia and Alaska, the Amazon fires are very unlikely to have been caused by lightning.
Is the entire forest ablaze?
No. Satellite monitoring experts say the images of an entire forest ablaze are exaggerated. A great deal of misinformation has been spread by social media, including the use of striking images from previous years' burning seasons. This week, there are more large fires in Colombia and eastern Brazil than in the Amazon. Most of the agricultural burn-offs are in deforested areas. But there are also fires in protected reserves.
So should we still be concerned?
Extremely. The fires are mostly illegal and they are degrading the world's biggest terrestrial carbon sink and most important home for biodiversity. They also contribute to a more important trend, which is an alarming rise in deforestation. Scientists say the Amazon is approaching a tipping point, after which it will irreversibly degrade into a dry savannah. At a time when the world needs billions more trees to absorb carbon and stabilise the climate, the planet is losing its biggest rainforest.
How much forest is being lost?
In July, deforestation spiked to a level not seen in more than a decade. According to preliminary satellite data from Brazil's space agency, trees were being cleared at the rate of five football pitches every minute. Over the single month, 2,254 sq km (870 sq miles) were lost, a rise of 278% on the same month last year. Scientists say this year could be the first for 10 years in which 10,000 sq km of Amazon are lost.
Is this the fault of the Brazilian president?
Jair Bolsonaro has made things a lot worse by weakening the environment agency, attacking conservation NGOs and promoting the opening of the Amazon to mining, farming and logging. The far-right leader has dismissed satellite data on deforestation and fired the head of the space agency. But it is not solely his fault. The agricultural lobby is powerful in Brazil and it has steadily eroded the protection system that was so successful from 2005-2014. Deforestation crept up in the past five years under the previous presidents Dilma Rousseff and Michel Temer. The rate has accelerated rapidly in the first eight months of Bolsonaro's rule. But this is not just about him, politics or Brazil. There are also huge fires in Bolivia, which has a leftwing populist president.
What is the outside world doing?
The UN secretary general and many world leaders and celebrities have expressed concern. The Amazon will be high on the agenda for G7 leaders at a summit in France this weekend. They are likely to make a strong statement condemning the recent increase in deforestation and urge Brazil to restore the Amazon protections that previously made the country a global environmental leader.

Is that enough?
No. The priority should be building a buffer against the tipping point and drawing down emissions, which means not just protection of the Amazon but massive reforestation. This will require far more financial support than anything seen until now. For this to be effective, governments will also need to align their environment and trade policies. Currently countries like the UK spend small sums on overseas conservation, then promote billions of dollars worth of trade in beef, soy, timber, minerals and other products that undermine Amazon protection efforts. Politicians should also listen more to the voices of the people who live in the forest, such as indigenous groups and riverine communities.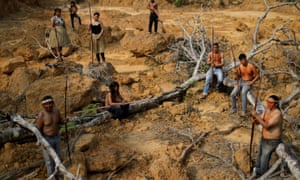 Indigenous people from the Mura tribe show a deforested area in unmarked indigenous lands in Amazonas state. Photograph: Ueslei Marcelino/Reuters
What can individuals do?
The most important actions are political and collective. Join a party or campaign group that makes the Amazon a priority. Through these groups, urge your elected representatives to block trade deals with countries that destroy their forests and to provide more support for countries that expand tree cover.
As consumers, think twice before buying Brazilian beef or other products unless certified by groups such as Rainforest Alliance. The Amazon connection is not always obvious.
Brazil's handling of forest fires set to top agenda of G7 countries at meeting in Biarritz this weekend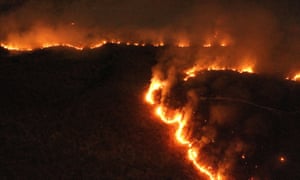 A raging fire in the Amazon rainforest in the state of Tocantins, Brazil. Photograph: Xinhua/Rex/Shutterstock
France and Ireland have said they will oppose an EU trade deal with South American countries unless Brazil takes action to stop the burning of the Amazon.
On the eve of a meeting of the G7 nations in Biarritz, an Élysée source said Emmanuel Macron thought Brazil's president, Jair Bolsonaro, "lied" to him at the G20 meeting in Osaka in June about his climate commitments and therefore France would oppose the Mercosur treaty.
"The decisions and comments of Brazil show that President Bolsonaro has decided not to respect his commitments on the climate or biodiversity," a French official told AFP.
The Mercosur treaty with four Latin American countries – Brazil, Argentina, Paraguay and Uruguay – was signed in June after two decades of negotiation but has not yet been ratified.
Earlier on Friday, Ireland's taoiseach, Leo Varadkar, said his government would oppose Mercosur's ratification.
"There is no way that Ireland will vote for the EU-Mercosur free trade agreement if Brazil does not honour its environmental commitments," Varadkar said.
Ireland would need other EU members to help form a blocking minority to stop the deal being passed, but it could be the most feasible form of international leverage on President Jair Bolsonaro to replace protections he has removed and curb the destruction of the rainforest and the lives of indigenous people of the Amazon.
Macron has declared the Amazonian fires an international crisis, adding that the issue would be at the top of the agenda at the G7 summit this weekend in the French seaside town of Biarritz. However, Bolsonaro is likely to be defended by Donald Trump, who regards the far-right Brazilian leader as a close regional ally and has ignored the science underlying the climate crisis.
The German government has not so far mentioned the fate of Mercosur, but it has – along with Norway – halted donations to the Brazilian government's Amazon fund. The UK prime minister, Boris Johnson has said he is "deeply concerned" by the fires in the Amazon, but the government has so far not commented on the fate of Mercosur, which is only due to be ratified in two years, long after Brexit is due.
Varadkar described as "Orwellian" Bolsonaro's efforts to blame environmental groups for the wildfires consuming the Amazon.
He added: "There is no way we can tell Irish and European farmers to use fewer pesticides, less fertiliser, embrace biodiversity and plant more of their land and expect them to do it, if we do not make trade deals contingent on decent environmental, labour and product standards."
More On The Environment:
World Politics
United States
A question about diversity in a candidate's forum produced a jaw-dropping response from first-time candidate Jean Cramer
Marysville, Michigan, is 98% white and 0.3% African American.

For the first hour of the election forum in Marysville, Michigan, on Thursday night the debate between the five candidates for a city council seat dealt with the local subjects you might expect – how to improve Little League fields, new real estate developments and the like.
Then the question came: "Do you believe the diversity of our community needs to be looked at?"
First to answer was Jean Cramer, a local resident running her first political campaign. She replied: "Keep Marysville a white community as much as possible."
Her response, reported by the Times-Herald newspaper in Port Huron, sent a ripple of laughter and then shock across the hall. Marysville, a small town of 10,000 north-east of Detroit, is 98% white and 0.3% African American.
Cramer's unalloyed remark was immediately denounced by other Marysville figures. The town's acting mayor, Kathy Hayman, said: "I don't even know that I can talk yet, I'm so upset and shocked."
Hayman added that her father was Syrian. "So basically, what you've said is that my father and his family had no business in this community."
The outgoing mayor, Dan Damman, called Cramer's comments "as vile as they were jaw-dropping".
After the forum ended, Cramer doubled down on her racist outburst to the Times Herald.
She insisted she was not "against blacks" but went on to say: "A husband and wife need to be the same race … That's how it's been [since] … God created the heaven and the earth. He created Adam and Eve at the same time."
Paradoxically, of the five candidates in November's mayoral election, Cramer has the weakest roots within Marysville. The other four were born in the town or have lived there for decades, but as the Times Herald pointed out she only moved to the community within the last 10 years.
The email, from the immigration review office, was sent to immigration court employees
DOJ emails employees link to white nationalist website – report