27 Aug
English Online International Newspapers
Nearly all of these are English-edition daily newspapers. These sites have interesting editorials and essays, and many have links to other good news sources. We try to limit this list to those sites which are regularly updated, reliable, with a high percentage of "up" time.
Recommended:
Fires are raging across the world's largest tropical rainforest as farmers, land-grabbers and loggers torch trees and clear land for crops or grazing. According to Brazil's National Institute of Space Research, the number of fires detected by satellite in the Amazon region this month is the highest since 2010. Bowing to international pressure and a global outcry over the destruction of a vital resource in the fight against climate change, president Jair Bolsonaro authorised the deployment of Brazil's armed forces to help combat blazes, with warplane dumping water on burning tracts of Amazon. Critics say the large number of fires this year has been stoked by Bolsonaro's encouragement of farmers, loggers and ranchers to speed up efforts to strip away forest
An out-of-control fire spreads to a farm along a highway in Nova Santa Helena municipality in the Brazilian state of Mato Grosso.
Photograph: Joao Laet/AFP/Getty Images
A section of the Amazon rainforest that has been destroyed by wildfires in Porto Velho.
Photograph: Victor Moriyama/Getty Images
Senior official says funds should be spent on reforesting Europe and not on 'colonialist practices'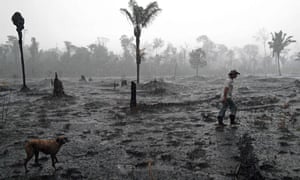 A Brazilian farmer walks through a burned area of the Amazon rainforest, near Porto Velho, Rondonia state. Photograph: Carl de Souza/AFP/Getty Images
A senior Brazilian official has told Emmanuel Macron to take care of "his home and his colonies" as Brazil rejected an offer from G7 countries of $20m (£16m) to help fight fires in the Amazon.
"We appreciate [the offer], but maybe those resources are more relevant to reforest Europe," Onyx Lorenzoni, the chief of staff to President Jair Bolsonaro, told the G1 news website.
Leaders of the G7 countries made the aid offer at a weekend summit in the French city of Biarritz hosted by the French president, who had put the fires high on the agenda. Environmental campaigners have dismissed the sum as "chump change".
"Macron cannot even avoid a foreseeable fire in a church that is a world heritage site," Lorenzoni said in a reference to the blaze that devastated the Notre Dame cathedral in April. "What does he intend to teach our country?
"Brazil is a democratic, free nation that never had colonialist and imperialist practices, as perhaps is the objective of the Frenchman Macron."
The Brazilian presidency later confirmed the comments to Agence France-Presse.
Brazil's environment minister, Ricardo Salles, had earlier told reporters that his country welcomed the G7 funding, but after a meeting between Bolsonaro and his ministers, the Brazilian government changed course.
The announcement of the $20m assistance package was the most concrete outcome of the three-day G7 summit of major industrialised democracies in Biarritz and aimed to give money to Amazonian nations such as Brazil and Bolivia, primarily to pay for more firefighting planes.
Tensions have risen between France and Brazil after Macron tweeted that the fires burning in the Amazon basin amounted to an international crisis and should be discussed as a top priority at the G7 summit. Bolsonaro reacted by accusing Macron of having a "colonialist mentality".
Speaking on French TV on Monday night, Macron reiterated that the Amazon was a global issue and intensified his criticism of Bolsonaro.
"We respect your sovereignty. It's your country," Macron said. But the trees in the Amazon are "the lungs of the planet", he added.
"The Amazon forest is a subject for the whole planet. We can help you reforest. We can find the means for your economic development that respects the natural balance. But we cannot allow you to destroy everything."
He also acknowledged that Europe, by importing soya from Brazil, was not without blame for the agricultural pressure on the rainforest, saying: "We are partly complicit."
The diplomatic row between the leaders had escalated earlier in the day, when Macron condemned Bolsonaro for what he called "extraordinarily rude" comments made about his wife, Brigitte, after the Brazilian president expressed approval online for a Facebook post implying that Brigitte Macron was not as good-looking as his own wife, Michelle.
"He has made some extraordinarily rude comments about my wife," Macron said at a press conference in Biarritz when asked to react to statements about him by the Brazilian government. "What can I say? It's sad. It's sad for him firstly, and for Brazilians," he added.
Macron said he hoped for the sake of the Brazilian people "that they will very soon have a president who behaves in the right way".
The US president, Donald Trump, skipped the summit session aimed at finding solutions to global heating through tree planting and shifting from fossil fuels to wind energy. In a press conference after the summit, he was dismissive of efforts to change direction.
"I feel the US has tremendous wealth … I'm not going to lose that wealth on dreams, on windmills – which, frankly, aren't working too well," he said. "I think I know more about the environment than most."
Environmental groups said G7's emergency fire aid was insufficient and failed to address the trade and consumption drivers of deforestation.
"The offer of $20m is chump change, especially as the crisis in the Amazon is directly linked to overconsumption of meat and dairy in the UK and other G7 countries," said Richard George, the head of forests for Greenpeace UK.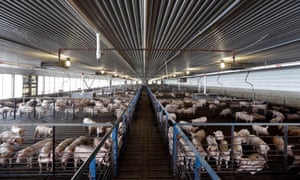 Young pigs at a North Carolina farm. (There is no suggestion that this farm has engaged in any illegal practices.) Photograph: Gerry Broome/AP
I

n September 2016, with Hurricane Hermine bearing down on North Carolina, Kemp Burdette rented a single-engine plane and flew over Duplin county. Burdette, a riverkeeper with the environmental group Cape Fear River Watch, was worried that some of the local pig farmers might try to drain their manure lagoons before the rains hit, to prevent them from overflowing. Spraying waste is illegal just before storms because of the risk that runoff from saturated fields will contaminate waterways.
As he flew, Burdette estimated that he saw at least 35 farms spraying their fields. He took high-resolution, GPS-stamped photographs and videos documenting the apparent violations, and then filed a complaint with the state Department of Environmental Quality (DEQ), hoping the evidence would move the agency to act. He and his colleagues did the same a month later, just before the devastating Hurricane Matthew. "This isn't just one bad actor," he said. "This was widespread – complete disregard for the rules."
But, according to Burdette, DEQ told him that the images were inadequate proof. "They were basically saying, 'There's nothing we can do,'" he said. "They can't stand behind evidence collected by somebody else." Nor did they have funds to do their own aerial surveys. For evidence, DEQ said it could only review the farms' self-reported spray logs. And in November 2016, when Burdette and his colleagues followed up, they say all public traces of their complaints had disappeared.
For years, residents say, North Carolina regulators shielded the identities of polluting farms, burying public complaints against them and leaving those who lived nearby with few avenues for redress. Neighbours said their complaints were going unheard.
A joint investigation by the Guardian, the Food & Environment Reporting Network, and the Midwest Center for Investigative Reporting backs up residents' assessments. In response to a public records request, DEQ released only 33 public complaints against livestock operations in North Carolina from January 2008 to April 2018. Over the same period, other hog states have registered thousands.
Abruptly, in April 2019 the DEQ said it had validated 62 complaints against animal operations over a six-month period and posted them online. The offenders included 11 industrial hog farms, some of which had let their waste discharge into ditches and streams.
State regulators had publicly documented nearly twice as many violations in the six months prior to April 2019 than in an entire decade. What happened?
Explosive growth of the hog industry
Raising hogs in North Carolina used to be a side gig to the real business of growing tobacco and cotton. Then, in the 1980s and 90s, the industry exploded, with concentrated animal feeding operations (Cafos) on the state's coastal plain housing up to 60,000 animals each. Most of the state's 9 million pigs live indoors, their waste flushed through slats into open pits called lagoons. When the lagoons get too full, the waste is sprayed onto crop fields as fertiliser, though these manure pits have also been known to overflow and breach their walls, particularly during hurricanes.
As the industry grew, the state legislature protected it in numerous ways, even barring counties from restricting hog farms during the key expansion years. But lawmakers couldn't ignore the mounting hog waste, particularly when it polluted waterways.
It smells like a body that's been decomposed for a month

Duplin County resident
In 1997, the legislature imposed a suspension on new farms using lagoon-and-sprayfield systems: in 2007 it made the ban permanent, essentially capping the number of hog farms at around 2,300. But existing industrial farms were allowed to continue business as usual, despite widespread evidence that they were fouling the rural landscape and making for noxious neighbours.
"It smells like a body that's been decomposed for a month," says Rene Miller, a retired truck driver from Duplin County, the heart of hog country. On Sundays after church, her family used to gather under the oak tree beside the house. They would dance, play checkers, and eat fried chicken, collard greens and corn. "That was my life back then," she said. Now, with hog waste sprayed onto a field across the road, she stays inside with the air-conditioning cranked up.
A study published in 2018 by the North Carolina Medical Journal concluded that families living near hog CAFOs saw higher rates of infant mortality and deaths from anaemia, kidney disease, and tuberculosis. Another study, from 2014, found these issues "disproportionately affect" people of colour: African Americans, Native Americans, and Latinos are far more likely to live near CAFOs.
More On The Environment:
World Politics
United States
Right now, the G7 is not equipped to work towards its goals. And the biggest obstacle is US President Donald Trump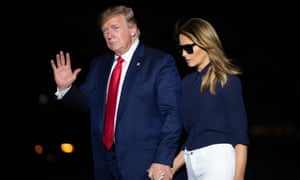 'Canceling the next summit is not a ridiculous recommendation' Photograph: Saul Loeb/AFP/Getty Images
The takeaway from the 2019 Group of 7 (G7) Summit? We need to cancel the 2020 G7.
The goal of the G7 is to bring together some of the world's most prosperous democracies to coordinate on the most important issues of the day. Whether on climate change or responding to Russia's invasion of Crimea or making gender equality a reality, the G7 countries are supposed to lead, crafting policies that can foster global peace and prosperity in ways that uphold democratic values.
Right now, the G7 is not equipped to work towards these goals.
The biggest obstacle is US President Donald Trump, whose policies are antithetical to the goals of the G7 – he wants America to work alone, to destroy the current global trading system, slash foreign assistance that helps address transnational challenges, ignore human rights, and doesn't believe climate change is real. When Trump attends, chances are high that he causes a diplomatic incident, like he did at the 2018 G7 when he threw a temper tantrum and insulted his Canadian host. The G7 is an annual long weekend of toddler day care for Trump.
But Trump isn't the only problem right now. The United Kingdom is also led by an irresponsible leader who is in the process of pushing through Brexit no matter the consequences, which will undermine the UK's role in the world and its ability to work with its G7 partners. Italy's government is in crisis as far-right parties drive Italy to a dangerous place and its economy teeters on the brink of calamity. Japan is in the midst of a trade war and dangerous escalating tensions with South Korea, a fellow democracy and US ally.
This year's summit might not have been as much of a disaster as last year's, but the bar should not be whether or not Trump leaves in a huff because Italy refuses to sell him Sicily – it should be whether or not the meeting advances shared interests. And right now, it's not.
French President Emmanuel Macron wanted to focus the G7 on issues like climate change. But Trump was angered by this focus, considering it a "niche" issue, or perhaps a hoax by the Chinese to divert the G7's attention from real issues, like completing the 2nd Avenue subway in New York City (yes, the president of the United States really did tweet about the NYC subway system in the middle of the G7). And so, Trump skipped the session dedicated to climate change.
Even the most basic goals of the summit – leaders taking photos and agreeing to a joint statement to show unity of purpose among democracies – are impossible with Trump involved. Macron wisely decided not to even attempt a full joint communique from the leaders (they instead released a brief one page list of issues discussed) – the first time in more than four decades of summits the G7 didn't have one – in order to avoid last year's catastrophe when Trump withdrew his support for the communique after it had been finalized.
If these reasons for suspending next year's G7 summit weren't strong enough, with the United States slated to host in 2020 there are endless more opportunities for disaster. Trump made clear yet again at this year's summit that he thinks Russian President Vladimir Putin should be invited back, even though Russia was expelled after invading Crimea in 2014 and still illegally occupies Crimea. As host next year, Trump could invite Putin even if others don't want to. Trump also said that he wants to host the G7 at one of his resort properties, another opportunity to enrich himself at the expense of the taxpayer and violate the emoluments clause of the constitution. And it's scary to try to imagine what kind of policy agenda Trump would set – and especially terrifying envisioning Trump attempting to run the meetings.
And let's be honest, no one wants this to happen next year. Trump doesn't want to go to these summits. Other G7 leaders don't want to attend. And we can all avoid the embarrassing spectacles and stark reminders that today, not even the world's oldest democracies are united in shared values.
Canceling the next summit is not some ridiculous recommendation – it is a way to cope with the current realities and preserve a semblance of American credibility abroad. Of course, the United States won't retreat from the world while Trump is president, and all these leaders will continue to deal with Trump. This just isn't a productive setting now, and the good that is achieved on certain issues at the G7 can be achieved through other means. And if it seems fanciful to imagine Trump cancelling the meeting, just remember that he canceled a trip to Denmark because they wouldn't sell him Greenland.
Coordination amongst the world's democracies is vital to addressing any of the grave challenges we face in the 21st century, and the G7 should get back to business when Trump is gone. But right now, it's not working. And maybe cancelling the summit one year will serve as a powerful reminder of the importance of the values that these democracies are supposed to stand for, and how necessary the G7 is when it lives up to its mission.
Michael H Fuchs is a senior fellow at the Center for American Progress, and a former deputy assistant secretary of state for east Asian and Pacific affairs. He is a contributing opinion writer at the Guardian US