01 Sep
English Online International Newspapers
Nearly all of these are English-edition daily newspapers. These sites have interesting editorials and essays, and many have links to other good news sources. We try to limit this list to those sites which are regularly updated, reliable, with a high percentage of "up" time.
Recommended:

A hare in a buckwheat field and armadillos and snakes challenged by wildfires in Bolivia and the Amazon
A rabbit sits in a buckwheat field at twilight near Herrnleis, Austria
Photograph: Christian Bruna/EPA
A wild forest elephant and calves bathe in the marshes of Bayanga Equatorial Forest, part of the Dzanga Sangha Reserve, the last refuge of forest elephants and central African gorillas, in south-western Central African Republic
Photograph: Florent Vergnes/AFP/Getty Images
2020 contender on US gun violence: 'This is fucked up'

17-month-old child shot in the face among more than 20 injured

As the death toll in a mass shooting in Texas on Saturday rose to seven, Beto O'Rourke, the Democratic presidential candidate, used an appearance on live television to denounce America's epidemic of gun violence as "fucked up".
The former congressman from El Paso broke with convention when he told CNN's State of the Union the polite rhetoric deployed by most politicians, of "thoughts and prayers", was no longer adequate.
He was speaking hours after a chaotic shooting spree in Odessa and Midland left seven people including the gunman dead and a 17-month-old child shot in the face among more than 20 wounded.
Odessa police spokesman Steve LeSueur announced the rise in deaths from five to seven and said at least one person remained in a "life-threatening" condition.
Soon after 3pm on Saturday a man was stopped by Texas state troopers for failing to signal a turn. The man opened fire then fled, hijacking a mail truck and embarking on a rampage in which he shot people at random.
On Saturday officials said the 17-month-old boy was airlifted to Lubbock. A medical update on Sunday suggested the young boy was in "satisfactory condition".
It was the second mass shooting in Texas in a month. O'Rourke, who has been at the forefront of calls for tougher gun laws since 22 people were killed at a Walmart in his home town on 3 August, recited the stark statistics.
On average, he said, the US was suffering 300 mass shootings a year. In a New York Times survey, 51 people were recorded to have died in such events in August alone.
"So yes, this is fucked up," he said. "If we are not able to call it out we will continue to have this kind of bloodshed."
As a sign of how polarised the gun debate is in Texas, no fewer than eight new laws came into effect on Sunday, dramatically loosening already lax controls. The legislation will allow Texans to carry guns into churches, synagogues and other places of worship, permit more guns to be deployed in schools and remove restrictions on licensed gun owners on how they store their firearms in vehicles.
O'Rourke is calling for universal background checks on all gun sales, a ban on the sale of AR-15-style semi-automatic rifles and a mandatory buy-back of those weapons.
The suspect in Odessa, described as a white male in his 30s, was chased and shot dead in a parking lot outside a cinema between Odessa and Midland, more than 10 miles from where he was pulled over.
A police update was expected later on Sunday.
In the aftermath of the shooting, confusion reigned. Police said two suspects were on the loose. The location of the shooting was wrongly announced.
The shooting began when state troopers pulled over a gold car on Interstate 20 for failing to signal a left turn, said a Texas Department of Public Safety spokeswoman. The driver "pointed a rifle toward the rear window of his car and fired several shots", striking one of two troopers inside a patrol car. The gunman fled and two other officers were shot.
The gold car pulled up and the man was there and he had a very large gun and it was pointing at me

Shawna Saxton
Witnesses described gunfire near shopping plazas and busy intersections. One woman, Shauna Saxton, said she was driving with her husband and grandson in Odessa and had paused at a stoplight when they heard loud pops.
"I looked over my shoulder to the left and the gold car pulled up and the man was there and he had a very large gun and it was pointing at me," she told TV station KOSA. Saxton said she was trapped because there were two cars in front of her.
"I started honking my horn. I started swerving and we got a little ahead of him and then for whatever reason the cars in front of me kind of parted," she said, sobbing. She said she heard three more shots as she sped away.
On CBS's Face the Nation, O'Rourke made reference to a video, apparently of the shooting in progress, which spread on social media on Saturday.
"I also just watched a video on Twitter of a family that is pinned to the ground, the children are crying," he said. "They're all Mexican American in a part of our country where Mexican Americans were targeted and hunted for their very ethnicity."
The suspect in the El Paso shooting has been linked to a "manifesto" posted online which detailed far-right positions.
"People are living with fear," O'Rourke said, "feel like they have targets on their backs right now. Kids afraid to go to school tomorrow morning. This is not right. Unacceptable.
"And I won't accept it."
Texas' governor, Greg Abbott, this week held two meetings about how to prevent mass shootings. He said he would visit Midland-Odessa on Sunday.
The vice-president, Mike Pence, said Donald Trump and his administration "remain absolutely determined" to work with Congress to "address and confront this scourge of mass atrocities in our country". Trump, monitoring Hurricane Dorian from Camp David in Maryland, said he had spoken to attorney general William Barr.
Democrats competing with O'Rourke for the nomination called for gun reform. Days after El Paso, Trump said he was eager to implement "very meaningful background checks" and told reporters there was "tremendous support". He later backed off.
Trump has called for greater attention to mental health. Some mental health professionals say such thinking is outdated and would have a minor impact.
In Odessa, Dustin Fawcett told reporters he was sitting in his truck at a Starbucks when he heard at least six gunshots less than 50 yards behind him. He spotted a white sedan with a shattered passenger window.
"Oh man," he thought. "This is a shooting."
Swedish teen climate activist protests among surging crowds

Young speakers chant: 'Don't just watch us – join us'
Greta Thunberg joins hundreds of teenagers in climate protest in New York – video
Teen climate activist Greta Thunberg was joined by swelling and excited crowds of American teenagers at a protest outside the UN headquarters in New York on Friday, in a further blossoming of the youth environment movement given extra thrust by the Swede's transatlantic boat crossing.
Some US children said they were at their first ever climate demonstration; others said they had been passionate about the environment for a while but had been galvanized to act by Thunberg's rising profile.
On Friday afternoon, Thunberg and two young activists were spontaneously invited inside the UN for a meeting with a senior leader, described as "very supportive".
Just two days after Thunberg disembarked from a yacht in New York, following two weeks on rough seas crossing from the UK, young protesters dominated the crowd of up to 1,000 outside the United Nations skyscraper in Manhattan.
They came together to demand politicians and older generations take urgent and comprehensive action to reverse the climate crisis.
Carrying hand-drawn placards with messages such as "United behind the science" and "Act now or we will", children and young people of all ages surged into a park in front of the flags of the world outside the UN on Friday morning.
Thunberg sat cheerfully but pensively in the middle of the rally, which had a rather more earnest than festive atmosphere. Young speakers gave spontaneous speeches or led chants of "System change, not climate change" and "Don't just watch us, join us".
Alexandria Villaseñor, 14, who has been protesting every Friday outside the UN since December, was in her usual spot and said she had been inspired by Thunberg's school strike campaign.
She said: "Greta being here will really galvanise students just because of how much of an inspiration she is. Everyone who's been striking on Friday was really empowered by Greta and the action she was taking."
Thunberg held her trademark "skolstrejk för klimatet" (Swedish for "school strike for climate") sign, which she was seen carrying from the racing yacht on Wednesday, after refusing to take a flight to the US because of the polluting emissions.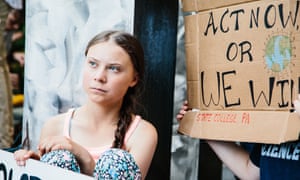 Greta Thunberg outside the UN headquarters in New York, on 30 August. Photograph: Alba Vigaray/EPA
For Dana Henao, 16, from Brentwood, Long Island, Friday marked her first climate protest.
"The government isn't taking enough action to protect the environment and all they care about is the money they make with corporations polluting the planet and I think we should put a stop to it," she said. "The young people are the only ones taking action and we want to call attention to this."
She added: "She [Greta] is really popular and she's, like, the face of the movement."
On Friday afternoon, Thunberg, Villaseñor and Xiye Bastida Patrick, 17, a Fridays for Future organiser, went inside the UN for an impromptu meeting with general assembly president María Fernanda Espinosa after receiving an invitation during the protest.
The trio were given a tour – including a preview of the general assembly podium, at which Thunberg will speak during next month's climate action summit, and had a meeting with Espinosa, where they spoke about the summit, global heating, forest fires around the world, the Amazon fire and single-use plastics.
Villaseñor said the president was "very supportive".
She said: "I said I want to see world leaders take climate action to reduce global greenhouse emissions and stay in line with the Paris agreement and also September 20 we will continue pushing and demanding that they do."
Thunberg told the Guardian in an interview shortly after disembarking from the special "zero emissions" yacht that she wanted "a concrete plan, not just nice words" from leaders about taking urgent and comprehensive action to head off the climate crisis.
Villaseñor, who is thought to be America's first school striker to join the movement and has been exchanging tips with Thunberg online, had been among the group of American climate activists who welcomed her to the US when her yacht docked at North Cove Marina.
She said: "What's really important about Greta being here today is it's the start of something new. Because with the climate summit coming up it's the way for all the youth to unite here and send a message to world leaders at that climate summit. So even though Greta's voyage on Malizia ended a couple of days ago, the climate action we will take on this continent has really just begun."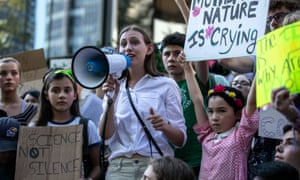 Alexandria Villaseñor participates in a youth climate change protest in front of the UN headquarters in New York, on 30 August. Photograph: Jeenah Moon/Reuters
On Wednesday, Thunberg said her generation is having to "clean up" the climate crisis. She also told Donald Trump, who denies there is a climate crisis, to "listen to the science".
On Friday, Almy Batis, 21, a student at Arizona State University, said she saw Friday as a landmark moment for America's climate movement.
"This is a huge moment that Greta is finally here and there are Fridays for Future events scattered across the US. Her movement is going to be amplified in North America … and grow a lot."
Esme Ruiz, eight, from New York, attending with her father, said: "The world is literally melting right in front of our eyes and no-one even realises it. We need to teach them..It's hard to make changes sometimes, but if you need to save the world, I'd do it rather than die."
Meanwhile, a Brooklyn teacher said she has seen a "Greta effect" in her school.
With her coincidental name, but with different spelling, Gretta Reed, 28, said: "In the last two years I've seen a big surge in kids really vocalising. Now that they're organising together, I think it's really powerful."
Frank-Walter Steinmeier makes speech at Warsaw event to mark 80 years since start of war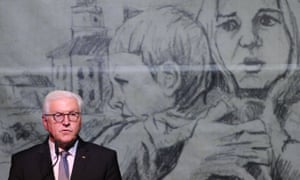 Germany's president, Frank-Walter Steinmeier, speaks at the commemorative event in Warsaw. Photograph: Alik K?plicz/AFP/Getty Images
The German president vowed his country would never forget the atrocities of the Nazi period on Sunday as he asked forgiveness from Poland during a series of commemorative events to mark the 80th anniversary of the outbreak of the second world war.
"In no other square in Europe do I find it more difficult to speak, and to address you in my native language of German … I ask for forgiveness for Germany's historical guilt and I recognise our enduring responsibility," Frank-Walter Steinmeier said at a ceremony in Pi?sudski Square in Warsaw.
Steinmeier and the German chancellor, Angela Merkel, joined a number of heads of state at the ceremony. Other events were held in Wielu?, which was heavily bombarded by the German air force on the first day of the war; and Westerplatte, where the first shots of the war were fired when a German battleship opened fire on a Polish garrison in the early hours of 1 September.
"It is hard to imagine that cataclysm of history today, the armed conflict which brought the most disastrous consequences in the history of mankind. We have to remember, and therefore we are gathered here today," the Polish president, Andrzej Duda, said at the Warsaw ceremony.
Poland's nationalist government had hoped that the US president, Donald Trump, would be the guest of honour, but he cancelled at the last minute and sent his vice-president, Mike Pence, in his place.
Despite the atmosphere of reconciliation, different politicians drew very different conclusions about the lessons of the war.
There was a note of anger in Duda's speech, as he said Europe should have stood up to the Nazis earlier. "Perhaps the second world war would not have broken out in the first place, if the states in the west had put up a decisive resistance against … the imperial ambitions of Hitler," he said.
By way of comparison, Duda also criticised western leaders who propose rapprochement with the Russian president, Vladimir Putin, after Moscow's actions in Georgia in 2008 and Ukraine in 2014. "Turning a blind eye is not the recipe for preserving peace. It is a simple way to give consent to further attacks," he said.
Putin was present at a similar commemoration 10 years ago, but was not invited this year because of the annexation of Crimea in 2014 and Russia's new revisionist historical policy, which downplays the Nazi-Soviet pact agreed a week before Germany attacked Poland.
The Soviet Union, in accordance with a secret protocol of the pact, invaded Poland from the east on 17 September. Putin called the pact a mistake a decade ago, but Russia's foreign ministry has embarked on a campaign in recent weeks to show it as necessary and even a diplomatic triumph.
Pence used his speech to talk as much about Soviet atrocities as Nazi crimes, paying tribute to Polish bravery and quoting the Russian writer Alexander Solzhenitsyn. The main problem of the 20th century was that men had forgotten God, he said.
The European commission vice-president, Frans Timmermans, attended the ceremony in Westerplatte and had a different message. He said the best way to honour the memory of the war dead was by "working for tolerance, working for mutual respect, working to remove the feeding ground of those who propose intolerance". Timmermans has been a vocal critic of the current Polish government.
The Polish prime minister, Mateusz Morawiecki, raised another thorny issue, using his speech at Westerplatte to demand Germany pay reparations for the devastation of Poland during the war.
"We have to talk about, remember and demand the truth regarding those losses. We have to demand compensation," he said. German officials have insisted that the matter is closed and they will not pay reparations.
World Politics
Israel
Benjamin Netanyahu is counting on fear of conflict with Iran to win crucial election votes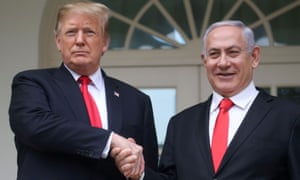 Donald Trump with Benjamin Netanyahu at the White House in March. Israel's prime minister brags about his close ties to the US president. Photograph: Leah Millis/Reuters
D

onald Trump's offer to talk peace with Iran sent a shiver of alarm through Israel's political and security establishment last week. With a too-close-to-call general election looming on 17 September, Benjamin Netanyahu is counting on his hardline anti-Tehran alliance with Washington – and fear of conflict – to win him crucial votes. A North Korea-style Trump tryst with Iran's president, Hassan Rouhani, was the prime minister's "ultimate horror scenario", one analyst noted.
Yet after a recent series of escalatory strikes against Iran-linked forces in Iraq, Lebanon and Syria, Israel's voters may reflect that if one thing is worse than peace with Iran, it's war with Iran. Trump's policy of "maximum pressure" on Tehran, strongly backed by Netanyahu and fellow Tel Aviv hawks, is placing Israel squarely in the firing line. The intensifying confrontation is also sucking in regional states, notably Iraq.
Netanyahu constantly brags about his close ties to Trump, taking personal credit for US recognition of Israel's illegal annexation of the Golan Heights and of Jerusalem as its capital. He encouraged Trump's decision to renege on the 2015 nuclear deal with Iran, which is the primary source of today's tensions. And he applauded punitive US sanctions – including an oil embargo that swiftly led to clashes in the Gulf.
But slavish allegiance comes at a price. The US-Iran confrontation is increasingly endangering Israel's own security amid evidence that Tehran, wary of direct conflict with US forces, is focusing its military pushback on an attritional campaign by its proxies against the Jewish state. In this respect, Trump and Iran's leaders have something in common. Neither wants an all-out war, but neither will back down. Both prefer that others fight their battles for them.
The recent spate of covert strikes on Iran-linked targets, reportedly ordered by Netanyahu with tacit US backing, appeared to have the shared aim of preventing Tehran equipping Hezbollah in Lebanon and allied Shia forces in Iraq and Syria with precision-guided missiles, drones and other advanced arms. It's uncertain whether the strikes did lasting damage. But they did provoke a defiant response from Iran, which vowed to redouble its efforts. And together they marked a significant escalation.
United States