28 Mar
A Foreign Perspective, News and Analyses
Nearly all of these are English-edition daily newspapers. These sites have interesting editorials and essays, and many have links to other good news sources. We try to limit this list to those sites which are regularly updated, reliable, with a high percentage of "up" time.
Recommended:
Nick Perry
Survivor Khaled Alnobani thinks up to 17 people may have died trying to escape through the door.
When the gunman began to attack the Al Noor mosque, Ahmed Alayedy scrambled to get to the nearest emergency exit. He was the first one there.
"I tried to open the door," he said. "But it doesn't open."
Alayedy and other survivors of the March 15 mosque attacks in New Zealand have described a scene of confusion and terror at the door on one side of the main prayer room, in the first accounts of the role the door played.
Alayedy said so many people began crushing him against the door that some of his ribs cracked. Another survivor, Khaled Alnobani, says he thinks as many as 17 people may have died trying to get out through the door.
The mosque says an electrician disabled that system the day before the attack, although some of those who escaped question whether that was the case.
What is clear is that nobody managed to open the door that afternoon.
With the gunman in the middle of the room, the door represented the only escape route for those on one side of him, at least until people started smashing windows to escape.
Fifty people were slaughtered by the gunman at two Christchurch mosques during the attack, including 42 who died at Al Noor.
Alayedy and others say that if the door had been wide open like it usually was during Friday prayers, many more people might have escaped.
Shagaf Khan, the president of the Muslim Association of Canterbury which oversees the mosque, said the door was closed and latched much like the front door of a house. He said it wasn't locked, although worshippers may have believed it was in the confusion.
He said an electrician had tested the new electric locking system on Thursday, and then disengaged it for Friday prayers. He said that to open the door, somebody needed to turn a lever. It was just happenstance, and perhaps the cool weather that day, he said, which meant the door wasn't wide open as usual.
"We were prepared for an emergency like a fire or an earthquake, and people would still have time to get out. This is something totally different. You don't put this in your emergency plan."
Alayedy said that in the confusion, he can't be sure if he simply failed to turn the lever properly or if something else stopped the door from opening.
Alnobani, said he, too, tried to open the door and it didn't work, and he's familiar with the lever. He said he believes the door was electronically locked. Simply pushing a button next to the door would have unlocked it, he said, but nobody knew about the new system.
Khan said the mosque was in compliance with regulations, which require emergency exits to be clear from objects, easily accessible, and unlocked.
Police said the scene examination is part of their investigation and they will not be commenting while the investigation is ongoing.
Global 'collapse' in number of new coal-fired power plants
Not long before coal use is over, say analysts, while warning of possible resurgence in China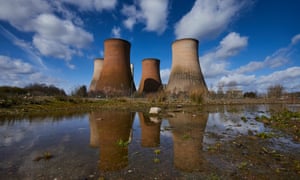 Rugeley power station in Staffordshire is being demolished in phases until 2021. Coal plants are being retired at a record pace globally. Photograph: Christopher Thomond/The Guardian
The number of coal-fired power plants being developed around the world has collapsed in the last three years, according to a report.
The number of plants on which construction has begun each year has fallen by 84% since 2015, and 39% in 2018 alone, while the number of completed plants has dropped by more than half since 2015.
The report, from the NGO-backed Global Energy Monitor, says the falling costs of renewable energy are pricing coal out of the electricity market, more than 100 financial institutions have blacklisted coal producers, and political action to cut carbon emissions is growing.
"It's only a matter of time before coal is a thing of the past worldwide," said one of the report's authors, Neha Mathew-Shah, of the Sierra Club.
However, Christine Shearer, of Global Energy Monitor, said even emissions from the existing coal plants were incompatible with keeping global warming below 2C. "We need to radically phase down coal plant use over the next decade to keep on track for Paris climate goals," she said.
The report warns of a possible coal plant resurgence in China, where satellite photos show developers have restarted work on dozens of suspended projects.
Coal plant retirements have continued at a record pace, the report finds, with the US accounting for more than half of the total despite efforts by the Trump administration to prevent the closure of ageing plants. A separate report this week found that three quarters of existing US coal-fired electricity production was now more expensive than new solar and wind energy.
However, data from the International Energy Agency published on Tuesday found that global carbon emissions rose in 2018, with a young fleet of coal plants in Asia accounting for a third of the increase.
The World Coal Association said in a statement: "As the largest source of electricity generation, coal will continue to be a critical enabler of development. For many countries, particularly in south and south-east Asia, it underpins economic development. We must respect and support them in their choice and fund low emissions technologies."
China and India have accounted for 85% of new coal power capacity since 2005, according to the Global Energy Monitor report. China permitted construction for the generation of less than 5GW of coal power in 2018, compared with 184GW in 2015. India permitted less than 3GW in 2018, compared with 39GW in 2010. India has added more solar and wind power capacity than coal over the last two years.
However, a report by the China Electricity Council, which represents the power utilities, proposes allowing 290GW of new capacity, more than the entire US coal fleet.
Lauri Myllyvirta, of Greenpeace, said: "Another coal power construction spree [in China] would be near impossible to reconcile with the emission reductions needed to avoid the worst impacts of global warming."
More On The Environment:
World Politics
Great Britain
Stymied by Jacob Rees-Mogg and the ERG, the prime minister lurches towards oblivion
United States
Source: YouTube/Financial Services Committee
Congresswomen Alexandria Ocasio-Cortez gave an impassioned speech during a committee hearing in response to Republicans push-back on her climate change policy, the Green New Deal. 'You want to tell people that their desire for clean air and clean water is elitist?', she yelled. 'Tell that to the kids in the South Bronx which are suffering from the highest rates of childhood asthma in the country … You're telling those kids that they are trying to get on a plane to Davos? People are dying!'
Judge strikes blow to Trump administration, citing unresolved obstacles to getting healthcare in the states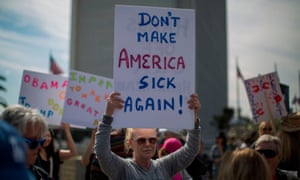 The judge's ruling sent the federal health and human services department back to the drawing board. Photograph: David Mcnew/AFP/Getty Images
A federal judge has ruled that Medicaid work requirements undermine the program's mission of providing healthcare for the needy, dealing a blow to the Trump administration.
The US district judge James E Boasberg in Washington DC blocked work requirements for low-income people in two states, Arkansas and Kentucky, on Wednesday. He found that the states' requirements pose numerous obstacles to getting healthcare that have gone unresolved by federal and state officials.
Boasberg sent the federal health and human services department back to the drawing board. But he stopped short of deciding the central question of whether work requirements are incompatible with Medicaid, a federal-state program that traditionally allows states broad leeway to set benefits and eligibility.
HHS approval of the Arkansas work requirement was "arbitrary and capricious because it did not address … whether and how the project would implicate the 'core' objective of Medicaid: the provision of medical coverage to the needy," wrote Boasberg. The judge used similar language in his ruling on Kentucky.
The Trump administration said it would press on despite the ruling, but did not specify its next steps.
Work requirements are already in effect in Arkansas, but Kentucky's program has been on hold because of lawsuits. Both states want "able-bodied" adults who get health insurance through the Affordable Care Act's Medicaid expansion to work, study, volunteer, or participate in "community engagement" activities.
About six in 10 adults on Medicaid already work in low-wage jobs, according to the nonpartisan Kaiser Family Foundation. Most of those not working cite reasons such as poor health, caring for an elder or child, or going to school.
The Kentucky governor, Matt Bevin, said his state would appeal. Bevin, a Republican, has threatened to end Kentucky's Medicaid expansion covering more than 400,000 people if work requirements are ultimately struck down.
"We have one guy in Washington who thinks he owns Kentucky," said Bevin, apparently referring to the judge. "We're right, and we'll be right in the end. And one guy can gum up the works if he wants, for a while, but this, too, shall pass."
The Arkansas governor, Asa Hutchinson, also a Republican, said he was disappointed by the decision and would publicly address it Thursday.
The GOP leader of the Arkansas senate said he did not believe the ruling jeopardized the future of Medicaid expansion, which covers more than 200,000 residents. About 18,000 have lost coverage as a result of the work requirements.
"I don't think there's any reason for the state to panic," said the senate president, Jim Hendren, who is also the governor's nephew. "This is another obstacle in our path to try to do the best we can in Arkansas with the chips the federal government and the judiciary gives us."
Advocates for the poor say that Medicaid is a health care program and that work requirements have no place in it.
"It is nonsensical and illegal to add obstacles to Medicaid for large groups of individuals who are already working, or full-time healthcare providers for family members, or suffering chronic health matters," said Jane Perkins, legal director of the National Health Law Program, a not-for-profit organization that sued the government.
"Work should not be a key to healthcare access."
The Trump administration isn't giving up, said the head of the Centers for Medicare and Medicaid Services.
"We will continue to defend our efforts to give states greater flexibility to help low-income Americans rise out of poverty," Seema Verma said in a statement.
Donald Trump supports work requirements for public programs across the government. Last year, he signed an executive order directing cabinet agencies to add or strengthen work requirements for programs including subsidized housing, food stamps and cash welfare.
HHS had already acted. Early in the administration, top officials invited states to apply for waivers that would allow Medicaid work requirements. Verma says she believes work is important to improving the health and well-being of Medicaid recipients.
Eight states have had their requests approved, though not all have put their programs in place, according to the Kaiser Family Foundation. Requests from seven others are pending. In one of those states, Virginia, a work requirement was key to getting the legislature to approve Medicaid expansion.
Nationally, some 12 million people are covered by the Medicaid expansion, a key component of Barack Obama's healthcare law adopted by 37 states. Officials in GOP-led states have argued that work requirements and other measures such as modest premiums are needed to ensure political acceptance for the expansion.
Overall, Medicaid is the government's largest health insurance program, covering about one in five Americans, ranging from many pregnant women and infants to severely disabled people and elderly nursing home residents.
Boasberg was nominated to the federal bench by Obama.