05 Sep
English Online International Newspapers
Nearly all of these are English-edition daily newspapers. These sites have interesting editorials and essays, and many have links to other good news sources. We try to limit this list to those sites which are regularly updated, reliable, with a high percentage of "up" time.
Recommended:

As Sky correspondent Greg Milam gains US citizenship, he reflects on the divided state of America.
'Empathy can be as much of a curse as a blessing' … Carol Guzy. Photograph: Andrea Pritchard
'It was innocence amid war – this tiny girl who should have been enjoying her childhood trapped in this catastrophic battle'
Battle endgame … a girl in the old city in western Mosul, Iraq, near the destroyed Great Mosque of al-Nuri, on 6 July 2017. Photograph: Carol Guzy/Zuma Press
I

was one of the last photographers left in Mosul during the final days of the battle to liberate the Iraqi city from Islamic State in July 2017. I have covered the humanitarian consequences of war for three decades, but the sheer horror I witnessed during this conflict felt different.
There was no end to the cruelty. The stream of suicide bombs, grenades, car bombs, and snipers was relentless. People were forced to watch their loved ones die in front of them. And when civilians did reach the point of escape, Isis would use them as human shields.
But what really ripped at my heart was the plight of Isis children whose parents had been suicide bombers for the caliphate. I met one little girl called Khadija who was calling out for her mother, not realising that the burns all over her body were caused by her mother's suicide bomb. As a mother, I will never understand an ideology that would induce you to hurt your own.
The photo was taken near the ruins of the Great Mosque of al-Nuri, where Isis first proclaimed the caliphate in 2014. It was like Armageddon: buildings were smoking, bombs were dropping and there was sniper fire from all angles. When people fled, they were first checked for suicide bombs by Iraqi soldiers, men had to remove their shirts, and their names were checked for recorded Isis affiliation. Then they moved on to the trauma stabilisation point for emergency medical care, which was where I spent most of my time taking photographs.
This little girl had fled with a group of women and children. She paused here momentarily. My fixer had gone missing so I couldn't speak to her but I knew I had to take the shot. It was the picture of innocence amid war, a tragic juxtaposition of this tiny girl who should have been enjoying her childhood trapped in the middle of this catastrophic battle.
Hope is something I always look for, even amid the worst devastation and despair. I didn't see much of it in Mosul
She only stayed briefly. She looked to me as though she was in shock and she rejoined the group of women and children only a few moments later. This piece of rubble was the only place she could rest.
I wanted my work in Mosul to help viewers to see these people as individuals. It's really hard when you talk about war and statistics and the numbers dying to remember the humanity behind the numbers. But when you focus on individual faces, or a little girl sitting in debris with her head in her hands, it touches people on a universal emotional level, and gives viewers the possibility to connect. That's always been my goal.
Isis may have been defeated, but the ideology has not been eradicated. Some of the children I met already knew the meaning of martyrdom because their parents indoctrinated them from birth. I don't know what happens to those kids.
Hope is something I always look for, even within the worst devastation and despair. I didn't see much of it in Mosul. Perhaps the closest thing came from the medics. They saved countless lives, and I know they were frustrated – the Iraqi government would not let them any nearer to the frontline, so they were forced to watch people die who they probably could have saved had they had just a couple more minutes. To me, they were angels amid the misery.
Photojournalism is never about us, we're just the link to the narratives of others. You have to feel something when you see things like this, but empathy can be as much of a curse as it is a blessing. I have always tried to be open about the trauma I've experienced, the PTSD, the meltdowns, but I think the thing that saves my sanity is my understanding that what I have experienced is nothing compared with what the people in my pictures have lived through.
Cholera education, Holy Trinity primary school
Freetown, Sierra Leone 2012
The American photographer Mustafah Abdulaziz has won the Leica Oskar Barnack photography award with his eight-year project exploring the global crisis around water, and how different cultures interact with this precious resource
One woman claims Spanish opera singer groped her so hard she cried out in pain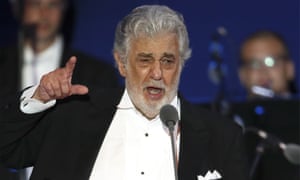 Plácido Domingo initially described the accusations as 'deeply troubling' and 'inaccurate'. Photograph: László Balogh/AP
Eleven more women have come forward to accuse the opera star Plácido Domingo of sexual harassment, including one who alleges he groped her so hard she cried out in pain.
The new allegations come three weeks after the Associated Press reported that eight singers and a dancer had told it that they had been sexually harassed by the Spanish tenor in incidents that spanned three decades from the late 1980s.
Domingo, 78, initially described the accusations as "deeply troubling, and as presented, inaccurate".
He added: "I believed that all of my interactions and relationships were always welcomed and consensual. People who know me or who have worked with me know that I am not someone who would intentionally harm, offend, or embarrass anyone."
However, a singer who worked with Domingo in the Washington Opera's 1999-2000 season has now accused him of sexually assaulting her.
Angela Turner Wilson, 48, told AP that while she had been aware of Domingo's reputation for inappropriate behaviour, she had wanted to believe his interest in her was professional when he began sitting by her and telling her he adored her.
But one evening before a performance, she said, Domingo slipped his hands under her bra straps then reached down into her robe and grabbed her bare breast. "It hurt," she told AP. "It was not gentle. He groped me hard."
Wilson said she had been motivated to come forward by Domingo's reaction to the allegations and his suggestion that "the rules and standards by which we are and should be measured against today are very different than they were in the past".
"What woman would ever want him to grab their breast? And it hurt," she said. "Then I had to go on stage and act like I was in love with him."
The AP reported that several backstage employees told it that they strove to shield young women from the star as administrators looked the other way.
One woman has accused Domingo of putting his hand down her skirt and three others said he forced kisses on their lips in a dressing room, hotel room and at a lunch meeting.
A spokeswoman for Domingo accused AP of conducting an "inaccurate [and] unethical" campaign against the singer.
She added: "These new claims are riddled with inconsistencies and, as with the first story, in many ways, simply incorrect.
"Due to an ongoing investigation, we will not comment on specifics, but we strongly dispute the misleading picture that the AP is attempting to paint of Mr Domingo."
British PM has cleared his diary amid the Brexit chaos to meet Benjamin Netanyahu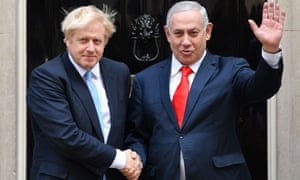 Boris Johnson greets the Israeli prime minister, Benjamin Netanyahu, outside No 10. Photograph: Daniel Leal-Olivas/AFP/Getty Images
The Israeli prime minister has flown into London to urge Britain to end talks with Iran over the nuclear deal.
Benjamin Netanyahu is meeting the British prime minister, Boris Johnson, for hastily arranged talks on Thursday in which he is expected to call on Britain to spurn a French plan to offer a $15bn (£12bn) credit lifeline to help Iran sell oil.
Johnson will also meet the US vice-president, Mike Pence, while Netanyahu will hold talks in London later in the day with the US defence secretary, Mark Esper. That Johnson has cleared his diary in the middle of domestic political chaos is a tribute to Netanyahu's influence in Downing Street.
Iran and three European countries – Britain, France and Germany – have been engaged in talks to save the landmark 2015 nuclear accord, which has been unravelling since Donald Trump withdrew from it in May last year.
On his way to London the Israeli leader cited an Iranian plan to restart research on building advanced nuclear centrifuges in a further breach of the accord. The centrifuge plan, Tehran's third step away from the deal, was announced by the Iranian president, Hassan Rouhani, on Wednesday.
"Today we were told about another violation carried out by Iran, this time in relation to nuclear proliferation," Netanyahu said. "This joins Iran's aggressive acts against international shipping and against countries in the region, as well as its efforts to carry out murderous attacks against the state of Israel, efforts that have not ceased.
"This is not the time to hold talks with Iran; this is the time to increase the pressure on Iran … These are important matters for the state of Israel at all times, but especially now."
There is suspicion, nevertheless, that Netanyahu's lightning visit to London is in part designed to bolster his international standing, and play the security card ahead of highly charged elections in a fortnight.
But the timing gives the Israeli prime minister a platform to pour cold water on Emmanuel Macron's Iran proposal – a plan that has already been greeted with deep scepticism by the US special representative on Iran, Brian Hook, as he announced fresh plans on Wednesday to sanction Iranian efforts to export oil.
Trump for his part has reiterated his willingness to meet Rouhani, but said there would be no easing of US sanctions. "That's not happening," he said. "That won't be happening."
It would be a diplomatic coup for Israel and the US if they could lever Britain away from the Macron plan, and, even more, away from the nuclear deal.
In the face of year-long pressure from the White House, the UK has continued to ally with France and Germany, the two original signatories to the 2015 deal, insisting Iran was not in breach of a deal that remained the best way to prevent nuclear proliferation in the region.
Many European diplomats claim even now that the narrowing door to diplomacy remains open because Iran has announced it will take its next step on centrifuges only if, in two month's time, no progress on selling oil has been made. Iran also did not announce any steps to increase its level of uranium enrichment.
The French plan, largely leaked by Iran, proposes a $15bn credit line as a prepayment for the purchase of Iranian oil. The plan requires a US willingness to reinstate sanctions waivers on countries that purchase Iranian oil. The credit line would be the first step in a phased programme to address wider concerns with Iran, including its ballistic missiles, regional behaviour and the renewal of the nuclear deal. Britain has not yet said anything publicly in support of the plan, but has emphasised that it has been led by the French.
But given the US and Israeli approach, Macron's chances of success seem to be receding. Rouhani has also refused to countenance a meeting with Trump, possibly at the UN general assembly in New York, and the Iranian decision on centrifuges has disappointed the French.
Under the accord, Iran was allowed to keep restricted quantities of first-generation centrifuges, IR-1s, at two nuclear plants. The successful development of more advanced centrifuges, IR-4s, IR-6s and IR-8s, would enable it to produce limited amounts of material for a potential nuclear bomb at a faster speed.
"From Friday, we will witness research and development on different kinds of centrifuges and new centrifuges and also whatever is needed for enriching uranium in an accelerated way," Rouhani said. "All limitations on our research and development will be lifted on Friday."
In a step away from confrontation, the owner of the captured British-flagged ship Stena Impero has confirmed that seven crew members have been released by Iranian authorities.
World Politics
United States
President said 'certain models strongly suggested' state would be hit after displaying altered map showing path reaching the state