08 Sep
English Online International Newspapers
Nearly all of these are English-edition daily newspapers. These sites have interesting editorials and essays, and many have links to other good news sources. We try to limit this list to those sites which are regularly updated, reliable, with a high percentage of "up" time.
Recommended:

Europe has been largely peaceful since the end of World War II. The shock of that conflict was simply too great. But with memories of the violence now fading and nationalism on the rise, it is far from certain that peace will remain the status quo.
Dmitri Baltermants
Family members seek to identify their fallen relatives in Crimea in 1942.
"The war changed everything." This statement by the late British historian Tony Judt contains the kernel of modern-day Europe. It was the war that made possible an extended period of peace. Things had to get extremely bad before they could get good again. For the last 75 years, there has been peace on the Continent, with just a few exceptions.
Now, this Europe finds itself in crisis. It is no longer the Europe where national thinking is slowly dwindling. It is no longer the Europe that is growing together step by step. It is no longer the Europe in which all countries seem to be committed to democracy forever. The direction of European history would seem to have changed – shifting away from convergence and back to delineation.
What does that mean for the most important of all questions, the question of war or peace? At the moment, it doesn't look at all as though the long period of peace is going to come to an end. There is no reason for alarm. But if the direction of European history is changing, we should take a close look at what that could mean. Not in the immediate future, but in the long term. History is a snail that persistently crawls along its path.
Exactly 80 years ago, the war that changed everything began — on Sept. 1, 1939, with Adolf Hitler's Germany invading neighboring Poland. Almost six years later, more than 60 million people around the world were dead as a result of the violence, huge portions of the Continent were destroyed, millions of Europeans had been forced from their homes and millions more were plunged into poverty. A state of shock reigned.
It was the moment at which the direction of history shifted, moving in the right direction at the time. Europe managed to break through the inevitability that old rivalries necessarily ended in war.
The primary reason was shock. A total war of this size had never been seen before. At the Congress of Vienna from 1814 to 1815, the great powers had sought to confine their wars, restricting them to specific regions and limiting them to the killing of soldiers. And in ensuing conflicts, the number of civilian victims remained relatively low and cities were largely spared. That was the case, for example, in the three wars that led to the first German unification — against Denmark, against Austria-Hungary and, to a large extent, against France. At that point, Reich Chancellor Otto von Bismarck sought to establish a balance of power among the great powers, but the direction of history changed when he was forced out in 1890. The countries began focusing more on rivalry and a large war became just a matter of time.
A Great Shock
It arrived in 1914 and resulted in 15 million deaths. But the fighting was largely limited to the frontlines, where the destruction was complete — primarily in eastern France and in Belgium. The civilian population suffered from shortages and hunger, but most cities remained intact. Once the war ended on Nov. 11, 1918, Germany looked largely the same as it did before the war.
The shock wasn't big enough. Just 21 years after the end of World War I, World War II broke out — and all restraint was abandoned. It ended when the U.S. dropped atomic bombs on the Japanese cities of Hiroshima and Nagasaki on Aug. 6 and 9, 1945. The shock could hardly have been greater.
Postwar politicians in Western Europe drew the correct conclusions: The national rivalries that had triggered the two world wars had to be eliminated. Germany's neighbors believed the country that had brought forth Nazism needed to be tamed, needed to be integrated because nationalism there had proved to be particularly virulent. That was met with a West German mood that was a combination of resignation, intimidation and shame at having caused the war and carried out the Holocaust.
The result was that Western Europe could slowly grow together. To ensure peace, Eastern Europe was left to the Soviet Union and the Soviets imposed a brutal system of socialist dictatorship. The Cold War broke out, a systemic rivalry pitting the United States against the Soviet Union, together with their allies. But the shock of World War II and the fear of nuclear escalation guaranteed peace on the Continent, a peace that has endured until today.
European soldiers, to be sure, were sent into battle. France fought to maintain its colonies in Algeria and Vietnam, Britain fought Argentina over the Falkland Islands in the South Atlantic. Both countries joined the U.S. in a number of wars, as did the Italians, Spanish and Germans, particularly in Afghanistan.
Nothing with Comparable Urgency
The shock wasn't enough to eliminate war entirely, but it did help limit the violence to regional conflicts. Pacifist elements in society that insist the soldiers be brought home have also played a role, though more so in Germany than in the U.S. Until World War II, the populace tended to be more euphoric when it came to waging war……………

A sleepy Bolivian peccary, fading British heather and a migrating heron in Turkey
Erwin Kräutler says he expects next month's papal synod to denounce destruction of rainforest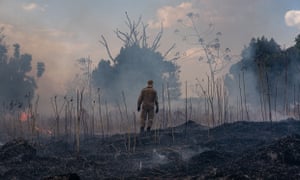 A firefighter looks at the destruction caused by a fire in the municipality of Sorriso, Mato Grosso state. Photograph: Mayke Toscano/AFP/Getty Images
The fires in the Amazon are a "true apocalypse", according to a Brazilian archbishop who expects next month's papal synod at the Vatican to strongly denounce the destruction of the rainforest.
The comments by Erwin Kräutler will put fresh pressure on the Brazilian president, Jair Bolsonaro, following criticism from G7 leaders last month over the surge of deforestation in the world's biggest terrestrial carbon sink.
The archbishop's words also highlight a widening division between the Catholic church and the Pentecostal movement. Pope Francis has championed a more harmonious relationship with the natural world for the sake of future generations, in contrast to the fast-growing new-world Pentecostalists who form the support base for the ramped-up resource exploitation advocated by Bolsonaro and Donald Trump.
The gathering of bishops would condemn all forms of Amazon destruction and advocate a new view of ecology based on Christian faith in God as the creator of a "common home", Kräutler said in an email exchange with the Guardian. Although retired as a bishop of Xingu, he is one of 18 members of the preparatory council appointed by Francis ahead of next month's papal synod on the Amazon.
Following the meeting, Francis is expected to reinforce this message with an "apostolic exhortation". It is likely to build on his influential 180-page encyclical on climate change, Laudato Si', published four years ago, which called for concrete steps to tackle the environmental crisis.
Preparations for an Amazon synod have been under way since 2016, but the issue has become more urgent in recent months due to fires, threats and a hostile government, Kräutler said.
"There have always been fires in the Amazon. When they are smaller, nature rebuilds itself within a few years. But what you are seeing now is a true apocalypse," said the archbishop, who has spent 54 years in the region.
"The fires this year surpass anything you can imagine. Undoubtedly, it is the consequence of comments by [Bolsonaro] about the opening of the Amazon to national and multinational companies. He understands 'opening the Amazon' as a licence to clear a rainforest and gain space for cattle to graze and plant monocultures such as soybeans and sugar cane."
Earlier this week, Catholic clergy in the Amazon released an open letter condemning violence and intimidation they say they are experiencing as a result of efforts to protect the forest, indigenous people and poor communities from miners and farmers.
"We are deeply disappointed that today, instead of being supported and encouraged, our leaders are criminalised as enemies of the fatherland," they wrote.
"Together with Pope Francis, we are uncompromisingly defending the Amazon and demanding urgent measures from governments in the face of violent and irrational aggression against nature and the destruction of the forest that kills ancient flora and fauna with criminal fires."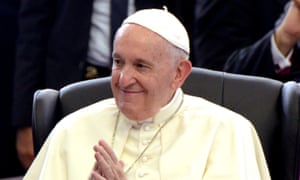 Pope Francis has championed a more harmonious relationship with the natural world. Photograph: Grant Neuenburg/Reuters
Kräutler said the letter was necessary because the government had spread false rumours that the Catholic church was undermining Brazilian sovereignty.
Priests and nuns have a long history of working with poor communities in the Amazon, which has often put them at odds with powerful business interests and the authorities. During the 1970s, the Liberation theology movement was closely aligned with leftwing resistance to the military dictatorship of the time.
In 2005, the America nun Dorothy Stang was murdered by landowners. One of her followers, Father Amaro Lopes, was arrested last year in the Xingu River basin. Kräutler had so many death threats he needed police protection for more than 10 years.
Tensions have risen further since Bolsonaro – a former military officer who has defended the use of torture and killings during the 20-year dictatorship that ended in 1985 – became president.
He has weakened government protections of the rainforest, verbally attacked indigenous groups, accused environmental NGOs of starting fires and broken ties with foreign donors to the Amazon Fund. In July – when deforestation alerts jumped by 278% compared with the same month last year – he fired the head of the space agency that provided the data.
On Saturday, Bolsonaro confirmed that he wanted the Brazilian intelligence agency to conduct surveillance on the Amazon synod. "There is a lot of political influence there," the president reportedly told journalists.
Although nominally a Catholic, Bolsonaro was baptised a few years ago by evangelical pastors in Israel. His rise to power has depended heavily on support from the Pentecostal movement, which is growing far more rapidly than the Catholic church.
World Politics
United States
Retailers such as Walmart have taken a lead and public opinion appears in favour of new curbs but that may still count for little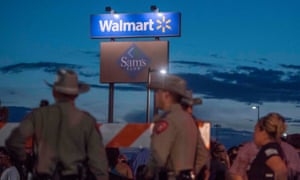 Texas state troopers keep watch at a memorial for victims of the mass shooting at a Walmart in El Paso. The retailer later said it would stop selling assault rifle ammunition. Photograph: Mark Ralston/AFP/Getty Images
C

ongress returns to Washington this week after a summer recess punctured by a string of mass shootings under pressure to confront a uniquely American problem: how to combat the scourge of gun violence?
Though it has been a quarter of a century since Congress passed significant gun control legislation, Democrats and advocacy groups are displaying a fresh sense of resolve as major American retailers heed public calls for action in response to the recent wave of mass shootings.
After weeks of deliberation, Walmart announced it would stop selling ammunition for military-style assault rifles and no longer allow customers to openly carry firearms in their stores. In short order, Kroger, Walgreens, Wegmans and CVS said they too would discourage shoppers from openly carrying guns in their stores.
The response from corporate America followed back-to-back tragedies in El Paso and Dayton, Ohio, that left 31 people dead last month and a shooting in Odessa, Texas, that left seven people dead.
Now, activists say, it's time for Washington to step up and stop politicians from lagging behind corporate America when it comes to gun reforms.
"When consumer-facing corporations make moves like this, there is no better statement of the shifting opinion of the American public," said John Feinblatt, president of Everytown for Gun Safety. "Congress needs to pass a strong background check law and a strong red flag law. Anything less and the mood of the country will be 'See you at the polling booth in 2020.'"
Everytown released new data on Friday indicating overwhelming support for new stricter gun laws. The poll found that 95% of Americans nationwide backed universal background checks and 85% favored the passage of so-called "red flag" laws, which are designed to prohibit individuals from purchasing firearms if they are deemed a threat to themselves or others. A 61% majority of Americans blamed gun violence on easy access to firearms.
"This broad public support shouldn't come as any surprise to lawmakers," Feinblatt said. "Just look back to November 2018 – if the midterms taught us anything, it's that suburban voters resoundingly chose pro-gun sense candidates.
"They're ready to vote out politicians who don't take action to keep them safe."
Congressional Democrats hope to create momentum by ramping up pressure on the Republican Senate leader, Mitch McConnell, to allow a vote on legislation passed by the House earlier this year that would strengthen and expand background checks.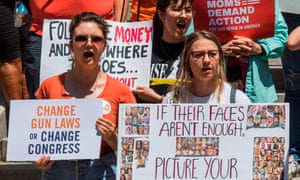 Protesters call for firearms control and protest against gun violence, at a rally in Los Angeles on 17 August 2019. Photograph: Mark Ralston/AFP/Getty Images
"President Trump and Senate Republicans have failed to act on the issue of gun violence, bowing repeatedly to the NRA and the hard right by choosing inaction or half-measures over real, meaningful legislation," the Senate minority leader, Chuck Schumer, wrote in a letter to members ahead of their return.
On Tuesday, the House speaker, Nancy Pelosi, will join members of the House Gun Violence Prevention Task Force at a forum to discuss McConnell's "inaction on bipartisan House-passed bills to prevent gun violence". Later next week, the House judiciary committee will prepare a slate of gun control bills to be brought to the floor for a vote.
The committee will consider a suite of measures that would ban high-capacity magazines, establish a federal grant program for states that implement red flag laws, and prohibit firearm sales to people convicted of certain misdemeanor hate crimes.
Meanwhile, the White House is engaged in a conversation with Senators Chris Murphy, a Democrat from Connecticut, Pat Toomey, a Republican from Pennsylvania, and Joe Manchin, a Democrat from West Virginia, about expanding background checks.
Senators Richard Blumenthal, a Democrat of Connecticut, and Lindsey Graham, a Republican of South Carolina, are also working with the White House on legislation that would offer grants to states that pass "red flag" laws.
It is unclear whether Trump supports any of these efforts. The president has repeatedly shifted positions on the issue, at some points expressing support for tightening background checks only to later backtrack and insist current laws are sufficient.
Where Trump lands on the proposals under consideration will determine the success of the latest push for gun reform in Congress. McConnell told the Hugh Hewitt radio show earlier this week that he would only hold votes on measures Trump was prepared to support.
"If the president took a position on a bill so that we knew we would actually be making a law and not just having serial votes," McConnell said, "I'd be happy to put it on the floor."
Yet at the congressional level, lawmakers remain intractably divided on how to respond, with Democrats advocating for gun control legislation and Republicans pointing to mental health and violent video games.
This is in stark contrast to the flurry of activity taking place in state legislatures to loosen or tighten gun regulations. In Texas, a day after the state was shaken by its second mass shooting in less than a month, a spate of new laws went into effect loosening restrictions on when and where firearms could be carried.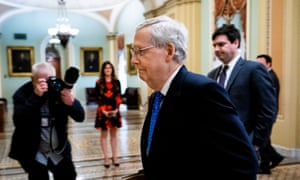 Mitch McConnell, the Senate majority leader, has said he will only bring gun control legislation to the vote if Donald Trump has indicated he backs it. Photograph: Jim Lo Scalzo/EPA
But there are signs the political battle lines are beginning to shift, even if it remains unlikely that the recent activism will produce a swift response from Congress.
"There is clearly a desire for Congress to do something – anything – to try to make the situation better," said Whit Ayres, a Republican strategist. "Lawmakers on both sides of the aisle seem to agree that red flag laws and background checks are among the least difficult of the options on the table."
On the 2020 campaign trail, Democratic hopefuls are going much further.
They have almost uniformly embraced bans on assault-style weapons and high-capacity ammunition magazines while some candidates have introduced ambitious proposals such as licensing for gun owners, registration for all guns purchased and a mandatory buyback program for assault weapons.
"Democratic presidential candidates have gone from running away from guns to running on guns," said Kristin Goss, a Duke University political scientist who has studied gun control activism.
Goss said this reflects the party's changing electoral coalitions. In the 1990s, when working-class, rural voters were still a key constituency, the party was bitterly divided over the issue and preferred to downplay it.
But now Democrats believe guns could be a defining issue in 2020, as they make gains with suburban voters, especially college-educated women fearful for their children's safety in school.
"For the first time in more than two decades, we believe that guns could be an issue that matters in a real and positive way for Democrats," said Matt Bennett, executive vice-president for public affairs at Third Way, a centrist Democratic thinktank.
But Bennett worries Democrats risk alienating voters frustrated with Trump's presidency if they go too far with measures like licensing and gun buybacks.
"The danger is that we're moving away from ideas that have near-universal support among voters to ones that have closer to 50% support," Bennett said. "Congress hasn't done anything for 25 years, so maybe we should start with something that's universally popular."
But many advocates believe the moment for bold reform is now.
"The center has shifted on this issue," said Igor Volsky, executive director and founder of Guns Down America, which organizes for "a future with fewer guns". "The approach we're seeing now reflects the political reality and the political environment that we're living in."
Sabrina Siddiqui contributed reporting.