15 Sep
English Online International Newspapers
Nearly all of these are English-edition daily newspapers. These sites have interesting editorials and essays, and many have links to other good news sources. We try to limit this list to those sites which are regularly updated, reliable, with a high percentage of "up" time.
Recommended:

The Natural History Museum has released a selection of highly commended photographs from a range of categories. The winners will be announced on 15 October and the exhibition opens on 18 October

An ever-adaptable raccoon pokes her bandit-masked face out of a 1970s Ford Pinto on a deserted farm in Saskatchewan, Canada. In the back seat, her five playful kits trill with excitement. On this evening, she paused at the exit to check the surroundings before squeezing out to spend the night looking for food. (Urban wildlife category)
Photograph: Jason Bantle

A lone male cheetah is set upon by a pack of African wild dogs. Peter Haygarth had been following the dogs as they hunted in Zimanga Private Game Reserve in KwaZulu-Natal, South Africa. On first encountering the cheetah, the dogs were wary, but as the rest of the pack arrived, their confidence grew and they began to encircle the cat. Peter kept his focus on the cat's face. In a few minutes the spat was over as the cheetah fled. (Behaviour: mammals category)
Photograph: Peter Haygarth
Major CBS News poll released as part of Covering Climate Now, a collaboration of more than 250 news outlets around the world to strengthen coverage of the climate story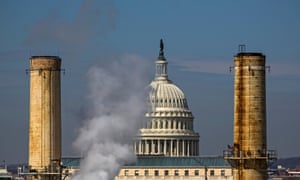 The dome of the US Capitol is seen behind the smokestacks of the Capitol Power Plant, a coal-burning plant in Washington DC. Photograph: Jim Lo Scalzo/EPA
Two-thirds of Americans believe climate change is either a crisis or a serious problem, with a majority wanting immediate action to address global heating and its damaging consequences, major new polling has found.
Amid a Democratic primary shaped by unprecedented alarm over the climate crisis and an insurgent youth climate movement that is sweeping the world, the polling shows substantial if uneven support for tackling the issue.
More than a quarter of Americans questioned in the new CBS News poll consider climate change a "crisis", with a further 36% defining it as a "serious problem". Two in 10 respondents said it was a minor problem, with just 16% considering it not worrisome at all.
More than half of polled Americans said they wanted the climate crisis to be confronted right away, with smaller groups happy to wait a few more years and just 18% rejecting any need to act.
"Americans are finally beginning waking up to the existential threat that the climate emergency poses to our society," said Margaret Klein Salamon, a clinical psychologist and founder of the Climate Mobilization Project. "This is huge progress for our movement – and it's young people that have been primarily responsible for that."
But while nearly all of those questioned accept that the climate is changing, there appears to be lingering confusion over why and scientists' confidence over the causes.
There is a consensus among climate scientists that the world is heating up due to human activities such as burning fossil fuels for electricity generation and transportation, as well as cutting down forests. However, just 44% of poll respondents said human activity was a major contributor to climate change. More than a quarter said our impact was minor or nonexistent.
There is an even starker split on the findings of climate scientists. According to the CBS poll, 52% of Americans say "scientists agree that humans are a main cause" of the climate crisis, with 48% claiming there is disagreement among experts.
"This remains a vitally important misunderstanding – if you believe global warming is just a natural cycle, you're unlikely to support policies intended to reduce carbon pollution, like regulations and taxes," said Anthony Leiserowitz, director of the Yale Program on Climate Change Communication, which has made similar findings in its own, long-running polling.
"These results also again confirm a long-standing problem, which is that many Americans still believe scientists themselves are uncertain whether human-caused global warming is happening.
"Our own and others' research has repeatedly found that this is a critical misunderstanding, promoted by the fossil fuel industry for decades, in order to sow doubt, increase public uncertainty and thus keep people stuck in the status quo, in a 'wait and see' mode."
Similar to previous polls, the CBS research finds sharp ideological differences in attitudes to the climate crisis. While nearly seven in 10 Democratic voters understand that humans significantly influence the climate and 80% want immediate action, just 20% of Republicans think humans are a primary cause and barely a quarter want rapid action.
On the science, nearly three-quarters of Democrats said almost all experts agree that humans are driving climate change, with just 29% of Republicans saying the same.
World Politics
United States
Donald Trump has blamed energy-efficient lightbulbs for his sometimes orange appearance. Speaking before an audience of Republican legislators in Baltimore on Thursday evening, he addressed criticism of his recent plans to weaken regulations on environmentally friendly bulbs. 'The bulb that we're being forced to use, number one, to me, most importantly, the light's no good,' he said. 'I always look orange. And so do you! The light's the worst'
New York Times details new claims against supreme court judge

Castro: 'Kavanaugh lied under oath. He should be impeached'

Brett Kavanaugh testifies before the Senate judiciary committee in September 2018. Photograph: Pool/Getty Images
Donald Trump came storming to the defence of Brett Kavanaugh on Sunday, after the publication of new allegations about the supreme court justice's behaviour while he was a student at Yale led to renewed calls for his impeachment.
Kamala Harris and Julían Castro were among Democrats leading the charge. Harris said Kavanaugh "lied to the US Senate and most importantly to the American people".
Trump tweeted: "The Radical Left Democrats and their Partner, the LameStream Media, are after Brett Kavanaugh again."
On Saturday, the New York Times, a leading target for Trump's ire, published an essay adapted from a new book by two of its reporters, Robin Pogrebin and Kate Kelly.
The piece concerned a claim by another student, Deborah Ramirez, that at a drunken party, Kavanaugh "pulled down his pants and thrust his penis at her, prompting her to swat it away and inadvertently touch it".
Brett Kavanaugh lied to the US Senate and most importantly to the American people … He must be impeached

Kamala Harris
Pogrebin and Kelly wrote: "While we found Dr Ford's allegations credible during a 10-month investigation, Ms Ramirez's story could be more fully corroborated. During his Senate testimony, Mr Kavanaugh said that if the incident Ms Ramirez described had occurred, it would have been 'the talk of campus'. Our reporting suggests that it was."
The reporters also said they had "uncovered a previously unreported story about Mr Kavanaugh in his freshman year that echoes Ms Ramirez's allegation".
A classmate, they wrote, "saw Mr Kavanaugh with his pants down at a different drunken dorm party, where friends pushed his penis into the hand of a female student".
The Times said senators and the FBI were notified about that claim but it was not investigated.
Kavanaugh vehemently denied all allegations against him. He was confirmed on a 50-48 vote, the narrowest for a supreme court pick in more than a century. As Trump's second pick, he has tilted the court firmly to the right.
Pogrebin and Kelly's book comes on the heels of another book by Times reporters, She Said by Jodi Kantor and Megan Twohey, about the investigation and downfall of Harvey Weinstein, which triggered the #MeToo movement.
News of the new claim against Kavanaugh and the investigation of the known one touched off a social media firestorm. On Sunday morning, Trump duly fired back.
Democrats and the media, he said, were "talking loudly of their favorite word, impeachment. He is an innocent man who has been treated HORRIBLY. Such lies about him. They want to scare him into turning Liberal!"
Brett Kavanaugh should start suing people for liable [sic], or the justice department should come to his rescue

Donald Trump
On Saturday, former Obama housing secretary and Democratic presidential candidate Julían Castro tweeted: "It's more clear than ever that Brett Kavanaugh lied under oath. He should be impeached. And Congress should review the failure of the Department of Justice to properly investigate the matter."
On Sunday, Harris, a California senator, a member of the judiciary committee and a top-five contender for the nomination, wrote: "I sat through those hearings. Brett Kavanaugh lied to the US Senate and most importantly to the American people. He was put on the court through a sham process and his place on the court is an insult to the pursuit of truth and justice. He must be impeached."
Another candidate, Senator Amy Klobuchar of Minnesota, was less direct.
"I strongly oppose him," she told ABC's This Week, "based on his views on the executive power which will continue to haunt our country, as well as how he behaved, including the allegations that we are hearing more about today. My concern here is that the process was a sham."
For his part, Trump appeared to suggest the justice department should act at his behest to aid a political ally, a highly irregular if familiar stance.