24 Sep
English Online International Newspapers
Nearly all of these are English-edition daily newspapers. These sites have interesting editorials and essays, and many have links to other good news sources. We try to limit this list to those sites which are regularly updated, reliable, with a high percentage of "up" time.
Recommended:

Swedish youth climate activist Greta Thunberg, center, marches with other young climate activists for a climate strike outside the White House in Washington, Friday, Sept. 13, 2019. (AP Photo/Susan Walsh).
I apologise in advance. I try not to start these columns with a rant. It's a great privilege to be given space like this to express a point of view, and I've tried to accept that other people have a point of view, too. And that (mostly) they're entitled to it.
But I'm sick to my back teeth of all these middle-aged men — and it is mostly men — sneering at the young people who took to the streets last week to protest at the world's failure to tackle climate change decisively. These men have been having a sort of collective temper tantrum, like overgrown, spoiled children.
Take David Quinn. When the extraordinary Greta Thunberg sailed to New York, rather than fly there, Quinn spent days in open contempt of her. And he was at it again this past week, on radio and in constant twittering. He's a prolific tweeter, with 30,000 tweets, on every subject under the sun, for his 11,000 followers.
Here's a couple of his most recent ones and they're all about theclimate change protests: "Radicalising children is a mark of totalitarian regimes, where politics no longer recognises any boundaries."
"Hold the climate strikes in non-school hours and then we'll see how serious the kids are."
"When we faced the possibility of nuclear war, back in the day, no-one thought we should terrify children, and encourage them to skip school and take to the streets."
That last one is almost funny. Back in the day was 1961, when children and teenagers were routinely beaten (and I was one of them) for having the impertinence to express any opinion about subjects like nuclear war.And, my heavens, we were terrified.
You read stuff like this and you feel like asking David Quinn what he hopes to be when he grows up. He has made a living — and I'm not saying that pejoratively — out of articulating and advocating issues that used to hold sway in Ireland, but which are now rather more difficult to talk about. I've never agreed with him, but I've acknowledged his constancy and determination.
So, when someone like that spends so much time retweeting contemptuous and contemptible rubbish about young people who are becoming involved in democratic, civilised, good-natured street politics (to highlight an issue that will shape and determine their futures), I wonder what the hell he's afraid of.
You couldn't turn on your radio this week without hearing endless, puerile abuse being heaped on the young people. Look at them, said one caller to a popular radio show, driven to the protest in their mums' SUVs. Another one phoned in to say that if his children could be persuaded to turn off the lights or take shorter showers or pick up after themselves, it would sooner solve climate change.
On and on it went.
And the internet was just as bad. That's the ultimate echo chamber, of course, with people endlessly retweeting and reposting the comments of those with whom they agree. So, if you find one grumpy, middle-aged man giving out about the young people, it's easy to find dozens of them. (Like the Australian TV commentator who called them selfish little turds and who slipped in a few digs about immigration.)
What have all these young people done to arouse such revolting, middle-age ire?
They've got political, that's what. How dare they. They've had the nerve to hold a mirror up to our failure. Haven't they some neck? They've taken — the cheek of them — a leadership position.
But the real reason that we're so annoyed at the young people is that we know, in our hearts, that they're right. We grumpy, middle-aged anti-protestors may be the first generation in history to bequeath a worse world to our children than the one we found.
And we hate having that pointed out to us. Every generation wants to make the world better. And our generation, more than any other, inherited a world full of promise and potential.
We squandered it. We invented consumerism, and we have been the most material, the most feckless, generation ever. And look at the damage we have left behind. We're the original party-goers who didn't know how to clean up after ourselves.
Maybe it wasn't what we set out to do. We can argue — although that wouldn't be true, either — that we didn't know any better.
When we were chasing economic growth, trying to enable everyone to have a second car, discovering the world of cheap flights and foreign holidays — when politics was all about who could put more money into people's pockets — the environment was never high on anyone's list of priorities.
I worked in active politics for a good deal of my adult life. And I was always, whether in government or in opposition, campaigning about something. Things I believed; things I suffered about when I failed; things that made a difference when I won. The environment was never among them.
And I have less excuse than most, because when I was younger, I read a famous book called Silent Spring by the American writer Rachel Carson. I still remember it and the effect it had on me. It wasn't just a famous book: It was hugely influential, perhaps among the first pieces of writing to awaken concern about the environment.
In Carson's analysis, science, and especially the science of pesticides, had gone so far that it had begun to disturb the natural balance of the Earth, with potentially disastrous consequences.
Like today's generation, Carson was viciously attacked in her time. By the time she published the book, she was already seriously ill with breast cancer, and some believe that the strength of the criticism hastened her death a year or so later.
But she was right, and proved right.
GRETA Thunberg, and the millions of young people she has inspired, are right, too. We're in their debt that they have decided to force the pace. They want to leave a better world for their children than we have left them — a world with a future — and because of our profligacy, that's an uphill struggle.
So we need to stop bitching and moaning and cop ourselves on. Only this weekend, the World Meteorological Organisation has said that the impact of climate change is accelerating, with the period 2015-2019 as the warmest in history, and the causes of climate change still proliferating.
That's the legacy we've left to the next generation, and we have a hard neck to criticise them. We actually need more of them on the streets, not fewer. I believe education ministers everywhere should encourage and enable more schools to get more children involved in the climate change protests.
We need to respect and listen to our children. We need to follow them, not sneer at them. That may just be the only way to save the only planet we'll ever have.

Millions of people across the globe took part in protests on Friday demanding urgent action on the climate crisis. The strike kicks off a week of environmental activism before the UN climate action summit
Even the littlest of demonstrators understand what's at stake with global heating.
Photograph: Christian Charisius/dpa
Greta Thunberg has become a poster child for the climate crisis at a strike in London.
Photograph: Gareth Fuller/PA
Many students in London walked out of lessons to participate in the largest climate protest in history.
Photograph: Dan Kitwood/Getty Images

We are in the middle of a climate breakdown, and all they can talk about is money and fairytales of eternal economic growth
Greta Thunberg to world leaders: 'How dare you – you have stolen my dreams and my childhood' – video
T

his is all wrong. I shouldn't be standing here. I should be back in school on the other side of the ocean. Yet you all come to me for hope? How dare you! You have stolen my dreams and my childhood with your empty words. And yet I'm one of the lucky ones. People are suffering. People are dying. Entire ecosystems are collapsing. We are in the beginning of a mass extinction. And all you can talk about is money and fairytales of eternal economic growth. How dare you!
For more than 30 years the science has been crystal clear. How dare you continue to look away, and come here saying that you are doing enough, when the politics and solutions needed are still nowhere in sight.
With today's emissions levels, our remaining CO2 budget will be gone in less than 8.5 years
You say you "hear" us and that you understand the urgency. But no matter how sad and angry I am, I don't want to believe that. Because if you fully understood the situation and still kept on failing to act, then you would be evil. And I refuse to believe that.
The popular idea of cutting our emissions in half in 10 years only gives us a 50% chance of staying below 1.5C degrees, and the risk of setting off irreversible chain reactions beyond human control.
Maybe 50% is acceptable to you. But those numbers don't include tipping points, most feedback loops, additional warming hidden by toxic air pollution or the aspects of justice and equity. They also rely on my and my children's generation sucking hundreds of billions of tonnes of your CO2 out of the air with technologies that barely exist. So a 50% risk is simply not acceptable to us – we who have to live with the consequences.
To have a 67% chance of staying below a 1.5C global temperature rise – the best odds given by the Intergovernmental Panel on Climate Change – the world had 420 gigatonnes of carbon dioxide left to emit back on 1 January 2018. Today that figure is already down to less than 350 gigatonnes. How dare you pretend that this can be solved with business-as-usual and some technical solutions. With today's emissions levels, that remaining CO2 budget will be entirely gone in less than eight and a half years.
There will not be any solutions or plans presented in line with these figures today. Because these numbers are too uncomfortable. And you are still not mature enough to tell it like it is.
You are failing us. But the young people are starting to understand your betrayal. The eyes of all future generations are upon you. And if you choose to fail us I say we will never forgive you. We will not let you get away with this. Right here, right now is where we draw the line. The world is waking up. And change is coming, whether you like it or not.
•

This is the speech Greta Thunberg delivered to the UN Climate Action summit in New York on Monday
World Politics
United States
President ordered his staff to withhold nearly $400m in aid days before he pressured Ukraine's president to investigate Biden
Donald Trump ordered his staff to withhold nearly $400m in aid to Ukraine days before he repeatedly pressured the country's president to investigate a political rival, it emerged on Monday night.
The revelation has further intensified demand among Democrats for the president to be impeached.
As news of Trump's personal intervention broke, an influential group of seven Democrats, all first-term members of Congress with military or national security backgrounds, said that "if true", the president's actions regarding Ukraine, Joe Biden and the former vice-president's son Hunter would "represent an impeachable offense".
House speaker Nancy Pelosi, who has previously resisted impeachment calls, will hold meetings with key committee chairs on Tuesday.
Trump will address the United Nations General Assembly in New York but his remarks – which he has said will include a focus on Iran – are likely to be overshadowed by the roiling scandal.
The Washington Post first reported Trump's freezing of $391m in aid to Ukraine. Trump ordered acting chief of staff Mick Mulvaney, it said, to suspend the almost $400m payment "at least a week" before the 25 July call with Volodymyr Zelenskiy in which he reportedly asked the Ukrainian leader to investigate the Bidens – eight times, according to the Wall Street Journal.
Biden is the frontrunner to win the Democratic nomination and take on Trump in the 2020 presidential election. The president has confirmed that he discussed corruption during the call, and said he mentioned Biden, but denies applying pressure.
He has also said there was no quid pro quo, although at the UN on Monday he told reporters: "If you don't talk about corruption, why would you give money to a country that you think is corrupt?"
It emerged recently that a US intelligence community whistleblower filed a report after becoming alarmed at Trump's behaviour in the matter.
The White House is refusing to release the substance of the whistleblower complaint, setting up a showdown with Congress.
The chairs of three House committees are threatening to subpoena Mike Pompeo, the secretary of state, if he does not produce information about whether Trump and his personal lawyer, former New York mayor Rudy Giuliani, inappropriately tried to influence the government of Ukraine.
The committees first asked for the documents two weeks ago. Joseph Maguire, Trump's acting director of national intelligence, is refusing to release the whistleblower complaint.
Giuliani has admitted asking the Ukrainians to investigate the Bidens.
Before the Post reported Trump's orders regarding aid to Ukraine, the president was defiant, lashing out at media coverage of the scandal.
"Joe Biden and his son are corrupt, but the fake news doesn't want to report it because they're Democrats," Trump said.
"If a Republican ever did what Joe Biden did, if a Republican ever said what Joe Biden said, they'd be getting the electric chair by right. Look at the double standards … You've got a lot of crooked journalists. You're crooked as hell."
There is no evidence of corruption in the Ukraine by either Joe or Hunter Biden.
The US began providing military aid to Ukraine shortly after Russia illegally annexed Crimea in 2014. With Ukraine's new president still grappling with separatist rebels in the east, the aid has long been viewed as a measure of Washington's determination to push back against Russian president Vladimir Putin.
Trump has denied that any requests for help in procuring damaging information about Biden were tied to the aid freeze.
Trump's vague claims of wrongdoing, echoed by rightwing media, concern Biden's son, Hunter, who was on the board of a Ukrainian gas company. As vice-president, Joe Biden pressured the Ukrainian government to fire its prosecutor general, seen by many as too soft on corruption. Trump has asserted without basis that the prosecutor, who had led an investigation into the company's owner, "was after" Hunter Biden.
The seven new Democrats, all with military and national security backgrounds, wrote in a Washington Post op-ed: "These allegations are stunning, both in the national security threat they pose and the potential corruption they represent."
The representatives are centrists who won previously Republican-held districts where Trump has been popular, victories key to the Democrats retaking the House last year. They are therefore influential with party leadership.
Another sign of building momentum for impeachment came from the chair of the House intelligence committee, Adam Schiff, who told CNN on Sunday: "We may very well have crossed the Rubicon here."
Schiff's committee will host Maguire in an open hearing on Thursday.
If Democrats do go ahead with impeachment, there is virtually no prospect of the Republican-controlled Senate convicting and removing the president before the 2020 election.

Donald Trump's new national security adviser studied at the segregated University of the Orange Free State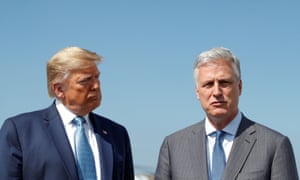 President Trump faces reporters with new national security adviser Robert O'Brien. Photograph: Tom Brenner/Reuters
Donald Trump's new national security adviser attended a segregated university in South Africa, described by one of its former vice-chancellors as "routinely racist".
Robert O'Brien, a relatively junior official appointed to the top White House post on Wednesday, went to the University of the Orange Free State under the South African apartheid system. O'Brien's LinkedIn page says he was there in 1987, while still an undergraduate. He received a scholarship from Rotary International and according to its records he was there from 1986. The first black undergraduate was admitted in 1988.
South Africa at the time was considered a pariah state and faced wide-ranging academic, sporting and cultural boycotts, backed by the UN. The US imposed sanctions in 1986, after Congress pushed through the Comprehensive Anti-Apartheid Act, overriding a veto by Ronald Reagan. The law restricted trade and investment but did not curtail academic contacts.
Prof Jonathan Jansen, who was vice-chancellor of the university – now called the University of the Free State – between 2009 and 2017, said that at the time O'Brien was a student, the institution was "in short … a white, Afrikaans university for people then called Afrikaners – very conservative and routinely racist not only in their policies but in their practices".
Jansen said in an email to the Guardian that there were "no black students or staff except those cleaning the place and working the gardens etc".
Other staff members said a handful of black and mixed-race ("coloured" in the parlance of the apartheid system) postgraduate students may have been admitted before 1988, as well as some mixed-race undergraduates.
However, both the undergraduate and postgraduate student body was overwhelmingly white even in 1994 when the first free elections in South Africa marked the end of apartheid.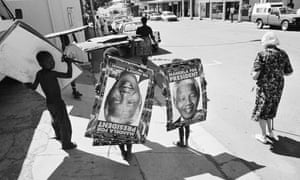 Children put up posters of Nelson Mandela in the run-up to South Africa's first democratic elections in 1994. Photograph: Andy Hall/The Observer
Staff members who were at the university during the late 1980s describe it as one of the cultural institutions that underpinned the racist and repressive apartheid system, describing "a bastion of the culture that sustained apartheid".
"Being critical of apartheid was not well-received, to be critical of the [apartheid] establishment was not well seen. Those who asked critical questions were ostracised," said one UFS staffer, who asked not to be named.
The national security council did not respond to a request for comment. O'Brien was a special envoy for hostages in the state department when he was chosen last week to replace John Bolton.
It has also emerged that O'Brien has had contact with AfriForum, a controversial NGO in South Africa which campaigns to protect the culture and interests of the country's Afrikaans-speaking minority, and defends the apartheid legacy. The group has been at the centre of a series of high-profile rows over that legacy, most recently failing in an attempt to overturn a legal ruling designating the flying of the old apartheid-era South African flag as hate speech.
Last year the AfriForum CEO, Kallie Kriel, caused outrage when he said that although apartheid was "wrong", not enough people had been killed during the apartheid era to justify it being called a crime against humanity.
O'Brien was quoted in a 2017 interview with AfriForum as saying: "In my opinion, South Africans are the most hospitable people in the world and I have especially experienced this at [UFS]."
O'Brien makes no mention of apartheid or his time in South Africa in his book While America Slept.
O'Brien is reported to have met his wife while at the university, and lists Afrikaans as a second language on his LinkedIn page. Afrikaans is the language spoken by the first waves of white settlers of what was to become South Africa in the 16th and 17th centuries, and was revived in the late 19th century as part of a broader nationalist project by rightwing extremists among the white minority.
A South African radio channel, Netwerk24, interviewed the chemistry professor Karel von Eschwege, who said he had been a close of friend of O'Brien while he was in South Africa.