30 Mar
A Foreign Perspective, News and Analyses
Nearly all of these are English-edition daily newspapers. These sites have interesting editorials and essays, and many have links to other good news sources. We try to limit this list to those sites which are regularly updated, reliable, with a high percentage of "up" time.
Recommended:
A frog hopping onto a duck, bats hibernating in a fridge and a bee collecting nectar from a cherry blossom tree
We published one professor's account of student entitlement, and the response from readers was enormous. Here, we share replies from other educators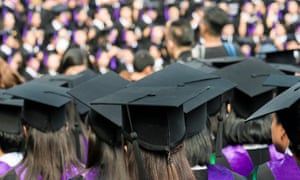 'Many of these students are unprepared for college,' writes Kevin McLin, a San Francisco university professor. Photograph: Alamy Stock Photo
The professor argued that beyond the shocking lengths parents will go to get their children into top schools, the influx of unskilled and entitled students is ruining the college experience itself: monopolizing faculty time and creating a palpable strain on the system. "The presence of unqualified students admitted through corrupt practices is an unmitigated disaster for education and research," they wrote. "Students who can't get into elite schools through the front door based on academic merit don't change once they're in class. They can't do the work, and are generally uninterested in gaining the skills they need in order to do well."
The piece sparked a wave of responses from readers, many of them professors in the US and around the world. With permission we have published a selection, which have been edited for clarity and brevity.
Kevin McLin
University professor, San Francisco
I have never taught at an elite university, but I have taught at several state schools. Many, perhaps most, of these students are also unprepared for college. They lack the academic skills that students should learn in high school, and in some cases, middle school. This is because our public schools are no longer doing the job they are supposed to do.
Additionally, we are trying to cram more students through college despite our lack of financial support for the K12 and public higher-ed system. We simply are not educating a huge number of Americans. This has been going on for generations. It's nothing new and probably started in the late 80s or early 90s. It has become worse over time, though there are large variations from state to state. That is the real untold story. Focusing on the elite schools seems more like a distraction.
Anonymous
Education administrator, United Kingdom
I studied at undergraduate and postgraduate level at a UK institution and subsequently joined the university as an administrator over a decade ago.
The experiences of the academic writing are representative of issues across the sector and are not solely limited to unqualified students. Despite having increased the academic requirements for places on courses, a faculty within our university has recently restructured their first year of teaching to focus on helping students develop skills to enable them to study at undergraduate level, as new students seem woefully underprepared to pursue independent study. The academic blames the target-setting at secondary-level education, suggesting that students are taught to "parrot and regurgitate" the set syllabus in order to pass exams rather than receiving an education that values critical discussion and independent thought.
This is exacerbated by a growing feeling amongst students that they are entitled to a 2:1 degree as they have paid fees, rather than as a result of their academic performance. In the end, standards drop, educational quality declines and all parties involved feel incredibly frustrated.
William DuMouchel
Chief statistical scientist, Oracle Health Sciences, Miami
I've taught at UC Berkeley, U Michigan, University College London, MIT and Columbia University. I've always found almost all of my students smart and fun to teach and well prepared. So my experience has been nothing like what your anonymous author relates.
I do teach a Stem subject, so maybe that scares away most of the spoiled rich kids. Why would wealthy parents pay big bucks just to have their child flunk out of tough engineering, science and math courses?
And things may have changed over time. I'm at a hi-tech software company now. I last taught university in the 1990s and then to all grad students; my last undergrad teaching was in the 1970s. But, to repeat, that article didn't accord at all with my experiences during the 25 years I've taught in elite universities.
Anonymous
College professor, Dallas
I'm writing to raise an issue that I hope will get more attention as the coverage of the admissions scandal evolves.
I have been a professor since the mid-1990s and a parent since 1999. When I began teaching at the college level, I cannot recall a single student notifying me that he/she was entitled to time-and-a-half on tests. Sometime after the year 2000, I started to have students provide paperwork indicating that they were entitled to time-and-a-half. The number continued to rise.
What is happening is that around age 16, some of the very smart and average students are suddenly getting themselves tested for learning disabilities and are then granted time-and-a-half on the SAT and ACT. I looked into it a bit and discovered that their parents pay a psychologist to diagnose their children. The cost is about $3,000. Who suffers are honest students who do not cheat the system and poor students who cannot afford the $3,000 to be diagnosed with a pretend condition.
I personally think this time-and-a-half is a much bigger scandal than the few celebrities giving bribes. It affects far more students.
Gaza health ministry says Muhammad Sa'ad, 20, died hours before protests expected along Israeli border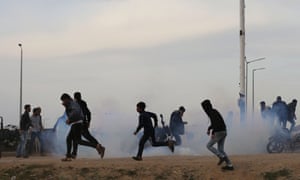 Thousands of Palestinians are expected to attend the Great March of Return protests on Saturday on the Israel-Gaza border. Photograph: Anadolu Agency/Getty Images
Israeli forces have killed a Palestinian man at the Gaza frontier, hours before mass protests marking the anniversary of the demonstration movement, the enclave's ministry of health said.
Muhammad Sa'ad, 20, was hit in the head by shrapnel caused by Israeli fire, the ministry said. It did not say where he was at the time of his death. Small gatherings by Palestinians had been held overnight at the frontier before the planned rally. The Israel army said on Friday night that "explosive devices" had been hurled at the dividing fence.
The demonstrations have received backing from political factions in Gaza, including the strip's ruler, Hamas, which has fought three wars with Israel. The UN had urged Israel and Hamas to avoid a violent escalation on Saturday.
Late on Friday, Hamas officials were reported as saying the group had agreed to an Egyptian deal to foster calm on the frontier, by agreeing to prevent protesters approaching the fence. In exchange, Israel would allow additional aid in to Gaza and not fire on people who remained far from the frontier. Neither side officially confirmed the reports.
A committee that organised the protest, which include Hamas, released a statement calling for participants to keep the demonstration peaceful, stay 200 metres from the perimeter – behind which Israeli forces are stationed – and not to burn tyres, a tactic used in previous events to obscure the sights of snipers.
When the protest movement was first launched on 30 March 2018, Israeli soldiers shot dead 16 Palestinians. Demonstrators have demanded recognition of the right of Palestinian refugees in Gaza and elsewhere to return to their ancestral homes in Israel and for an end to a punishing decade-long blockade that they call a "siege".
Weekly gatherings have diminished in size but continued for 12 months, despite the fact that none of the protesters' demands were agreed to by Israel.
During that period, Israeli soldiers have killed 194 people – including three medics, two journalists and 40 children – and wounded close to 29,000 others. A quarter of all injuries – more than 7,000 people – were shot with live ammunition, according to UN figures. More than 120 limb amputations have been carried out.
One member of the Israeli security forces has been killed and six others were injured in incidents related to the "Great March of Return". The Israeli security minister, Aryeh Deri, said this week: "The military will resort to a very strong hand against anyone trying to confront our troops." Israel has dismissed the protests as a cover by militants to attack the fence, troops behind it and Israeli communities further back.
A UN commission tasked with investigating these claims found demonstrations were at times violent, with protesters hurling stones, surging forward and cutting through the fence. People have launched kites and balloons with incendiary devices attached to float into and burn Israeli fields.
However, it said the demonstrations were almost entirely civilian in nature and the use of lethal force against the protesters was neither necessary nor proportionate.
Israeli snipers, using high-velocity bullets with sophisticated optical scopes, may have committed war crimes by deliberately firing on civilians last year, the probe found. Many were hit hundreds of metres from the fences.
The sharpshooters, said one member of the UN independent inquiry, "shot at unarmed protesters, children and disabled persons, and at health workers and journalists performing their duties, knowing who they are".
Bloodshed at the border has raised the prospect of further hostilities between Israel and Hamas, and the long-time enemies have fought multiple battles during the past year, often following particularly deadly protest days at the fence. Hamas fires rockets and mortars while Israel uses tanks and airstrikes.
World Politics
United States
In his first rally since the release of Robert Mueller's report to the US attorney general William Barr, Donald Trump has given a 90-minute diatribe against the media and the US Democratic party, claiming he had been 'totally exonerated' after an investigation he described as the 'single greatest hoax in the history of politics in this country'. He also spoke on several other issues critical to his Michiganian audience, including the car industry and preservation programmes for the Great Lakes