07 Oct
English Online International Newspapers
Nearly all of these are English-edition daily newspapers. These sites have interesting editorials and essays, and many have links to other good news sources. We try to limit this list to those sites which are regularly updated, reliable, with a high percentage of "up" time.
Recommended:


Hong Kong was rocked by fresh violence yesterday as tens of thousands hit the streets to defy a ban on masks, sparking clashes with police, street fights and vandalism across the strife-torn territory. Large crowds marched through torrential rain in peaceful but unsanctioned rallies onFULL STORY

By Sherry Hsiao
Several groups have called on Taiwanese to join a demonstration against Hong Kong's new ban on masks by wearing masks to school or work today. Hong Kong Chief Executive Carrie Lam (????) on Friday announced a ban on wearing masks at public assemblies. Under the ban, whichFULL STORY

North Korea yesterday said it has "no desire" to continue nuclear talks unless the US takes steps to end hostilities, a day after negotiations in Sweden broke down. The discussions in Sweden followed months of stalemate following a February meeting between North Korean leader Kim JongFULL STORY
By Aaron Tu and Sherry Hsiao
Cybersecurity, disinformation and the evolution of Taiwan's Overall Defense Concept (ODC) are among the items on the agenda for this year's US-Taiwan Defense Industry Conference, which gets under way today in Ellicott City, Maryland. Taiwan's delegation to the meeting at the Turf Valley Resort, headed byFULL STORY

By Wu Po-hsuan and Sherry Hsiao
A Hong Kong student attending the National Taiwan University of Arts (NTUA) yesterday filed a report with police in New Taipei City's Banciao District (??) after two Chinese students removed notes from the "Lennon wall" on campus on Wednesday. The pair were recorded tearing down notesFULL STORY

All subway and train services were suspended, lines formed at the cash machines of shuttered banks and shops were closed as Hong Kong dusted itself off yesterday and then started marching again after another night of rampaging violence decried as "a very dark day" byFULL STORY

By Peng Wan-hsin, Chung Li-hua and Jake Chung
The Taiwan Association for Human Rights yesterday called on Hong Kong authorities not to further violate the UN Declaration on Human Rights Defenders, while urging the Taiwanese government to present contingency measures for providing humanitarian assistance to Hong Kongers. Hong Kong Chief Executive Carrie Lam (????)FULL STORY

By Sean Lin
This year's Double Ten National Day is to feature performances by new residents and naturalized Republic of China (ROC) citizens to accentuate the nation's inclusiveness and diversity, Legislative Speaker Su Jia-chyuan (???) said yesterday. This year's theme, "Taiwan Forward," comes with a motif made up ofFULL STORY

Haitians yesterday braced for more upheaval as opposition leaders, emboldened by a massive protest demanding the resignation of Haitian President Jovenel Moise, pledged to remain on the streets. Friday marked one of the largest demonstrations since the protests began weeks ago as opposition supporters say theyFULL STORY
A curfew was yesterday lifted in Baghdad following days of protests that have left nearly 100 dead, but tensions remained after firebrand cleric Moqtada al-Sadr demanded the government quit. The largely spontaneous protests over chronic unemployment and poor public services that erupted in the capital onFULL STORY

A gigantic iceberg has broken away from the Amery ice shelf in east Antarctica. The tabular iceberg, officially named D28, is 1,636 square kilometres in size, or about 50 x 30 kilometres –  the size of greater London or greater Sydney. It separated from the ice shelf last week, on 26 September but scientists said it was not related to climate change
Environmental activists plan to blockade roads in the centre of government for two weeks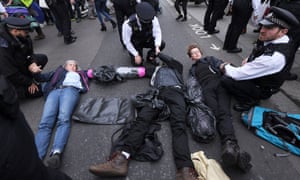 Protesters locked together stop traffic in Whitehall. Photograph: James Veysey/REX/Shutterstock
Environmental activists from around Britain are converging on Westminster on Monday morning in an attempt to "shut down" the heart of government with two weeks of disruptive protests.
Extinction Rebellion (XR) had earlier said its members are planning to blockade "every single road" into the central London district and plan to maintain the protests for at least 14 days, or until their demands are met.
Each site will be taken by groups of activists from different regions of the UK or with different political priorities. Activists started to stop traffic from around 9am. Planned sites around parliament included Trafalgar Square, Horse Guards Parade, the Mall, Victoria Street, and Westminster and Vauxhall bridges, among others.
Activists block Lambeth Bridge during the Extinction Rebellion protest in London. Photograph: Henry Nicholls/Reuters
Throughout the week activists plan to take action around Westminster at government departments, to blockade Smithfield market, then later move on to London City airport, where they intend to stage a three-day protest.
However, even senior members of XR say they do not know the full scale or extent of intended protests as many are being organised autonomously. Independent solidarity actions under the banner of international XR groups are also expected in about 60 cities around the world.
XR UK claims to have recruited five times as many activists as during the last major protests in April, when more than 1,100 were arrested at blockades of four major London sites that lasted about a week.
Metropolitan police commanders – after coming under fire for not ending those protests sooner – have said they are planning to be more proactive and agile in their response. Specialist police teams have been drafted in from around the country to remove protesters who try to lock or glue themselves in place.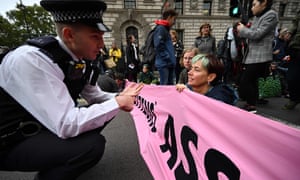 Police officer talks to climate change activists as they block the junction of Whitehall and Parliament Square. Photograph: Ben Stansall/AFP via Getty Images
However, the activists believe their decentralised command structures and weight of numbers will overwhelm the police response. "Everyone will be like water and move to more disruptive locations if [police] don't let them take the sites," one told the Guardian.
Activists have also been instructed to refuse bail when arrested, in the hope they can fill up all of the Met's holding cells and prevent police from making more arrests.
On Saturday, officers from the force's territorial support group raided a building in south London and seized equipment that activists had planned to use. Seven women and three men were arrested for conspiracy to cause a public nuisance
Officers used a battering ram to force their way in. However, a source within XR said that while officers were breaking in through the front door, activists were smuggling "a whole pile of stuff" out of the back.
World Politics
Activists turn residents against Muslims and government fails to tackle them, its adviser finds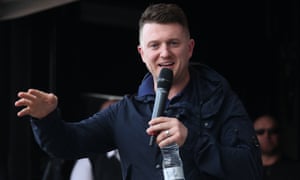 Stephen Yaxley-Lennon – known as Tommy Robinson – was singled out for spreading anti-minority and anti-Muslim agendas. Photograph: Danny Lawson/PA
Far-right activists are exploiting community tensions by swooping into towns and cities and distorting the truth in an effort to turn residents against minorities, particularly Muslims, the government's chief adviser on extremism has found.
Extremists were stirring up white populations who would not normally support the far right and deepening social division, Sara Khan, who leads the Commission for Countering Extremism (CCE), said in her first major report.
Figures such as Stephen Yaxley-Lennon, who is more commonly known as Tommy Robinson, Anne Marie Waters, the leader of the For Britain party, and Jayda Fransen, a former deputy leader of the fascist group Britain First, were singled out in the report for spreading anti-minority and anti-Muslim agendas.
Khan visited 20 towns and cities and sifted through 3,000 responses to a call for evidence to produce her first major report, published on Monday, titled Challenging Hateful Extremism. She concluded in her report that the government's response to extremism was "inadequate", "unfocused" and urgently needed a complete overhaul.
Among the cities was Sunderland, where Khan found far-right supporters were exploiting tensions over high concentrations of asylum seekers. Problems erupted in September 2016 when a woman alleged she had been gang-raped by a group of Middle Eastern men, reporting the claim on social media as well as to police.
Following an extensive police investigation, the Crown Prosecution Service, lacking evidence to substantiate the claim, did not authorise the police to charge any suspects. Prominent far-right figures, including Yaxley-Lennon, Waters and Fransen, took up the woman's cause, organising 13 marches in 13 months.
The report said: "However, a democratic process like protesting can turn into hateful extremism when protesters deliberately distort the truth to persuade their audience to adopt discriminatory and hateful attitudes.
"The marchers said they aimed to improve the safety of women and children locally. However, their rhetoric targeted ethnic minorities, despite nearly 85% of people convicted of sexual offences in 2018 in the Northumbria police force area being white."
A Sunderland-based group, Justice for Women and Children, was formed in May 2018 after four more alleged rapes were reported. But its campaign wrongly claimed that Asian men, Muslims and refugees were responsible for 90% of the rapes in Sunderland.
Mistrust of the state was another consequence, the report said, as Justice for Women and Children claimed to provide support services for victims of sexual abuse, though they did not have any expertise in this area. This could lead to victims not accessing existing qualified support.
Two men were later convicted of the rape of a woman in their asylum seeker hostel in an unrelated attack.
Councillors told the commission that, rather than draw attention to injustice, from the outset the protests whipped up anti-minority feeling.
The protesters also intimidated those who opposed them. One Muslim resident had his personal details publicised as punishment for organising a counterprotest. Photographs of him at the march and his personal information appeared on social media alongside unfounded allegations that he was a "paedo" and a "rape enabler". He received numerous threats and his business was boycotted.
The report said: "Many protesters were not motivated by hate; they had concerns about their safety and the safety of those in the community.
"However, far-right agitators exploited these local grievances. Members of the movement had links to banned group National Action. The shared belief of these figures and groups was their antipathy towards minorities, immigrants and particularly Muslims. Most of those involved share a pronounced prejudice against Muslims.
"We were told that sections of the local white community which would not normally support the far right were 'stirred up by activists'.
"By co-opting people in this way and promoting their narrative, those activists aggravated social division."
In her report, Khan said victims needed to be better protected, and those working to tackle extremism needed more support. She said the home secretary should lead a new taskforce, involving the government and public bodies, in an effort to address the problem.
The review called on the government to focus on what the commission calls "hateful extremism", which stands apart from terrorism and violent extremism.
Hateful extremism could be behaviour that could "incite and amplify hate" or make the "moral case for violence" and could put people at risk of harm, the report said.
Such behaviour might direct "hateful, hostile or supremacist beliefs" to groups perceived to be a threat to "wellbeing, survival or success".
Last month in an interview with the Guardian, Khan called language used by Boris Johnson to describe Muslim women demeaning and dehumanising and warned that politicians and the media risked provoking violence through their rhetoric.
She criticised the use of inflammatory phrases and terms such as "enemies of the people" and "saboteurs" – both of which featured in Daily Mail headlines – in political discourse.
The debate over the use of inflammatory language in public erupted when the House of Commons returned after the unlawful prorogation of parliament and Johnson refused to acknowledge his words had consequences as he was confronted by MPs.
United States
Thirty-ninth president appears at event in Tennessee with black eye but 'feels fine', according to spokeswoman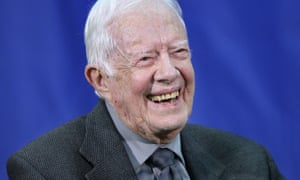 Former president Jimmy Carter has a black eye and needed 14 stitches after falling on Sunday at his home in Georgia.
The 39th president fell in Plains, Georgia, but still made it to a concert that evening in Tennessee to rally volunteers ahead of his 36th home building project for Habitat for Humanity.
He turned 95 on Tuesday, becoming the first US president to reach that milestone. His spokeswoman said earlier he needed some stitches above his brow, but "feels fine",
On Sunday evening, Carter appeared on stage at the Ryman Auditorium in Nashville with his wife Rosalynn, 92, to talk to volunteers and supporters of the building project that runs until Friday.
Carter wore an Atlanta Braves baseball cap at the event. His left eye was swollen and bruised and he had a white bandage above his eye.
Carter survived a cancer diagnosis in 2015 and this year surpassed George H W Bush as the longest-lived US president in history. He has had some trouble walking after a hip replacement in May, but regularly teaches Sunday school.
He has continued with his humanitarian work and also has occasionally weighed in on politics and policy, recently expressing hopes that his Carter Center would become a more forceful advocate against armed conflicts in the future, including "wars by the United States".
"I just want to keep the whole world at peace," Carter had said as he presented his annual Carter Center report last month.
"We have been at war more than 226 years. We have been at peace for about 16 years" since the Declaration of Independence in 1776, he said, adding that every US military conflict from the Korean war onward had been a war of "choice".
Carter also has accepted visits from several 2020 presidential candidates, but has held back on endorsing any of his fellow Democrats, offering only clues to his thinking.