UK-based activists from the climate campaign group explain why they are prepared to be arrested for the cause
by Kristian Buus
Roger Hallam, 52, organic farmer from Wales and XR co-founder
Hallam was arrested in 2017 for criminal damage when he and another person spray-painted "Divest from oil and gas", "Now" and "Out of time" on walls at King's College London, using water-soluble chalk-based paint.
Both were cleared of all charges by a jury in 2019 after they defended their actions as being a proportionate response to the climate crisis.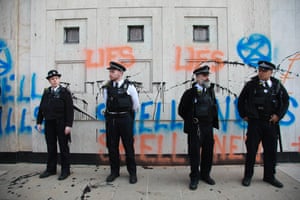 People joining Extinction Rebellion (XR) are trained in how to conduct themselves peacefully when participating in direct action.
According to Hallam, direct action has several aims and objectives. One is to cause disruption and financial costs to the state to build pressure for political change. Another is for individuals to show their commitment – that they are willing to sacrifice their liberty for the cause. Increased disruption and more people arrested creates a bigger impact.
The training explains the possible legal implications of getting arrested. Once people have been informed about this, it is up to them to decide if they are willing to get arrested or not. If they sign up, they become part of the growing list of arrestables.
Fi Radford, 71, retired academic librarian from Bristol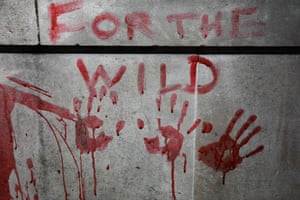 "I got to London and joined the rebellion at lunchtime Thursday [during protests in April], and I was looking for my affinity group in Oxford Circus by the pink boat when I saw a guy I know from Bristol. I told him, 'I have just arrived and I am willing to be arrested.'
"A police officer behind me heard me say that and he tapped me on the shoulder and said, 'I think I can arrange that. Are you aware this is a section 14? Please leave the area. I am officially asking you to move away or I will have to arrest you.'
"I told him I was not going anywhere and he then read a caution and my rights. I sat down to make clear I was not moving. He was on his own so he had to go away to get more police and came back after a while with three colleagues who picked me up and carried me away. There was a lot of clapping and cheering as they carried me down the road to the van. We were four in the van and they took us to West End Central where there was a long queue of people waiting to get processed.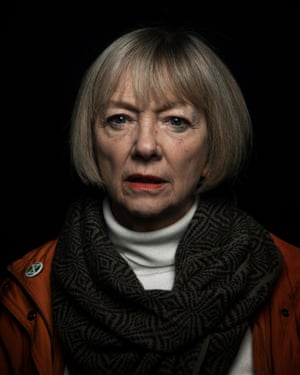 "I was then searched and had my fingerprints and DNA taken, and was put in a cell. Everyone was very nice and polite and at 9pm I was given a toothbrush and paste and was fed twice, vegetarian food. The cell was very bright so I had to pull the blanket over my face to get some sleep and I read a detective novel given to me by the custody officer. I was let out at 2pm.
"I feel my time is running out and the world's time is running out and what energy I have got left I will spend on fighting climate change, not just for my children and grandchildren but also for the non-human world.
"I am very happy to be able to use my privilege as a white elderly woman this way and I will be back in London in October."
Radford was charged under section 14 and was given a conditional discharge with a £70 fine.