23 Oct
English Online International Newspapers
Nearly all of these are English-edition daily newspapers. These sites have interesting editorials and essays, and many have links to other good news sources. We try to limit this list to those sites which are regularly updated, reliable, with a high percentage of "up" time.
Recommended:

It's crucial to expose the fossil fuel industry's disinformation tactics so the public doesn't fall prey to the next effort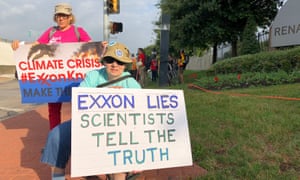 Blanca Gonzales, left, and Susan Cooper protest ExxonMobil's climate change policies in Dallas. Photograph: Staff/Reuters
T

oday, the state of New York will face off with ExxonMobil for oral arguments in the trial alleging that the company misled investors by providing false assurances that the company was adequately costing climate-related risks. But win or lose, that doesn't mean an end to deliberate misinformation campaigns. Here's what we should all know about how to resist those efforts by Exxon and other big corporate actors.
Scientists have known for decades that the burning of fossil fuels is causing climate change. There is so much evidence that at least 97% of climate scientists agree that humans are causing global warming. It's as settled as the link between smoking and cancer.
The fossil fuel industry has known about the role of its products in global warming for 60 years. Exxon's own scientists warned their managers 40 years ago of "potentially catastrophic events". Yet rather than alerting the public or taking action, these companies have spent the past few decades pouring millions of dollars into disinformation campaigns designed to delay action. All the while, the science is clear that climate-catalyzed damages have worsened, storms have intensified, and droughts and heatwaves have become more frequent and severe, while forests have been damaged and wildfires have burned through the country.
By polluting the information landscape, these companies misrepresented the safety of their product and denied the public their right to be accurately informed.
Big oil is not the only industry to do so. Big tobacco is a famous case, but asbestos and lead industries have done it too. These days, campaigns by soda companies to contest sugar science and by the NFL to distort the science on concussions use similar tactics. The campaigns all run a similar playbook: they cite fake experts, place impossible demands on the science, cherry-pick data, impugn the integrity of individual scientists and the scientific process, and appeal to conspiracy theories. They leave the public with the perpetual impression that there are lots of unresolved questions, and that scientists are not to be trusted.
Research has confirmed that disinformation works, which is, of course, why special interests fund it. So it is crucial to expose disinformation for what it is, so that the public doesn't fall prey to the next industrial-scale propaganda effort.
In our report America Misled: How the Fossil Fuel Industry Deliberately Misled Americans About Climate Change, we document how the fossil fuel industry has misled the American public (and the world). We expose the most common myths about climate change generated by big oil and the misleading techniques used by Exxon.
Our planet is accumulating heat at a rate of over four atomic bombs per second
For example, cold weather is often used to argue that global warming isn't happening. This favorite talking point of President Trump is an extreme form of cherry picking: ignoring what's happening to our planet by focusing on local weather conditions. Just because the planet is heating up rapidly doesn't mean cold weather in North Dakota will cease to exist overnight. But if we look at the overall picture, it's hot and getting hotter. Our planet is accumulating heat at a rate of over four atomic bombs per second, and the four hottest years on record are the last four years.
Exxon also misled us through arguments that appear convincing but contain logical fallacies. One is the argument that climate has changed naturally in the past, so today's climate change must be natural, also. But just because something happened naturally in the past doesn't mean it has to be natural now; the conclusion doesn't follow from the premise. It's like arguing that people have died naturally from cancer in the past, therefore smoking can't cause cancer today.
And then there's the classic tactic of citing fake experts to cast doubt on the expert consensus on human-caused global warming. The most prominent example is an internet petition of 31,000 dissenting "experts" who think humans aren't disrupting the climate. However, over 99% of the signatories have no expertise in climate research – it's populated with graduates of programs in computer science, veterinary science, and mechanical engineering, as well as dead people and pop stars, but very few with climate expertise. In actual fact, 97% or more of domain experts agree on the fundamental fact that greenhouse gas emissions are warming the planet.
Exposing and explaining the techniques of denial are crucial steps in neutralizing disinformation, not just from the fossil fuel industry but from any source. Once people know the ways they can be deceived, disinformation no longer has power over them. As Edward Everett once said: "Education is a better safeguard of liberty than a standing army." But it's not enough to offer information – we also have to expose disinformation, so that people understand what we have been up against.

World Politics
Israel
Ex-military chief expected to have 28 days to forge coalition and avoid third election in year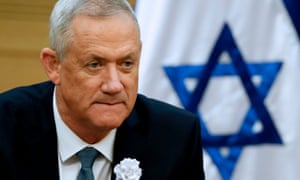 Benny Gantz will face talks with disparate political parties that few expect to be easy. Photograph: Emmanuel Dunand/AFP/Getty Images
Israel's president is expected to task the former military chief Benny Gantz with forming a government after Benjamin Netanyahu failed to do so following an inconclusive election last month.
Neither Gantz's Blue and White coalition nor the incumbent prime minister's Likud party came out with a clear win, and few expect the opposition leader to form a coalition through deals with disparate political parties with ease.
He will have 28 days to try, after which parliament can nominate a third candidate, although that appears extremely unlikely given the divided makeup of Israel's legislature, the Knesset.
If no contender can end the political crisis, the country will face an unprecedented third election in a year.
The president, Reuven Rivlin, is expected to officially mandate Gantz with the task at a ceremony at 8pm (1700 GMT) at his residence, after which both men will give statements.
It would be the first time in more than a decade that anyone but Netanyahu would be given a chance to head the Israeli government.
An end to the Netanyahu era would be an extraordinary moment in Israeli politics, as he has led the country for a record-breaking total of more than 13 years. The move does not necessarily end his political career or his chances of leading the country's next administration.
However, the stalemate has wounded the prime minister, especially as he has become more deeply embroiled in three potential corruption cases. Israel's attorney general is expected to announce in the coming weeks if he plans to indict.
The charges add pressure on Netanyahu to remain in high office. If he retains the role of prime minister, he will not be required to step down, even if indicted. Netanyahu has denied all allegations.
To block Gantz's chances, Netanyahu reportedly planned to meet smaller rightwing and religious parties to get them to agree not to ally with the opposition leader.
One route for Gantz to form a government would be to make a deal with Avigdor Lieberman, whose eight seats afford him kingmaker status, and gain support from Arab parties. However, Lieberman, a staunch ultranationalist regularly accused of racism, has described Arab politicians as "enemies".
Lieberman, Rivlin, Netanyahu and Gantz all say they want a unity government, possibly with a rotating premiership, but they are divided on how to achieve it.
Blue and White argues Gantz should be prime minister first under any arrangement as his party won the most seats, finishing with 33 compared with Likud's 32 in the 120-seat Knesset.
Gantz also says Blue and White cannot serve in a government with a prime minister facing serious indictment.

United States
Trump impeachment catch-up: where we are right now
The president's denial of dirty dealings in Ukraine took a serious hit on Tuesday with Bill Taylor's closed-door testimony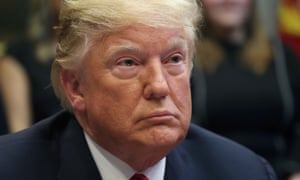 Donald Trump at the White House on 18 October. Photograph: Leah Millis/Reuters
Everything you need to know about the Trump-Ukraine impeachment inquiry in 56 seconds.
Day 30
Wednesday 23 October
Top developments
Donald Trump's denial of dirty dealing in Ukraine took a serious hit – a roundhouse on the chin – with the closed-door testimony on Tuesday of a diplomat who was directly involved in communications between Ukraine and the White House.
Tell me more
Bill Taylor, a career diplomat and former ambassador to Ukraine, ignored a White House gag order to testify before Congress for almost 10 hours.
Taylor testified that Trump's White House sought a quid pro quo with Ukraine involving US military aid in exchange for a public announcement by the Ukrainian president, Volodymyr Zelenskiy, that he was investigating a company tied to former vice-president Joe Biden.
Trump has always fiercely denied any quid pro quo with Ukraine, and he has forced his defenders in Congress to issue similar denials.
They are all lying or ignorant, implied Taylor in his opening statement.
Tell me more
Democratic members of Congress were aghast upon leaving the closed hearing room. One called the testimony a "sea change" that would "accelerate" impeachment. Another said Taylor provided the "most thorough account of everything so far".
Why it matters
The central allegation in the inquiry is that Trump abused power by pressuring Ukraine to gin up bad news about Biden in exchange for a White House visit or military aid. In doing so, Trump twisted the immense powers of his office to personal ends in betrayal of constitution and country, his critics allege.
Congress now has sworn testimony that Trump did so, despite his denials.
Guardian read of the day
Line of the day
Even before the Taylor testimony came to light, Trump let loose one of his wildest attacks on the impeachment inquiry yet, calling it a "lynching": "All Republicans must remember what they are witnessing here – a lynching," he tweeted. "But we will WIN!" Given Trump's history of racist remarks and his strategic use of cruelty, the tweet drew a chorus of outrage.
What's next
Trump and his allies will face a wave of questions about their version of events. Congress planned to continue taking testimony this week. The Democrats are said to be zeroing in on the precise language of articles of impeachment.
The big picture
Trump's impeachment remained a likely prospect, with majority support among Democrats in the House unchanged and the latest polls showing robust public support as well. But for Trump to be removed from office, about 20 Republican senators would have to defect, and there was no new sign on Tuesday of such a movement.