06 Nov
English Online International Newspapers
Nearly all of these are English-edition daily newspapers. These sites have interesting editorials and essays, and many have links to other good news sources. We try to limit this list to those sites which are regularly updated, reliable, with a high percentage of "up" time.
Recommended:

As a member of the Patriotic Millionaires organization I've seen how our system perpetuates gross inequality but now I'm a proud 'traitor to our class'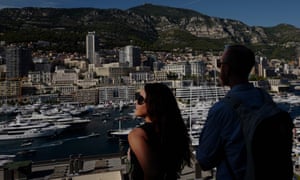 People look at yachts moored at the Hercules Port in Monaco. Photograph: Valéry Hache/AFP/Getty Images
If Donald Trump really wants to make America great again, he'd do what our country did when it was at the height of its economic stability and equality: increase the top income tax rate to 90%.
Instead, what we have now is a tax system put into place for present-day robber barons – one that enables the interests of a small number of powerful industries to dominate national policy, for the benefit of only themselves and to the detriment of working people.
Under the current revenue system, companies such as Facebook and Exxon pay a lower rate on their 20 billionth dollar of profit (21%) than the top rate that dental assistants, sales workers, mechanics, telephone operators, painters and postal clerks pay on their average annual wage of $39,400 (22%).
Thanks to Trump and his 2017 tax bill, income inequality has now reached its highest level since the US Census Bureau first began to tabulate it 50 years ago.
As a successful entrepreneur and founder of Men's Wearhouse, I've seen how tax breaks for corporations and the rich perpetuate income inequality.
Last year, the country's "Gini" index, which measures the nation's income distribution, reached its highest reading ever. In our modern-day Gilded Age, more of the nation's wealth is going to fewer people.
If the trend was a half-century in the making, the Trump tax bill that slashed corporate tax rates has fueled it to an extreme. It calls into question the very sustainability of capitalism, with ramifications for everything from climate change to racial justice to who has a true economic stake in our nation.
Philanthropy alone won't cut it. Advocacy is in order
In 2010, I joined an organization called the Patriotic Millionaires. We believe that those of us who benefit the most from our capitalist system must ensure that it also works for our employees, our customers, our communities – in short, all of the nation's stakeholders, not just our shareholders.
As "traitors to our class" – as we proudly call ourselves – we must press lawmakers at every level of discussion to revitalize the union movement, to increase the national minimum wage to $15 an hour, and to restore the working middle class that rose to prominence in America when our tax system was at its equitable best.
In order to do that, we need to bring back a fair and progressive tax code – one in which our nation's wealthiest pay for investments in infrastructure, clean energy, public transit, early childhood education, re-entry programs for the formerly incarcerated and federal support for affordable housing.
That's why the Patriotic Millionaires are hosting a Tax the Rich! conference in November. We're meeting at the ground zero of 21st-century inequality – San Francisco – to challenge our wealthy peers to fight for a fairer tax code.
We'll be joined by Robert Reich, Gabriel Zucman and Emmanuel Saez, three University of California, Berkeley economists whose research has shifted the way we look at taxation and inequality, as well as an array of other thinkers, activists and elected leaders.
By discussing how to address inequality, we can provide for a truly great American future. We can debate the numbers, the rates, the programs. But when it comes to recreating American greatness, the ones who extract the greatest share of the national wealth must be the ones who pay the most to restore it.
George Zimmer is the founder and former CEO of Men's Wearhouse, and the founder, CEO and chairman of Generation Tux

The draconian ban on XR protests has rightly been ruled unlawful, but we need more than judges to fight the climate crisis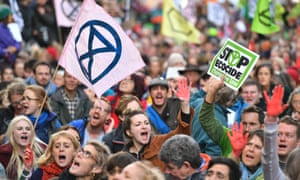 Extinction Rebellion protesters outside the Ministry of Justice in Westminster, London. Photograph: Dominic Lipinski/PA
T

his morning the high court ruled that the Metropolitan police acted unlawfully when it introduced an unprecedented, London-wide ban on Extinction Rebellion protests last month. Imposed late in the evening of Monday 14 October, the move involved an application of the Public Order Act so draconian that it would usually require the home secretary's sign-off.
The judgment invalidating that ban is clearly a victory for democratic process and the rule of law. The court agreed with our lawyers that the police had unlawfully overstepped the limits of their powers in a way that disproportionately curtailed the right to protest, and that while the police could impose conditions on protest gatherings, they could not prohibit them from happening altogether.
The government's attitude to climate protest reflects its wider approach to legislating for the protection of the planet
It is also a victory for those seeking to draw attention to what scientists have been telling us for decades: that the planet is warming, we are in the midst of the sixth mass extinction, we are responsible – and there is a limited amount of time to do something about it.
The ban was not aimed at activists who mounted planes and trains, or stopped vehicles during the two-week International Rebellion in October. Those actions were likely illegal regardless of this ban, and taken with the intention of being arrested in a desperate attempt to jolt politicians out of their inertia.
Instead the ban sought to criminalise anyone who wished to assemble under the banner of Extinction Rebellion in any way. A pair of picnickers or a few school children traipsing around their local park wearing XR insignia would have been guilty of a criminal offence and at risk of arrest. Indeed, we estimate that more than 300 people were detained using these powers.
In the short term, this judgment sets a legal precedent that reaffirms the right to protest and invalidates the arrests of those detained under the ban, many of whom will have claims for compensation from the police for their wrongful arrest and detention.
But in the longer term, it offers little solace. While the law has dug us out of this particular hole, nitpicking through the courts won't be enough to forestall the climate and ecological emergency.
The government's attitude to climate protest reflects its wider approach to legislating for the protection of the planet. Just as it has sought to dodge the difficult decisions and hide behind the police to unlawfully ban Extinction Rebellion's protests, the government continues to dodge the trade-offs that are required to fight the climate crisis, hiding instead behind targets that lie six full parliaments away – as far off in the future as the Berlin Wall is in the past.
Rather than shirking responsibilities until it ends up in court, the government needs to confront those trade-offs now to interrupt catastrophe. The emergency we face requires system change, not incremental tinkering with the status quo.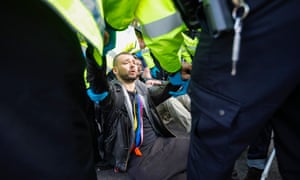 Police clear and arrest protesters from Trafalgar Square in October 2019. Photograph: Steve Parkins/Rex Features
But a government that suspends fracking in the same week as it approves a new coalmine in Cumbria is clearly not interested in structural transformation. You need not take this from me – the government's own Committee on Climate Change concluded this summer that: "UK action to curb greenhouse gas emissions is lagging far behind what is needed, even to meet previous, less stringent, emissions targets. Over the past year, the government has delivered just one of 25 critical policies needed to get emissions reductions back on track."
Non-violent peaceful protest is the last resort of people desperate to divert the trajectory of a system in which inequality rises with the oceans, which ignores the science and the scientists (11,000 of whom warned yesterday that we're heading for "untold suffering due to the climate crisis"), and turns the mantra "keep calm and carry on" into a suicide note.
The truth is that change is coming whatever we do. Our choice is what kind of transformation we want.
We can choose a transformation that heeds the science, listens to citizens but levels with them too, shoulders our responsibilities to current and future generations and promises an improvement in our collective wellbeing.
Or we can scrap for a few more years in the lingering twilight of business-as-usual – in which up to a million animal and plant species will become extinct – before descending swiftly into a politics of ecofascism forged in the crucible of scarce resources, droughts, floods, climate wars and forced migration.
Against that kind of politics the courts that protected our rights today will not be able to defend us.
It's not too late for us to choose. In five weeks an election will decide who's in power for half of the decade the UN's Intergovernmental Panel on Climate Change tells us we have left to limit climate catastrophe. The question all of us should be asking every parliamentary candidate between now and then is: where is your plan?
•

Tobias Garnett is a human rights lawyer and coordinator of Extinction Rebellion's legal strategy team

World Politics
United States
The Democratic challenger Andy Beshear has declared victory in the Kentucky governor's race, but the Republican incumbent Matt Bevin has refused to concede, citing unspecified 'irregularities'. In a speech in Lexington on Monday night, Donald Trump – who won Kentucky by 30 percentage points in 2016 – told voters they needed to re-elect Bevin, or else pundits would say the president 'suffered the greatest defeat in the history of the world'