18 Nov
English Online International Newspapers
Nearly all of these are English-edition daily newspapers. These sites have interesting editorials and essays, and many have links to other good news sources. We try to limit this list to those sites which are regularly updated, reliable, with a high percentage of "up" time.
Recommended:

From mystical woodlands to majestic whales, here are the winners and runners-up of this year's competition. They were recently announced at the Nature Talks photo festival in the Netherlands

Overall winner and black and white category winner
Jump by Csaba Daróczi (Hungary)
Youth category winner
Symphony No 5 by Giacomo Redaelli (Italy)

Toxic air contributes to health conditions such as asthma, cancer and stroke, say experts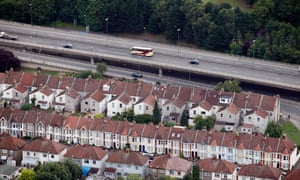 Residential homes next to a motorway in Bristol. Photograph: Alamy
Five people die each week in Bristol as a result of high levels of air pollution, a study has revealed.
Researchers at King's College London examined the combined impact of PM2.5, which is mainly from domestic wood and coal burning and industrial combustion and nitrogen dioxide, which mainly comes from older polluting vehicles.
The fine particulates and nitrogen dioxide that pollute Bristol's air cause about 260 people to die each year, the scientists calculated. These pollutants could cause up to 36,000 deaths across the UK each year, and also contribute to several health conditions including asthma, lung cancer, heart disease, stroke and diabetes.
This is the first time that new government guidance on "mortality burdens" of air pollution developed by a government advisory committee have been applied to the largest city in the south-west.
Bristol had higher levels of PM2.5 pollution than Liverpool and Greater Manchester, the study found, but a lower death rate – partly because it is less densely populated.
The research, commissioned by UK 100, revealed that a child born in 2011 could die up to six months early if exposed over their lifetime to air pollution in the city.
The study was published as the Bristol mayor hosts an air pollution summit on Monday.
This month the city announced radical plans to address air pollution, including a proposal to ban diesel cars from central areas between 7am and 3pm from 2021. The plans are subject to government approval and consultation with residents and businesses.
The study found the annual cost of the health impact of air pollution in Bristol was up to £170m a year.
Public Health England assessed in a 2018 report that the total national cost to the NHS and social care budgets of air pollution could be up to £5.56bn for PM2.5 and NO2 combined.
Marvin Rees, the Bristol mayor, said: "We have a moral, ecological and legal duty to clean up the air we breathe. This research emphasises how vital it is that we act quickly to improve health and save lives in Bristol."
David Dajnak, the principal air-quality scientist in the environmental research group at King's College London, said: "This report shows that more needs to be done to address the level of threat air pollution poses to health in Bristol.
"It highlights that the highest level of air pollution in Bristol coincides with zones of exceptional population growth and areas having the highest black and minority ethnic population."
Bristol is one of several areas in the UK with illegal levels of air pollution. The most recent government data submitted to the EU revealed that 83% of reporting zones in the UK had illegal levels.

World Politics
United States
'I'm not tearing down the system,' Bernie Sanders says in response to former president's message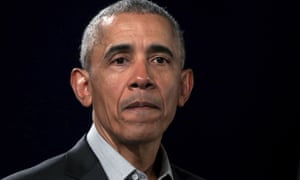 Former president Barack Obama: 'The average American doesn't think we have to completely tear down the system and remake it.' Photograph: Michael Sohn/AP
Democratic 2020 presidential candidates have rejected criticism from former president Barack Obama, after he warned the field of White House hopefuls not to veer too far to the left because it would alienate voters.
Though Obama did not mention anyone by name, the message he delivered before a room of Democratic donors in Washington on Friday was a clear word of caution about the candidacies of Senators Elizabeth Warren and Bernie Sanders, who are seen as two of the top-tier candidates in the crowded field.
Sanders and Warren have called for massive structural changes and policies that would dramatically alter the role of government in Americans' lives. The centrist wing of the party has warned for months that a far-left nominee could alienate moderate Republicans and independent voters needed to oust Donald Trump.
"The average American doesn't think we have to completely tear down the system and remake it. And I think it's important for us not to lose sight of that," Obama said.
Addressing Obama's comments over the weekend, Sanders told a forum in Long Beach: "I'm not tearing down the system."
"When I talk about health care being a human right and ending the embarrassment of America being the only major country on earth that does not guarantee health care for every man, woman and child, that's not tearing down the system," he said, according to the New York Times. "That's doing what we should have done 30 years ago."
New Jersey senator and 2020 candidate Cory Booker called for Democrats to "stop tearing each other down" and to instead back the wide field of contenders in the race to win the Democratic presidential nomination ahead of the 2020 election.
"What we're doing right now, creating these dynamics within the Democratic party, we've got to be careful," Booker told reporters in Long Beach. "Because whoever is the nominee, we have one shot to make Donald Trump a one-term president. And so I'm not interested in delineating left or right or criticizing other folks."
He added: "Let's stop tearing each other down, let's stop drawing artificial lines. I'm tired in this election of hearing some people say, 'Well if this person gets elected, I can't support them,' and then other people say, 'If this person gets elected, I can't support them.' Are you kidding me?"
Julián Castro, a 2020 Democratic candidate who served as housing secretary under Obama, said while he takes what the former president says seriously, he also believes any of the 2020 Democratic candidates would be better than Trump. "Their vision for the future of the country is much better and will be more popular than Donald Trump's."
Obama has largely refrained from publicly opining on the Democratic primary, which has exposed a growing rift between an ascendant progressive wing of the party and old-guard centrists like his former vice president, Joe Biden.
But on Friday he said he felt compelled to weigh in because some of the loudest and most strident voices, particularly on social media, aren't representative of where most in the party are at. Immigration and health care are two issues he cited as cases where Democratic candidates are out of sync with public sentiment.
"There are a lot of persuadable voters and there are a lot of Democrats out there who just want to see things make sense. They just don't want to see crazy stuff. They want to see things a little more fair, they want to see things a little more just. And how we approach that I think will be important," Obama said.
"Even as we push the envelope and we are bold in our vision, we also have to be rooted in reality and the fact that voters, including the Democratic voters and certainly persuadable independents or even moderate Republicans, are not driven by the same views that are reflected on certain, you know, left-leaning Twitter feeds," Obama said.
Obama delivered his remarks at a gathering of the Democracy Alliance, a group of wealthy Democrats who raise large sums for the party. He was interviewed by Stacey Abrams, a rising star in the party who narrowly lost the Georgia governors race last year.
He also sought also to ease jittery Democrats who have been wringing their hands over the size of the sprawling field, which some worry will lead to a prolonged contest that will leave the eventual nominee with limited time to prepare for the general election.
"I just have to remind you that I had a very robust primary," Obama said. "Not only did I win ultimately a remarkably tough and lengthy primary process with Hillary Clinton, but people forget that even before that we had a big field of really serious, accomplished people."
Associated Press contributed to this report

Beyond the tussle between Democrat Adam Schiff and Republican Devin Nunes is the big question – will party interest reign supreme?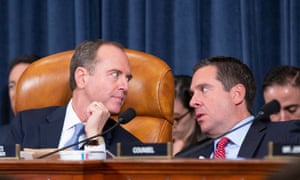 Adam Schiff and Devin Nunes on Capitol Hill in Washington DC on Wednesday. Photograph: Rex/Shutterstock
The battle for American hearts and minds in the unfolding impeachment drama is, at its core, a battle between two very different California congressmen.
In the red corner is Devin Nunes, a Republican former dairy farmer from the state's agricultural Central Valley, who long ago threw his lot in with Fox News talking-point orthodoxy and has never hesitated to defend Donald Trump, no matter how much the rest of the political establishment – and the factual record – was arrayed against him.
In the blue corner is Adam Schiff, Democrat of Los Angeles, who in January took over Nunes's gavel as chair of the House intelligence committee, and has dug deep into his experience as a federal prosecutor to distill the complexities of a political intrigue spanning halfway around the globe into an easily digestible indictment of the president.
As the two senior lawmakers on the intelligence committee, the pair has emerged as Trump's chief defender and chief nemesis, highly visible surrogates but also lightning rods of the broader political struggle. Both have earned lopsided quantities of praise from their own partisans and boundless scorn from the other side of the aisle.
Their styles could not have contrasted more sharply than when they made their opening statements in the public impeachment hearings on Wednesday. Schiff was cool, forensic, quoting witness statements and established facts, outlining what he saw as the key questions before Congress and the American people.
The outcome of the impeachment process, Schiff said, would affect "not only the future of this presidency but the future of the presidency itself, and what kind of conduct or misconduct the American people may come to expect from their commander-in-chief".
Nunes was indignant and blustery, sweat pricking at his brow as he reeled off a litany of supposed plots, conspiracies and low conniving by everyone except the person the members were there to investigate – the president of the United States.
The Democrats, he charged, were "the last people on Earth with the credibility to hurl more preposterous accusations at their political opponents". They were waging a "scorched-earth war" in a "cult-like atmosphere" and putting witnesses through "Star Chamber" interrogations before deciding if they were fit for prime-time exposure.
On the key question of whether Trump had pressured Ukraine into providing political dirt for his re-election campaign, however, Nunes remained largely silent.
In some ways, Schiff and Nunes are acting as one would expect lawyers to act in a courtroom, seizing the best arguments at their disposal and running with them. Schiff has close to a cast-iron case that Trump did indeed demand political favors from Ukraine in exchange for US military aid and other vital forms of assistance; the only real question is whether they amount to the "high crimes and misdemeanors" required by the constitution to justify removing a president mid-term.
Without such an advantage, Nunes is instead seeking to undermine the credibility of the people making the case against Trump, to question the reasons why the impeachment process began at all, and to muddy up the factual record with dark hints of Democratic party plots, collusion with key witnesses and outright deception.
But beyond this tussle for the rhetorical upper hand lies a deeper and more consequential issue: whether Congress is capable of exercising its constitutional independence as a check on executive power, as it ultimately did during the Watergate scandal, or whether partisanship in 2019 has devolved to a point where party interest reigns supreme and nothing else – not even the sale of America's foreign policy for political favors – really matters.
Long before Trump entered the political scene, Nunes had a reputation as someone willing to toe the party line without question. As chair of the intelligence committee from 2015-2019, he was part of a years-long (and ultimately unsuccessful) quest for evidence of wrongdoing by Hillary Clinton in the lead-up to the deadly 2012 attack on a US diplomatic compound in Benghazi, Libya.
After Trump came into office, Nunes made it his job to protect Trump at all costs against allegations that his campaign had welcomed or even colluded with Russian interference in the 2016 presidential election. Nunes rejected the unanimous conclusions of the intelligence services – over whom he was charged with exercising oversight – that Russia had indeed interfered. And he made a notorious cloak-and-dagger trip to the White House to accuse those same intelligence services of mounting a deep-state espionage operation against Trump and his allies. (The charges he made did not stick.)
Not only did Nunes clear Trump of any collusion with Russia; he turned right around and started investigating the FBI's reasons for opening the investigation in the first place, thus feeding straight into the sort of deep-state conspiracies beloved of Fox News hosts and Trump's inner circle. Other Republicans, fearful of the Trump-supporting party base, followed him some of the way along this path but he was one of the very few to go so far, and so publicly.
Senior Democrats – not Schiff – began referring to Nunes as "Trump's stooge" and "Trump's fixer". And when Schiff pushed back, he came in for his own typically Trumpian form of abuse. One tweet, memorably, called him "little Adam Schitt".
Schiff has played a principal role in the House's investigation into the Trump campaign and Russia's interference in the 2016 election, the subject of Robert Mueller's investigation. He's been more reluctant than some of his more gung-ho fellow Democrats to call for the impeachment of the president and came around only when Nancy Pelosi, the equally reluctant speaker, concluded that the Ukraine affair was too grave to overlook. What the New York Times has described as Schiff's "more-in-sorrow-than-in-anger tone" has been a big part of his appeal across all parts of his party.
The darkest interpretation of the standoff is that Nunes is part of an attempt by Trump and his supporters to destroy the very notion of investigative fact and replace it with a series of partisan talking points – that the investigation is a "sham", that Schiff should himself be investigated, that Trump's call in which he openly asked the Ukrainian president to "do us a favor" by investigating Hunter Biden was "perfect", and so on.
Another way of looking at it, though, is through opinion polls that suggest the case for impeachment is growing stronger, not weaker, with the American public. The CNN political analyst Brian Stelter put it this way on Wednesday: "Schiff is trying to speak to the entire country. Nunes is only speaking to the Trump base and the Fox audience."
It's pretty clear, meanwhile, which man is doing better in his own home district. In last year's midterms, Nunes saw his previous 35 percentage-point advantage over his Democratic challenger shrink to just six points, turning a rock-solid Republican seat into a swing district. Schiff, by contrast, was returned with close to 80% of the vote.