23 Nov

News
News
Crackdown inquiry report says authorities used torture and excessive force against detainees during the unrest in March.
Last Modified: 23 Nov 2011 16:02 GMT
Rejecting concessions, protesters take to the streets to demand the country's military rulers immediately step down.
Last Modified: 23 Nov 2011 14:15 GMT
Some Italians have made it their mission to mobilise support on behalf of the Palestinian cause.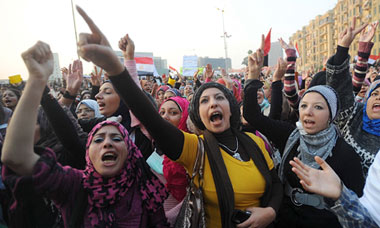 Hundreds of thousands of demonstrators gather in Tahrir Square to demand immediate exit of Field Marshal Hussein Tantawi
Obituary: Danielle Mitterrand
Danielle Mitterrand remained socially active until the weeks before her death
Danielle Mitterrand, the widow of late French President Francois Mitterrand who has died in a Paris hospital at the age of 87, was regarded as a tireless campaigner for human rights and victims of injustice.
Going against protocol, she rejected the potiche (trophy wife) role expected of France's first lady to promote her causes, pursuing them long after her husband's death in 1996.
In latter years, she remained a distinctive and uncompromising voice of the French left.
France Libertes, the foundation she created 25 years ago, continues to campaign for social justice internationally, whether for access to water resources or to restrain globalisation.
Mitterrand's passion for just causes dated back to her youth, when she joined the French resistance as a nurse at the age of 17.
'Her causes are just'Danielle Gouze was born in Verdun, eastern France, on 29 October 1924.
Her parents were teachers, both committed republicans with strong secular values.
The Mitterrands dominated France for 14 years
Antoine, her father, was sacked as headmaster from his college in 1940, following the German invasion, after refusing to produce a list of Jewish pupils and staff, according to a profile on France's Europe 1 news website.
The family regularly sheltered resistance fighters and Danielle, following her elder sister Christine, joined the movement.
At the beginning of 1944, she met Francois while he was on the run for his own activities in the resistance, and they married after the Liberation, on 28 October.
When her husband embarked on his long political career after the war, Mrs Mitterrand focused on raising their two sons, Jean-Christophe (born 1946) and Gilbert (1949). Their first child, Pascal, had died two months after his birth in 1945.
She played a decisive role in the 1981 presidential election, Europe 1 notes, presenting herself as a woman of the people in sharp contrast to the "quasi-aristocratic" wife of the incumbent, Valery Giscard d'Estaing, who was seeking re-election.
There followed 14 years at the top of the French political establishment, in the public gaze.
The new president's wife with radical leanings embraced the limelight, whether campaigning for Tibetan freedom, demanding an end to apartheid in South Africa or pressing for cheap HIV/Aids drugs.
When Cuban leader Fidel Castro visited Paris in 1995, she stirred controversy by kissing him on the steps of the Elysee Palace.
"I often found myself at odds with the diplomats," she recalled in her last known interview, given to French magazine JDD on 30 October.
"Francois would tell the complainers: 'Her causes are just, I can't stop her defending them.'"
There were very real dangers too for the outgoing first lady. In 1992, on a visit to the Kurdish north of Iraq along with French Health Minister Bernard Kouchner, she narrowly escaped a car bomb attack on her convoy, which left four people dead.
'A marriage changes'Francois Mitterrand's death in January 1996, less than a year after he left the presidency, brought a wave of revelations about his extramarital affairs.
Mitterrand met her husband's secret daughter after his death
But there was never any question of "poor Danielle", a source close to the former first lady told the French daily Liberation at the time.
"He imposed his character on her but she imposed her rules of life on him. She chose and organised, and doesn't need to be pitied."
At the funeral, Danielle Mitterrand publicly consoled her late husband's illegitimate daughter, Mazarine Pingeot. "It was instinct," she told Liberation.
In her memoirs, she wrote: "Francois always loved me passionately. A marriage changes over the years but love is not lessened by that. It is even so strong that it can be shared."
With Francois gone, Danielle, now in her seventies, continued her human rights work through her foundation.
In a personal message on its website, she wrote that life had enabled her to meet the leaders of the world but also to mix with ordinary people across the planet.
She saw her foundation as part of a "global network, which aims at implementing an alternative to the globalisation of trade and finance for a society which gives life every chance".
Explaining why she kept on campaigning despite her years and fragile health, she said: "After a certain age, people go to sleep. As for me, I have no intention of dying by inches."