22 Jul
Nobel Peace Prize laureate Desmond Tutu has announced he is retiring from public life later this year when he turns 79, saying "the time has now come to slow down" and spend more time with his family.
The former Anglican archbishop of Cape Town said after his birthday on October 7 that he would limit his time in the office to one day per week until February 2011.
"Instead of growing old gracefully, at home with my family reading and writing and praying and thinking too much of my time has been spent at airports and in hotels," Tutu said in a statement on Thursday.
"The time has now come to slow down, to sip Rooibos tea with my beloved wife in the afternoons, to watch cricket, to travel to visit my children and grandchildren, rather than to conferences and conventions and university campuses."
*********************

Thirty-five years on from the end of the Vietnam war, the devastating effects still linger.
Agent Orange, the chemical used by US forces during the war, is still poisoning the environment of the country and the health of its people, Vietnam says. The US says that cannot be scientifically proven.
The subject is sensitive for both countries, but Hillary Clinton, the US secretary of state who is attending a security summit in Vietnam this week, is expected to address the issue.
And as Tony Birtley reports from Danang, Vietnam, help from the US – which has so far refused to accept responsibility – may now be coming.
**********************
By Ali Abunimah
Proposals to grant Israeli citizenship to Palestinians in the West Bank are being pushed by some prominent activists among the West Bank settler movement [GALLO/GETTY] 
There has been a strong revival in recent years of support among Palestinians for a one-state solution guaranteeing equal rights to Palestinians and Israeli Jews throughout historic Palestine.
One might expect that any support for a single state among Israeli Jews would come from the far left, and in fact this is where the most prominent Israeli Jewish champions of the idea are found, although in small numbers.
Recently, proposals to grant Israeli citizenship to Palestinians in the West Bank, including the right to vote for the knesset, have emerged from a surprising direction: Right-wing stalwarts such as knesset speaker Reuven Rivlin, and former defence minister Moshe Arens, both from the Likud party of Binyamin Netanyahu, the prime minister.
**************************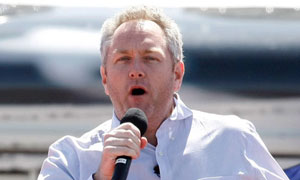 The web's 'most combative conservative impresario' cannot be dismissed as a rightwing crank 32 co
************************
Six officers pummel 58-year-old woman before saying sorry for 'not realising she was wife of leader'
Thursday, 22 July 2010
Perhaps you couldn't blame the White House for acting quickly…………………………….