27 Feb

News
News


Russian state TV says would-be assassins planned to kill current prime minister after March 4 presidential vote.
Last Modified: 27 Feb 2012 15:40 GMT
At least nine killed in explosion at entrance of Jalalabad airport amid continuing outrage over Quran burning.
Last Modified: 27 Feb 2012 15:08 GMT
Director praised after film, which tackles topic of acid attacks against women, is honoured at the 84th Academy awards.
Last Modified: 27 Feb 2012 15:40 GMT
Stratfor calls disclosure of five million stolen confidential emails by WikiLeaks "deplorable, unfortunate and illegal".
Last Modified: 27 Feb 2012 16:50 GMT
US private intelligence firm Stratfor has denounced the publication of stolen emails by WikiLeaks and said it would not comment on the content of the messages.
WikiLeaks began publishing on Monday more than five million emails that were stolen from the Austin, Texas-based Stratfor by members of the hacker group, Anonymous, in December.
According to WikiLeaks, the emails date from July 2004 to December 2011 and reveal Stratfor's links to large corporations, such as Dow Chemical Co. and Lockheed Martin, and US government agencies, including the homeland security department, the Marines Corps and the Defence Intelligence Agency.
"This is a deplorable, unfortunate – and illegal – breach of privacy," Stratfor said in a statement.
"Some of the emails may be forged or altered to include inaccuracies; some may be authentic,. We will not validate either.
"Nor will we explain the thinking that went into them.
"Having had our property stolen, we will not be victimised twice by submitting to questioning about them. As with last year's hack, the release of these emails is a direct attack on Stratfor."…………………………………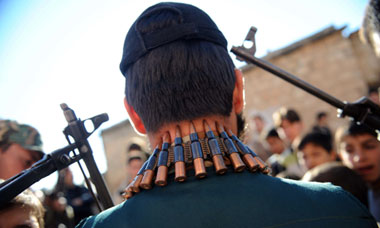 Follow live updates as efforts to rescue wounded people from Homs are thwarted by a continuing bombardment, but French president Nicolas Sarkozy claims a solution is in sight