28 Mar

News
News

Australian government pledges to investigate reports that a Rupert Murdoch company cracked codes of rivals.
Last Modified: 28 Mar 2012 10:26 GMT
Examination of containment chamber of tsunami-hit Fukushima Daiichi plant's number 2 reactor reveals extensive damage.
Last Modified: 28 Mar 2012 15:09 GMT
28 Mar 2012 02:27 GMT
Man who shot unarmed black teen has not been charged.
As thousands die from gunshots every year we ask why most people are still fiercely defending the gun culture in the US.
Last Modified: 27 Mar 2012 08:50 GMT
Dissecting the day's top story – a frank assessment of the latest developments.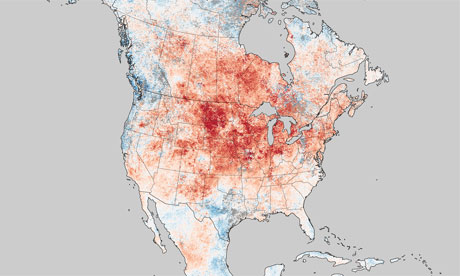 Areas with warmer than average temperatures are shown in red; near-normal temperatures are white; and areas that were cooler than the 2000-2011 base period are blue. Click here to see a large version of this map . Photograph: Terra/MODIS/NASA
Chance of record temperatures across US states in March made more likely by climate change, say scientists