01 Nov

News
News
 Veteran editor Costas Vaxevanis in court after publishing names of 2,000 Swiss bank account holders.
A Greek journalist has appeared in court in Athens after publishing a list of 2,059 high-profile alleged tax-dodgers in the cash-strapped country.
Last Modified: 01 Nov 2012 11:00 GM
 Secretary of state Clinton says meeting in Qatar will bring more people to broaden coalition against Bashar al-Assad.
Last Modified: 01 Nov 2012 11:12 GMT
Haiti is worst affected country with dozens killed and there are fears of a cholera outbreak following severe flooding.
Last Modified: 31 Oct 2012 22:55 GMT
Why does the US put so many people behind bars and what lies behind California's new push for leniency?
………That's why today's GOP and conservatives aligned with it have adopted a three-pronged approach to voter suppression, and the exact mixture of these three approaches varies significantly from state to state, depending on state-level political …….realities.
Republican challenger avoids praise of government's Sandy response in first of three campaign stops in crucial swing state
Chris McGreal in Tampa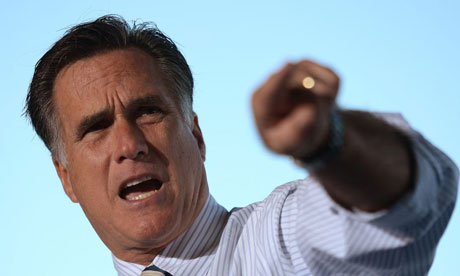 Mitt Romney in Tampa. Photograph: Emmanuel Dunand/AFP
Mitt Romney sidestepped a controversy over whether he plans to shut down the federal emergency response agency at an election rally in Florida where he is struggling to hold onto a once commanding lead in the opinion polls.