01 Feb

********************************
The appointment of Engler to oversee anything to do with women is more atrocious  than anything the university has done thus far. Sickening to put a well-known anti-education misogynist who is buddies with Devos and her anti-title 9 and everything else that protected women. He didn't protect women when he was in office and his reputation as a disgusting misogynist out of office makes his appointment totally perplexing.
Engler retired from the governor role in Michigan with much baggage. I, personally, celebrated that he moved out of Michigan after his retirement.  Happy with the thought that he would no longer be fouling the waters of Michigan. To have him come back as the Interim President of MSU is atrocious.
 Look at the resumes of the entire MSU board. One actually was appointed initially by Engler. All but one has been on the board for decades. No fresh thinking, no understanding of how devastating this whole thing is to the women, and the reputation of MSU.
In plain language – He is a Son of a Bitch!
The McGlynn
********************************
Former Michigan Gov. John Engler was tabbed Wednesday as interim president of Michigan State University
Upon being named interim president of Michigan State University following a massive sexual assault scandal, John Engler offered this assurance Wednesday: "I will move forward as if my own daughters were on this campus and will treat every student as I would my own daughters."
But as Michigan governor in the 1990s, Engler had a far different response  when a group of women, prison inmates, said they were raped or harassed by male guards. Lawyers for some of the women, federal prosecutors and, eventually, the United Nations battled the Engler Administration for the right to interview state officials as well as prisoners to determine the scope of the problem.
Engler stopped them cold.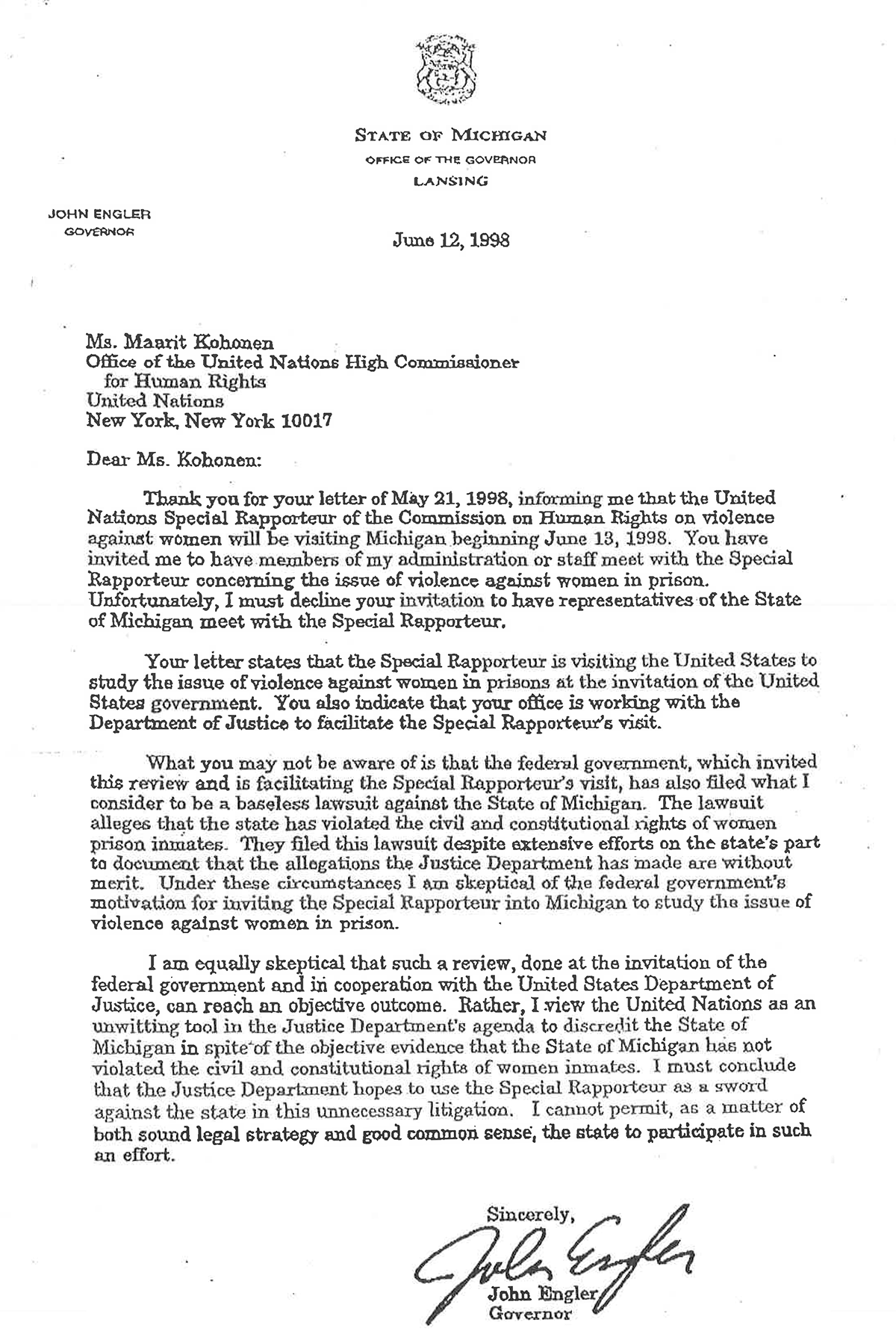 In a June 12, 1998 letter to the United Nations High Commissioner for Human Rights, Engler wrote that he would not make state prison officials available, saying the U.N.'s interest stemmed from "what I consider to be a baseless lawsuit against the State of Michigan" by the U.S. Justice Department.
"The lawsuit alleges that the state has violated the civil and constitutional rights of women prison inmates…despite extensive efforts on the state's part to document that the allegations…are without merit," he wrote.
Engler went on to call the U.N. an "unwitting tool in the Justice Department's agenda to discredit the State of Michigan in spite of the objective evidence that the State of Michigan has not violated the civil and constitutional rights of women inmates."
As it turns out, Engler was far too quick to judge the women's claims.
After years of stonewalling, the state paid $100 million in 2009 to settle a class-action lawsuit brought on behalf of what turned out to be 500 female inmates who were raped, abused or harassed by male prison guards. The settlement followed two jury verdicts in which smaller groups of women inmates had won verdicts that, with interest, approached $60 million.
Engler's letter, obtained by Bridge Magazine Wednesday, shows that the former governor is not the right person to lead MSU after the Larry Nassar scandal, according to the lawyer who led the women inmate cases.
"Really guys? This is who you bring in?" said Ann Arbor attorney Deborah LaBelle, who filed suit in 1996 alleging sexual abuse of female prisoners by prison staff.
"You get the guy responsible for the largest ever sexual abuse settlement in the history of the state?"
Engler was hired as MSU's interim president to assure steady leadership following disclosure that more than 250 girls and women had been sexually abused by Nassar, a university sports doctor, with several saying in interviews or court testimony that their complaints had been ignored for years by MSU coaches or officials.
MSU's embattled Board of Trustees unanimously tapped Engler for the job Wednesday. That followed the Jan. 24 resignation of President Lou Anna Simon and ongoing fallout from the conviction of Nassar for sexual abuse of female gymnasts and other athletes.
John Truscott, a longtime spokesman for Engler, said Wednesday that Engler would not be available for comment about his letter involving the prison sex abuse cases.
"He is very busy. He has 300 requests for interviews," Truscott said.
Truscott, who was Engler's spokesman as governor, defended the 1998 letter, saying Engler was protecting the state from what he believed was inappropriate meddling by the international human rights agency.
"He wasn't going to roll over for the U.N.," Truscott said. "The U.N. did not have a legitimate right to go in and start interviewing prisoners."
As for the merits of women's claims, Truscott said Engler actually had little to do with that litigation.
"That was the (Michigan Department of Corrections). He was not involved in those decisions," Truscott said.
The 1998 letter wasn't Engler's only effort to discourage assault claims by the female inmates.
In late 1999, Engler and the Legislature successfully pushed through an amendment to the state's Elliott-Larsen Civil Rights Act that would preclude prison inmates from seeking state civil rights protections, a move the ACLU noted made Michigan the only state in the nation that stripped inmates of such rights.
Indeed, as reported by Prison Legal News, the law signed by Engler explicitly stated it was "intended to correct any misinterpretation of legislative intent" about whether prison inmates, such as the women who were then suing the state, could sue under Elliott-Larsen.
That amendment, which supporters said would prevent frivolous lawsuits,  was struck down as unconstitutional in 2007. U.S. District Judge John Corbett O'Meara was skeptical of the state's rationale for the law, writing: "it appears that the state legislature has not attempted to deter frivolous lawsuits, but rather preclude meritorious ones."
In barring prisoners from suing, the law "essentially permits the state to discriminate against female prisoners without fear of accountability under Michigan's civil rights law," the judge added. "Given the state's abhorrent and well-documented history of sexual and other abuse of female prisoners, the court finds this amendment particularly troubling."
Engler's MSU appointment drew favorable responses from several state officials, including state House Speaker Tom Leonard.
"He is a strong leader with a proven track record of reform, and the school needs someone who is able to come in from the outside, stand up to the status quo and make immediate changes," he said. "I look forward to working with the interim president on new reforms that will better protect women, the students at MSU and the local community."
But Engler has also drawn sharp criticism in some circles, including from MSU students and faculty members who vowed to push for a vote of no confidence in the board.
The first woman to make public accusations of sexual abuse by Nassar had said Tuesday, when word first spread of Engler's post, she was "beyond disappointed" by Engler's appointment.
MSU board president Brian Breslin, however, declared that Engler is the right person for the job.
"I have confidence that John Engler will reflect our desire to keep a focus on survivors and the victims," Breslin told the media Wednesday.
Breslin could not immediately be reached by Bridge about the 1998 letter. Bridge was also unable to immediately reach MSU spokesman Jason Cody for comment.
"This is not the time to be political," John Engler said told reporters after the board's vote. "I think we start from the standpoint: How do we change things? That starts today."
In 1996, Human Rights Watch issued a report on sexual harassment and abuse by guards and other officials in state prisons in California, Georgia, Illinois, New York and Michigan. In Michigan, it found "a serious problem of sexual misconduct in Michigan women's prisons, including rape, sexual assault and abuse, criminal sexual contact, inappropriate visual surveillance, and verbal degradation."
Prior to that, in 1994, the U.S. Department of Justice began investigating complaints of abuse of Michigan female prisoners. It filed its own lawsuit against the state in 1997.
In 1995, it sent a letter to Engler stating: "Evidence in the public domain reflects that a number of guards have been investigated by Michigan State Police for allegedly sexually assaulting or raping women inmates at these facilities.
"Indeed, a number of officers have been charged with at least fourth degree criminal sexual assault…Discovery in a private civil action alleging sexual abuse by guards of women at these prisons indicates that between 1991 and 1993, at least 20 incidents of sexual assault or serious harassment have been reported."
The U.N. began its own investigation of abuse of females in state and federal U.S. prisons in 1998 at the invitation of the DOJ and other federal agencies.
In 1999, it issued a report that noted Engler's decision to deny permission to visit Michigan prisons by a U.N. official known as the Special Rapporteur: "The Special Rapporteur found this refusal particularly disturbing since she had received very serious allegations of sexual misconduct occurring at Florence Crane Women's Facility and Camp Branch Facility for Women in Coldwater, as well as at Scott Correctional Facility for Women in Plymouth."
Evidence at one of the trials in 2008 showed that male prison guards had raped, groped or otherwise assaulted female inmates, often under the pretext of searching them for contraband. Male guards were eventually ordered out of women's prisons in Michigan in 1999, when Engler was still governor, as part of an agreement with the Justice Department.