31 Dec

Russian leader declines to retaliate after US expels 35 Russian diplomats, saying further action will depend on Trump's policies
Jan Chamberlin says performing with Mormon Tabernacle Choir, one of few acts scheduled for 20 January, would be 'endorsing tyranny and fascism'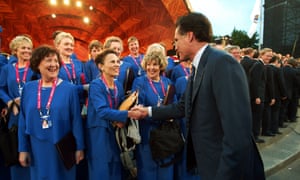 The choir has performed for US politicians in the past, including the inaugurations of Lyndon Johnson, Richard Nixon, Ronald Reagan and both Bush presidents. Photograph: Boston Globe via Getty Images
Staff and agencies
A member of the Mormon Tabernacle Choir says she has resigned from the famed group over its decision to perform at next month's inauguration of Donald Trump, a performance she said would be an endorsement of "tyranny and fascism".
She added: "I only know I could never 'throw roses to Hitler.' And I certainly could never sing for him."
Organizers of the inauguration, in Washington DC on 20 January, have faced problems in attracting top-level talent.
The 1960s surf-pop group the Beach Boys are reportedly considering an offer. Last week it was reported that members of the New York dance troupe the Rockettes were unhappy after they were booked to perform. The group's management subsequently said no individual Rockette would be forced to take part.
The member of the Mormon Tabernacle Choir, Jan Chamberlin, posted her resignation letter to leaders of the 360-member choir on her Facebook page on Thursday.
"It is with a sad and heavy heart that I submit my resignation to you and to Choir," she began. "I am praying that Jesus will help me get through this email before I totally break down."
Writing that she had spent "several sleepless nights and days in turmoil and agony", she added: "I love you all, and I know the goodness of your hearts, and your desire to go out there and show that we are politically neutral and share good will. That is the image Choir wishes to present and the message they desperately want to send.
"I also know, looking from the outside in, it will appear that Choir is endorsing tyranny and facism by singing for this man."
She continued: "Tyranny is now on our doorstep; it has been sneaking its way into our lives through stealth. Now it will burst into our homes through storm."
The choir is part of the Church of Jesus Christ of Latter Day Saints. Church spokesman Eric Hawkins told the Salt Lake Tribune that participation in the choir and the inaugural performance was voluntary.

Letter says Myanmar's leader and peace prize winner has failed to act as 'grossly disproportionate' crackdown on minority Muslim group kills hundreds