02 Jan

© Gali Tibbon, AFP| Israeli Prime Minister Benjamin Netanyahu chairs the weekly cabinet meeting in Jerusalem on January 1, 2017.
Police are expected to question Prime Minister Benjamin Netanyahu at his official residence in Jerusalem on Monday on suspicion of receiving gifts from businessmen in breach of his role as a public servant, Israeli media reported.
The move was authorised by Attorney-General Avichai Mandelblit, who decided after a preliminary probe that there was sufficient evidence for a criminal investigation, Haaretz newspaper reported. The questioning will take place on Monday evening, Israel Radio said.
The police and Justice Ministry would not confirm when the interview would take place or the nature of the investigation, details of which have appeared in the media in recent days. Netanyahu's office has denied any wrongdoing.
"All the supposed affairs will turn out to be fiction," his family spokesman said on Monday. "We are repeating: there will be nothing, because there is nothing."
Photographers were camped outside the heavily guarded residence, hoping to get pictures of investigators arriving. Black screens were erected inside the gates of the property to block the view.
Haaretz and other newspapers said the probe related to gifts worth "hundreds of thousands of shekels" ($1=3.85 shekels) given to Netanyahu by Israeli and foreign businessmen.
Channel 2, a commercial network, said the investigation was one of two cases now open against the prime minister, although it said details of the second remained unclear.
Netanyahu, 67, has been in power on and off since 1996. He is currently in his fourth term as prime minister and will become Israel's longest-serving leader if he stays in office until the end of next year.
He and his wife, Sara, have weathered several scandals over the years, including investigations into the misuse of state funds and an audit of the family's spending on everything from laundry to ice cream. They have denied any wrongdoing.
Netanyahu is not the first prime minister to be questioned in a criminal case.
Ehud Olmert, who held office from 2006 to 2009, is currently serving 18 months in prison after being convicted of breach of trust and bribery in 2014.
Former prime minister Ariel Sharon was questioned while in office in 2003 and 2004 over allegations of bribery and corruption involving him and his two sons. In 2006, his son Omri was convicted of corruption and served time in prison.
Netanyahu's police appointment drew a barrage of commentary from the centre-left opposition in parliament, with politicians calling for him to go.


It's reasonable to just want to hibernate for the next four years. But that won't help make things better
W

e just ended the worst year. Now starts, well: the worst worst year. Those of us appalled and terrified by the election of Donald Trump and the open rise of white supremacy in America ended 2016 exhausted and disillusioned. Now we enter 2017 in full knowledge that this year will probably be no better.
No matter how much we'd like to hide in our homes for the next four years, we know that we cannot do that. We must fight for equality and justice. But the question is: how? What action can we take in the aftermath of such a heartbreaking defeat?
As we start this new year, here are some resolutions for resistance.
Check your sources
Yes, we are really living in a dystopian future where we can't be sure of what is true and what isn't. A sensational story cross your eye? Yes, it may well be accurate. But it could also be made up by a teenager in a basement in Milwaukee, because we apparently live in a horrible world these days.
Check the links on all articles to verify that those links actually back up what the original article is saying with source material. No links? Try to find a more reliable source to back up the story. No luck? Then do not share that story. Write down the name of that publication and avoid them in the future.
Demonstrator rappels down banner at US Bank Stadium targeting Dakota Access pipeline during game between Minnesota Vikings and Chicago Bears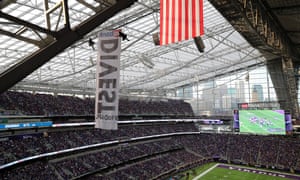 Two protesters hang suspended from ropes above the Minnesota Vikings and Chicago Bears football game. Photograph: Adam Bettcher/Getty Images
In Minneapolis on Sunday protesters unfurled a banner protesting the Dakota Access oil pipeline, high above the field during an NFL game between the Minnesota Vikings and the Chicago Bears.
The protest continued through the game, though play was unaffected.
The banner, which read "Divest #NoDAPL" and carried the US Bank logo, was hung in the US Bank Stadium by two people. One of the protesters, wearing a No4 Brett Favre Vikings uniform, rappelled down the banner.
Members of the media were reportedly sent a message that said the stunt was designed to urge US Bank to divest from the pipeline project, which is run by Energy Transfer Partners, a Dallas-based company.
At halftime, stadium manager SMG released a statement that said: "Two individuals appear to have climbed over a guard rail to access the ridge truss.
"We immediately dispatched on-site Minneapolis police and fire departments to the scene and cleared the seating section."
The company said it was working to end the protest "with all stadium partners" and with a "primary focus on the safety of the fans and these two individuals".
Construction on the Dakota Access pipeline was halted in North Dakota in December, after months of confrontation between law enforcement agencies and a coalition of Native Americans and environmentalists protesting potential damage to water resources and tribal sites.
In December, according to the Minneapolis Star Tribune, protesters with similar demands entered Wells Fargo's offices in the city and blocked employees on their way to work. Protesters also briefly locked doors to a Wells Fargo branch.
In 2014, at an All-Star baseball game at Target Field in Minneapolis, a protester gained access to the large video board and unfurled a banner that read: "Love water not oil".

State newspaper says police were acting on a tipoff that militants from the Muslim minority were being sheltered in the village
Warning:

this footage includes scenes that some may find disturbing
In a video which appears to have been shot by a Myanmar policeman and is said to have been filmed in a Rohingya village, security forces are seen striking and kicking two men sitting on the ground. Critics say it is evidence of the persecution and abuse faced by the Muslim minority. Authentication of the footage is difficult as it was purportedly shot in the Rakhine state, where the government has blocked access for aid workers and journalists. But the office of Myanmar's de facto leader Aung San Suu Kyi says it is investigating
Myanmar is to investigate police officers who were filmed beating Rohingya villagers, an unusual admission that security forces may have carried out abuses against the Muslim minority.
The office of Aung San Suu Kyi, the country's de facto leader, said action would be taken after a YouTube user called Rohingya Blogger posted the video over the weekend. At least four officers have been detained, a statement said.
Filmed by a police officer smoking a cigarette, it shows his colleagues kicking two men sitting on the ground and using a baton on them, while dozens of other male villagers sit alongside with their heads down.
The Rohingya are a minority of about a million people who, despite living in the country for generations, are treated as illegal immigrants and denied citizenship. The government and nationalist Buddhists have persecuted them for years.
The Guardian has been unable to authenticate the video, because it was purportedly shot in Rakhine state, where the government is conducting an intense military operation and has blocked access for aid workers and journalists.
Myanmar says it is responding to several Rohingya militant attacks that killed nine police officers on 9 October.
The state counsellor's office, run by Aung San Suu Kyi, said the footage was filmed on 5 November during a "clearance operation" in Kotankauk village.
It named four officers in the video, including the one who filmed it. "Those who [were] initially identified were detained. Further investigations are being carried out to expose other police officers who beat villagers in the operation."
The state-run newspaper, the Global New Light of Myanmar, cited the police as saying the operation was launched in response to an attack by motorbike gunmen against police in which a lance corporal died.
It said the police were acting on tipoff that militants were being sheltered in the village and that a man living there had distributed "placards containing fake information" used during a protest when foreign diplomats visited the area.

On the first day of 2017 in Beijing pollution climbed as high as 24 times the level recommended by the World Health Organization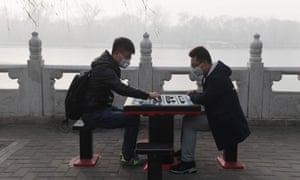 Two men play Chinese chess beside a lake on a heavily polluted day in Beijing on 1 January. Photograph: Greg Baker/AFP/Getty Images
Millions in China rang in the New Year shrouded in a thick blanket of toxic smog, causing road closures and flight cancellations as 24 cities issued alerts that will last through much of the week.
On the first day of 2017 in Beijing, concentrations of tiny particles that penetrate deep into the lungs climbed as high as 24 times levels recommended by the World Health Organization. More than 100 flights were cancelled and all intercity buses were halted at the capital's airport.
In the neighbouring port city of Tianjin, more than 300 flights were cancelled while the weather forecast warned thick smog will persist until 5 January. All of the city's highways were also shut as low visibility made driving hazardous, effectively trapping residents.
Across northern China 24 cities issued red alerts on Friday and Saturday, while orange alerts persisted in 21 cities through the New Year holiday. A red alert is the highest level of a four-tier warning system introduced as part of China's high-profile war on pollution.
Decades of economic development have made acrid air a common occurrence in nearly all major Chinese cities, with government-owned coal burning power stations and heating plants and steel manufacturing concentrated in northern provinces the main source of pollution.
Smog worsens in the winter as coal burning spikes to provide heat for millions of people. China declared a "war on pollution" in 2014, but has struggled to deliver the sweeping change many had hoped to see and government inspections routinely find pollutions flouting the law.
"Why didn't those polluting industries take a rest for the holiday," one commenter mused on the Twitter-like Sina Weibo.
"New Year's morning in Beijing, I thought I was blind," said another, attaching a photo of a window completely darkened with grey haze.
Similar posts appeared on Twitter.
China's middle class is increasingly less tolerant of the deadly air, and in December tens of thousands of "smog refugees" decamped to clearer skies. Top destinations included Australia, Indonesia, Japan and the Maldives.
That bout of smog saw 460 million people, a population greater than North America, breathing toxic air, according to Greenpeace.
As pollution covered swaths of the country on New Year's Eve, China announced plans to increase coal output to 3.9 billion tonnes by 2020.

2016 wasn't all bad news for the climate, but it was ugly toward the end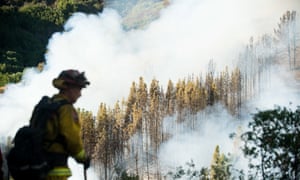 A firefighter watches as smoke from a wildfire swirls around a stand of trees near Morgan Hill, Calif., on Tuesday, Sept. 27, 2016. A heat wave stifling drought-stricken California worsened the state's wildfires in 2016. Photograph: Noah Berger/AP
This past year had so many stories involving human-caused climate change – it will be forever in our memories. Here is a summary of some of the high points, from my perspective. When I say "high points" I don't necessarily mean good. Some of these high points are bad and some are downright ugly. Let's do the good first.
The Good
The best news of all, in my opinion, is the continued cost reductions and huge installations of clean energy both in the US and around the word. Wind, solar, and other renewables have been on an incredible run of decreasing costs and creative financing, which has made them economically competitive with dirty fossil fuels. Improvements and expansion of grid-based power storage has also advanced. These storage abilities are needed to allow intermittent power sources (like wind and solar) to play an even larger role in delivering power to the grid. In the end, clean power will win out based on simple dollars and cents – regardless of the fact they will also help save the world.
On an international scale, the US, China, and other countries ratified the Paris climate agreement, which gives us a reasonable chance at avoiding the worst effects of climate change. In the lead up to that ratification, the US took major actions domestically to reduce its own emissions through steps like the Clean Power Plan.
Emissions have been reduced in some countries like the US for a variety of reasons. First, very cheap natural gas is displacing dirtier coal-based power. Secondly, renewable energy sources like wind and solar are expanding, and people are using energy more wisely. All of this happened with a major reduction in energy costs in the US. This shows you can have clean energy that is also cheap.
In court, it was a good year. A rag-tag group of pro-bono climate scientists beat a bunch of high-paid contrarians in court. We showed that their science was nonsense and the smart judge gave a very harsh judgement to the funded deniers.
And last in this part of the list, I think this is the year we can say the climate deniers and the contrarians who downplay global warming threats finally lost the science war. In the past, there were a dwindling few scientists each year that attempted to find evidence that the world was not warming, or wasn't warming much.
Each year, the number of scientists in this group got smaller and smaller. This year, they were virtually nonexistent. The contrarians have almost given up looking for contrarian evidence – it just isn't there. They have ceded the scientific field because their research was found to be wrong. Now, these contrarian scientists only appear in blogs, op-eds in newspapers, sometimes in pay-for-play journals – but rarely in competitively reviewed scientific venues. After being wrong for decades, they have seemingly just given up………………………
The Bad
Despite the progress above, global warming continued. In fact, 2016 marked the third year in a row that record global temperatures were set. We are well over halfway to the 2-degree mark that puts us into a real climate danger zone and we have not even come close to doubling CO2 yet (although we will).
The temperature levels reached this year don't prove the world is warming; in fact, we never look at a single year as evidence. Rather, proof was found in the oceans. Several major studies were published this year that clearly show the world's oceans are warming and that computer simulations have been spot-on in their predictions. Simply put, the Earth is warming and the models got it right.
But that said, reaching almost 1.5 degrees Celsius with only about a 45% increase in the amount of carbon dioxide in the atmosphere means that the contrarians, like Roy Spencer, John Christy, Richard Lindzen, William Happer, and Judith Curry, are shown conclusively to be wrong. The rate of warming we are seeing, in both the air and ocean temperatures, is inconsistent with the fanciful and optimistic beliefs of this group.

For a change from the same old news stories from the same old news networks, here are links to English-edition online newspapers from other parts of the world. Nearly all of these are English-edition daily newspapers. These sites have interesting editorials and essays, and many have links to other good news sources. We try to limit this list to those sites which are regularly updated, reliable, with a high percentage of "up" time.
Some of the available newspapers:
| | | |
| --- | --- | --- |
| Asia & CIS | | |
| | | |
| --- | --- | --- |
| China | | |
| | | |
| --- | --- | --- |
| China & Hong Kong | | |
| | | |
| --- | --- | --- |
| France | | |
| | | |
| --- | --- | --- |
| Israel | | |
| | | |
| --- | --- | --- |
| Norway | | |
| | | |
| --- | --- | --- |
| Palestine | | |
| | | |
| --- | --- | --- |
| Russia | | |
| | | |
| --- | --- | --- |
| Ukraine | | |
.