04 Jan
2 hours ago

PNN/ Jerusalem/ The Israeli Magistrate Court on Wednesday morning have sentenced the wounded Jerusalemite teenager, Marah Bakir, to eight and a half years in jail, added to a 10,000 ILS fine over …
6 hours ago

PNN/ Jerusalem/ Bulldozers from the West Jerusalem Israeli municipality on Wednesday morning have demolished a Palestinian-owned home in Beit Hanina town, northern Jerusalem, under the pretext of building with no …
1 day ago
PNN/ Jerusalem/ Dozens of Israeli settlers stormed Tuesday morning al-Aqsa Mosque amid heavy presence of Israeli police forces. According to Quds Press, heavily-armed Israeli forces were deployed in large numbers …


Readers were quick to suggest tongue-in-cheek tunes after Rebecca Ferguson said she would only perform Strange Fruit at the ceremony.
British singer Rebecca Ferguson has agreed to perform at Donald Trump's inauguration ceremony – provided she can sing Strange Fruit. The lyrics of the anti-racist song, written by Abel Meeropol and first recorded by Billie Holiday in 1939, describe the lynchings of African-Americans
So far, Donald Trump has just three performances lined up for his 20 January inauguration: Jackie Evancho, a former America's Got Talent contestant; the Mormon Tabernacle Choir; and the dance troupe the Rockettes. It's not been a smooth process either – a choir member quit, and dissent within the Rockettes may lead to dancers boycotting the ceremony.
Meanwhile, British singer Rebecca Ferguson made waves when she said she would be happy to perform, but only if she could sing Strange Fruit. The song, recorded by Billie Holiday in 1939 and one of the most famous songs about racism, is not likely to get the green light. You, our readers, jumped into the comments section with tongue-in-cheek suggestions. Here's a selection:

"Dust in the Wind" by Kansas would be perfect.

Naftali Bennett vows to introduce a bill this month to formally annex Maale Adumim in the occupied Palestinian territories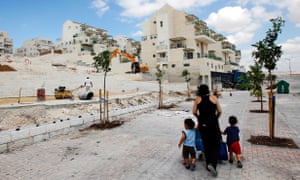 A woman walks with children past apartments under construction in the West Bank Jewish settlement of Maale Adumim. Photograph: Ronen Zvulun / Reuters/Reuters
The far-right Israeli education minister, Naftali Bennett, has vowed to introduce a bill this month to formally annex Maale Adumim, one of Israel's largest settlement blocks in the occupied Palestinian territories.
In remarks made at a museum in the city of 40,000 located outside Jerusalem, Bennett said: "After being here for 50 years, the time has come to end military rule."
The hardline leader of the Jewish Home party also made clear that he saw the annexation of Maale Adumim as a first step in annexing all of "area C", the part of the occupied territories still under full Israeli control.
"For this reason," said Bennett, "by the end of the month, we will submit the bill for applying [Israeli] law to Judea and Samaria [the name used by Israelis for the occupied territories] and will embark on a new path. We will present to the cabinet a bill for applying Israeli law in Maale Adumim."
The timing of Bennett's announcement, and of his plan to introduce the legislation in the first place, appears to have been designed to exploit the inauguration of Donald Trump on 20 January. The US president-elect has indicated he will be more supportive of Israel in international arenas that regard the settlements as illegal.
Bennett's call also comes soon after the adoption by the UN security council of a resolution reiterating that Jewish settlements on land intended for a future Palestinian state represent a "flagrant violation" of international law and an obstacle to a two-state solution.
Bennett, who has long set out his political stall as a nationalist, settlement-supporting and pro-annexation opponent of such a two-state solution, told supporters he saw Trump's inauguration as a "small window of opportunity" to annex Area C, starting with Maale Adumim.
His view is opposed by both allies of the Israeli prime minister, Benjamin Netanyahu, and the leader of the opposition, Isaac Herzog, who warned at the weekend that supporting annexation was "brainwashing the public with lies, such as claiming that we can annex Area C and the world will allow it". Netanyahu has instructed the ministers in his coalition not to talk about annexation.

Footage shows school resource officer picking up young woman and throwing her to the floor, leading to a thud and shouts from nearby students
A North Carolina school police officer is filmed slamming a student to the ground in a video posted to Twitter on Tuesday, prompting widespread outrage and calls for the policeman to be fired. The footage shows a school resource officer in the middle of a chaotic scene at Rolesville high school picking up the young woman and throwing her to the floor
Warning: Some viewers may find the footage distressing
A North Carolina police officer was caught on video lifting a high school student into the air and slamming her to the ground, prompting widespread outrage and calls for the policeman to be fired.
The footage, which went viral on Twitter on Tuesday, showed a school resource officer in the middle of a chaotic scene at Rolesville high school picking up the young woman and throwing her to the floor, leading to a thud and shouts from nearby students.
Police and school officials did not immediately respond to requests for comment Tuesday night, but the local paper, the News and Observer, identified the officer as Ruben De Los Santos and reported that he was on paid administrative leave.
The video draws parallels to viral footage of a South Carolina sheriff's deputy who was caught on camera last year wrapping his arm around a student's neck in a classroom at Spring Valley high school. That officer, Ben Fields, flipped the student's desk and dragged the girl across the floor before arresting her. He was eventually fired.
The Rolesville footage has raised fresh concerns about the use of force against students and the harsh and sometimes violent tactics police officers use in classrooms.
The American Civil Liberties Union of North Carolina said it was investigating the incident and encouraged people with information to contact the group.
"This use of force is very disturbing and is never justified, especially in schools where kids are supposed to go to learn and be safe and to concentrate on their school work," said staff attorney Irena Como, adding that the ACLU would consider filing a lawsuit.

Opinion
The US publisher has given Breitbart's Milo Yiannopoulos a $250,000 deal – so I decided the Chicago Review of Books would not cover any of its authors in 2017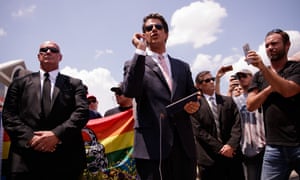 'Milo Yiannopoulos has told gay people to 'get back in the closet' and women to 'log off' the internet.' Photograph: Drew Angerer/Getty Images
Adam Morgan is the editor-in-chief of the Chicago Review of Books
L

ast week, the literary world gasped when one of the largest publishers in the United States, Simon & Schuster, rewarded America's most infamous internet troll, Milo Yiannopoulos, with a $250,000 book deal. But we probably should have seen it coming. After all, 2016 taught us that ridiculing women, people of colour, Muslims and members of the LGBTQ community can make someone immensely popular.
For Simon & Schuster, it can also be immensely profitable. During Yiannopoulos's tenure at Breitbart.com – where he's told gay people to "get back in the closet" and women to "log off" the internet – he has amassed more than 1 million followers on Facebook, the kind of author platform that every publisher dreams of. Threshold Editions, the Simon & Schuster imprint dedicated to "innovative ideas of contemporary conservatism", surely has a hit on their hands.
But Milo is not a conservative intellectual leader with a political agenda. He's a clickbait grifter who has made a name for himself by spewing hate speech. As the editor-in-chief of a small literary review, I wanted Simon & Schuster to know that broadcasting his rhetoric would have real-world consequences. So I made a decision that has nothing to do with political ideology and everything to do with human rights and decency: the Chicago Review of Books will not cover a single Simon & Schuster book in 2017.
According to thousands of Twitter and Facebook users, our editorial stance is equivalent to censorship, fascism and book-burning. By choosing not to review Simon & Schuster books for a year, they claim we're contradicting both the first amendment and our own mission to cover "diverse voices". In response, they've photoshopped my head onto a Nazi soldier, posted my photo with the caption "WARNING! This man was just accused of molesting young children!" and expressed their hope that the next wave of Chicago shootings might "take out" some of our editors.
But we aren't infringing upon Yiannopoulos' or Simon & Schuster's free speech. Yiannopoulos has the constitutional right to say whatever he wants. He can call Leslie Jones a "black dude" who is "barely literate". He can call Melissa McCarthy, Kristen Wiig and Kate McKinnon "fat" and "ugly". He can call transgender people "mentally ill" and "retarded," and mock a transgender student during a speech at her own school ("The way that you know he's failing is I'd almost still bang him.").
And of course, Simon & Schuster has every right to increase Yiannopoulos's platform by publishing his book. However, free speech doesn't protect anyone from repercussions in a free market. The literary community – and society at large – has the freedom to respond in kind. That's why the UK division of Simon & Schuster has decided not to publish Yiannopoulos's book. It's why some professionals, such as author Danielle Henderson and audiobook producer Emmett Plant, are reconsidering their relationships with the publisher. And it's why the Chicago Review of Books would rather give the 15 articles we spent on Simon & Schuster titles last year to independent presses and historically marginalised voices in 2017.
Of course, some writers, editors and publicists have rightly pointed out that our decision isn't fair to hundreds of other Simon & Schuster authors who had nothing to do with the publisher's decision to sign Yiannopoulos. I agree. It's unfair. Simon & Schuster will publish some wonderful books in 2017 through imprints I admire, such as 37 Ink, Salaam Reads and Touchstone. But I strongly believe the literary community must hold the publisher accountable for normalising and amplifying Yiannopoulos's hate speech.

For a change from the same old news stories from the same old news networks, here are links to English-edition online newspapers from other parts of the world. Nearly all of these are English-edition daily newspapers. These sites have interesting editorials and essays, and many have links to other good news sources. We try to limit this list to those sites which are regularly updated, reliable, with a high percentage of "up" time.
Some of the available newspapers:
| | | |
| --- | --- | --- |
| Asia & CIS | | |
| | | |
| --- | --- | --- |
| China | | |
| | | |
| --- | --- | --- |
| China & Hong Kong | | |
| | | |
| --- | --- | --- |
| France | | |
| | | |
| --- | --- | --- |
| Israel | | |
| | | |
| --- | --- | --- |
| Norway | | |
| | | |
| --- | --- | --- |
| Palestine | | |
| | | |
| --- | --- | --- |
| Russia | | |
| | | |
| --- | --- | --- |
| Ukraine | | |
.