07 Jan

Obama's commitment to children's health and education remained steadfast in the past eight years as she transformed into an impassioned political figure
**********************
Michelle Obama is among the most impressive First Lady America has ever had, along with Elanor Roosevelt: intelligent, independent-minded, warm, funny; and beautiful to boot. No wonder right-wing nutjobs can't stand her.
And to hell with the plastic plagiarist who's about to move into the Our Nation's Home.
The McGlynn
**********************
Michelle Obama makes her final speech as US first lady on Wednesday, during an education event at the White House. Fighting back tears, she tells young people to empower themselves then 'build a country worthy of your boundless promise'
With tears in her eyes and her voice cracking with emotion, the self-declared "mom-in-chief" stepped off the public stage on Friday with her final speech as first lady, urging young Americans to believe in the "power of hope".
Michelle Obama, who began her White House years pursuing the typically soft subjects that have often limited the wives of presidents, ended with a clarion call for diversity and vowing to make it her life's work to help disadvantaged children get to college, a personal mission that has its roots in her own Chicago childhood.
In a deeply emotional reflection on what lies ahead for the US in the era of President Donald Trump, she sent a clear message to young people to rise above division, anger and bigotry, no matter what they look like, their background or religion.
"My final message to young people as first lady is simple. I want our young people to know that they matter, that they belong … Don't be afraid, be focused. Be determined. Be hopeful. Be empowered. Empower yourself with a good education … then build a country worthy of your boundless promise."
The sign-off in the East Room of the White House ended with her being engulfed in hugs from school counsellors from across the US whom she celebrated for the crucial support they give to students in their darkest moments.
It was also a moment to mark the eight-year journey she has made to become an impassioned political figure in her own right. She has never stood for office, but there were times in the final weeks of the US election campaign when it seemed possible that she could run for president and win.
She had taken the fight to Donald Trump, telling a Hillary Clinton rally in New Hampshire that his boasts about sexually assaulting women had shaken her to her core. "This is not normal. This is not politics as usual. This is disgraceful. It is intolerable," she said in a speech which revealed a toughness and an ability to connect with an audience to rival her own husband's gifts.
Speaking in Philadelphia from the same platform as Bill Clinton, Barack Obama, Bernie Sanders and Hillary Clinton, she emerged as the true star of the Democratic convention, moving the audience to tears as she spoke about the possibility of the first female president, and her own family's journey from slavery to the White House.
Drawing powerfully on her own family history – her great-great-grandfather lived as a slave – she spoke of "the story of generations of people who felt the lash of bondage, the shame of servitude, the sting of segregation, but who kept on striving and hoping and doing what needed to be done so that today I wake up every morning in a house that was built by slaves.
"And I watch my daughters, two beautiful, intelligent, black young women playing with their dogs on the White House lawn."
Ever since Martha Washington complained that she felt like a state prisoner, the role of the first lady has traditionally been seen as a confining one, where elegance comes first and controversy is best avoided.
And Michelle Obama's White House years began typically – as a self-styled mom-in-chief, with two daughters aged 10 and seven, advocating a healthy-living agenda.
She turned a far corner of the White House grounds into a vegetable garden and brought children from some of Washington's poorest schools to help her plant broccoli. She also delightful with her irreverent willingness to drop convention – joining in with an Evolution of Mom Dancing routine on the talkshow Late Night with Jimmy Fallon, to promote her Let's Move fitness push and later, getting in the passenger seat for Carpool Karaoke with James Corden to promote her Let Girls Learn global education campaign.

Country's UN mission says figure represents portion of its contribution that goes 'to anti-Israel bodies', including agency for Palestinian refugees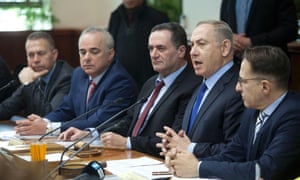 Israel's prime minister, Benjamin Netanyahu, chairs the weekly cabinet meeting in Jerusalem last month. Photograph: Dan Balilty/AFP/Getty Images
Associated Press at the United Nations
Israel has announced it is cutting approximately $6m in its annual dues to the United Nations this year to protest last month's security council resolution condemning Israeli settlements as "a flagrant violation under international law".
Israel's UN mission said the amount represented the portion of Israel's contribution to the UN's regular budget totalling more than $40m allocated "to anti-Israel bodies".
It named the UN agency for Palestinian refugees known as UNRWA, the Division for Palestinian Rights, the committee investigating Israeli practices affecting Palestinian human rights, and information programs on "the Question of Palestine".
"It is unreasonable for Israel to fund bodies that operate against us at the UN," Israel's UN ambassador, Danny Danon, said. "The UN must end the absurd reality in which it supports bodies whose sole intent is to spread incitement and anti-Israel propaganda."
UN spokesman Stephane Dujarric, asked to comment, said: "We have not been informed."
Israel's UN mission said the cut in funding was the first in a series of steps under consideration by the foreign ministry and the mission in reaction to the recent security council resolution.
The Obama administration's decision to abstain and allow the UN security council to approve a long-sought resolution condemning Israeli settlements as an obstacle to a two-state solution was a sharp rebuke to a longstanding ally and marked a striking rupture with past US vetoes.
Israel's UN mission said it would move forward on additional initiatives "aimed at encouraging structural change within the UN with the ultimate goal of ending anti-Israel activities" after Donald Trump becomes US president on 20 January.
The president-elect has criticized Barack Obama's green light for the security council condemnation.
On Thursday, the Republican-controlled US House of Representatives overwhelmingly approved a bipartisan resolution rebuking the United Nations for criticizing Israeli settlements and declaring unwavering support for Israel. The non-binding resolution insists that the United States reject any future UN actions that are similarly "one-sided and anti-Israel".

Tsai Ing-wen is en route to Central America but US stopovers will be scrutinised following fury at her congratulatory call to Donald Trump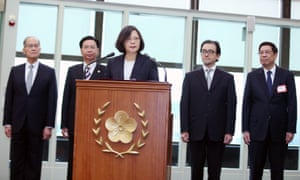 Taiwan president Tsai Ing-wen's trip to the US will be closely followed by China. Photograph: EPA
Agence France-Presse
She is to transit in Houston this weekend and return to Taipei via San Francisco next weekend.
The call with Trump in December after he won the presidency upended decades of diplomatic precedent in which Washington has effectively ignored Taipei in favour of Beijing, which considers Taiwan a breakaway province to be brought back within its fold.
Since then, China has stepped up military drills near Taiwan, with speculation its sole aircraft carrier may pass through the Taiwan Strait during or shortly after Tsai's trip. The drills are seen as a show of strength by Beijing as its ties with the self-ruled island and the US deteriorate.
"What China cares most about is whether Tsai and Trump will meet," political analyst Liao Da-chi said. "These are all warning signals to see how Taiwan will respond, as well as testing waters with the US," added Liao, a professor at the National Sun Yat-sen University.
Beijing has asked Washington to bar Tsai from flying through US airspace. "A transit is a transit," the Taiwanese leader told reporters last week, when asked whether she would be meeting anyone from Trump's administration.
Trump himself appeared to have ruled out meeting Tsai this trip, saying it is "a little bit inappropriate" to meet anybody until he takes office on 20 January.
Taiwan's presidential office and the foreign ministry declined to provide details of Tsai's itinerary during her US stays. Deputy foreign minister Javier Hou told a legislative committee last month the ministry was seeking to arrange meetings with members of the US Congress from both parties as per past protocols, according to the Central News Agency.

Opinion
Margo Jefferson is a Pulitzer prize-winning cultural critic and the author of Negroland.
The rules imposed on her were constricting. So she expanded them and, in the process, won people over without betraying herself
Michelle Obama brought style and a charming informality to the role of first lady, but she will be best remembered as an inspirational role model for girls, African American children and the young and disadvantaged everywhere
W

hen Michelle Obama entered the White House, she had to contend with two onerous legacies. The first was a stale clutter of expectations and prohibitions about the proper role of the first lady. The second was a cluster of stereotypes deeming black women unfit for any such role.
A first lady was expected to display gracious manners, wear tasteful clothes and support worthy, uncontroversial causes. Whatever was hers alone – education, expertise, passion – had to be adapted to the needs of her husband's presidency. She was there to please and enhance. A black woman, by contrast, was the opposite of that. Or that is, at least, what we'd always been told.
People were busily projecting negative stereotypes onto Michelle Obama from the moment her husband began campaigning. She was pushy and sullen. She didn't smile enough. She undercut her husband's extraordinary tact and diplomacy by airing her reservations about his running for office. And how dare she say out loud that she'd spent most of her adult life not being proud of her country?
When Barack Obama won, her mandate as first lady was to win people over without betraying herself. And I wasn't alone in worrying that she was too cautious and conciliatory at first. She called herself "mom-in chief", applied herself to children's health and the needs of military families. Appropriate womanly interests.
I know you have to reassure much of the white public, I thought, but don't pander; don't tamp yourself down. And in fact, she didn't. She took more, not fewer risks. In hindsight that "mom-in-chief" looks clever, even cheeky. She got rid of "lady", which is too genteel. She turned "mother" – so formal and pious – into the more informal "mom". Then claimed authority by seizing hold of "chief".
She reminded people of all the women – moms and otherwise – who work hard and efficiently every day wherever their work takes them. She was taking both legacies and divesting them of their constriction so as to compose and improvise a new model.
Now she's thrown herself into the Let Girls Learn initiative. That "let" is a demand, not a plea. Let young girls learn in school. Let them learn to in villages and cities, on streets and in refugee camps. Let them learn to fight back and believe they'll win when they're attacked, objectified and manipulated.
Michelle Robinson was born in 1964 to sturdy, forward-looking people whose southern parents had made their way to Chicago during the great migration. The Civil Rights Act was signed into law the year of her birth. Title IX (The Equal Opportunity in Education Act) was passed in 1972. Abortion was legalized in 1973. Girls of her generation grew up seeing laws correct centuries of employment discrimination against women and minorities. All of this helped give her what feels like a real sense of wholeness.
What do I mean by this sense of wholeness? I mean that whatever she does – from joking with Ellen DeGeneres, singing with Mary J Blige, calling out Donald Trump – she does with her whole self. There's no hidden agenda, no psychological subtext at odds with her words and gestures. No sense that she's compensating for what she fears from the public or from within herself.
She likes her body; she knows it's a good body, but nothing suggests that she's unduly anxious about how we judge it. She's antic, with spot-on comic timing. Her voice has a smooth timbre and she speaks directly: no grandiloquent rhetoric.
She says "yeah" in one-on-one conversation and sets up a point she feels strongly about with "see". She doesn't overdo the dropped G's. She code-switches all the time; thoughtful spokeswoman, glamorous hostess, cool and funny black girl. But the effect is to expand our range of discourse, not to please separate constituencies.
Most of all, she says – declares, confesses – in public what most of us say only to people we trust in safe settings. I was overwhelmed by her October denunciation of Trump's sexual assaults on women. Her voice trembled at points, from conviction, not weakness. "I can't stop thinking about this," she said. "It has shaken me to my core in a way that I couldn't have predicted …
For a change from the same old news stories from the same old news networks, here are links to English-edition online newspapers from other parts of the world. Nearly all of these are English-edition daily newspapers. These sites have interesting editorials and essays, and many have links to other good news sources. We try to limit this list to those sites which are regularly updated, reliable, with a high percentage of "up" time.
Some of the available newspapers:
| | | |
| --- | --- | --- |
| Asia & CIS | | |
| | | |
| --- | --- | --- |
| China | | |
| | | |
| --- | --- | --- |
| China & Hong Kong | | |
| | | |
| --- | --- | --- |
| France | | |
| | | |
| --- | --- | --- |
| Israel | | |
| | | |
| --- | --- | --- |
| Norway | | |
| | | |
| --- | --- | --- |
| Palestine | | |
| | | |
| --- | --- | --- |
| Russia | | |
| | | |
| --- | --- | --- |
| Ukraine | | |
.