08 Jan

Ethics office expresses concern to Senate leaders about nominees, which include billionaires, who've not completed review for conflicts of interest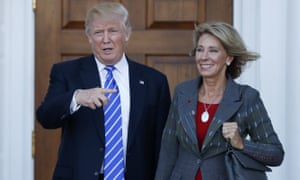 One of the committees that has not yet received the forms is the Senate health, education, labor and pensions committee, which has scheduled a hearing next week for Betsy DeVos, Trump's pick to lead the education department. Photograph: Carolyn Kaster/AP
Several of Donald Trump's cabinet nominees have not completed a full review to avoid conflicts of interest, the government's ethics office has said, even as Republican senators move quickly to hold at least nine confirmation hearings next week.
In a letter to Senate leaders, the director of the Office of Government Ethics (OGE) described the current status of several nominees, some of whom are billionaires and millionaires, in the ethics process and expressed concern about the lack of ethics reviews just days from committee hearings.
The Associated Press obtained a copy of Walter Shaub's letter.
"During this presidential transition, not all of the nominees presently scheduled for hearings have completed the ethics review process," he wrote, to Senate minority leader Chuck Schumer and Senator Elizabeth Warren, both Democrats.
"In fact, OGE has not received even initial draft financial disclosure reports for some of the nominees scheduled for hearings."
A copy of the letter also was provided to Senate majority leader Mitch McConnell.
Republicans are intent on getting as many of the president-elect's choices through the arduous confirmation process as quickly as possible so his team will be in place soon after Trump takes the oath of office on 20 January. Democrats have complained that the GOP is moving too fast and that they lack information about some of the wealthiest Americans ever to serve a president.
Schumer said in a statement on Saturday that the letter "makes crystal clear that the transition team's collusion with Senate Republicans to jam through these cabinet nominees before they've been thoroughly vetted is unprecedented".
The forms in question are financial disclosures certified by the ethics office and also written ethics agreements between the nominee and the office that identify potential conflicts of interest and the ways in which the nominee will resolve those conflicts. They are required by the Ethics in Government Act of 1978, passed after the Watergate scandal.
One of the committees that has not yet received the forms is the Senate health, education, labor and pensions committee, which has scheduled a hearing next week for Betsy DeVos, Trump's pick to lead the education department.
Committee aides said the panel held hearings for former education secretary Roderick Paige and former labor secretary Elaine Chao before they received the same forms in 2001, and that they received the documents days after each of those hearings. Both were confirmed to serve in President
Shai Masot is recorded discussing how to discredit MPs in comments described by Israeli embassy as 'unacceptable'
Israeli embassy official Shai Masot is recorded discussing how to discredit MPs, in comments described by the Israeli embassy as 'completely unacceptable'. Masot was filmed by an al-Jazeera undercover reporter at a London restaurant in October
An Israeli embassy official has been caught on camera in an undercover sting plotting to "take down" MPs regarded as hostile, including foreign office minister Sir Alan Duncan, an outspoken supporter of a Palestinian state.
In an extraordinary breach of diplomatic protocol, Shai Masot, who describes himself as an officer in the Israel Defence Forces and is serving as a senior political officer at the London embassy, was recorded by an ­undercover reporter from al-Jazeera's investigative unit speaking about a number of British MPs.
The Israeli ambassador, Mark Regev, apologised to Duncan on Friday. An Israeli spokesman said Regev made clear that "the embassy considered the remarks completely ­unacceptable".
The Israeli embassy said Masot "will be ending his term of employment with the embassy shortly". Masot declined to comment or to elaborate on what he meant when he said he wanted to "take down" a number of MPs.
Masot had been speaking to Maria Strizzolo, a civil servant who was formerly an aide to another Conservative minister. Also present was a man they knew as Robin, whom they believed to be working for Labour Friends of Israel, a pressure group. In fact, Robin was an undercover reporter.
Strizzolo, discussing with Masot how to discredit MPs, said: "Well, you know, if you look hard enough, I'm sure that there is something that they're trying to hide." Later she added: "A little scandal, maybe."
During the conversation, in October, Strizzolo boasted that she had helped to secure a promotion for her boss, the Conservative MP Robert Halfon. She had been his chief of staff when he was deputy chair of the Conservative party. Last year Halfon was appointed as an education minister and Strizzolo was appointed as a senior manager at the Skills Funding Agency. She continues to work part-time for Halfon.
In the footage, Masot agreed that Strizzolo had assisted Halfon and then asked whether she could also achieve the opposite effect. "Can I give you some MPs that I would suggest you would take down?" he asked. He went on to say that she knew which MPs he was referring to.
She asked him to remind her. "The deputy foreign minister," he said. Strizzolo said: "You still want to go for it?" Masot's reply is ambiguous but he said Duncan was still causing problems. Strizzolo asked: "I thought we had, you know, neutralised him just a little bit, no?" Masot answered: "No."

Critics believe president's intolerant approach to civil society may have fostered conditions in which atrocity was possible
Turkey's strongman president, Recep Tayyip Erdogan, rarely goes on the defensive. Yet in his first public appearance since the New Year's Eve massacre in an Istanbul nightclub, he felt obliged to publicly reject the notion that his government's intolerant approach to civil society could possibly have encouraged the attack claimed by Islamic State that left 39 people dead.
Erdogan was speaking before a regular gathering of elected community leaders, an opportunity he usually uses to glad-hand political support.
However, the shock of the attack has further rent an already divided country. While no one believes that the government is directly responsible, it is accused of creating an atmosphere in which a religious fanatic could get away with murder.
"Nobody should be forced to share the same kind of lifestyle," said Erdogan, adding that if anyone had come under pressure to conform to an alien way of life it had been "this brother" – meaning himself.
Erdogan's rise from street urchin to inhabiting a palace that architects estimate to have cost more than £1bn has indeed been hardscrabble. In 1998 he was removed from office as mayor of Istanbul and briefly imprisoned for reciting a well-known nationalist poem which the prosecutor deemed "an incitement to violence and religious hatred".
However, greater obstacles might lie ahead. The difficulties that are already facing Erdogan's Turkey hardly need rehearsing. A civil war across the Syrian border has led to an influx of what may be as many as three million refugees. A once booming economy is now ailing. In 2015 – in order to woo the nationalist vote – the government shredded its attempt to secure an agreement with dissident Kurds. On top of this, there is the debilitating drip, drip of terrorist incidents.
On Thursday, a courthouse in the Aegean city of Izmir came under attack, leaving two people dead along with two assailants who were believed to be Kurdish militants. A rocket assault on a police station in the Kurdish south-east of the country, also on New Year's Eve, was sufficiently commonplace to go unreported.
The killing spree in the Reina nightclub, by contrast, is not something that Turkish society is likely to forget. Whether by chance or by design, the gunman, who is still at large, managed to aggravate the "us and them" faultline in Turkish society. Despite the president's assurances, many Turks feel that their lifestyle is under siege.
"Are they going to carry on until we are all in little pieces?" asked the owner of one fashionable restaurant who, like many people in the public eye, now prefers to remain anonymous.

Garment workers in Bangladesh endure harsh conditions and the world's lowest minimum wage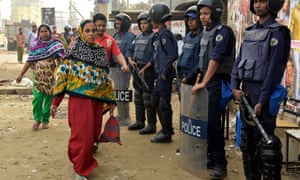 Police stand guard in front of a garments factory in Ashulia, as workers return after five days of unrest last month. Photograph: Sk Hasan Ali/Corbis via Getty Images
Michael Safi, south Asia correspondent, with Mushfique Wadud and Syed Tashfin Chowdhury in Dhaka
F

ewer workers than usual have been gathering for cups of chai near the guarded, grey towers of Ashulia, a hub for garment factories on the outskirts of Dhaka. "Everyone seems scared of being harassed by the police," says one tea seller, frowning from his stall.
Ashulia's garment factories, which produce clothing for ranges on sale across the developed world, are alive with activity but the tension brimming in the air – and the lines of armed guards posted outside some gates – echo the anger that has swept the area.
Last month, tens of thousands of workers clocked in then immediately returned to the streets, joining the largest protests since those that followed the collapse in 2013 of the Rana Plaza clothing factory, causing more than 1,100 deaths.
The unrest over rates of pay forced around 50 factories to shut for more than a week and led to dozens of arrests and the "temporary dismissal" of at least 1,500 workers. Last week, those workers still willing to huddle in Ashulia's streets during their lunch breaks were swapping stories about the people dismissed.
"No factories will give them work now," one man in his late 20s says, asking that his name be withheld. "They are in big trouble. One of my friends told me he doesn't even stay at his own house, afraid the police will harass him."
Another worries that he will not be paid for the weeks in December when the factories were shuttered. "We get a very small amount of money," he says. "If we do not get salary for two weeks, this will be a huge problem."
"The officials of our factories get pay rises every year," one of the men speaks up. "But they have all the problems when workers ask for a pay rise."
The pay rise they wanted was a tripling of the minimum salary of 5,300 taka (£54) a month, currently the lowest minimum wage in the world, to 16,000 taka – still well short of what thinktanks such as the JustJobs Network, which has offices in Washington and New Delhi, consider a living wage.
Industrial unrest close to Christmas was particularly provocative, raising fears among factory owners that lucrative contracts with western brands such Gap, Zara and H&M could go unfilled. Police used rubber bullets to disperse the crowds of protestors and arrested at least 30 people, charging many under controversial wartime laws designed to quash threats to state security, union leaders claim.
Ashulia's factories finally roared back to life on Boxing Day, but workers returned to find lists of names posted at the gates. "Around 59 garment factories had temporarily dismissed their workers and asked them for explanations why their contracts should not be terminated," says Babul Akhter, head of the Bangladesh Garments and Industrial Workers' Federation.

The Counted project points to continuing racial disparities, with black males aged 15-34 nine times more likely than other Americans to be killed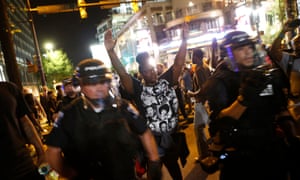 Demonstrators protest police violence in September 2016 in Charlotte, North Carolina. Young black men were nine times more likely than other Americans to be killed by police last year. Photograph: Brian Blanco/Getty Images
Y

oung black men were again killed by police at a sharply higher rate than other Americans in 2016, intensifying concerns over the expected abandonment of criminal justice reform by Donald Trump's incoming administration.
Black males aged 15-34 were nine times more likely than other Americans to be killed by law enforcement officers last year, according to data collected for The Counted, an effort by the Guardian to record every such death. They were also killed at four times the rate of young white men.
Racial disparities persisted in 2016 even as the total number of deaths caused by police fell slightly. In all, 1,091 deaths were recorded for 2016, compared with 1,146 logged in 2015. Several 2015 deaths only came to light last year, suggesting the 2016 number may yet rise.
The total is again more than twice the FBI's annual number of "justifiable homicides" by police, counted in recent years under a voluntary system allowing police to opt out of submitting details of fatal incidents. Plans to improve the government records have been thrown into doubt by the election of Trump, who campaigned as a "law and order" conservative.
"This data is so important," said Chuck Wexler, the executive director of the Police Executive Research Forum. "We have to capture the whole range of use of force by police, and we have to have a way to identify how we are doing."
Citing the Guardian findings, the American Civil Liberties Union (ACLU) expressed renewed concern over Trump's nomination of Jeff Sessions for US attorney general. Sessions, a rightwing Republican senator for Alabama, has been hostile to critics of police, such as the Black Lives Matter movement.
The ACLU urged members of the Senate judiciary committee to press Sessions at his confirmation hearings in Washington next week on whether he thinks too many Americans are being killed by police, and whether police departments across the country are prioritizing the use of force over de-escalation.
"Committee members should also question Sessions on what role, if any, the Justice Department would play in trying to help police departments nationwide reduce the number of people they kill," the campaign group said in a report published this week.
The 2016 data showed a decline in the number of unarmed people killed by police, a central concern of protests across the country after the fatal shooting of an unarmed black 18-year-old in Ferguson, Missouri, in August 2014. A total of 169 unarmed people were killed in 2016, compared with 234 in 2015.
There was a marked increase in the number of Native Americans killed by police, although the available sample size was relatively small. A total of 24 Native Americans were killed by police in states across the US, compared with 13 killed in 2015. Eleven of the Native Americans killed in 2016 were young males, meaning that this group was almost six times more likely than Americans at large to be killed by law enforcement.
There was little movement, however, in other demographic data. In 2016, 53% of people killed by police were white, compared with 51% in 2015. Hispanic or Latino people comprised 17% of the total in both years. There was a small decline in the proportion of African Americans among the total, from 27% to 24%.
Geography also continued to correlate with deaths. Alaska, Washington DC, New Mexico and Oklahoma were all among the five states (plus the District of Columbia) with the highest rates of deaths relative to their populations in both 2015 and 2016.
For a change from the same old news stories from the same old news networks, here are links to English-edition online newspapers from other parts of the world. Nearly all of these are English-edition daily newspapers. These sites have interesting editorials and essays, and many have links to other good news sources. We try to limit this list to those sites which are regularly updated, reliable, with a high percentage of "up" time.
Some of the available newspapers:
| | | |
| --- | --- | --- |
| Asia & CIS | | |
| | | |
| --- | --- | --- |
| China | | |
| | | |
| --- | --- | --- |
| China & Hong Kong | | |
| | | |
| --- | --- | --- |
| France | | |
| | | |
| --- | --- | --- |
| Israel | | |
| | | |
| --- | --- | --- |
| Norway | | |
| | | |
| --- | --- | --- |
| Palestine | | |
| | | |
| --- | --- | --- |
| Russia | | |
| | | |
| --- | --- | --- |
| Ukraine | | |
.