09 Jan

During acceptance speech for Cecil B DeMille award, actor says president-elect's mocking of disabled reporter 'stunned me'
Guardian staff
Without mentioning his name, Meryl Streep strongly criticizes Donald Trump in an emotional speech at the Golden Globes. Accepting the Cecil B DeMille award, the actor says she was 'stunned' by the president-elect's mocking of a disabled reporter. 'It sank its hooks in my heart', Streep says
Meryl Streep delivered an emotional and searing speech at the Golden Globes, in which she criticized Donald Trump for imitating a disabled reporter while campaigning to be president, saying it "gives permission" to others to do the same.
The actor was accepting the Cecil B DeMille award on the night, and she used her speech to speak about what she said was the "one performance this year that stunned [her]", referring to when Trump mocked the New York Times reporter Serge Kovaleski.
"There was one performance this year that stunned me. It sank its hooks in my heart," Streep said. "Not because it was good, there was nothing good about it, but it was effective and it did its job.
"It was that moment when the person asking to sit in the most respected seat in our country imitated a disabled reporter. Someone he outranked in privilege, power and the capacity to fight back. It kind of broke my heart when I saw it and I still can't get it out of my head because it wasn't in a movie, it was real life."
In front of a visibly stunned room of stars who are renowned for being boisterous at the Golden Globes, she went on to add that Trump's actions had legitimized bullying and that it could trickle down into people's everyday lives.
"This instinct to humiliate, when it's modeled by someone in the public platform," she said. "By someone powerful, it filters down into everyone's life because it kind of gives permission for other people to do the same thing.
"Disrespect invites disrespect, violence invites violence. When the powerful use their position to bully others we all lose."
She also called on the press to hold power to account, and said that the freedom of the press needed to be protected now more than ever.
Deriding Streep as "a Hillary lover", Trump responded to the actor's speech by saying that although he hadn't seen her remarks he was "not surprised" that he had come under attack from "liberal movie people."
He told the New York Times that he denied mocking Kovaleski. "I was never mocking anyone. I was calling into question a reporter who had gotten nervous because he had changed his story", he said. "People keep saying I intended to mock the reporter's disability, as if Meryl Streep and others could read my mind, and I did no such thing."
Streep wasn't the only star to address Trump. Viola Davis, who won best support actress for her performance in Fences, spoke about the president-elect backstage and said his win is a reflection of America.
"I think that America in and of itself has been an affirmation, but I think that we've fallen short a lot because there is no way that we can have anyone in office that is not an extension of our own belief system," she said.
"So the what does that say about us? And I think that if you answer that question I think that says it all."
Reports that key member of coalition is sounding out potential replacement after Israeli PM questioned twice by detectives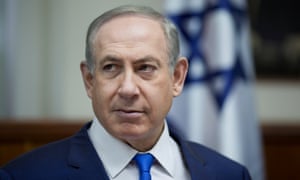 Benjamin Netanyahu: 'Nothing will be found because there is nothing.' Photograph: POOL/Reuters
The Israeli prime minister, Benjamin Netanyahu, has been forced to defend himself as a cascade of alleged leaks from two police investigations that saw him formally interviewed by detectives on two separate occasions in the last week hit Israeli media.
Netanyahu strongly denies any wrongdoing in relation to the two cases – including receiving tens of thousands of dollars' worth of gifts from a billionaire Hollywood producer. However, the claims have led his supporters to rally round to insist that even if he were charged he could continue in office.
Speaking at a Likud meeting on Sunday morning, he told members of his party: "To my dismay I cannot provide details. What I can tell you today, now that I know what this is about, and I will tell you this with full confidence: nothing will be found because there is nothing."
Netanyahu has been questioned under caution in relation to two separate investigations – the so-called Case 1000 and Case 2000. He was questioned by detectives for five hours at his official residence on Thursday, following questioning on Monday.
The first investigation – Case 1000 – concerns regular gifts of expensive cigars to Netanyahu and pink champagne for his wife Sara given over the years by Arnon Milchan, the wealthy producer behind the films Fight Club and Pretty Woman who also owns shares in the Israeli television company Channel 10.
Neither Netanyahu nor Milchan denies the gifts, with the Israeli prime minister's lawyer, Yaakov Weinroth, insisting last week that "any reasonable person knows that there is nothing remotely criminal involved when a close friend gives his friend a gift of cigars".
Pressure has mounted on Netanyahu over the weekend with a series of new leaks from both cases, including the claim that he had intervened on Milchan's behalf with the US secretary of state, John Kerry, to help Milchan acquire a 10-year visa.
His problems were compounded on Sunday by new revelations in the Israeli media regarding the second case, including reports it was prompted by the discovery by police of a tape recording of Netanyahu discussing favours in return for political support. The Guardian has not independently verified the existence of the tape.

The Two Rivers camp, protesting the Trans-Pecos pipeline, is the latest sign that the Standing Rock movement is inspiring indigenous-led activism across the US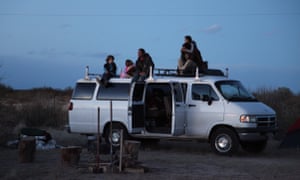 Two Rivers camp in Texas. Photograph: Courtesy of the Society of Native Nations
Indigenous activists have set up camps in the Texas desert to fight a pipeline project there, the latest sign that the Standing Rock "water protector" movement is inspiring Native American-led environmental protests across the US.
The Two Rivers camp, located south of Marfa near the border, has attracted dozens of demonstrators in its first week to protest the Trans-Pecos pipeline, a 148-mile project on track to transport fracked natural gas through the Big Bend region to Mexico.
Citing concerns about damage to the environment and sacred indigenous sites, the camp parallels the high-profile effort to block the Dakota Access pipeline (DAPL) and is one of multiple Native American land campaigns building on the momentum of the demonstrations in North Dakota.
"We're going to follow the same model as Standing Rock," said Frankie Orona, executive director of the Society of Native Nations and an organizer at the Two Rivers camp. "This is a huge historical moment for environmental issues, for protecting our water, protecting our land, protecting sacred sites and protecting treaties."
Two Rivers emerged weeks after the Obama administration denied a key permit for the Dakota Access pipeline, a major victory for the Standing Rock tribe and thousands of indigenous and environmental activists who spent months camped in Cannon Ball in hopes of thwarting the $3.7bn oil project.
Though the fight against DAPL is not over – given that Donald Trump is an investor in the company and supporter of the project – the temporary win has energized ongoing indigenous environmental battles and inspired new ones.
The campaign against the Trans-Pecos project, which is also owned by Texas-based Energy Transfer Partners, has the closest connections to Standing Rock, with activists adopting similar tactics, including setting up spiritual camps in the region of construction and planning nonviolent "direct actions".
"Our hope is that we can create a public pressure crisis," said Lori Glover, a Big Bend Defense Coalition spokeswoman who owns the land in Texas where the camps are expanding. "I hope this helps us stop the pipeline long enough to get the government and Energy Transfer Partners' attention and push them to do the right thing."
Vicki Granado, ETP spokeswoman, said the Trans-Pecos pipeline is nearly 90% complete and defended the project in an en email, claiming that "underground pipelines provide the most environmentally safe and the most efficient means to transport natural gas, crude oil or other carbon-based energy products that are critical to Americans' daily lives, and to our economy".
Standing Rock garnered support from hundreds of indigenous tribes in a collaboration that some said was unprecedented, and Yolanda Blue Horse, a Native American activist in Texas, said she hoped Trans-Pecos would attract a similarly diverse and unified group.
Reports of intense police brutality and mistreatment in North Dakota have also inspired people to fight back, said Blue Horse, a member of the Rosebud Sioux tribe.
"What happened up there could very well happen to any of our communities if big money gets involved. That's a scary thing."
Some DAPL demonstrators are now on their way to Texas, according to Orona.

Force will patrol streets looking for rules violations including open-air barbecues, rubbish burning and dusty roads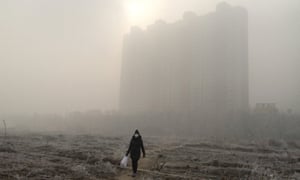 China declared a 'war on pollution' in 2014, but has struggled to deliver the sweeping change many had hoped to see Photograph: VCG/VCG via Getty Images
Beijing will create an environmental police force aimed at tackling deadly smog, after the Chinese capital spent the first week of 2017 mostly shrouded in a thick haze of pollution.
The new law enforcement outfit will patrol the streets, eyes peeled for open-air barbecues, trash burning and dusty roads that violate regulations, the city's acting mayor Cai Qi said at the weekend.
Beijing will also shut its last coal-fired power plant and reduce coal consumption by 30% this year, Cai said according to state media. Officials will shut 500 factories and 300,000 older vehicles will be taken off the road.
"There is still a long way to go to meet the expectation of the public," he added, admitting he wakes up every morning and checks the air quality, along with the weather report.
The capital is frequently beset with toxic smog and levels of harmful air pollution in 2015 were more than eight times those recommended by the World Health Organization.
China declared a "war on pollution" in 2014, but has struggled to deliver the sweeping change many had hoped to see and government inspections routinely find pollutions flouting the law.
Last week, inspection teams from the environment ministry found some companies resuming operations despite a government ban, known as a "red alert", aimed at curbing smog. More than 500 construction sites and businesses and 10,000 vehicles violated measures to reduce air pollution.
But Beijing's new police squad may do little to help residents breathe easy.
Its focus on local, street-level sources of pollution ignores the steel factories and coal-fired power plants just outside the city limits in neighbouring Hebei province, or the more than 5m cars clogging the roads. Cars account for about 31% of the most harmful type of air pollution, according to China's environmental ministry.
While officials are aware heavy industry and automobiles are the largest sources of pollution, the government has been reluctant to impose sweeping change for fear of economic repercussions and potential unrest from fired workers.
"The root cause of the region's smog problems, from a long-term perspective, is an unclean industrial and energy mix, which requires big changes," said Chen Jining, China's environmental minister, adding that he "felt guilty" about the toxic haze.
For a change from the same old news stories from the same old news networks, here are links to English-edition online newspapers from other parts of the world. Nearly all of these are English-edition daily newspapers. These sites have interesting editorials and essays, and many have links to other good news sources. We try to limit this list to those sites which are regularly updated, reliable, with a high percentage of "up" time.
Some of the available newspapers:
| | | |
| --- | --- | --- |
| Asia & CIS | | |
| | | |
| --- | --- | --- |
| China | | |
| | | |
| --- | --- | --- |
| China & Hong Kong | | |
| | | |
| --- | --- | --- |
| France | | |
| | | |
| --- | --- | --- |
| Israel | | |
| | | |
| --- | --- | --- |
| Norway | | |
| | | |
| --- | --- | --- |
| Palestine | | |
| | | |
| --- | --- | --- |
| Russia | | |
| | | |
| --- | --- | --- |
| Ukraine | | |
.