10 Jan

Donald Trump and his nominee for US ambassador to Israel support the move from Tel Aviv – which is not only illegal but would damage any prospect of peace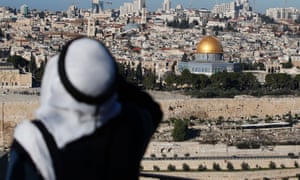 'The world does not recognise Israeli sovereignty over either west or East Jerusalem.' The Dome of the Rock, Jerusalem, December 2016. Photograph: Ahmad Gharabli/AFP/Getty Images
 

T

hree Republican senators have introduced a bill to recognise Jerusalem as Israel's capital and move the US embassy there, challenging US president-elect Donald Trump to fulfil his pledge to do so as soon as he gets into office.
However, while other presidential candidates, including Bill Clinton and George W Bush, also promised to move the US embassy to Jerusalem, they backed away once in office and deferred implementation of the 1995 congressional Jerusalem Embassy Act, which recognises Jerusalem as Israel's "undivided" capital and calls for relocating the US embassy there.
In fact, the world does not recognise Israeli sovereignty over either west or East Jerusalem. This is why not a single country has an embassy in there. If it did, it would be violating international law as well as United Nations security council resolution 478. The resolution confirmed that Israel's 1980 "basic law" which declared East and west Jerusalem "complete and united" as the capital of Israel, is "a violation of international law".
My father's family was forcibly expelled in 1948 from three houses they built and owned in the al-Baqa'a neighbourhood in the western part of Jerusalem – just a few minutes away from the Talbiyeh neighbourhood. This is where David Friedman, Trump's nominee for US ambassador to Israel, has acquired a house. As a result of my family's expulsion, I was raised in East Jerusalem. In the West Bank, including East Jerusalem and Gaza, Palestinians have been living under Israeli occupation for almost 50 years. This means that more than two generations of us were born under occupation, of whom more than 75% are my age or younger.
By moving the US embassy to Jerusalem, the Trump administration would not only be violating international law, it would also be denying the Palestinian right to self-determination and freedom. Since 1967, Israel has been transforming Jerusalem from a multi-religious and multicultural city into a "reunified" Jewish city under its exclusive control. It has accelerated Jerusalem's "Judaisation" through policies that specifically aim to minimise the number of Palestinians. Such policies have included the revocation of the residency of Palestinian Jerusalemites under the pretext of "breach of allegiance", restrictions on family unification, discriminatory urban and zoning policies, the construction of the wall that slices through Jerusalem and the West Bank, starting in 2002, and the closure of major Palestinian institutions in East Jerusalem.
The embassy move would also embolden Israel to further expand its illegal settlements throughout Palestine
These policies have been accompanied, as I set out in a recent policy brief, by a deliberately engineered economic collapse of East Jerusalem, as seen in the deterioration of the tourism sector and the commercial markets of the Old City.

Activists believe rightwing PM buoyed by election of Trump will target NGOs funded by foreign backers such as George Soros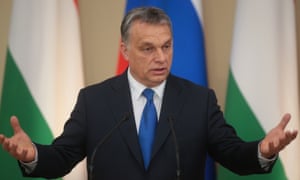 The moves would be seen as the latest step by Hungary's prime minister, Viktor Orbán, to transform the country into a self-styled 'illiberal state'. Photograph: Mikhail Metzel/TASS
Foreign-backed civil society groups in Hungary, including those funded by the billionaire liberal philanthropist George Soros, fear they could become the target of a new crackdown from a populist rightwing government emboldened by the election of Donald Trump.
The Hungarian government is planning to force non-government organisation (NGO) leaders to declare their personal assets in the same way as MPs and public officials in what has been described as an "intimidation" of civil society. The proposal is scheduled to go before parliament in April, according to the newly published 2017 legislative agenda.
The move is seen as the latest step in a campaign by Viktor Orbán, the prime minister, to transform Hungary into a self-styled "illiberal state", which has prompted a chorus of international criticism that democracy is being eroded in a country which joined the European Union in 2004.
Orbán has already faced widespread condemnation over moves allegedly designed to muzzle press freedom and curtail judiciary independence since his Fidesz party took power in 2010.
Some civil activists fear that while the prime minister has previously criticised civil groups as "paid political activists … attempting to promote foreign interests", Trump's forthcoming inauguration as US president could create an opportunity for a more focused onslaught.
"As a consequence of the election of Donald Trump, Orbán definitely feels that one of the only two international players – the US and EU – who care about NGOs' situation in Hungary is now on his side because Trump is a fierce opponent of George Soros," said Peter Kreko, senior associate in the Budapest-based Political Capital Institute thinktank, one of about 60 Hungarian groups to receive grants from Soros's Open Society Foundations.
"Orbán expects that if he attacks Soros-funded NGOs this year, the US state department and US embassy in Budapest won't defend them in the same way as before."

Islamic revolutionary who led war with Iraq but pushed for reconciliation with the west is buried in Tehran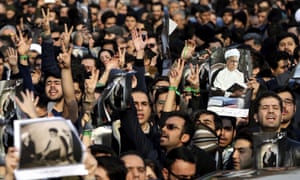 Iranians, many wearing green wristbands – the emblem of the pro-reform Green movement – chant slogans in Tehran. Photograph: Ebrahim Noroozi/AP
The funeral of Iran's former president Ali Akbar Hashemi Rafsanjani has turned into a rare display of public dissent as at least 2 million people packed the streets of Tehran to pay tribute to a man whose death has shaken the country's political balance.
In what was thought to be the biggest crowd honouring a politician since the death in 1989 of Ayatollah Khomeini, the founder of the 1979 Islamic revolution, Iranians from across the political spectrum attended the funeral.
All attempted to claim Rafsanjani, who died on Sunday aged 82, as their own as he was buried alongside Khomeini in a sumptuous shrine in south Tehran.
The supreme leader, Ayatollah Ali Khamenei, led the funeral prayers at Tehran University campus as critics and supporters stood behind him, bidding farewell to a man who was considered a pillar of the Islamic republic, a crucial mediator and, more recently, an advocate of political openness and better relations with the west.
But in the streets outside, mourners sympathetic to the opposition and supporters of Iran's pro-reform Green movement, which was suppressed in bloody unrest in 2009, voiced dissent, chanting in support of Mir Hossein Mousavi and Mehdi Karroubi, opposition leaders under house arrest.
A video taken from the funeral that was posted on social networks showed a group of mourners saying "death to Russia", in unusually strident criticism of the state's staunch ally. "The Russian embassy is a den of spies," shouted another group, a chant reminiscent of post-revolutionary tirades previously reserved for the US.
Large numbers of Iranians are critical of their country's role in the Syrian war, in which it is closely aligned with Moscow, but do not often have a chance to express their views.
Many mourners wore green wristbands, the emblem of the Green movement, and could face reprisals as a result.
Rafsanjani, who died due to heart complications, was Iran's greatest political survivor and a leading force in its politics.

A four-mile stretch on Natural Bridge Avenue in St Louis – not in Chicago or Baltimore – is the place in America most plagued by gun violence
James Clark, vice-president of Community Outreach for the non-profit Better Family Life, stands outside an abandoned home with portraits of African American leaders covering broken windows. Better Family Life works to reduce violence and improve community life in broad sections of north St Louis. Photograph: Sid Hastings for the Guardian
Nikki Shockley knew her son Brandon was in danger if he came back home to north St Louis. No one was after him, he didn't have any enemies, gang ties or bad blood. But young black men in north St Louis don't need any of that to be vulnerable to gun violence. They only need be around.
Despite all the attention paid to Chicago, it was St Louis that owned the nation's higher gun murder rate in 2015, with the most startling concentration of deadly blocks within it.
"I told him he didn't need to come back because every night when I turn on the TV it's another murder. And he wasn't here four months before it happened to him," Shockley said.
Brandon Ellington, a 35-year-old father of six had made a life for himself during years in Indiana working at a South Bend candy factory, but decided to move back St Louis to be closer to his parents, and his oldest children.
"He lived for his kids," Shockley said. "He did everything for them."
In March, after a birthday party for his youngest son, Ellington went out to get painkillers for his eldest daughter, India, so they could go to the mall when he got back.
But he never came back.
"A lot of times I don't even feel safe walking to the bus, just thinking about what could happen. I wish I knew why it was like this."
India Ellington
"I started hyperventilating, I couldn't breathe. I couldn't walk. I couldn't talk," India, 16, said of the moment she found out. "Then I started crying."
Ellington was shot on 22 March on Natural Bridge Avenue in north St Louis, allegedly robbed by a friend for a few thousand dollars and left for dead in his car. The suspected shooter, 22-year-old Adonnis Smith, killed Ellington to steal his tax return, according to family.
"Brandon could be flashy sometimes," his widow Brook Ellington said. Brandon was carrying about $5,000 in cash the day he has murdered, she added.
Smith wasn't from St Louis, but since he showed up, family said Brandon would look after him. "This is someone he fed. Brandon would cut his hair," Shockley said. "And this is what he got for it."
Smith pleaded not guilty and is in jail being held on $500,000 bond awaiting trial. He is in the minority. Most St Louis murders go unsolved.
For India and her five brothers and sisters, now fatherless, it's especially painful to know that what happened to their dad is a recurring fact of life in the city where they live. "A lot of times I don't even feel safe walking to the bus, just thinking about what could happen," India said. "I wish I knew why it was like this."
Brandon Ellington's children, from left, Brandon, four, Nya, 13, Bradon, five, India, 16, Braneé, three, and Nick, rear, 15, gather for a photo. Brandon was killed on 19 March 2016. Photograph: Sid Hastings for the Guardian
Census tracts average about 4,000 residents each, and are useful for comparing like-size population areas. In a Guardian analysis of the more than 73,000 census tracts in the US, only 63, or 0.1%, had more than five fatal gun murder victims in 2015. Of those 63, eight are within St Louis city limits, and five rest along Natural Bridge, where Ellington was shot. That's more than double the number in Chicago (four) and comparable with Baltimore (four) even though the Maryland city is home to twice the population, and about twice as many tracts.
East to west, Natural Bridge Avenue, where Ellington was shot, spans the entire northern reaches of the city. Its name traces to a natural limestone bridge that arched over the long disappeared Rock Branch creek, allowing for 19th-century horse-drawn wagons to pass between St Louis and peripheral towns like Florissant and Normandy.
For a change from the same old news stories from the same old news networks, here are links to English-edition online newspapers from other parts of the world. Nearly all of these are English-edition daily newspapers. These sites have interesting editorials and essays, and many have links to other good news sources. We try to limit this list to those sites which are regularly updated, reliable, with a high percentage of "up" time.
Some of the available newspapers:
| | | |
| --- | --- | --- |
| Asia & CIS | | |
| | | |
| --- | --- | --- |
| China | | |
| | | |
| --- | --- | --- |
| China & Hong Kong | | |
| | | |
| --- | --- | --- |
| France | | |
| | | |
| --- | --- | --- |
| Israel | | |
| | | |
| --- | --- | --- |
| Norway | | |
| | | |
| --- | --- | --- |
| Palestine | | |
| | | |
| --- | --- | --- |
| Russia | | |
| | | |
| --- | --- | --- |
| Ukraine | | |
.