11 Jan

Russian intelligence alleged to have compromising material on Trump
'Unverified and potentially unverifiable' reports published by BuzzFeed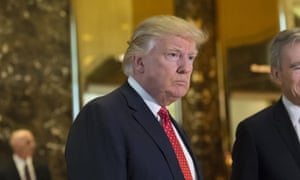 Donald Trump and his inner circle 'have received a regular flow of intelligence from the Kremlin, including on his Democratic and other political rivals', a report dated June 2016 alleges. Photograph: Rex/Shutterstock
Senator John McCain passed documents to the FBI director, James Comey, last month alleging secret contacts between the Trump campaign and Moscow and that Russian intelligence had personally compromising material on the president-elect himself.
The material, which has been seen by the Guardian, is a series of reports on Trump's relationship with Moscow. They were drawn up by a former western counter-intelligence official, now working as a private consultant. BuzzFeed on Tuesday published the documents, which it said were "unverified and potentially unverifiable".
The Guardian has not been able to confirm the veracity of the documents' contents, and the Trump team has consistently denied any hidden contacts with the Russian government.
A spokesman for the Russian president, Vladimir Putin, on Wednesday denied Russia has collected compromising information on Trump and dismissed news reports as a "complete fabrication and utter nonsense." Dmitry Peskov insisted that the Kremlin "does not engage in collecting compromising material."
Trump's transition team did not immediately respond to a request for comment, but late on Tuesday, Trump tweeted: "FAKE NEWS – A TOTAL POLITICAL WITCH HUNT!" He made no direct reference to the allegations.
An official in the US administration who spoke to the Guardian described the source who wrote the intelligence report as consistently reliable, meticulous and well-informed, with a reputation for having extensive Russian contacts.
Some of the reports – which are dated from 20 June to 20 October last year – also proved to be prescient, predicting events that happened after they were sent.

Outgoing president gives proud account of his eight years in office – and pays moving tribute to Michelle, 'wife, mother of my children and best friend'
The US president makes his final speech before leaving office, addressing crowds of supporters in Chicago on Tuesday night. Telling the audience that the idea his election could usher in a 'post-racial America' was 'never realistic', Obama urges the American people to get more involved in democracy before tearfully thanking his family for their support
"Yes we can," he said one last time. "Yes we did." And the crowd roared.
Barack Obama – the son of a Kenyan goat herder and self-described "skinny kid with a funny name" who grew up to become America's first black president – had come to say goodbye.
But while for most of the past eight years it had seemed this night would be one of joy and nostalgia, now it came with a sober note, laden with omens and warnings about a democracy under siege.
Obama had hoped to be talking about passing on the baton to fellow Democrat Hillary Clinton. Instead Donald Trump's stunning victory implied an existential threat and called for him to paint on a bigger canvas. In a "state of our democracy" speech he deftly concentrated his fire not on the president-elect but on the malaise that produce him. In 4,300 words he only mentioned Trump by name once – but delivered much by way of repudiation.
Obama dismissed talk of post-racial America, in vogue after his own ascent in 2008, as unrealistic. He defended the rights of immigrants and Muslim Americans. He lambasted those who refuse to accept the science of climate change. He warned of the threat posed by "the rise of naked partisanship", with people retreating into their own self-confirming bubbles.
There was not, perhaps, the piercing emotion of Obama's greatest speeches. But when he came to thank his wife, Michelle, for standing by him through it all, an elegy that prompted one of the biggest cheers of the night, he wept.
They were back in their home city, Chicago, albeit in the unromantic surroundings of a dark and cavernous convention hall with giant US flag, presidential seal and TV screens. The make-up of the audience – male and female, young and old, diverse in race and religion – was itself a statement about who he was and what he stood for. They cheered and roared and whistled, rising in a wall of human noise, holding his memory tight.
"Every day I learned from you," Obama told the audience. "You made me a better president and you made me a better man."

Michelle and Malia Obama react to the outgoing president's tribute. Photograph: Pablo Martinez Monsivais/AP
It had been 2,989 days since the Obamas were greeted by nearly a quarter of a million supporters gathered in Chicago's Grant Park on election night in 2008. "Maybe you still can't believe we pulled this whole thing off," he said wistfully.
And before he hit his stride there was an eruption from the audience. "Four more years! Four more years! Four more years!" they chanted. The president raised his hand and replied: "I can't do that!" This is not a monarchy, after all.

Palestinian officials call for protests in mosques to object to the proposed move from Tel Aviv to Jerusalem, and say it would violate Oslo peace agreements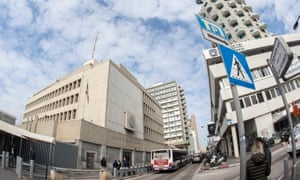 The US embassy building in the Israeli coastal city of Tel Aviv on 28 December 2016. Photograph: Jack Guez/AFP/Getty Images
Senior Palestinian officials have warned that the Palestine Liberation Organisation's recognition of Israel – one of the key pillars of the moribund Oslo peace agreements – is in danger of being revoked if Donald Trump moves the US embassy from Tel Aviv to Jerusalem.
The Palestinian leadership is also calling for protests in mosques and churches on Friday and Sunday to object to the move, calling for opposition to the plan "from Pakistan to Tehran, from Lebanon to Oman".
Moving the US embassy to Jerusalem is highly contentious as it would recognise Israel's exclusive claim to the city, most of which was annexed illegally after the 1967 war. The Palestinians also see it as their future capital.
Senior Palestinian negotiator Mohammed Shtayyeh told reporters on Tuesday that any move to relocate the US embassy would provoke a reaction. "One of the measures we are considering seriously is the issue of mutual recognition between the PLO and Israel. [It] is not valid any more doing this," he said referring to the proposed embassy move.
The warning came amid increasingly stark warnings over the risk of an "explosion of violence" in the region if the US embassy is moved, and after Abbas himself wrote to Trump to reconsider, citing the dangers in the move.
In his letter – disclosed on Monday and also copied to other world leaders – Abbas told Trump moving the embassy "will likely have [a] disastrous impact on the peace process, on the two-state solution and on the stability and security of the entire region, since Israel's decision to annex East Jerusalem contradicts with international law".
The comments came after the officials said they had been told by diplomatic contacts that Trump may be preparing to announce the relocation of the US embassy during his inauguration speech on 20 January. CNN reported on Monday that Trump's transition team had told "allies" that it plans to go ahead with the relocation.
Turning a blind eye to this abuse of power risks encouraging other European nations to follow its example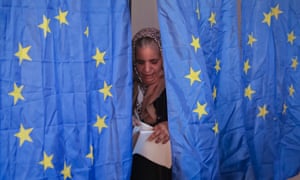 A voting booth for Romania's recent parliamentary elections. Campaigners warn that unchecked corruption is a threat to democracy on the continent Photograph: Vadim Ghirda/AP
David Clark
T

he recent rise of the populist right in Hungary and Poland has raised the alarm about the future of democracy in Europe, as constitutional safeguards, media pluralism and civil society come under sustained attack.
But there is another threat hiding in plain sight: the abuse of anti-corruption laws in Romania, a country often lauded as an example of successful reform in central and eastern Europe.
The country has been praised by EU leaders for its crackdown on graft, and its national anti-corruption body has been held up as a model for others to follow. But scratch beneath the surface and all is not as it appears.
In compiling a recent report for the Henry Jackson Society thinktank we found a body ofevidence to suggest that the Anti-Corruption Directorate (DNA) is abusing its power and reverting to communist-era methods to serve its own interests and pursue political vendettas.
Significantly, the critics include a number of former supporters, including Traian B?sescu, Romania's president from 2004 to 2014, who initiated the country's first major anti-corruption drive but has now accused the agency of violating human rights and acting outside the constitution.
Conviction rates in Romanian corruption cases are astonishingly high at 92%, and a close look at the methods used by the DNA reveals why. Almost all of the most high-profile cases involve one kind of procedural violation or another.
There are examples of guilty verdicts secured with the uncorroborated evidence of witnesses who testify in exchange for immunity. Suspects are sometimes told that if they do not cooperate then family members could also face prosecution.
Pre-trial detention is used as another form of leverage (despite the non-violent nature of the crimes in question) and edited transcripts of telephone intercepts are routinely leaked to the media to discredit defendants in advance of their trials.
Read Full Article>>
For a change from the same old news stories from the same old news networks, here are links to English-edition online newspapers from other parts of the world. Nearly all of these are English-edition daily newspapers. These sites have interesting editorials and essays, and many have links to other good news sources. We try to limit this list to those sites which are regularly updated, reliable, with a high percentage of "up" time.
Some of the available newspapers:
| | | |
| --- | --- | --- |
| Asia & CIS | | |
| | | |
| --- | --- | --- |
| China | | |
| | | |
| --- | --- | --- |
| China & Hong Kong | | |
| | | |
| --- | --- | --- |
| France | | |
| | | |
| --- | --- | --- |
| Israel | | |
| | | |
| --- | --- | --- |
| Norway | | |
| | | |
| --- | --- | --- |
| Palestine | | |
| | | |
| --- | --- | --- |
| Russia | | |
| | | |
| --- | --- | --- |
| Ukraine | | |
.