12 Jan

At president-elect's first press conference since July, originally called to explain how he would avoid conflicts of interest, Trump called Russia dossier 'fake news'
Donald Trump repeatedly targeted the media and the US intelligence community as well as addressing Russia's alleged involvement in election hacking during his first press conference as president-elect. Watch the full highlights of Trump's press conference, his first in six months
Donald Trump unleashed a firestorm of invective against "shameful" news outlets and the "disgraceful" behaviour of the intelligence agencies, in a feisty press conference as he attempted to demolish salacious allegations concerning his dealings in Russia.
How the Trump dossier came to light: secret sources, a retired spy and John McCain
Read more
Coming just nine days before he enters the White House as the 45th president of the United States, Trump staged his first encounter with the world's media since last July, admitting that he had actively avoided subjecting himself to press scrutiny in recent months on the grounds that we had been "getting quite a bit of inaccurate news".
The much-anticipated question-and-answer session had been originally called to demonstrate how he would avoid conflicts of interest between his business empire and his public duties – but the event was heavily overshadowed by overnight news that the FBI had been handed unverified but potentially damaging intelligence, including claims of his alleged sexual impropriety in a Moscow hotel room.
In a bravura, boastful performance, Trump lashed out at specific news organizations, notably CNN and BuzzFeed. CNN reported that Trump and Obama had been briefed about a summary of a memo on Trump's alleged links with Moscow but BuzzFeed went a step further in publishing extensive details of the document that claimed Russian operatives had gathered compromising material against him.
The person who produced the dossier detailing the allegations against Trump was named on Wednesday as 52-year-old former MI6 officer Christopher Steele, who co-founded the London-based firm Orbis Business Intelligence.
Trump called the dossier "fake news" and said political opponents whom he denounced as "sick people" had "put that crap together".
He reserved his choicest attack for the intelligence agencies who he blamed for the leak: "It was disgraceful that the intelligence agencies allowed any information that proved so false and fake to get out. That's something that Nazi Germany would have done, and did do. That information was false and fake," he said.
But James Clapper, US director of national intelligence, said on Wednesday night that he had told Trump that the intelligence community had not been responsible for the leaking of the documents.
He admitted publicly for the first time on the hacking operation which led to demoralising leaks for Hillary Clinton and the Democrats: "I think it was Russia."
But he was quick to defend the mutual admiration he and the Russian president, Vladimir Putin, have exchanged. "If Putin likes Donald Trump, guess what, folks? That's called an asset, not a liability," he snapped.
Read Full Article>>

Amnesty International report says rule of law, freedom of speech and trust in government all deteriorated in 2016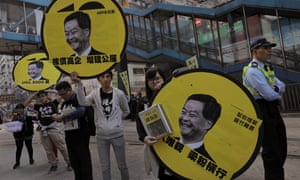 Protesters raise pictures of Hong Kong's chief executive Leung, Chun-ying, during a 1 January protest. Photograph: Vincent Yu/AP
Hong Kong's human rights situation is at its worst since Britain handed the territory to China, Amnesty International said in a new report, after a string of incidents damaged the city's reputation in the past year.
Rule of law, freedom of speech and trust in government all deteriorated in 2016, Amnesty said, in a strong rebuke of the former British colony.
The report highlighted the case of five Hong Kong booksellers who disappeared, only to reappear in the custody of Chinese police. The five men specialised in titles critical of the ruling Communist party and at least one was abducted from Hong Kong.
An increase in attacks on journalists by police was also evidence of the worsening rights situation, the report said.
After the UK handed Hong Kong to China in 1997, the city maintained many freedoms nonexistent in mainland China, under a framework known as "one country, two systems".
Freedom of speech and an independent, common law judiciary have made Hong Kong a base for many critical of the Chinese government.
"The human rights situation is deteriorating to the point where people worry about their personal safety," said Mabel Au, Amnesty's Hong Kong director. "There is a lot of discontent in Hong Kong about many issues, but there is increased suppression against those who express their views."
Hong Kong's government has stopped responding to the group on some of the most critical issues, ignoring requests made on behalf of the abducted booksellers.
"Two years ago we had meetings with the government to discuss our concerns, and now there's nothing," Au said. "They seem to really not care about civil society."
Hong Kong's independent judiciary was also under attack, Amnesty said, after Beijing interfered in a local court case against two pro-independence MPs. The move was seen as highly controversial and sparked about 13,000 to take to the streets in a protest that ended in clashes with police.
In a separate and extremely rare protest, more than 2,000 members of the legal profession marched against Beijing's meddling in the local legal system.
The Amnesty report also highlighted a deep mistrust of government officials, with many Hong Kong people feeling the authorities only cared about political advancement and were not working for local residents.

Two employees say company didn't offer adequate psychological support for a job requiring them to view 'indescribable' sexual assaults and murders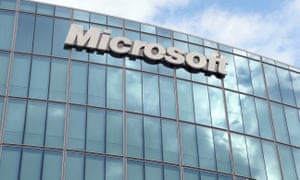 Microsoft headquarters in Washington state, where the lawsuit was filed. Photograph: Eric Piermont/AFP/Getty Images
Microsoft workers on the "online safety team" were forced to view photos and videos of "indescribable sexual assaults", "horrible brutality", murder and child abuse, resulting in severe post-traumatic stress disorder, according to a lawsuit.
The complaint, filed on behalf of two employees and their families, outlined the "inhumane and disgusting content" the moderators viewed on a regular basis and alleged that the psychological impact has been so extreme that the men are "triggered" by simply seeing children and can no longer use computers without breaking down.
The lawsuit, which accused Microsoft of "negligent infliction of emotional distress", provides a window into the often secretive world of online moderation and sheds light on the intense suffering of tech workers responsible for detecting and reporting digital content "designed to entertain the most twisted and sick minded people in the world".
"It's horrendous," said Ben Wells, one of the attorneys who filed the suit in Washington state, where Microsoft is headquartered. "It's bad enough just to see a child get sexually molested. Then there are murders. Unspeakable things are done to these children."
If the suit prevails, it could have ramifications for corporations across the industry, and Wells said he hopes the case inspires others to speak out about poor working conditions.
A Microsoft spokesperson said in a statement that the company "disagrees" with the claims in the suit and "takes seriously its responsibility to remove and report imagery of child sexual exploitation and abuse being shared on its services, as well as the health and resiliency of the employees who do this important work".
Plaintiffs Henry Soto and Greg Blauert both worked on the online safety team, which is responsible for complying with legislation passed in 2008 requiring tech companies to report child abuse images and other crimes.
Microsoft did not warn the workers about the dangers of this line of work and the potential for "debilitating injuries", according to the suit, which was filed in December and was publicly reported this week.
When Soto was "involuntarily transferred" to the unit in 2008, he had "God-like" status, which meant he could view any customer's communications, the suit said. His job involved assisting law enforcement in breaking up "crime rings" and "violent groups" and required him to view "many thousands of photographs and videos" of violence and brutality.

Cash transfer schemes likened by critics to 'exporting the dole' have significant impact and should be broadened, says Independent Commission for Aid Impact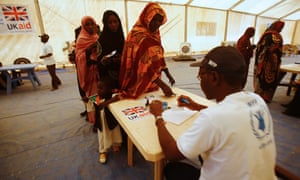 UK aid officials administer a cash assistance project implemented by the World Food Programme at a UN refugee camp in the city of Nyala, in the Sudanese state of South Darfur. Photograph: Ashraf Shazly/AFP/Getty Images
The British government should consider expanding a £200m aid programme that gives cash directly to some of the world's poorest families and individuals, a watchdog has recommended.
The Independent Commission for Aid Impact (Icai), which scrutinises aid money, said the government's cash transfer programmes – likened by one MP to "exporting the dole" – have improved the lives of millions of people and provided "strong value for money".
The prime minister, Theresa May, staunchly defended cash transfers and the foreign aid budgetearlier this month after both came under renewed attack. The benefits of the scheme have been recognised by the public accounts committee and the National Audit Office.
The Department for International Development spends 2% of its aid budget on cash transfers, which provide regular monthly payments of small sums to households and individuals. Recipients include pregnant women in Nigeria, who receive cash to provide better nutrition, parents in Pakistan, where the funds are intended to encourage school attendance among children, and the elderly in Uganda, to mitigate poverty. Payments vary between £6 a month for families in Uganda to £19 for a family of five in Zimbabwe.
The Icai report, published on Thursday, found that between 2011 and 2015 DfID, the largest funder of cash transfers among bilateral donors, reached 6 million people – not the 9 million DfID had originally and erroneously reported – through the scheme. Icai found it had met some but not all targets for improving school attendance and that work on health and nutrition and women's empowerment could be improved. The watchdog also said there was a lack of a strategic approach to providing recipient governments with technical assistance.
But the review found that cash transfers "helped to make vulnerable people more resilient to shocks such as ill-health, or bad weather hitting their farms, by encouraging them to save and giving them access to credit". In Kenya, participating households spent significantly more of their money on health and education and less on cigarettes and alcohol, the report found.
DfID "should consider scaling up its financial contributions in the short to medium-term" where there was evidence of support from national governments, said the watchdog.
Alison Evans, Icai's chief commissioner, who led the review, said: "DfID's use of cash transfers has helped to tackle poverty and vulnerability for some of the poorest people in the world.
"The department has reached millions of people, providing strong value for money, and helping deliver on the commitment to 'leave no one behind'.
A swimming baby elephant, diving penguins and jumping impalas are among this week's pick of images from the natural world
For a change from the same old news stories from the same old news networks, here are links to English-edition online newspapers from other parts of the world. Nearly all of these are English-edition daily newspapers. These sites have interesting editorials and essays, and many have links to other good news sources. We try to limit this list to those sites which are regularly updated, reliable, with a high percentage of "up" time.
Some of the available newspapers:
| | | |
| --- | --- | --- |
| Asia & CIS | | |
| | | |
| --- | --- | --- |
| China | | |
| | | |
| --- | --- | --- |
| China & Hong Kong | | |
| | | |
| --- | --- | --- |
| France | | |
| | | |
| --- | --- | --- |
| Israel | | |
| | | |
| --- | --- | --- |
| Norway | | |
| | | |
| --- | --- | --- |
| Palestine | | |
| | | |
| --- | --- | --- |
| Russia | | |
| | | |
| --- | --- | --- |
| Ukraine | | |
.