13 Jan

Obama awarded the vice-president the highest civilian honor at the White House on Thursday, days before they both leave office
Associated Press
A teary-eyed Joe Biden accepted the Presidential Medal of Freedom from Barack Obama on Thursday. The vice-president received the medal – the highest US civilian honor – at a ceremony at the White House. Obama said he was bestowing the honor on Biden for 'faith in your fellow Americans, for your love of country and a lifetime of service that will endure through the generations'
Barack Obama surprised the vice-president, Joe Biden, with the Presidential Medal of Freedom on Thursday.
A teary-eyed Biden accepted the medal, the highest civilian honor, at a ceremony at the White House.
Obama said he was bestowing the honor on Biden for "faith in your fellow Americans, for your love of country and a lifetime of service that will endure through the generations".
He called the vice-president an "extraordinary man with an extraordinary career in public service".
Biden praised his wife and children for their support throughout his career, and praised the Obama family for their dedication to country and service.
"I was part of the journey of a remarkable man who did remarkable things," Biden said.
Speaking ahead of Biden, Obama said the tribute would give the internet one last chance to joke about the "bromance" the two share. He called Biden the "best possible choice, not just for me, but for the American people".
Two men could face torture if extradited to Sudan for posting about civil disobedience on Facebook, as Bashir and Saudi kingdom seem to grow closer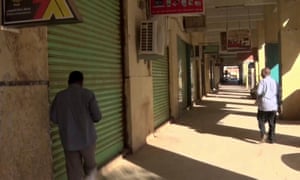 Closed shops in Khartoum, Sudan, in response to campaign of 'stay-at-home' strikes to protest against austerity measures and skyrocketing medicine prices. Photograph: AP
Two Sudanese men have been arrested in Saudi Arabia after posting their support for protests in their home country on Facebook, amid signs that ties between the two states are growing stronger following years of tension.
The men, Qasim Mohamed Sid-Ahmed and Al-Waleed Imam Hassan Taha, were allegedly detained while leaving work in Riyadh on 21 December. Their families were told they were being held for a secret investigation but did not explain to them the reason for their arrest.
Sid-Ahmed and Taha were both active online, expressing support for a campaign of stay-at-home strikes, known as the Civil Disobedience, to protest against austerity measures and skyrocketing medicine prices. The protests, which have left Khartoum's streets deserted for days at a time, was devised by activists to avoid the bloodshed that occurred during anti-austerity protests in 2013.
Sid-Ahmed and Taha's families believe that the Sudanese government pushed for the two men's arrest in Saudi.
"He's lived here for 18 years and has never broken any laws," Sid-Ahmed's wife Ebitisam, who is a doctor and works at the ministry of health, told the Guardian. "I'm extremely scared they will extradite him to Sudan."
The prospect of extradition is a bleak one: Sid-Ahmed and Taha will likely face severe punishment – and possibly torture – if they return.
"This is what we're scared of the most," Taha's wife, Nahid said in an interview via phone with the Guardian. "They are known for torturing people. Some people have died in torture."
The Saudi embassy in Washington had not responded to a request for comment at the time of publishing.

US justice department finds black and Latino civilians hardest hit by 'unlawful force' after 13-month investigation into city's law enforcement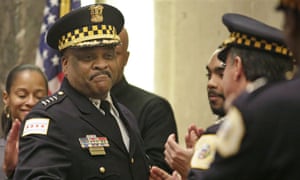 Chicago's police superintendent, Eddie Johnson, left, shakes hands with other officers at a city council meeting. The department engages in excessive force, according to a justice department investigation. Photograph: M. Spencer Green/AP
The Chicago police department regularly uses force that is "unjustified, disproportionate and otherwise excessive", federal investigators have concluded.
In a scathing review, investigators with the justice department found that police violated both the fourth amendment of the constitution and department policy in the use of deadly force. Investigators faulted poor training and accountability systems for contributing to the department's unconstitutional policing practices.
"Our review of CPD's deadly force practices identified several trends in CPD's deadly force incidents, including that CPD engages in dangerous and unnecessary foot pursuits and other unsound tactics that result in CPD shooting people, including those who are unarmed," investigators wrote.
The US attorney general, Loretta Lynch, presented the report on Friday morning with federal and city officials, before announcing that the CPD and Chicago officials had agreed to begin negotiations to reach a reform agreement.
Black and Latino civilians are "hardest hit by the pattern of unlawful force", deputy assistant attorney general Vanita Gupta said.
The Chicago probe, the result of a 13-month investigation, is unprecedented in its scope. US attorney Zachary Fardon said last year that the investigation was the largest of its kind in the justice department's history. Investigators reportedly moved up the completion of the report so that it could be published before Donald Trump takes office next week.
Trump campaigned as a "law and order candidate", calling for more support for police officers. Jeff Sessions, Trump's nominee to head the justice department, has similarly questioned intense scrutiny of law enforcement. In confirmation hearings on Tuesday, Sessions said department investigations tended to "undermine respect for our police officers".
Lynch presented the report one day after her department announced a reform agreement with police in Baltimore, following a similar investigation.
The investigation and a flurry of other reforms were sparked by the release of shocking video footage that showed a Chicago police officer fatally shooting 17-year-old Laquan McDonald.
A judge ordered the city to release the footage in November 2015, more than a year after the black teen was killed. The video shows the teen walking down the middle of the road, a small knife hanging limply by his side, before a responding officer, Jason Van Dyke, shoots and kills him as he walks away.
A local prosecutor charged Van Dyke with murder hours before the footage was released. In the following days the police chief was fired and the investigation was launched amid protests in the city and calls for reform.
Related Content
For a change from the same old news stories from the same old news networks, here are links to English-edition online newspapers from other parts of the world. Nearly all of these are English-edition daily newspapers. These sites have interesting editorials and essays, and many have links to other good news sources. We try to limit this list to those sites which are regularly updated, reliable, with a high percentage of "up" time.
Some of the available newspapers:
| | | |
| --- | --- | --- |
| Asia & CIS | | |
| | | |
| --- | --- | --- |
| China | | |
| | | |
| --- | --- | --- |
| China & Hong Kong | | |
| | | |
| --- | --- | --- |
| France | | |
| | | |
| --- | --- | --- |
| Israel | | |
| | | |
| --- | --- | --- |
| Norway | | |
| | | |
| --- | --- | --- |
| Palestine | | |
| | | |
| --- | --- | --- |
| Russia | | |
| | | |
| --- | --- | --- |
| Ukraine | | |
.