15 Jan
The Palestinian Center for Human Rights (PCHR) follows up with concern the latest incidents in Jabalia refugee camp, where Palestinian security services used excessive force against civilians, including journalists. PCHR stresses the significance of adhering to the legal and international standards when dealing with civilians in all circumstances. PCHR calls upon the Attorney General to follow up the incidents and ensure compliance with legal procedures. Moreover, PCHR emphasizes that the security services' duty is to maintain security and protect public property within the law with strict commitment to the relevant international standards, especially the 1979 Code of Conduct for Law Enforcement Officials.
According to PCHR's investigations, at approximately 16:15 on Thursday, 12 January 2017, a peaceful demonstration was organized in the center of Jabalia refugee camp in the northern Gaza Strip, protesting the aggravating electricty crisis. The protest came upon an invitation from youth groups on "Facebook". Around 500 protesters peacefully made their way from Jabalia refugee camp towards al-Hojha Stree and then to al-Fakhoura area and Beit Lahia housing Project. They arrived at the Gaza Electricity Distribution Corporation (GEDCO) building located behind the Engineers Syndicate in Beit Lahia. Around 5000 persons then joined the demonstration chanting slogans against GEDCO. Palestinian police officers were there, so altercations occurred between them and the protestors. A number of youngsters then threw stones at the GEDCO building and police officers, who in response fired live bullets in the air and attacked civilians with batons. As a result, 7 civilians sustained bruises and were taken to Kamal 'Odwan Hospital and the Indonesian Hospital.
Moreover, the police officers attacked journalists while covering the protest. Journalist Mohamed Abed al-Razeq Abdullah al-Baba (48), a photojournalist at the AFP, sustained an incised wound to the head after being beaten by the police. They also confiscated his camera and the memory card. Iyad al-Buzom, Spokesperson of the Interior Security, then came to the hospital to officially apologize for al-Baba and returned the camera
During the protest, a number of civilians were arrested by the police officers. PCHR's fieldworker said that following the protest, security officers raided many houses and arrested activists. Some of them are so far under arrest.
PCHR stresses that security services' duty is to maintain security and protect civilians and public and private property from any riot or violence acts during peaceful demonstrations and protests. PCHR also underscores that security services should comply with the principles of proportionality and legality of using force and condemns any random or excessive use of force. PCHR also stresses that use of force is not the solution and further complicates matters. PCHR also emphasizes the right to freedom of expression and opinion and right to peaceful assembly, but also protestors should abide by law and maintain the peaceful nature of the demonstration in addition to not attacking the police or property. In light of the above-mentioned, PCHR:

Pink hats will be much in evidence as an extraordinarily wide range of groups come together to repudiate President Trump the day after his inauguration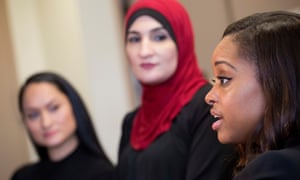 Tamika Mallory, right, co-chair of the Women's March on Washington, talks alongside fellow co-chairs Carmen Perez, left, and Linda Sarsour, in New York. Photograph: Mark Lennihan/AP
It began as a spontaneous feminist rallying cry via social media. It has morphed into what is expected to be one of the largest demonstrations in American history – a boisterous march about a smorgasbord of progressive issues, and an extraordinary display of dissent on a president's first day in office peppered with knit pink hats.
Before the bunting and barriers are even cleared away from Friday's inauguration of Donald Trump, hundreds of thousands are likely to attend the Women's March on Washington the following day, 21 January.
"A march of this magnitude, across this diversity of issues has never happened before," said Kaylin Whittingham, president of the association of black women attorneys. "We all have to stand together as a force no one can ignore."
The Women's March now has almost 200 progressive groups, large and small, signing on as supporting partners. The issues they represent are as varied as the environment, legal abortion, prisoners' rights, voting rights, a free press, affordable healthcare, gun safety, racial and gender equality and a higher minimum wage. Men are invited.
More than 300 simultaneous local protests will also occur, across all 50 states, and support marches are planned in 30 other countries, organizer Linda Sarsour said.
"We have no choice. We need to stand up against an administration that threatens everything we believe in, in what we hope will become one of the largest grassroots, progressive movements ever seen," said Sarsour.
June Barrett, a domestic worker in Florida, was spurred to travel from Miami to Washington by Trump's leaked audio tape in which he boasted of accosting women and "grabbing them by the pussy".
She had been sexually assaulted by an elderly man in her professional care who grabbed her genitals, she said.
"When that tape came out, I went into a bit of a depression. And I've had to walk away from my Baptist church after they were strongly guiding us to vote for Trump and Mike Pence. It's shaken my whole faith. I have to march against this hate," said Barrett.
She moved to Florida from Jamaica in 2001.
"I'm a black woman, I'm queer, I'm an immigrant and everything that's going to happen under Trump and Pence is going to affect me, perhaps adversely. It breaks my heart that so many women voted for them," she said, referring to results that showed, among other things, that a majority of white women voted for the Republican ticket.
The Women's March on Washington was conceived on 9 November. Teresa Shook, a retired lawyer in Hawaii, reacting to Trump's shock win and his comments and actions related to women, posted on Facebook suggesting a protest timed around Trump's inauguration. The message ended up on Pantsuit Nation, one of the invitation-only Facebook support groups lauded by Hillary Clinton in her concession speech.
Support surged overnight. But there was also an outcry because it was being seen as predominantly a white event.
It was also briefly known as the Million Women March, which sparked some anger because of its echoes of the Million Man March, in Washington in 1995, and the Million Woman March, in Philadelphia in 1997, both organized as predominantly African American demonstrations to protest against racism.
Changes were quickly made to the latest event.
"The presidential election was on the Tuesday and I came in on the Friday," said Sarsour, who is also a civil rights activist in New York and an Arab American with Palestinian roots.
Gun control campaigner Tamika Mallory, who is black, and Carmen Perez, a Latina and civil rights worker also joined the leadership team, alongside female New York fashion designer Bob Bland.
"Some people think we are tokens, but I'm not just a pretty Muslim face – we're leading this together," said Sarsour, who is in charge of fundraising.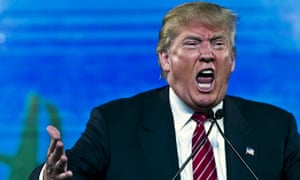 Aid workers say only four survivors recovered so far after vessel containing about 110 people overturned near Libya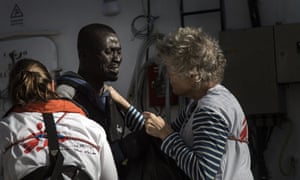 There was a tenfold increase in the number of migrants trying to cross the Mediterranean Sea in 2016. Photograph: Sima Diab/AP
Associated Press
A migrant ship carrying around 100 people capsized in the frigid waters off Libya on Saturday and only four survivors had been rescued after hours of searching, aid groups have said.
Eight bodies were recovered, but poor conditions hampered the search, which was conducted 30 miles (50km) off Libya's coast, Italy's ANSA news agency reported.
Flavio di Giacomo, Rome spokesman for the International Organisation of Migration, said four of the estimated 110 people on board had been rescued. He said more details would become available after the four were brought to shore.
The majority of migrant ships set off from Libya's lawless coasts where smugglers operate with impunity, charging desperate migrants hundreds of dollars apiece to make the dangerous Mediterranean crossing.
Up to 2,000 people stranded in Serbia in -16C temperatures with no water or sanitation, warn Médecins Sans Frontières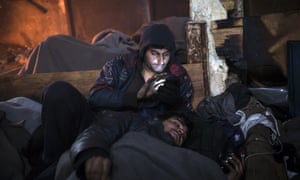 MSF say refugees and migrants are suffering from frostbite and burns due to freezing temperatures. Photograph: Srdjan Stevanovic/Getty Images
A

freezing and squalid Belgrade railway depot where up to 2,000 people are seeking shelter from the bitter Serbian winter risks becoming a "new Calais" for refugees and migrants abandoned by European authorities, the humanitarian group Médecins Sans Frontières has warned.
Children as young as eight are struggling to survive temperatures that have plunged to -16C this week, with no running water or sanitation.
At a Belgrade clinic set up by the charity, doctors have seen frostbite and burns resulting from the inhalation of toxic smoke, as people burn anything they can find to stay warm, among dozens of other medical problems.
MSF estimates that up to 2,000 people are living in a cluster of warehouses and other buildings around the city's main station. It estimates that nearly half the patients they have treated are under 18.
"Serbia risks becoming a dumping zone, a new Calais where people are stranded and stuck," warned Andrea Contenta, humanitarian affairs officer for MSF in Serbia.
The country is not part of the European Union, but it borders several countries that are part of the bloc, including Hungary, Bulgaria and Romania, and has become a key transit point for those hoping to start a new life in western Europe.
Serbia won praise for its treatment of migrants, but increasing numbers have become stranded there as the EU tried to shut down the Balkan route and tightened border controls. Processing camps are now badly overcrowded and more people are arriving every day. Although they ultimately hope to move on from Serbia, many are spending months there, making repeated failed attempts to cross into the EU.
"We cannot continue avoiding talking about reality, which is that the Balkan route is still open but people are getting stuck because there is no safe way to travel," Contenta said. He added that unofficial estimates were that up to 8,000 refugees and migrants were stranded in Serbia.
Louisiana residents are starting to get involved in environmental issues and are making themselves heard about the disputed Bayou Bridge pipeline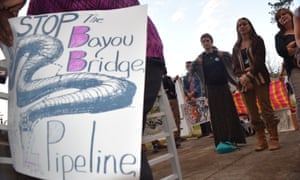 'A lot of times we don't get this opportunity to speak up. [These oil companies] want to just roll over us.' Photograph: Alaina Dunn
S

cott Eustis did not stop smiling for hours. The coastal wetland specialist with the Gulf Restoration Network was attending a public hearing in Baton Rouge. Its subject was a pipeline extension that would run directly through the Atchafalaya Basin, the world's largest natural swamp. Eustis was surprised to be joined by more than 400 others.
"This is like 50 times the amount of people we have at most of these meetings," said Eustis, adding that the proposed pipeline was "the biggest and baddest I've seen in my career".
The company behind the pipeline, Energy Transfer Partners (ETP), had seemed to turn its attention to Louisiana just one day after Native American protesters thwarted the company's Dakota Access project last month.
A spokeswoman for ETP, Vicki Granado, said the Bayou Bridge pipeline extension was announced in June 2015. If approved, the project will run though 11 parishes and cross around 600 acres of wetlands and 700 bodies of water, including wells that reportedly provide drinking water for some 300,000 families.
At the public hearing in Baton Rouge on Thursday, the first speaker, Cory Farber, project manager of the Bayou Bridge pipeline, said it was expected to create 2,500 temporary jobs. When Farber then said the project would produce 12 permanent jobs, the crowd laughed heartily.
"Those who have airboat companies and equipment companies that specialize in putting in equipment, they're not opposed to pipelines because of the short-term jobs," said Jody Meche, president of the state Crawfish Producers' Association, one of dozens who spoke at the hearing.
"But once that pipe is in there, the jobs are gone."
Other attendees applauded in favor of the pipeline, and former US senator Mary Landrieu of Louisiana, a supporter, was in attendance. But Native Americans also dotted the crowd, many of them fresh from Standing Rock.
"The Native Americans in North Dakota get a lot of credit for showing people their power," Eustis said.
Protester Cherri Foytlin, organizer of the pro-sustainability Bridge the Gulf project, brought her teenage daughters, Jayden and Erin. In November, Erin and 20 other kids from around the country filed a lawsuit against the federal government for ignoring climate change. The suit will soon go to trial.
Meche not only makes his living in the Atchafalaya Basin, but he also calls it home. Where most in attendance worried about potential oil spills and their effect on drinking water, Meche was more concerned with ways existing pipelines have, he said, "crippled" the fishing industry.
"They excavated the trench that they put the pipe in and then [they didn't clean up] and it leaves a dam behind that blocks the water flow," he said on the microphone, "until there's not enough oxygen in the water for the crawfish, the fish, or anything."
For a change from the same old news stories from the same old news networks, here are links to English-edition online newspapers from other parts of the world. Nearly all of these are English-edition daily newspapers. These sites have interesting editorials and essays, and many have links to other good news sources. We try to limit this list to those sites which are regularly updated, reliable, with a high percentage of "up" time.
Some of the available newspapers:
| | | |
| --- | --- | --- |
| Asia & CIS | | |
| | | |
| --- | --- | --- |
| China | | |
| | | |
| --- | --- | --- |
| China & Hong Kong | | |
| | | |
| --- | --- | --- |
| France | | |
| | | |
| --- | --- | --- |
| Israel | | |
| | | |
| --- | --- | --- |
| Norway | | |
| | | |
| --- | --- | --- |
| Palestine | | |
| | | |
| --- | --- | --- |
| Russia | | |
| | | |
| --- | --- | --- |
| Ukraine | | |
.