16 Jan

The outgoing CIA director admonished the president-elect for 'talking and tweeting' without fully understanding Russia's threat to national security
John Brennan: 'There is no basis for Mr Trump to point fingers at the intelligence community for leaking information that was already publicly available.' Photograph: J Scott Applewhite/AP
Staff and agencies
Departing CIA director John Brennan criticized Donald Trump on Sunday for his approach to national security, saying the president-elect should not be carelessly "talking and tweeting" without understanding Russia's threat to the US.
Brennan also said he took "great umbrage" at Trump's suggestion that agencies biased against him were behaving as if the US were "Nazi Germany".
"Now that he's going to have an opportunity to do something for our national security as opposed to talking and tweeting," Brennan told Fox News Sunday, "he's going to have tremendous responsibility to make sure that US and national security interests are protected.
"I think he has to be mindful that he does not have a full appreciation and understanding of what the implications are of going down that road."
Trump has repeatedly praised Russian president Vladimir Putin and criticized American intelligence officers, accusing them of letting "fake news", about what intelligence agencies believe to be Russian hacks on political parties and alleged contacts with Trump's campaign, appear in press reports.
"One last shot at me," Trump tweeted this week. "Are we living in Nazi Germany?"
Brennan called the comparison of the CIA, NSA, FBI and the director of national intelligence offensive to American officers.
"What I do find outrageous is equating an intelligence community with Nazi Germany," he said. "I do take great umbrage at that, and there is no basis for Mr Trump to point fingers at the intelligence community for leaking information that was already available publicly."
Undaunted, on Sunday Trump used Twitter to comment further on this week's publication by BuzzFeed of an unsubstantiated intelligence dossier, writing: "Thank you to [journalist] Bob Woodward who said, 'That is a garbage document … it never should have been presented … Trump's right to be upset (angry) about that …
"Those Intelligence chiefs made a mistake here, & when people make mistakes, they should APOLOGIZE. Media should also apologize."

For women who routinely run the gauntlet of harassment and sexual violence, Malakal protection of civilians camp has roundly failed to live up to its name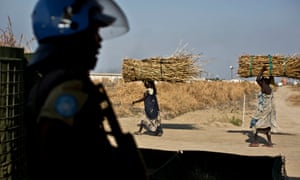 A UN police officer stands guard at the entrance to the Malakal protection of civilians camp in South Sudan. Photograph: Kate Holt/Unicef
I

t is late afternoon when the white Jeep pulls up outside a compound attached to one of the largest camps for families fleeing South Sudan's civil war. Accompanied by two UN police officers, a woman steps out and walks briskly past a rusty shipping container holding the man who allegedly raped her less than 24 hours earlier.
In a country where UN investigators say sexual violence remains ignored despite having reached "epic proportions" – one survey found 70% of women in such camps said they had been raped since conflict erupted in December 2013 – this is a rare example of action being taken.
The alleged incident illustrates not just the bleak reality facing women at the sprawling Malakal protection of civilians (PoC) camp, but also the shortcomings of international peacekeepers and the makeshift nature of justice at what is supposedly a place of safety for 33,000 people.
Such is the prevalence of sexual assaults against women forced to forage beyond the camp's perimeter that UN peacekeepers now carry out regular armed patrols to secure the ground ahead of them. However, the troops are not always there. Even when they are, women say they have been told to go away after telling peacekeepers they have been fired on by government troops.
Consequently, they must fend for themselves or depend on the protection sometimes afforded by unarmed volunteers who venture out with them.
"It can be dangerous and may not always be enough to deter those behind GBV [gender-based violence], but in this context an international presence can give some protection, at least," says Ayda Wondemu as she and colleagues from the Nonviolent Peaceforce accompany women in the shrubland.
According to Wondemu, the poverty here is such that – simply to save 25 cents on a kilo of sugar compared with the price in the camp – women visit the market in the partially deserted city of Malakal to trade, risking harassment or worse by troops.
At the end of December, a woman from the camp was reportedly shot dead by gunmen in military uniform as she foraged in the bush for materials to make charcoal. The UN peacekeeping mission, Unmiss, said a patrol sent to the location, 4km east of their base, was blocked at a checkpoint by South Sudanese government troops.
"We're grateful to the NGOs who have been supporting us with food and other items," says Sarah (not her real name), a mother who has been living in the camp since 2013.
"We get oil and grain but there are shortages and that puts us in a difficult situation. When we go out to fetch firewood some of us risk being attacked. It has happened to sisters and friends of mine. Malakal is now held by government troops, but they are the people who harass us when we go out."
Rachel Nayik, a former secondary school teacher who has lived in the camp since 2014, and who organises weekly women's meetings, says sexual violence is also a major issue within the camp's boundaries. She attributes the problem partly to the traumatic impact the conflict has had on men.
Pope Francis doing 'close to nothing' to stop clerical sexual abuse, alleges writer Emiliano Fittipaldi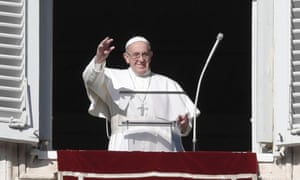 Fittipaldi claims the Vatican refuses to provide Italian courts with information on allegedly abusive priests due to 'pontifical secrets'. Photograph: Tiziana Fabi/AFP/Getty Images
The last time Italian journalist Emiliano Fittipaldi wrote an exposé about corruption at the heart of the Roman Catholic Church, it landed him in a Vatican court facing a possible jail sentence on charges that he had illegally obtained confidential church papers in the course of his reporting.
Now, six months after the 42-year-old reporter was cleared of all charges, Fittipaldi is taking on the church again. This time in a new book that accuses Pope Francis of doing "close to nothing" to stop clerical sexual abuse in Italy and around the world, despite the Argentinean pope's frequent assertions that he has zero tolerance for the abuse of children or those who protect abusers.
In Lussuria (Lust), which will be released in Italian by publisher Feltrinelli on Thursday, Fittipaldi methodically pores over court documents and cites interviews with priests and judicial officials to paint a damning picture of the first three years of Francis's papacy. Fittipaldi claims that 1,200 plausible complaints of molestation against boys and girls from around the world have been brought to the Vatican's attention in that period. In some of the twenty cases of alleged sexual abuse by priests in Italy in 2016, Fittipaldi writes, priests have been convicted of abuse without the church taking any canonical action against them.
Fittipaldi also devotes attention to the case of Australian cardinal George Pell, who was appointed by Francis to reform church finances and has remained in that senior position despite questions over whether Pell protected serial abusers in his archdiocese in Australia decades ago. Pell has denied the allegations against him but a counsel assisting a royal commission looking at child abuse in Australia has argued that there was evidence that Pell should have taken stronger action against one paedophile priest whose case has been examined.
Francis, who did not accept Pell's resignation in June when the Australian cardinal reached retirement age, has declined to pass judgement on him. When he was asked by reporters about a separate abuse investigation into Pell by Victoria state police the pope said "justice has to take its course". Last November, Francis did however decide not to renew Pell's membership in a Vatican office that handles the church's liturgical practice. He was one of several traditionalists whose membership was not renewed.
A spokesperson for Pell called Fittipaldi's work a piece of "shoddy and dated piece of journalism" that stated false allegations and failed to mention the work Pell had done to confront clerical sex abuse against minors.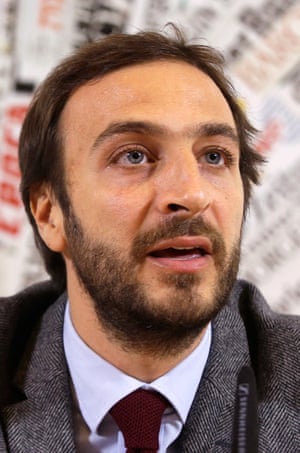 The author of Lussuria (Lust), Emiliano Fittipaldi. Photograph: AP
"The principle message of the book – the problem – is that the phenomenon of paedophilia is not being fought with sufficient force. Across the world, the church continues to protect the privacy of the paedophiles and also the cardinals [who protect them]," Fittipaldi said in an interview with the Guardian.
"Francis is not directly defending the paedophiles, but he did close to nothing to contrast the phenomenon of paedophilia," he added.
It is not a new charge against the pope. While Francis is popular, especially for his strong views in support of poor and marginalised people, groups that advocate for survivors of sexual abuse have regularly criticised Francis for failing to take concrete steps to prevent and expose abuse, even though he has used strong words to condemn sexual violence by priests. A papal commission created by Francis early in his papacy has only met three or four times in its history, Fittipaldi said. Separately, a Vatican proposal to create a tribunal to investigate bishops who cover up for abusers, which was celebrated by advocacy groups when it was announced in 2015, has inexplicably been stalled.
The Vatican did not respond to a request for comment on the book or the assertion that Francis has not done enough to tackle abuse.
Fittipaldi alleges that under Francis's watch, priests who practice omertà – a term that refers to a code of silence, usually by the mafia – have been favoured by the church.

Council of American Islamic Relations received about 100 reports of FBI agents visiting homes before Trump's win, asking about personal details and al-Qaida
——–The FBI is allowed to conduct broad sweeps after interviewing guidelines were loosened during the George W Bush administration by then-attorney general, Michael Mukasey in 2008. Mukasey's ruling modified the bureau's operation guide to allow for an "assessment" period. During this period, agents can conduct investigations without factual information that a threat is posed. —-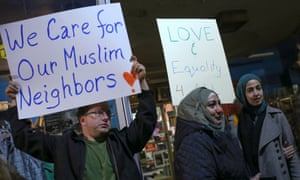 Activists are concerned that Trump's presidency could come with increased surveillance against Muslim Americans, and possibly a registry. Photograph: Brittany Greeson/Reuters
O

n the Friday afternoon before the presidential election, Ahmed was at home with his family in Texas, when he heard a knock at the door. He answered in an undershirt and shorts, and found two men who were dressed casually. It was the FBI.
Ahmed, a doctor, who says he's never even had a parking ticket, was at first surprised and then scared.
"I didn't know my rights," Ahmed, whose name has been changed for fear of reprisal, told the Guardian, "that I could tell them to reschedule it or I could refuse to talk to them."
Ahmed was one of at least 109 people who contacted the Council of American Islamic Relations (Cair) to say they were visited by the FBI days before the election. Donald Trump's subsequent victory has raised fears of increased surveillance against the Muslim community, and the possibility of a Muslim registry.
But it is also mobilizing some activists to ratchet up challenges to FBI policing rules already in place that allow for sweeps that may profile Muslims.
"We see people mobilizing like there's no tomorrow," said Alia Salem, executive director of the Dallas/Fort Worth chapter of Cair. "We wouldn't be having these conversations about how to improve things if Hillary Clinton got elected."
At Ahmed's house, the agents told him they had intelligence of a possible terrorist attack on election day following the death of al-Qaida leader Farouq al Qahtani al-Qatari, in a US airstrike in Afghanistan. They just wanted to ask him a few questions.
"At that time, I said, Let me put my shirt on and came back," Ahmed recalled.
He let the agents into his home and they sat at his couch for 45 minutes. Ahmed, an American citizen, is originally from Pakistan and had travelled home a few times in the past decade. The FBI agents probed his history to learn more about his family, charitable donations, hobbies and more. The question of the al-Qaida leader faded away.
Salem put out a video on Twitter warning Muslims of their rights when approached by the FBI after their office received a phone call. The video was distributed widely and sparked dozens of calls of people recounting similar experiences to Ahmed.
Ahmed Shibly, Cair-Florida's chief executivedirector, said he also received a flurry of calls from predominantly Pakistani or Afghan Muslims, many of whom were doctors.
"We basically discovered that it was a nationwide sweep," Shibly said. "Simply based on their faith and ethnicity." He also added that the proximity to the election may have suppressed voter turnout.
Shibly said the calls came from at least 12 different states where Muslims said they were visited by agents asking about the death of al-Qahtani and wanting to ask more questions. Alia said they fielded 220 calls, mostly South Asian or Afghan men ranging from 18 to their 60s, many of whom were professionals, and people that had recently changed their immigration status.
The day after the sweep was Trump's shock election victory, which brought with it fears that he would fulfill his promises to implement draconian measures against Muslims. And soon a reported increase in alleged hate crimes. But Salem said fear about the prospect of a Trump presidency has sparked conversations around a lot of the measures Muslims have been submitted to under the Obama administration.
Mike German, a former FBI agent and fellow at the Brennan Center for Justice, said reports of the FBI pre-election sweep raised civil rights alarm bells.
For a change from the same old news stories from the same old news networks, here are links to English-edition online newspapers from other parts of the world. Nearly all of these are English-edition daily newspapers. These sites have interesting editorials and essays, and many have links to other good news sources. We try to limit this list to those sites which are regularly updated, reliable, with a high percentage of "up" time.
Some of the available newspapers:
| | | |
| --- | --- | --- |
| Asia & CIS | | |
| | | |
| --- | --- | --- |
| China | | |
| | | |
| --- | --- | --- |
| China & Hong Kong | | |
| | | |
| --- | --- | --- |
| France | | |
| | | |
| --- | --- | --- |
| Israel | | |
| | | |
| --- | --- | --- |
| Norway | | |
| | | |
| --- | --- | --- |
| Palestine | | |
| | | |
| --- | --- | --- |
| Russia | | |
| | | |
| --- | --- | --- |
| Ukraine | | |
.