17 Jan
Refugees and other distress migrants have been forced to leave their homes in exceedingly large numbers for the past 18 months. It has become commonplace to refer to the current situation as the worst refugee crisis since World War 2, with over 65 million people – a figure in excess of the entire population of many countries – forcibly displaced.
No individual region or triggering factor can be singled out as the only precipitating cause. Refugees have been fleeing relentless bombing in Aleppo, Homs, Mosul, and Juba – victims of civil wars that they have no control over and that are determined by forces indifferent to humanitarian tragedy. Refugees have been pushed out of El Salvador, Honduras, and Mexico by vicious drug wars and the gangs and other forms of criminal violence that they spawn. In Eritrea, Ukraine, Somalia, Sri Lanka, Afghanistan, and Pakistan, refugees flee their homes because of intolerable political oppression by authoritarian governments who care only about keeping power – whatever the human cost.
2017 doesn't look any better.
So, how can the current extreme humanitarian suffering of millions of forced migrants be alleviated over the coming year?
The most obvious answer is peace. A toxic combination of violence and conflict, deployed to maintain or assert power, lies at the heart of all the migration push factors above. Any moves – diplomatic, economic, political, or social – that contribute to ending or reducing conflict will alleviate human suffering. If a lasting and sustainable truce is negotiated in the Syrian conflict, if the South Sudanese power struggle is peacefully resolved, if the government of Myanmar can be persuaded to enforce the minority rights of the Rohingya community, if drug wars in Central America are undermined by effective social policies and law enforcement measures, massive human suffering and the inevitable refugee outflows will be reduced. The urgent necessity of these resolutions cannot be overstated.
But peace is elusive.
So then what kind of alternatives exist? This is the question that the UN General Assembly addressed in detail during its first ever plenary session on Large Movements of People, held on September 19th, 2016. The outcome document of that high-profile meeting, known as the New York Declaration, and signed by 193 affirming member states, sets out a comprehensive, ambitious, and convincing agenda for action. First and foremost, the declaration participants recognized the importance of continuing to support the right to refugee protection; this is a right that has been enshrined in international law since the end of World War 2. Despite the many hostile sentiments expressed towards unexpected large-scale migrations, no single country or politician has spoken about withdrawing their country's support from this obligation. Building on this collective commitment, the UN called for a concerted effort to greatly increase the responsibility of sharing refugees among nations. Hopefully the humanitarian investment in assistance, protection, and inclusion will fall more equitably on a wider cohort of players than has been the case so far.
This is a critical demand. If only a small number of countries are willing to host refugees then the refugee architecture rapidly becomes fatally flawed. Schools, hospitals, public housing, language classes, and skill training programs cannot function under conditions of massive overload; and the political consensus that supports investment in humanitarian assistance crumbles under the weight of overwhelming pressure and demand. The example of acute "humanitarian burnout" in Jordan and Lebanon, Germany and Sweden clearly illustrate the point.


Georgia congressman John Lewis speaks at an event for Martin Luther King Jr Day in Miami on Monday, telling a crowd of young men to 'never, ever hate'. Lewis invokes King's philosophy of non-violence following a critical Twitter rant from president-elect Donald Trump

Human rights group says Britain is leading 'race to the bottom' with measures that threaten rights and freedoms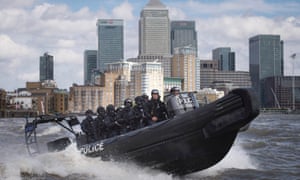 Met counter-terrorism officers. Amnesty International says UK anti-terror laws among most draconian in Europe. Photograph: Reuters
Owen Bowcott Legal affairs correspondent
The UK is leading a Europe-wide "race to the bottom" with Orwellian counter-terrorism measures that seriously threaten human rights, according to a comparative survey of security laws by Amnesty International.
In more than half the areas of concern highlighted by the report, the UK is judged to be at one end of the spectrum in relation to regulations on "mass surveillance", use of "diplomatic assurances" to deport people where there is a risk of torture, stripping people of their nationality, controlling their movement and detaining without charge or sufficient legal process.
Amnesty's stark assessment is a response to widespread changes in counter-terror laws across Europe, enacted in the wake of numerous, Islamic State-inspired attacks. It follows the UK parliament's vote for the Investigatory Powers Act, nicknamed the snooper's charter.
Amnesty's report – based on research comparing 14 EU countries – is at odds with the latest annual report produced by the independent reviewer of terrorism legislation, David Anderson QC, who concluded: "The terrorism acts, as refined by parliament and by the influence of the courts, are a broadly proportionate reaction to the current threat.
"Based on my own observations over six years, the hostile narrative of power-hungry security services, police insensitivity to community concerns and laws constantly being ratcheted up to new levels of oppression is, quite simply, false."
The Amnesty report, however, says that many EU countries have joined the ranks of surveillance states as new laws have enabled intrusive mass surveillance powers.
Kate Allen, the director of Amnesty International UK, said: "The Big Brother surveillance state that George Orwell warned of back in 1949 is alive and dangerously well in Europe today. Governments, including the UK, are not far off creating societies in which freedom is the exception and fear the rule, which should be of deep concern to us all.
"After a series of horrific terrorist attacks across Europe, EU governments have rushed through a raft of repressive laws. There is an obvious and urgent need to protect people from this kind of violence – protecting the rights to life, and to live, move and think freely are essential tasks of government, but they are not ones to be achieved by any means and at the cost of such rights themselves.

For a change from the same old news stories from the same old news networks, here are links to English-edition online newspapers from other parts of the world. Nearly all of these are English-edition daily newspapers. These sites have interesting editorials and essays, and many have links to other good news sources. We try to limit this list to those sites which are regularly updated, reliable, with a high percentage of "up" time.
Some of the available newspapers:
| | | |
| --- | --- | --- |
| Asia & CIS | | |
| | | |
| --- | --- | --- |
| China | | |
| | | |
| --- | --- | --- |
| China & Hong Kong | | |
| | | |
| --- | --- | --- |
| France | | |
| | | |
| --- | --- | --- |
| Israel | | |
| | | |
| --- | --- | --- |
| Norway | | |
| | | |
| --- | --- | --- |
| Palestine | | |
| | | |
| --- | --- | --- |
| Russia | | |
| | | |
| --- | --- | --- |
| Ukraine | | |
.