18 Jan
The Finnish Immigration Service's head office in Helsinki on 17 January, 2017.

The Finnish Immigration Service (Migri) has unveiled its updated assessments of the security and human rights situations in Afghanistan, Iraq and Somalia.

Migri reveals in a press release that it specified its decision-making practices throughout last autumn based on current information from the source countries of refugees and on new rulings by administrative courts.
"The prevailing case-law is that Afghans, Iraqis and Somalis who have entered Finland as asylum seekers can be returned to their countries of origin unless they satisfy the personal grounds for granting international protection," it says.
Administrative courts, it adds, have rejected the majority of appeals against negative asylum decisions.
The Helsinki Administrative Court overturned almost one-quarter, or 23.7 per cent, of the contested negative decisions brought before it for consideration in 2016, the press release also indicates. Migri says the majority of the repeals were made on grounds of a change in circumstances that occurred during the appeal process, such as the production of new evidence, the occurrence of a change in the situation in the country of origin or the delivery of a new ruling by an administrative court.
Migri in its assessment acknowledges that the security situation in Baghdad, Iraq, has deteriorated, albeit not to the extent that would warrant granting international protection based solely on the conditions in the applicant's home region.
"Also [the Supreme Administrative Court] KHO has ruled that applicants can be returned to Baghdad," it points out.
Mosul, on the other hand, is considered unstable to the extent that no applicants have been returned there since early last autumn.
Migri also estimates that no major shifts have taken place in the security situation in Afghanistan, with the situation continuing to fluctuate considerably both regionally and even seasonally.
"The Immigration Service and the Helsinki Administrative Court are in agreement that it is possible to return to Kabul […]. The Helsinki Administrative Court, however, has ruled contrary to the Immigration service that returns cannot be made to some provinces of Afghanistan," the press release reads.


Suit calls president-elect sexual predator as Zervos demands he 'vindicate her reputation' by admitting to allegations that he groped her
Summer Zervos, a former contestant on The Apprentice, issues a statement on Tuesday in which she says she is left with no option other than to sue president–elect Donald Trump for defamation. The lawsuit follows Trump's refusal to retract his allegation that Zervos is a liar in relation to her claims that he groped and aggressively kissed her
A former contestant from The Apprentice is suing Donald Trump for defamation in relation to claims he groped and aggressively kissed her and then called her a liar.
Summer Zervos filed the lawsuit on Tuesday demanding that the president-elect "vindicate her reputation" by admitting the allegations are true.
Zervos announced the suit at a press conference at the Los Angeles office of her attorney, Gloria Allred, three days before Trump is due to be inaugurated, reviving a theme which dogged his election last year.
"I want Mr Trump to know that I would still be willing to dismiss my case against him immediately for no monetary compensation if he will simply retract his false and defamatory statements about me and acknowledge that I told the truth about him," Zervos told reporters, reading from a brief statement.
The 20-page suit, filed in a New York court, makes a full-throated assault against the incoming United States commander-in-chief, calling him a sexual predator and misogynist who assaulted many women and then abused his political platform to brand them liars.
"But it was Donald Trump who was lying when falsely denied his predatory misconduct with Summer Zervos, and derided her for perpetrating a 'hoax' and making up a 'phoney' story to get attention," it said.
The lawyer cited Paula Jones, who sued Bill Clinton in 1994, as an example of taking on a sitting president over alleged sexual harassment. "That is the essence and beauty of our system of justice. No one is above the law, including the president-elect, soon to be president of the United States."
A Trump spokesperson, Hope Hicks, told the Guardian via email: "More of the same from Gloria Allred. There is no truth to this absurd story." There was no immediate personal response from Trump, who in the past has used Twitter to rebut the accusations.
The suit was the first legal confirmation that the allegations of sexual misconduct will follow Trump into the White House. But its chance of success was an open question, with Allred calling it a David and Goliath case.
A trickle of allegations against Trump turned into a surge last October after a leaked Access Hollywood tape showed him boasting about sexual assault in a conversation with the host, Billy Bush, in 2005. "You know I'm automatically attracted to beautiful [women] – I just start kissing them," said Trump. "It's like a magnet. Just kiss. I don't even wait. And when you're a star, they let you do it … grab them by the pussy. You can do anything."
Zervos was one of those who came forward after the tape surfaced.
A Californian with aspirations to run a restaurant, she had participated in the fifth season of NBC's The Apprentice, a reality show Trump hosted. Zervos alleged that during a visit to Trump's office in December 2007, he kissed her twice on the mouth without her consent. He allegedly went further during a meeting at his bungalow in a Beverly Hills hotel, forcibly kissing, embracing and pressing his genitals against her.
According to the suit, Zervos felt compelled to speak out after Trump dismissed the Access Hollywood remarks as locker-room banter and said he had never assaulted anyone – "a boldfaced lie", according to the suit. Zervos went public at a press conference at Allred's office on 14 October.
The whistleblower, who has been imprisoned for six years for leaking state secrets, is now set to go free on 17 May
White House press secretary Josh Earnest says the decision to free the whistleblower was partly because she has admitted wrongdoing through the justice system, unlike Edward Snowden
Chelsea Manning, the US army soldier who became one of the most prominent whistleblowers of modern times when she exposed the nature of warfare in Iraq and Afghanistan, and who then went on to pay the price with a 35-year military prison sentence, is to be freed in May as a gift of outgoing president Barack Obama.
In the most audacious – and contentious – commutation decision to come from Obama yet, the sitting president used his constitutional power just three days before he leaves the White House to give Manning her freedom.
Manning, a transgender woman, will walk from a male military prison in Fort Leavenworth, Kansas, on 17 May, almost seven years to the day since she was arrested at a base outside Baghdad for offenses relating to the leaking of a vast trove of US state secrets to the website WikiLeaks.
Nancy Hollander, Manning's lawyer, spoke to the Guardian before she had even had the chance to pass on to the soldier the news of her release. "Oh my God!" was Hollander's instant response to the news which she had just heard from the White House counsel. "I cannot believe it – in 120 days she will be free and it will all be over. It's incredible."
Manning, 29, is a former intelligence analyst in Iraq who was sentenced in 2013 after a military court convicted her of passing more than 700,000 documents, videos, diplomatic cables and battlefield accounts to WikiLeaks. It was the biggest breach of classified material in US history.
In 2010, WikiLeaks worked with media organisations including the Guardian to publish material that offered unprecedented insight into the workings of US diplomacy. Among the files Manning leaked was a gunsight video of a US Apache helicopter firing on suspected Iraqi insurgents in 2007, killing a dozen people.
On a call with reporters, a White House official said repeatedly that the president believed Manning's crimes were "serious" and "harmful to national security" but refused to label her a "traitor".
Human rights groups welcomed Tuesday's decision. Margaret Huang, executive director of Amnesty International USA, said: "Chelsea Manning exposed serious abuses, and as a result her own human rights have been violated by the US government for years.
Manning exposed serious abuses, and as a result her own human rights have been violated by the US government for years

Margaret Huang, Amnesty International USA
"President Obama was right to commute her sentence, but it is long overdue. It is unconscionable that she languished in prison for years while those allegedly implicated by the information she revealed still haven't been brought to justice."
But the commutation was condemned by leading Republicans. Senator John McCain, chairman of the Senate armed services committee, described it as a "grave mistake" that he fears "will encourage further acts of espionage and undermine military discipline. It also devalues the courage of real whistleblowers who have used proper channels to hold our government accountable".
McCain added: "It is a sad, yet perhaps fitting commentary on President Obama's failed national security policies that he would commute the sentence of an individual that endangered the lives of American troops, diplomats, and intelligence sources by leaking hundreds of thousands of sensitive government documents to WikiLeaks, a virulently anti-American organisation that was a tool of Russia's recent interference in our elections."
WikiLeaks last year published emails hacked from the accounts of the Democratic National Committee and John Podesta, chairman of Hillary Clinton's election campaign. US intelligence agencies concluded that the hacking was authorised by senior figures in the Russian government and intended to sow chaos and harm Clinton's chances against Donald Trump. Assange has denied receiving the material from Russia.
Related:

MSF staff report at least 50 dead in airstrike on camp in Borno state where families made homeless by Boko Haram were sheltering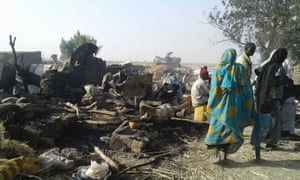 People stand next to site of bombing in Rann, northeast Nigeria, on Tuesday. Photograph: HANDOUT/AFP/Getty Images
Dozens of people have been killed after a Nigerian military jet mistakenly bombed a camp where thousands of families displaced during the offensive against Boko Haram militants were sheltering.
Médecins Sans Frontières (MSF) said its staff in the densely populated settlement in the northern town of Rann had seen at least 200 wounded and 50 dead following the bombing on Tuesday and expected the death toll to rise.
"This large-scale attack on vulnerable people who have already fled from extreme violence is shocking and unacceptable," said Dr Jean-Clément Cabrol, the aid group's director of operations.
A Borno state government official, who was helping to coordinate the evacuation of wounded from the remote area by helicopters, said more than 100 internally displaced people and aid workers were dead. He spoke on condition of anonymity because he was not authorised to speak to reporters.
Nigeria's president, Muhammadu Buhari, expressed deep sadness and regret at "this regrettable operational mistake".
At least two blasts were believed to have hit the site near Nigeria's border with Cameroon, which was under the control of the Nigerian military and where a campaign against the jihadist group is being waged.
About 43,000 internally displaced people were sheltering at the camp and they, as well as aid workers and Nigerian troops, were believed to be among the dead and wounded.
The UN humanitarian air service has dispatched a helicopter with four medical personnel, 400kg of emergency medical supplies and airlifted eight Nigeria Red Cross workers injured in the bombing.
Maj Gen Lucky Irabor, a commander of the Nigerian military's counterinsurgency operations in northeast Nigeria, told the Associated Press he had ordered the mission based on information that Boko Haram insurgents were gathering, along with geographic coordinates. It was too early to say if a tactical error had been made, he said, promising that an investigation would take place.
Hugues Robert, MSF's head of emergencies, said staff were working to evacuate the wounded. "We have been aware of the potential risks our teams are facing in Borno state and have been extremely cautious about how we move and where we go," he said.
"We [are] speaking here about an area that is controlled by the army fully. The whole camp is controlled by the army
For a change from the same old news stories from the same old news networks, here are links to English-edition online newspapers from other parts of the world. Nearly all of these are English-edition daily newspapers. These sites have interesting editorials and essays, and many have links to other good news sources. We try to limit this list to those sites which are regularly updated, reliable, with a high percentage of "up" time.
Some of the available newspapers:
| | | |
| --- | --- | --- |
| Asia & CIS | | |
| | | |
| --- | --- | --- |
| China | | |
| | | |
| --- | --- | --- |
| China & Hong Kong | | |
| | | |
| --- | --- | --- |
| France | | |
| | | |
| --- | --- | --- |
| Israel | | |
| | | |
| --- | --- | --- |
| Norway | | |
| | | |
| --- | --- | --- |
| Palestine | | |
| | | |
| --- | --- | --- |
| Russia | | |
| | | |
| --- | --- | --- |
| Ukraine | | |
.