21 Jan

Hundreds of protesters booed President Donald Trump's motorcade as his inaugural parade made its way through downtown Washington DC. Crowds of onlookers held up homemade signs and jeered at his car during one section of what was otherwise an uneventful route. Trump later exited his vehicle and walked for the final stretch of the parade, despite the fact that protesters were engaged in clashes with the police a few streets away

Up to 2m people join international day of action following inauguration of Donald Trump as US president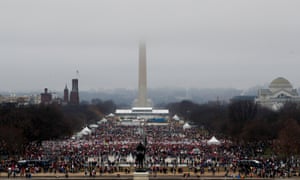 Protesters assemble on the National Mall in the US capital during the Women's March on Washington. Photograph: Aaron P. Bernstein/Getty Images
Up to 2 million people have gathered in cities around the world as part of an international day of action in solidarity with the Women's March on Washington after Friday's inauguration of Donald Trump as the 45th president of the United States.
As many as 500,000 people were expected to descend on the US capital on Saturday to promote women's rights, in an anti-Trump gathering that threatens to turn into one of the largest marches in US history.
Although it was not billed specifically as a movement against the new president, most of the causes represented are those deemed under threat from Trump's administration, including plans to repeal the 2010 Affordable Care Act, which among other things requires health insurers to cover birth control.
Hundreds of thousands of people marched in 161 cities across all seven continents, with focuses extended beyond Trump.
In the UK, between 80,000 and 100,000 people joined the Women's March on London, and another 14 marches took place in towns and cities including Manchester, Cardiff, Edinburgh, Liverpool, Leeds and Belfast.

A placard is held aloft during the march in London. Photograph: Andy Hall for the Observer
The London march began at the US embassy at noon, and finished with a rally in Trafalgar Square. Protesters waved banners with slogans such as "Special relationship, just say no" and "Nasty women unite". They were joined by the London mayor, Sadiq Khan, and Labour MPs including Stella Creasy, Harriet Harman and Yvette Cooper.
Khan said he was proud to march alongside women and men from London and around the world "to show how much we value the rights every woman should have".
He said: "As a feminist in City Hall I fully support the fight for gender equality. It's wrong that in 2017 someone's life chances and fundamental rights are still dependent on their gender."
In a speech in Trafalgar Square, Cooper, chair of the home affairs select committee, said men and women around the globe were marching against hatred and division and for equality. "We are marching because the most powerful man in the country thinks it's OK to grab women by the pussy," she said.
Cooper noted that although protesters wanted to take a stand against Trump, millions of Americans had voted for him. "Marching isn't enough – we need to persuade, to win arguments, to challenge the deep causes of division and to build a future in common," she said. "For the sake of our children and grandchildren, our daughters and our sons, we are here because we will not let the clock be turned back now."
The actor Rebecca Hall said Trump's views and politics were aimed at people she caredabout – including women, BMEs, immigrants and the LGBT community. "It is important for me to march in solidarity,"she said. "It is important that we all stand up and be here, together, in solidarity."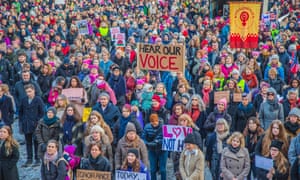 Protesters gather for the Women's March in Oslo, Norway. Photograph: Stian Lysberg Solum/AFP/Getty Images
Groups set up throughout the US and elsewhere are organising local campaigns designed to coalesce opposition around issues such as the prevention of oil pipeline construction and the outlawing of female genital mutilation
Women's March Global, the international arm of the Washington march, said they were determined to capitalise on the wave of activism that had attracted so many people, including first-time campaigners.
"The women of the world were sitting on a powder keg and Donald Trump just lit the match," Evvie Harmon, a Women's March co-founder and global coordinator, told the Guardian before the march.
The Washington march is expected to be more orderly than demonstrations in the city on Friday, when more than 200 people were arrested for vandalising shops and cars and clashing with police.
The event kicked off at 10am EST with a rally on the corner of 3rd St and Independence Ave, and was due to end at the Washington Monument at around 4pm. Thousands of people streamed into the capital from around the US, many wearing hand-knit pink "pussy hats" and wielding signs with messages such as "The future is female" and "Less fear more love".

Donald Trump is actually giving Mexican workers more reason to head to the US, not less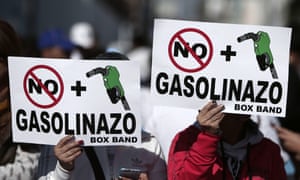 Protestors demonstrate against an increase in the price of petrol in Mexico on 7 January 2017.
Photograph: Hugo Ortuno/EPA
In Mexico it is known as "el efecto Trump": a barrage of taunts and tweets that rattle the economy and hammer the peso. For the new president, it is part of a strategy to pressure companies to move jobs back to the United States. Mexico's job will be to suck it up, accept the millions of people Trump has promised to deport, and pay for the proposed border wall.
Reality may soon disrupt this vision because Donald Trump, in one of the first great ironies of his presidency, has given impoverished Mexicans more reason to migrate to the US.
The peso's slump against the dollar has dramatically driven up their cost of living, fuelling angry protests and steeling the resolve of some to sneak across the border.
"You're going to see a lot more people from the south coming up here to cross," said Paulino Hernández, 38, seated in a Catholic-run migrant shelter in Tijuana, on the border with California. "People are feeling bad. Everything has become so expensive. The dollar now goes a lot further."
Hernández, a construction worker who has lived illegally in San Diego since 2000, recently visited relatives in Oaxaca, in southern Mexico, and found young people clamouring to join him on his trip back to the US. "They want to go north."
Trump stormed into the White House on vows to end an "invasion" of "illegals", deport millions of undocumented immigrants, and seal the border.
The numbers trekking north had dwindled over the past decade as the Mexican economy improved, and the US economy struggled, but the mood now was bleak, and dreams of life in the US glowed anew, Hernández said. "My nephew begged to come with me. He doesn't see a future in Mexico."
Mexico's former president Felipe Calderón recently tweeted a warning to America's new president: "The more jobs you destroy in Mexico, the more immigrants the American people will have. Think a little!"
Gordon Hanson, a UC San Diego economics professor who studies migration trends, said Trump had reversed the macro-economic climate and created uncertainty about Mexico's future. "Greater instability could induce younger workers … to start their careers in the US. It does ironically increase the incentive to move north. Everything we're seeing now is the Trump effect."
Trump's victory over Hillary Clinton jolted an economy left vulnerable by anaemic growth and faltering reforms. The peso swooned from 18 to the dollar to 20 in the election's immediate aftermath and slid again to 22 in recent days as Trump ratcheted up the pressure.
He threw Mexico's car industry – a sizable employer –into disarray by threatening Ford, Toyota, General Motors and other manufacturers with tariffs unless they shipped jobs to the US. Ford denied any connection but announced the cancellation of a planned $1.6bn (£1.3bn) plant in Villa de Reyes, saying it would expand a facility in Michigan. Trump greeted the move as "just the beginning".

Opinion
The 45th president of a United States delivered his much-anticipated address moments after he took the oath of office. Here's the verdict
His inaugural address sounded like any speech at a Trump rally. The scene was a campaign event writ large, with a massive cheering crowd of white people wearing "Make America Great Again" red caps. Like his tone as a candidate, the new president's voice was angry and dripping with pessimism. Like his speech at the Republican convention, President Trump drew a dark picture of a country under siege from foreign trade competitors, Muslim terrorists and Washington insiders. There were no grace notes.
His base no doubt loved it. But there was no reassurance or olive branch extended to the majority of Americans who did not vote for him. While he named President Bill Clinton, there was no mention of his wife, the vanquished opponent. There were no good wishes extended to President George HW Bush or his wife, who were hospitalized, but did not endorse him. The man does not seem capable of being magnanimous.
Indeed, after calling the Obamas "magnificent," he was then overtly rude to them, portraying a do-nothing Washington that had betrayed the people and enriched itself. Meanwhile, the unprepared billionaires who displayed their ignorance at hearings last week await confirmation to his cabinet. In a gratuitous slap that echoed his wild and crazy insult to Rep John Lewis on Twitter, he lambasted politicians, presumably all the Democrats on the reviewing stand behind him, who "complain" but fail to get things done.
And the biggest lie of all when the narcissist proclaimed, "I will never let you down."
He already has.
Steven Thrasher: Dumbness and xenophobia were baked into Trump's speech
From the white bodies in the crowd, to the white faces of the performers, to the intended white audience for his words, Trump's inauguration was a blatant moment of white reconciliation.
His excoriation of "welfare" and the "inner city," his fear mongering about borders, his praise of "American hands and American labor:" it was all meant to stoke the excitement of the majority of white voters who supported him.
Like all projects of white supremacy, the inauguration was aided by exceptional black people who gave it legitimacy – like Justice Clarence Thomas, who used more words to swear in Mike Pence than he uses most years on the Supreme Court. In chastising politicians who are "all talk and no action," Trump worked in a dig at John Lewis, a critical Black politician who questioned his legitimacy (and commendably didn't attend).
Trump's nods to lack of prejudice were insincere. His call that "when you open your heart to patriotism there is no room for prejudice" was sandwiched sentences stoking Islamophobia and praising the Christian Bible. And while the cliche that "whether we are black or brown or white, we all bleed the same red blood" got a rousing cheer from the largely white crowd, it was followed by the lie that "we all enjoy the same glorious freedoms" regardless of race.
The dumbness and xenophobia baked into Trump's speech weren't surprising. Perhaps more alarming was seeing Democratic leaders from Bernie Sanders to Hillary Clinton sitting there, silently, granting legitimacy to this idiotic ugliness.
Most of the world's great strongmen give great speeches – should we be disappointed that ours does not? Trump's inaugural address veered from religious pieties to dystopian hellscapes – "American carnage," in his words – yet by the end, raising a clenched fist in defiance of the hated Washington elites he now commands, there could be little doubt of his authoritarian credentials. There was something reassuringly familiar in his decree that "the people will become the rulers of this nation again," and his promise of a government "controlled by the people".
"Every day, the people will rule more," promised Hugo Chavez in 2011. "The people will be the ones who decide," said Nicolás Maduro last year. Erdogan: "There is no power higher than the power of the people." Generally, the greater the invocation of the people, the greater the president's cronies will be fleecing the country. These are definitely not the people.
Trump has already brought more billionaires in to the Washington establishment than any other president, with a cabinet worth $14bn combined. These include CEOs and officials of the very banks that profited off of the immiseration of those ordinary Americans that Trump promises will rule again. There is much work, and much pillaging, to be done.

Nearly all of these are English-edition daily newspapers. These sites have interesting editorials and essays, and many have links to other good news sources. We try to limit this list to those sites which are regularly updated, reliable, with a high percentage of "up" time.
Some of the available newspapers:
| | | |
| --- | --- | --- |
| Asia & CIS | | |
| | | |
| --- | --- | --- |
| China | | |
| | | |
| --- | --- | --- |
| China & Hong Kong | | |
| | | |
| --- | --- | --- |
| France | | |
| | | |
| --- | --- | --- |
| Israel | | |
| | | |
| --- | --- | --- |
| Norway | | |
| | | |
| --- | --- | --- |
| Palestine | | |
| | | |
| --- | --- | --- |
| Russia | | |
| | | |
| --- | --- | --- |
| Ukraine | | |
.