23 Jan
PNN/ Bethlehem/
The newly appointed US ambassador to Israel, David Friedman, has stated that he will be living in Jerusalem and not in the US envoy house in Herzliya.
According to Israeli media, the new conservative ambassador from the Trump administration said that he prefers to live in a small apartment in Jerusalem than live in the house in which US ambassadors have lived over the years.
In a report by the Israeli daily newspaper, Ynet, Friedman has said he will arrive to Israel by the end of February and intends to live in Jerusalem whether the administration decides to move the US embassy from Tel Aviv to Jerusalem or not.
To her part, Deputy Minister of Foreign Affairs and the right wing Likud party member, Tzipi Hotovely, said that she is glad to have Friedman as an ambassador, since him and the US administration are always supportive of Israel and stand on its side through all of its "battlers", especially on the settlement files.
Regarding the embassy move, Hotovely said she hopes that the presidential pledge will come true despite the rage against it in the Arab world, saying that it will be a "courageous" move by the US administration if it does happen.
On Friday, the Israeli prime minister, Benyamin Netanyahu has congratulated Trump on twitter, saying that he looks forward to "working closely to make the alliance between Israel & the US stronger than ever."
 Related Articles

Adviser Kellyanne Conway: 'He is not going to release his tax returns'
WikiLeaks calls for someone to leak documents so they can be published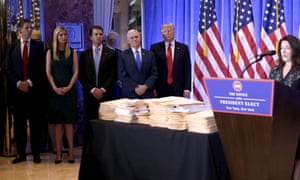 Donald Trump, accompanied by Mike Pence and family members stands behind piles of documents purportedly detailing his actions to divest himself of his business interests. Photograph: Rex/Shutterstock
Donald Trump will not release his tax returns even after repeated promises to do so following a supposed audit, one of his senior advisers said on Sunday – confirming that the president will break a 40-year tradition and not show Americans the extent of his financial interests and obligations.
Kellyanne Conway, a senior counselor to the president, told ABC's This Week the Trump administration would do nothing about calls to release the information.
"The White House response is that he's not going to release his tax returns," she said. "We litigated this all through the election."
The broken promise alienated WikiLeaks, which for months during the campaign released hacked Democratic emails, which Trump often seized on to denigrate his opponent Hillary Clinton.
On Sunday the group tweeted: "Trump's breach of promise over the release of his tax returns is even more gratuitous than Clinton concealing her Goldman Sachs transcripts."
Speaking to ABC, Conway contradicted polls that show most Americans want to see the returns when she said: "People didn't care.
"They voted for him, and let me make this very clear: most Americans … are very focused on what their tax returns will look like while President Trump is in office, not what his look like."
Last week a Washington Post-ABC poll showed that 74% of Americans, including 53% of Republicans, want to see Trump's returns. In October a CNN poll found that 73% of registered voters, including 49% of Republicans, wanted to see the tax returns.
A petition on the White House website that calls for the immediate release of the returns and "all information needed to verify emoluments clause compliance" had 218,465 signatures as of Sunday afternoon.
The returns could show the breadth of Trump's financial interests around the world, including where he does business, who his partners are and to whom he owes money.
Ethics experts fear Trump's business liabilities could affect White House policy and how the president spends taxpayer dollars: for instance, how he may deal with banks that own hundreds of millions of his debt, treat foreign nations that curry favor or become real estate partners, or reshape domestic policy to accommodate his interests.
Donald Trump assumed office promising to take on the political elites and return power to the people. In this dispatch from the inauguration, Paul Lewis discovers a president already relishing his status as leader of a new Washington establishment. But his followers, the self-declared 'deplorables', are keeping the faith
Earlier this month, Trump repeated his campaign contention that he would not release the returns because "they're under audit". No law prohibits the release of tax returns during an audit; Trump's lawyers have said he is under audit, but they have not provided any proof that he is actually under audit. The IRS has repeatedly declined to comment on the audit status of any single citizen.
During the campaign, Trump repeatedly promised to release his tax returns after the supposed audit. In May, for instance, he said: "As soon as the audit ends I'll release my returns." He also tweeted: "I would release my tax returns when audit is complete, not after election!"
In October, Trump's 1995 tax returns were published by the New York Times, which acquired the records through an anonymous source and verified them with the businessman's former accountant.
White House press spokesman says administration is in early stages of talks to fulfil Donald Trump's pledge to move embassy from Tel Aviv
There is likely to be a backlash against the US if it follows through with Donald Trump's pledge to move its embassy from Tel Aviv to Jerusalem. Photograph: Jack Guez/AFP/Getty Images
Reuters in Washington
The White House has said it is in the early stages of talks to fulfil Donald Trump's pledge to move the US embassy in Israel from Tel Aviv to Jerusalem, an action that is likely to spark anger in the Arab world.
"We are at the very beginning stages of even discussing this subject," White House spokesman Sean Spicer said on Sunday.
Washington's embassy is in Tel Aviv, as are most foreign diplomatic posts. Israel calls Jerusalem its eternal capital, but Palestinians also lay claim to the city as part of an eventual Palestinian state. Both sides cite religious, historical and political claims.
Trump, who vowed during the 2016 presidential campaign to move the embassy, spoke with with the prime minister of Israel, Benjamin Netanyahu, in their first call since the US president took office on Friday.
After the call Netanyahu said that Trump had invited him to a meeting in Washington in February. The two leaders discussed the nuclear deal with Iran, the peace process with the Palestinians and other issues, Netanyahu's office said.
In Washington, Trump said the call had been "very nice". The White House later said that Trump had told the Israeli prime minister that peace with the Palestinians could only be "negotiated directly between the two parties".
Any decision to break with the status quo on the embassy issue is likely to prompt protests from US allies in the Middle East such as Saudi Arabia, Jordan and Egypt. Washington relies on those countries for help in fighting Islamic State, which the new president has said is a priority.
The US Congress passed a law in 1995 that described Jerusalem as the capital of Israel and said it should not be divided, but successive Republican and Democratic presidents have used their foreign policy powers to maintain the US embassy in Tel Aviv and to back negotiations between Israel and the Palestinians on the status of Jerusalem.
In early December, the then president, Barack Obama, renewed the presidential waiver until the beginning of June. It is unclear whether Trump would be able to legally override that waiver and go ahead with the relocation of the embassy.
Announcement comes just two days after inauguration of Donald Trump, who has promised more pro-Israel policies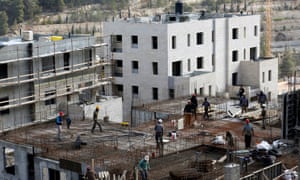 Labourers work at a construction site in the Israeli settlement of Ramot in an area annexed to Jerusalem. Photograph: Ronen Zvulun/Reuters
Israel has announced plans to build almost 600 new settlement homes in occupied East Jerusalem, just two days after Donald Trump's inauguration as US president, with officials stating the "rules of the game have changed".
The announcement by the Jerusalem municipality came as Israeli officials appeared emboldened by the new Trump administration, which has made clear its policies will be far more pro-Israel and settlements than Barack Obama's.
Senior Palestinian officials immediately condemned the plans. They fear a Trump presidency could signal the death knell for their hopes of their own state as well as the end of the Oslo peace process.
The announcement came as Israel's prime minister, Benjamin Netanyahu, said he would hold his first conversation with Trump as president by telephone on Sunday.
"Many matters face us: the Israeli-Palestinian issue, the situation in Syria, the Iranian threat," he said at the start of his weekly cabinet meeting.
Before the phone call, Netanyahu reportedly told his ministers that he would tell Trump he was willing to give Palestinians a "state minus" – suggesting a level of autonomy short of statehood.
The plans announced on Sunday had been on hold during the final months of the Obama administration, which had condemned each new announcement of settlement planning or construction as an obstacle to peace and the two-state solution.
A UN security council resolution demanding a halt to all Israeli settlements in the occupied territories passed in December after the Obama administration refused to veto it.
There are 430,000 Israeli settlers in the West Bank and 200,000 Israelis in East Jerusalem, which Palestinians see as the capital of their future state, in settlements long regarded by the international community as illegal.
Making clear that the approval of plans was linked to the arrival of the new administration in Washington, Jerusalem's mayor, Nir Barkat, said: "We've been through eight tough years with Obama pressuring to freeze construction.
"Although the Jerusalem municipality has not frozen plans, many times we did not get government approval because of American pressure. I hope that era is over and we now we can build and develop Jerusalem for the welfare of its residents, Jews and Arabs alike."
Meir Turgeman, the city's deputy mayor and chair of the planning and building committee, told Israel Radio that the permits had been held up until the end of the Obama administration.
"The rules of the game have changed with Donald Trump's arrival as president," he said. "We no longer have our hands tied as in the time of Barack Obama. Now we can finally build."
Nabil Abu Rudeineh, a spokesman for the Palestinian president, Mahmoud Abbas, condemned the plans and called on the UN to take action, particularly in light of the recent resolution. "It is time to stop dealing with Israel as a state above the law," he said.
Readers have asked how to get involved after the Guardian's 24-hour digital event last week. Opportunites abound to make a difference, from setting up an online petition, to joining a local green group, to entering politics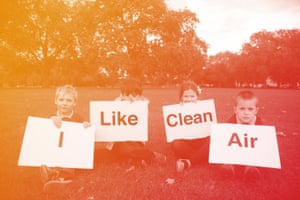 School children in Hackney, east London, campaign for cleaner air. Photograph: Kristian Buus for the Guardian
The planet is getting hotter, leaving people hungry and fuelling wars around the world and you want to do something about it. But with a green movement to cater for every age, location, and type of plastic recycling, how do you turn your enthusiasm into action?
We talked to campaigners and politicians to glean their top tips for getting started as a climate activist.
Find the 'little big thing'
"The age old problem for green campaigners is how to make something so big, so important, so potentially catastrophic seem like something people should engage with now," says John Coventry from GoFundMe. "The very best campaigns take those huge problems and make them real for people in their day-to-day life."
He calls this the "'little big thing' – the clear relatable story that brings a wider issue to life". Once you have this locked, says Coventry, you should campaign with tenacity, utilising every platform "from old-fashioned newspapers to snapchat" to get your message across. "Unexpected things will happen and things will fail. Learn from all of it and keep going," he adds.
Work backwards from the coal face
Naia Bazin Lopez from People and Planet, a movement for students, recommends researching the people most acutely affected by climate change and working backwards.
If you believe, as People and Planet do, that fossil fuels are the root causes of climate change the first step is to get acquainted with the people fighting to keep them in the ground, from Canada's indigenous community in Tar Sands to the Colombians living near the Cerrejon Mine," she says.
Their message is simple: keep it it ground. So for campaigners thousands of miles away, says Lopez, the first step is to stand in solidarity, but the second tangible thing you can do is to pressure businesses and banks to stop contributing to an industry destroying the communities around the world.
The online petition site Change.org has hosted many successful campaigns – from a UK schoolgirl's fight to keep climate change on the school curriculum to the action to stop the construction of the Dakota Access pipeline. Change.org says all of its campaigns start with ordinary people campaigning on an issue that has affected them personally or that they feel passionately about, before realising others share their plight.
Lopez also believes the "power is with the people" and says that while signing a petition is the simplest way to get involved, others have more to add. "If you are going to organise an event locally it's key to build people's confidence and be interested in their skills," she says. Amazing campaigns, including climate camp, began after people took the time to talk, listen and collaborate with their communities, says Lopez.
Small changes can have global impact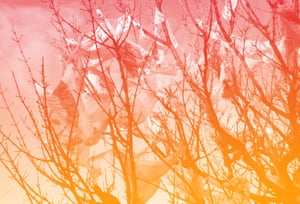 The number of single-use plastic bags dropped by 85% in six months after the 5p charge for plastic bags in England. Photograph: Mar Photographics/Alamy
Sometimes encouraging the simplest behaviour changes can have a massive global impact, says John Coventry. Even if you have to put a monetary value on that change.
The 5p charge for plastic bags in England is one of the most successful green campaigns of the past five years, he says. "It may seem trivial to some [but it's] a relatively simple policy solution that drives behaviour change among consumers and businesses."
Within six months of the ban, the number of single-use plastic bags dropped by 85%, with the government heralding it as a major breakthrough, not least for the world's marine life, which is being drowned by 8bn tonnes of waste plastic every year.
Politics can change policies
Unless you are a US registered citizen, there was very little you could have done to stop Trump gaining power, but from Albania to Australia, Zimbabwe to Zambia there are local, regional and national politicians trying to protect the environment through policy.


Nearly all of these are English-edition daily newspapers. These sites have interesting editorials and essays, and many have links to other good news sources. We try to limit this list to those sites which are regularly updated, reliable, with a high percentage of "up" time.
Some of the available newspapers:
| | | |
| --- | --- | --- |
| Asia & CIS | | |
| | | |
| --- | --- | --- |
| China | | |
| | | |
| --- | --- | --- |
| China & Hong Kong | | |
| | | |
| --- | --- | --- |
| France | | |
| | | |
| --- | --- | --- |
| Israel | | |
| | | |
| --- | --- | --- |
| Norway | | |
| | | |
| --- | --- | --- |
| Palestine | | |
| | | |
| --- | --- | --- |
| Russia | | |
| | | |
| --- | --- | --- |
| Ukraine | | |
.