25 Jan
Nearly all of these are English-edition daily newspapers. These sites have interesting editorials and essays, and many have links to other good news sources. We try to limit this list to those sites which are regularly updated, reliable, with a high percentage of "up" time.

President's senior adviser is registered in both New York and Florida, as president falsely claims in tweet that such an arrangement amounts to fraud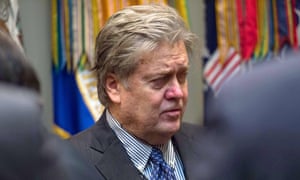 Steve Bannon voted in New York in the 2016 elections but remains registered to vote in Florida, according to state records. Photograph: Nicholas Kamm/AFP/Getty Images
A senior White House adviser to Donald Trump is registered to vote in two different states, a practice that the US president wrongly claimed amounted to electoral fraud on Wednesday as he called for an inquiry.
Stephen Bannon registered to vote in New York shortly before the presidential election last year, after the Guardian disclosed that he was registered to vote at a vacant house in Florida where his ex-wife had once lived.
Bannon, whose registration lists a rented apartment in Manhattan as his address, cast his ballot for Trump in New York, according to a source familiar with his arrangements, who was not authorized to speak to the media.
Bannon, however, also remains registered to vote in Florida, according to state records. His registration lists as his address the home of Andy Badolato, a friend of Bannon's who has worked on some of his political documentary films and written for Breitbart News, the far-right website that Bannon controlled before entering the White House as chief strategist and senior counselor to the president.
His registration in Florida was moved to Badolato's home shortly after the publication of the Guardian report in August. Bannon has not cast a ballot in Florida, according to state records. Badolato, who was also registered to vote at the home with his adult sons, declined at the time to answer questions on whether Bannon actually lived at the property, which is required under the registration rules of the Florida division of elections.
In a pair of tweets early on Wednesday morning, Trump said that arrangements such as Bannon's were unacceptable as he appeared to threaten a crackdown on access to the ballot box.
"I will be asking for a major investigation into VOTER FRAUD, including those registered to vote in two states, those who are illegal and … even, those registered to vote who are dead (and many for a long time). Depending on results, we will strengthen up voting procedures!" the president wrote.
Fredrik Önnevall is in court this week facing charges of people smuggling after helping 15-year-old Abed travel to Sweden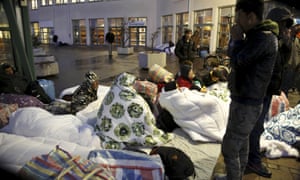 Refugees sleep outside the Swedish migration agency's centre for asylum seekers in Malmo in November 2015. Photograph: Reuters
The suggestion sounded like an innocent joke, but it turned out to be deadly serious.
"Take me with you!" Abed asked Fredrik Önnevall.
It was the moment the journalist suddenly faced a dilemma: should he cease reporting on the refugee crisis for viewers back home and try solving a small part of it himself?
The camera captures the unscripted confusion (from 53 minutes in) that leaves Önnevall barely able to speak. "When you get such a direct question, what are you supposed to do?" he said. "All I can say is: I'll give it a try."
And so began a journey that will bring Önnevall, his cameraman and interpreter to court on Thursday to face charges of people smuggling, after they helped Abed, 15, get to Sweden from Greece while they were making a TV documentary, which was broadcast in 2015.
It was a choice faced by thousands of Europeans that year – can I do something directly to help a refugee? The alternative for Abed was to leap on to a speeding lorry leaving Athens. Later, Önnevall told police that if he had not helped the boy, the betrayal would have haunted him.
"It is a little difficult to grasp that we have become symbols of something much bigger than what we ourselves experienced," Önnevall says.
"But it helps a lot that we don't feel ashamed or embarrassed. Most viewers understand what we did, they can put themselves in our shoes – even if they disagree with us."
When first broadcast, Önnevall's story embodied the wave of sympathy that swept across Sweden as it opened its doors to 167,000 asylum seekers in 2015. Since then the mood has changed sharply.
In Copenhagen, the courts have been accused of "criminalising decency" after citizens received stiff penalties merely for offering lifts to refugees, as the authorities sought to send a strong message on asylum. Hundreds of Swedes have been stopped by police for helping refugees across the bridge from Denmark, but only a handful have been charged with smuggling.
Önnevall's case is set to clarify in Swedish law whether it is a crime to aid a human being in distress. "My understanding from the prosecutor is that the case is about lack of legal clarity in this situation," Önnevall says. "I have no sense that I am being made an example of."
Ancient Catholic order refuses to cooperate with Vatican investigation into sacking of offical over distribution of condoms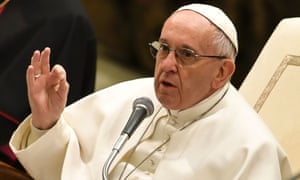 The row is being seen as a sign of anger among Catholic traditionalists who view Francis as too progressive. Photograph: Andreas Solaro/AFP/Getty
Pope Francis is facing an extraordinary challenge to his authority from an ancient Catholic order that is refusing to cooperate with a Vatican investigation into the sacking of a top official over the distribution of tens of thousands of condoms.
The controversy has been simmering for weeks, but the Knights of Malta's rejection of the investigation – an unprecedented act in recent times – has now escalated the matter.
The conservative order said in a statement it intended to protect its sovereignty from official oversight and its members had the legal right not to cooperate with the Vatican investigation, which was approved by Pope Francis late last year, and is being led by the Vatican's second most senior official, the secretary of state, Pietro Parolin.
The fight is increasingly being seen not just as a battle over the investigation, but as a sign of the increasing anger and disobedience by some Catholic traditionalists who are opposed to Francis's papacy because they view him as too progressive on issues involving social doctrine.
"It is not just the fact that they are defying the pope's authority, but they are doing so using language that is disrespectful and confrontational," said Austen Ivereigh, who has written a biography of the pope. "It is as bad as it looks."
At the heart of the case lies the firing of the Maltese Order's grand chancellor, Albrecht von Boeselager, who was suspended on 8 December after he refused to resign after allegations that thousands of condoms were distributed in Myanmar by its charitable arm under his watch.
The Catholic church bans the use of contraception and Boeselager has said he stopped the practice when he learned about it.
The pope appointed a special commission to investigate the matter on 22 December, prompting an outcry from the order, which was founded in the 11th century in Jerusalem as the Knights Hospitaller. It came amid tension between Francis and the Vatican's top diplomat to Malta, the conservative US cardinal Raymond Burke, and reflected concern in the Holy See that Boeselager may have wrongly been told that the pope had blessed his firing.
Burke, who is known in particular for his views on so-called sexual morality, is one of four cardinals who challenged Francis last September when he asked the pope to submit yes or no answers to a series of questions about his call for priests to show "discernment" in their treatment of Catholics, such as divorcees, who live outside the church's rules.
The papal exhortation – called Amoris laetitia (Joy of Love) – was seen by some traditional Catholics as being too lax because it suggested some divorced and remarried couples could be offered holy communion.
"Burke is becoming a real thorn in the side of the pope. I suspect he is driving this [firing of Boeselager] and it is part of his obsession with sexual morality, as if this is the decisive feature of what it means to be Catholic and faithful to Jesus Christ when in fact scriptures say very little on these matters," said Robert Mickens, a veteran Rome-based Vatican journalist.
Update
Catholic order's British leader, Matthew Festing, had been in conflict with liberalising pontiff over charity project
The head of the Knights of Malta, an ancient Catholic order, has resigned over a dispute with the Vatican about free condoms that has become a battle of wills between the heads of two of the world's oldest institutions and a test of Pope Francis's authority.
The Rome-based chivalric and charity institution said Grand Master Matthew Festing, 67, resigned after the pope asked him to step down on Tuesday. Grand masters of the institution, which was founded in the 11th century, usually hold their posts for life.
Donald Trump's revival of the Dakota Access pipeline is a stunning twist of fate, but the tribe and its supporters say now is the time to show strength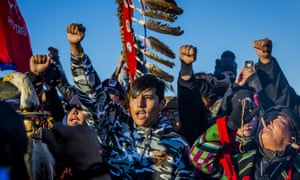 'I'm not scared for myself, but I admit I am frightened for the future.' Photograph: ddp USA/Rex/Shutterstock
The Standing Rock Sioux tribe and its supporters are vowing to resist Donald Trump's executive order to allow construction of the Dakota Access pipeline with legal action, civil disobedience and a return to the "water protector" encampments.
"President Trump is legally required to honor our treaty rights and provide a fair and reasonable pipeline process," said Standing Rock Sioux tribal chairman Dave Archambault, who called Trump's action "politically motivated".
"Creating a second Flint does not make America great again," he added.
The executive order represents a major – if not wholly unexpected – reversal of fate for the $3.8bn project, which was slated to cross the Missouri River just upstream of the Standing Rock Sioux reservation. The tribe feared the pipeline would contaminate their drinking water and destroy sacred sites.
On 5 December, the US army corps of engineers denied a permit for the pipeline to cross the river, handing a major victory to the thousands of Native American and environmental activists who established encampments on the banks of the river to oppose the pipeline.
The denial of the permit – and initiation of an environmental impact statement – were expected to delay the pipeline's completion by years. Water protectors in Washington DC were already mobilizing on Facebook to protest at the White House on Tuesday evening. "Stopping these projects will require action at home, in the halls of power, and in the path of each pipeline," the group wrote.
Jan Hasselman, a lawyer representing the tribe, said that Trump had "unlawfully and arbitrarily sidestepped" the findings of the previous administration. "It's an insult to the Standing Rock and all of its supporters in Indian country, and it's a continuation of a historic pattern of trampling on Native rights," he added.
Dallas Goldtooth, an organizer with the Indigenous Environmental Network and member of the Mdewakanton Dakota and Dine tribes, said he had expected Trump to support the pipeline, but did not imagine it would happen within days of the administration.
"These are attacks on our ancestral homelands," he said. "These orders demonstrate that he is more than willing to violate federal law that protects the environment and protects our communities and protects indigenous rights for the benefit of oil and gas."
Ron His Horse is Thunder, a member of the Hunkpapa-Lakota Oyate tribe, said he anticipated a protracted court battle to stop the pipeline. But the former Standing Rock chairman said he feared the pipeline corporation, with the support of Trump, could eventually push forward.
"It'll slow down the executive order, but it's not going to stop it," he said. "It takes us back to where we were when the whole protest started."
Opinion
The proper reaction to Friday's meeting between Britain's prime minister and the misogynist now occupying the White House ought to be shame, not crowing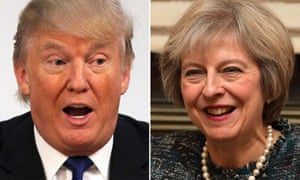 'Theresa May is the first foreign premier to visit president Donald Trump, exactly a week after his inauguration.' Photograph: PA
H

e is the new US president. She has been the British prime minister for six months. On Friday they will meet in Washington, making her the first foreign leader to visit President Donald Trump, exactly a week after his inauguration.
They will talk about a post-Brexit trade deal, Nato and immigration, but when Andrew Marr asked Theresa May on television last weekend if she felt torn between the wish for "a good deal" and the urge to speak truth to power about women's rights, she replied that while she disapproves of some of Trump's comments, for now her priority is to identify common ground, and prove herself: "I think the biggest statement that can be made about the role of women is that I will be there as the female prime minister of the UK talking to him about the interests we share."
Organisers of last Saturday's Women's March in the UK want marchers to write to May asking her to reaffirm the UK's commitment to human rights. Those who marched were motivated in part by their anger that the new US president was filmed in 2005 boasting that his fame meant he could grab women by their genitals. Trump has been accused of sexual misconduct by at least 24 women. So what should British women, and others who care about women's rights, think or feel about May, our second female prime minister, being the first leader to congratulate him in person, in the White House?
Judging from the mood of the buildup, we should be grateful. The nightmare of the golden elevator has been averted: Nigel Farage, pictured grinning with the president-elect just a few days after November's result was declared, is not the new British ambassador to the US, as Trump suggested he should be. Kim Darroch, who got the job only last year, has hung on to it. And the Tories, rather than Ukip, are still in charge.
The former foreign secretary William Hague sounded plain thrilled. "In foreign affairs, symbolism matters," he began a piece in the Daily Telegraph, going on to boast of the "intimacy of the ties between London and Washington DC". Does the May-Trump tête-à-tête suggest that in these perilous Brexit waters the so-called special relationship could count for something after all? Trump and May seem even to be flirting with the idea of upgrading it, with both of them calling it "very" special this month.
But pride at this British PR coup is not confined to Atlanticist Tories, as the Independent columnist and erstwhile Hillary Clinton supporter Jane Merrick declared herself "cheered" by the prospect of May, "a female politician – and a British woman at that", meeting the most powerful man in the world "on equal terms". Merrick used her column to attack those who believe conservatives can't be feminists, and she's right that you can be a feminist, as May has said she is, and still decide not to take the stand on behalf of women in a given meeting, on a given day.
But you don't have to declare that May is not a feminist to think that the appropriate reaction to this week should not be triumphal, but rather a national sense of shame. Imagine the outrage if a rightwing and anti-immigration French president, or a climate change-denying Canadian one, had been granted this first meeting, which promises to flatter Trump as much as anything else, with a visit to Buckingham Palace dangled by various commentators as the ultimate treat for this vainest of men (wait till he sees our gold decor!), and a sure way to seal the deal with this new and super-special mate.
But for feminists, men as well as women, the week has a particular sting. On Monday misogyny made its expected return to US foreign policy, with the "global gag rule" first instituted by president Ronald Reagan brought back into force, forbidding any US government-funded NGO from providing abortion advice or information.


Nearly all of these are English-edition daily newspapers. These sites have interesting editorials and essays, and many have links to other good news sources. We try to limit this list to those sites which are regularly updated, reliable, with a high percentage of "up" time.
Some of the available newspapers:
| | | |
| --- | --- | --- |
| Asia & CIS | | |
| | | |
| --- | --- | --- |
| China | | |
| | | |
| --- | --- | --- |
| China & Hong Kong | | |
| | | |
| --- | --- | --- |
| France | | |
| | | |
| --- | --- | --- |
| Israel | | |
| | | |
| --- | --- | --- |
| Norway | | |
| | | |
| --- | --- | --- |
| Palestine | | |
| | | |
| --- | --- | --- |
| Russia | | |
| | | |
| --- | --- | --- |
| Ukraine | | |
.