26 Jan
Nearly all of these are English-edition daily newspapers. These sites have interesting editorials and essays, and many have links to other good news sources. We try to limit this list to those sites which are regularly updated, reliable, with a high percentage of "up" time.
Jerusalem: Construction works in continue "Maaleh Adumim" settlement.
PNN/ Gaza/
The Gaza based Palestinian Center for Human Rights (PCHR) has issues a report on Israeli violations of international law and international humanitarian law in the oPt continued during the reporting period (19 – 25 January 2017). The list of violations includes the following:
· Israeli forces killed a Palestinian civilian in the north-eastern side of occupied Jerusalem.
– 2 Palestinian Civilians were wounded, including a child, in the West Bank.
· Israeli forces continued to target Palestinian fishermen in the Gaza Sea.
– 3 fishermen, including a child, were wounded in two shootings against their Boats in the northern Gaza Strip
· Israeli forces continued to target the Gaza Strip border areas, but no casualties were reported.
– A watchtower belonging to Palestinian armed groups was damaged, east of al-Maghazi.
· Israeli forces conducted 63 incursions into Palestinian communities in the West Bank and a limited one into the Gaza Strip.
– 64 civilians, including 17 children and 7 activists in the Popular Committee against the Wall and Settlements, were arrested in the West Bank.
– 17 of them, including 12 children, were arrested in occupied Jerusalem.
· Israeli forces continued their efforts to create Jewish majority in occupied East Jerusalem.
– 22 commercial shops were demolished in the vicinity of Qalendia checkpoint, north of Jerusalem.
– A store, parking and store for construction materials were demolished.
– Israeli settlers took over a store in 'Aqabet al-Khalidiyah neighbourhood in the Old City.
· Settlement activities continued in the West Bank.
– 4 dwellings and 10 other facilities were demolished in Kherbet Karzliyah, north of Jericho, rendering 11 persons homeless, including 6 children.
– Israeli settlers uprooted olive trees from the lands of Bitello village in Ramallah.

Trump gives first presidential TV interview as draft executive order points to return to practices such as waterboarding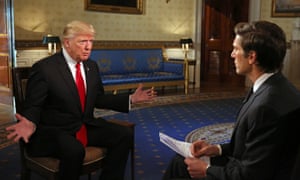 Donald Trump in his first one-on-one television interview since being sworn in as president. Photograph: Martin H Simon/Getty Images
Donald Trump has used his first TV interview as president to say he believes torture "absolutely" works and that the US should "fight fire with fire."
Speaking to ABC News, Trump said he would defer to the defence secretary, James Mattis, and CIA director, Mike Pompeo, to determine what can and cannot be done legally to combat the spread of terrorism.
But asked about the efficacy of tactics such as waterboarding, Trump said: "absolutely I feel it works."
"When Isis is doing things that nobody has ever heard of since medieval times. Would I feel strongly about waterboarding. As far as I'm concerned we have to fight fire with fire."
Trump said he asked intelligence chiefs earlier this week whether torture works. "The answer was yes, absolutely," he said.
He added that terrorist groups "chop off the citizens' or anybody's heads in the Middle East, because they're Christian or Muslim or anything else … we have that and we're not allowed to do anything. We're not playing on an even field."
The interviews come after reports that Trump is preparing to sign an executive order that would reinstate the detention of terrorism suspects at facilities known as "black sites".
This would remove limitations on coercive interrogation techniques set by a longstanding army field manual intended to ensure humane military interrogations, which is mostly compliant with the Geneva Conventions.
Senator John McCain, a torture survivor and co-author of a 2015 law barring the US security agencies from using interrogation techniques beyond those set out in the US army field manual, signalled his defiance.
"The president can sign whatever executive orders he likes. But the law is the law. We are not bringing back torture in the United States of America," said McCain, the Arizona Republican who chairs the Senate armed services committee.
McCain referenced explicit guarantees from Pompeo and Mattis during their Senate confirmation proceedings to follow the interrogations law and the army field manual. "I am confident these leaders will be true to their word," McCain said.
The former CIA head Leon Panetta, who gave the orders to close the agency's black sites told the BBC that it would be a "mistake" to reintroduce enhance interrogation techniques and "damaging" to the reputation of t
Increasing numbers of Australians question whether their titular national day is cause for celebration at all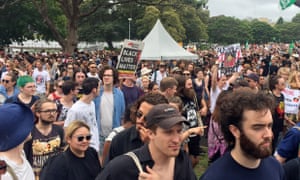 Protesters gather in Sydney to denounce the celebration of Australia Day, which many indigenous people call 'Invasion Day'. Photograph: Ethan James/AAP
Australia's deputy prime minister, Barnaby Joyce, has told his fellow citizens who don't share his love of Australia Day they are "miserable" and can "crawl under a rock and hide".
The bonhomie, beer, and barbecues of Australia's titular national day of 26 January – marking the beginning of European settlement in 1788 – is increasingly attended in the 21st century by a furore over whether the date is cause for celebration at all.
Significant sections of Australia's population – most notably Indigenous Australians who see the day as marking the beginning of more than two centuries of displacement and discrimination – dispute the anniversary's merit, labelling it instead "Invasion Day" or "Survival Day".
It marks the date the British "First Fleet", led by Captain Arthur Phillip, landed at Port Jackson and founded the settlement of New Albion, which was to become to modern city of Sydney.
The Fleet was 1,400 people, the majority of them convicts, and their arrival marked the beginning of European settlement of a land then known as New Holland, and regarded legally as Terra nullius – belonging to no one – despite more than 50,000 years of habitation by Australia's indigenous nations.
About 750,000 indigenous Australians are estimated to have been living in Australia when the First Fleet arrived.
In Australia's modern political landscape, there is a certain irony too that the day celebrates the arrival to Australia of unannounced visitors by boat, an act now condemned as "illegal" and "un-Australian" by successive governments who have enacted progressively harsher policies to punish people who migrate irregularly.
Australia Day has, in recent years, become increasingly nationalistic in its celebration, with overt displays of flag-waving and wearing, adoption of the national green-and-gold sporting colours, and adornment with Southern Cross tattoos (permanent and temporary).
Several Australians of the Year, most recently Indigenous footballer Adam Goodes, who was honoured in 2014 for his contribution to sport and to his community, have said that the date of Australia Day should be changed.
"It's a very sad day for a lot of our mob … because of the sadness and the mourning and the sorrow of our people and a culture that unfortunately has been lost to me through generations."
"Most Aboriginal Indigenous people want to celebrate Australia Day and they feel they are Australians, that they are part of the Australian community," he said.
Mundine said 26 January marked the commencement of Indigenous people being displaced from their land, massacres, children being taken from their parents, and the slow destruction of languages and culture.
"It was just like the end of the world for a lot of communities.
Nabeel Rajab has been in custody since June 2016 after writing an article for the New York Times about human rights abuses in his country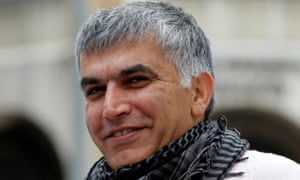 Nabeel Rajab arriving for a court hearing in Manama. Photograph: Hamad I Mohammed/Reuters
Bahraini human rights activist Nabeel Rajab is facing a lengthy prison sentence simply for stating that journalists and international NGOs cannot enter Bahrain.
The accusation was made at a court hearing on Monday, from which Rajab and his lawyer were excluded. Even though Rajab has been in police custody since June 2016, he was not taken to the courtroom.
As I reported last September, Rajab was arrested on a charge of "defaming the state" by publishing "false news… and malicious rumours that undermine the prestige of the kingdom" following the publication of an article by him on the op-ed page of the New York Times.
According to the Bahrain Institute for Rights and Democracy (BIRD), Monday's court hearing was the first time he, or anyone, had learned of the reasons for those charges.
A campaign group, Bahrain Watch, has compiled a list of journalists, academics and NGO representatives who have been denied entry since 2011. They include correspondents of the New York Times and ITV News.
Sayed Ahmed Alwadaei, BIRD's director of advocacy, says: "Bahrain targets anyone who opposes the regime with arrest and imprisonment, and they ban entry to journalists and human rights groups to stop the story from getting out.
"These are facts, and Nabeel Rajab's prosecution for stating these facts is a disgrace."
He also says: "The UK is setting a dangerous precedent in providing arms and political support to Bahrain, worth millions, while watching in silence as rights campaigners are harshly punished."
Rajab has also been prosecuted in a separate case for "spreading rumours in wartime", for "insulting a neighbouring country" and for "insulting a statutory body".
One set of charges relate to Rajab's criticism on Twitter of the Saudi war in Yemen. The other refers to his exposure of torture in a Bahraini prison.


Nearly all of these are English-edition daily newspapers. These sites have interesting editorials and essays, and many have links to other good news sources. We try to limit this list to those sites which are regularly updated, reliable, with a high percentage of "up" time.
Some of the available newspapers:
| | | |
| --- | --- | --- |
| Asia & CIS | | |
| | | |
| --- | --- | --- |
| China | | |
| | | |
| --- | --- | --- |
| China & Hong Kong | | |
| | | |
| --- | --- | --- |
| France | | |
| | | |
| --- | --- | --- |
| Israel | | |
| | | |
| --- | --- | --- |
| Norway | | |
| | | |
| --- | --- | --- |
| Palestine | | |
| | | |
| --- | --- | --- |
| Russia | | |
| | | |
| --- | --- | --- |
| Ukraine | | |
.