27 Jan
Nearly all of these are English-edition daily newspapers. These sites have interesting editorials and essays, and many have links to other good news sources. We try to limit this list to those sites which are regularly updated, reliable, with a high percentage of "up" time.
PNN/ Ramallah/
Many Palestinians believe that threats of annexation of the occupied West Bank are quickly becoming a reality. "Israel is practically annexing all of Area C and great portions of Area B to expand its colonial enterprise on Palestinian national soil," said Tayseer Khaled, a member of the Executive Committee of the Palestine Liberation Organisation (PLO).
Under the Oslo Accords reached between the PLO and the Israeli regime, the occupied West Bank as split into three zones. Area A was to be under full Palestinian control, Area B under Palestinian administrative control and Israeli military control, and Area C would be under full Israeli military contr
Khaled explained that Israel handles every two adjacent colonies as one colony block, with areas between the colonies connected by smaller Jewish colony outposts, turning the vast majority of the occupied West Bank into a hive of Jews-only colonies.
"Enough with the political childhood of some Israeli political leaders demanding the annexation of the West Bank," Khaled told Gulf News. "No Palestinian leader or ordinary man alive, regardless of his leniency, is prepared to make concessions," he said. "Israel does not seek a Palestinian partner, but a Palestinian collaborator."
The Palestinian leadership, he said, must now continue its diplomatic attack against Israel and approach the UN Security Council once again to request that Israel be punished for its war crimes, particularly with respect to its stand on colony construction, even at the cost of a clash with newly inaugurated US President Donald Trump.

Controlling 2.8m acres of a reservation, the Tohono O'odham Nation vowed to oppose construction on its land and called for a meeting with the president
The US-Mexico border fence on the Tohono O'odham reservation. Photograph: John Moore/Getty Images
Donald Trump's proposed border wall could face a major obstacle in Arizona, where an indigenous tribe has vowed to oppose construction on its land, paving the way for potential mass resistance following the model of Standing Rock.
The Tohono O'odham Nation, a federally recognized tribe with a reservation that spans 75 miles of the US-Mexico border, announced on Thursday that it does not support the wall and criticized the White House for signing an executive order without consulting the tribe.
The Tohono O'odham's statement calls for a meeting with the president and comes after a tribal vice-chairman declared the government would build the wall "over my dead body". Earlier in his first week in office, Trump also promised to push forward with the the Dakota Access pipeline, which last year attracted an unprecedented gathering of indigenous groups to back the Standing Rock Sioux tribe in its fight against the oil project.
The Tohono O'odham tribe, which has roughly 28,000 members and controls 2.8m acres of a reservation in south-western Arizona, has long struggled with the militarized international border that was drawn through the middle of its traditional lands.
The O'odham people historically inhabited lands that stretched south to Sonora, Mexico, and just north of Phoenix, Arizona, and there are tribe members who still live in Mexico. The tribe today has the second largest Native American land base in the country, and indigenous people say the US Border Patrol has for decades significantly disrupted tribal communities and their day-to-day life.
"It cuts through our ancestral land, and it divides families that have been able to go back and forth freely since before the border line was drawn," said Bradley Moreno, a Tohono O'odham member who grew up miles from the border. "Border Patrol is a way of life for us."
The tribe has said that Border Patrol agents in the past have detained and deported Tohono O'odham people who were "simply traveling through their own traditional lands, practicing migratory traditions essential to their religion, economy and culture".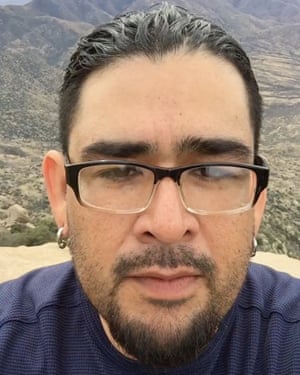 Bradley Moreno: 'Border Patrol is a way of life for us.' Photograph: Bradley Moreno
Moreno, 35, said law enforcement harassment is common for indigenous people and that he has been pulled over and questioned by Border Patrol more than a dozen times.
There is also already a steel barrier at the border along the reservation, and if a wall is built, the results would be disastrous, Moreno added.
"It's going to affect our sacred lands. It's going to affect our ceremonial sites. It's going to affect the environment. We have wildlife, and they have their own patterns of migration," he said. "There are just so many things that are wrong with this. The whole idea behind it is just racist."
Trump launched his campaign with a pledge to build a wall, with a speech that labeled Mexican immigrants "criminals" and "rapists". His executive order on Wednesday, part of a series of anti-immigration announcements, called for the building of a "contiguous, physical wall or other similarly secure, contiguous, and impassable physical barrier".
It's unclear how Congress could attempt to finance construction, and Trump has claimed that Mexico would ultimately be forced to pay the bill. On Thursday, Mexico's president Enrique Peña Nieto canceled a scheduled visit to meet with Trump after repeatedly stating that his nation would not fund for a wall.
Trump would face numerous legal hurdles if he attempted to build a wall on Tohono O'odham land, which functions under law as an autonomous government.
"He is going to have a very serious and prolonged battle with the O'odham people," said Raul Grijalva, a Democratic congressman from Arizona. "They know what's at stake is their sovereignty."
The tribe, which did not respond to interview requests on Thursday, said in its statement it would oppose a "large scale fortified wall".
Indigenous activists vowed to aggressively fight the wall if it reaches tribal land in Arizona, and Moreno said people were already discussing strategies for "direct action".
Audra Antone, who lives in the state's Gila River Indian Community and whose family is O'odham, said if the government moved to start construction, large protests like Standing Rock could emerge.

As attitudes towards those fleeing persecution hardens, today is a good day to remember the Kindertransport – and Britain's humanitarian tradition
Holocaust Memorial Day is a time of great reflection for many of us across the country. Today I will think about the Jewish family members and friends I left behind in Prague when I was put on a train to London Liverpool Street at six years old; about the courage of men and women who helped children such as me escape on the Kindertransport just months before the Nazi occupation; and I will think about the millions killed because they couldn't flee.
It's comforting to think that the world has learned the lessons of history. The international Refugee Convention, forged in the aftermath of the second world war, aspired to a better standard, guaranteeing the basic right of sanctuary for people fleeing persecution and conflict. But this week showed us the fragility of that consensus. As Europe reflects on the catastrophic consequences of inaction, Donald Trump is busy banning refugees fleeing Syria, Iraq, Sudan and other Muslim countries. Men, women and children seeking escape from brutal conflict and persecution, denied sanctuary because they are Muslim. The parallels are frightening.
Eighteen years ago I was privileged to attend a ceremony in parliament to dedicate a small bronze plaque, donated by the committee of the Reunion of Kindertransport, in "deep gratitude" to the people of the United Kingdom for saving the lives of 10,000 Jewish and other children from Germany, Austria and Czechoslovakia fleeing Nazi persecution.
Today I shall stand with the chief rabbi and the archbishop of Canterbury for a ceremony led by the speaker of the House of Commons to rededicate that plaque. Joining us this year will be Sami, a young boy from Syria who fled his homeland to make the dangerous journey to Europe. He spent months alone in the Calais refugee camp before being supported by the charity Safe Passage to join family members in Britain.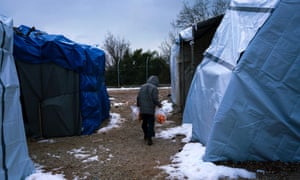 'In Greece, 25,000 children are still stuck in makeshift refugee camps in freezing temperatures.' Photograph: Angelos Tzortzinis/AFP/Getty Images
As attitudes among some in Europe and the US harden towards refugees, it is up to all of us to demonstrate that we do not turn our backs on children such as Sami. That we can continue the legacy set by previous generations when they offered sanctuary rather than walls to those fleeing conflict and persecution.
In the chaos of the Calais camp's demolition last year, 200 children were brought to safety in Britain under Section 67 of the Immigration Act – the law eventually passed with widespread public support after a powerful national campaign. This scheme was specifically intended for unaccompanied child refugees in Europe who have no family in Britain or elsewhere in Europe.
For nine years under Canada's previous government, science suffered harsh restrictions. Now US scientists may be facing a similar fate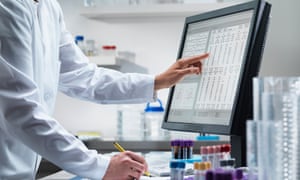 Canadian scientists were not allowed to talk to the media on certain topics during the premiership of Stephen Harper. Photograph: Alamy
Canadian scientists – who were muzzled for nearly a decade by the country's previous Conservative government – have been making contact with their counterparts in the US to offer their support and solidarity amid mounting fears that Donald Trump's presidency will seek to suppress climate science.
For nine years, scientists with Canada's federal government grappled with what many described as an all out assault on science.
Scientific libraries were closed, programmes suffered drastic cutbacks while federal scientists were banned from talking to media on topics that ranged from snowflakes to salmon and even a 13,000-year-old flood.
"It was a dramatic departure from past practices," said Robert MacDonald, who has worked as a federal government scientist for nearly 30 years.
In 2015, the Justin Trudeau-led Liberals swept to a majority government, buoyed in part by promises to reverse the draconian restrictions the previous government had imposed on its scientists.
MacDonald pointed to a 2013 survey of government scientists in which 24% said they had been directly asked to exclude or alter information for non-scientific reasons. "That's something you would expect to hear in the 1950s from eastern Europe, not something you expect to hear from a democracy like Canada in 2013," he said. "And I think, by all indication, that's what our sisters and brothers are going to be faced with down in the United States."
Recent days have seen the Trump administration reportedly consider scrubbing all mentions of climate change from the Environmental Protection Agency website, while the Associated Press reported that EPA scientists could be subject to a "temporary hold", pending review by political appointees.
The reports have sparked concern north of the border. "We're already reaching out to our counterparts in the US and in the international science community," said Debi Daviau, head of the Professional Institute of the Public Service of Canada, a union that represents more than 15,000 government scientists, engineers and researchers.
On Thursday, her organisation released a statement calling the actions of the Trump administration a "chilling reminder" of the years under Stephen Harper's premiership. "We therefore stand in solidarity with our colleagues and fellow government scientists in the United States … by once again declaring science should never be silenced, and by expressing our hope that the current restrictions on US government scientists will soon be lifted and do not signal a lasting change in US policy on science, similar to the one we fought so long to overturn in Canada."
In 2013, hundreds of people clad in white lab coats gathered on Parliament Hill in Ottawa for what became one of the most visible acts of resistance against the repression of Canadian government scientists. A mock funeral procession was held over the "death of scientific evidence", complete with eulogies that took aim at the years of escalating hostility from the Conservative government. Similar protests were held across the country.
Evidence for Democracy, the group behind the Canadian protests, has been in touch with the organisers of the March for Science in the US. The Americans pointed to the Canadian experience to explain why resistance has galvanised so quickly in the US, said Katie Gibbs of Evidence for Democracy. "They saw what happened under Harper and so they've seen where it leads and so they're not taking a wait-and-see approach, they're acting now."
Gibbs described the reports this week about the actions of Trump's team torwards climate science as shocking. "It absolutely echoes what we saw under George Bush in the States and what we saw under Harper, except it's so much swifter and more brazen than what we saw under Harper," she said. "But at the same time there's been a huge resistance coming out of the scientific community and that's been really heartening to see."
The Canadian experience offers myriad lessons for the US government scientists, said Kristi Miller-Saunders – who was one of Canada's first government scientists to be banned from speaking to the media over a paper exploring the 2009 collapse of the sockeye salmon population in British Columbia.
Chief among these lessons is the link between the treatment of scientists and the credibility of the science they create, said the molecular geneticist.
"If the government can suppress information coming out of a programme … that information is not in the public eye anymore," she said. "And when the information is not in the public eye, the public thinks they're really not doing much in that area, there really hasn't been any inroads made. And it's much easier for the government to then quietly cut the program."
Officers seen arriving at official residence of Israeli prime minister, who has accused his perceived enemies of 'an attempted coup'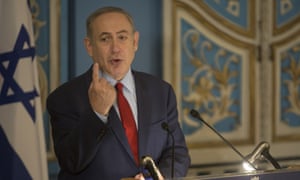 Netanyahu has denied wrongdoing, describing the investigation as 'a bad joke'. Photograph: Lior Mizrahi/Getty Images
Israeli detectives have interviewed Benjamin Netanyahu for a third time as part of a series of investigations into his conduct in office.
Amid reports in the Israeli media that police are close to deciding whether to indict the prime minister, in a post on Facebook he accused his perceived enemies in the media and politics "of an attempted coup by undemocratic means".
Israeli media showed images of officers from the Lahav 433 anti-corruption unit arriving at Netanyahu's official residence just before 10am on Friday.
His remarks on social media came a day after he used an appearance before the country's parliament to defend himself against the accusations. The sometimes overlapping investigations into Netanyahu and his circle – including his wife, Sara, and son Yair – have centred largely on two cases.
The first, known as Case 1000, is investigating gifts from businessmen. They include expensive cigars and pink champagne given over the years by Arnon Milchan, the wealthy producer behind the films Fight Club and Pretty Woman who also owns shares in the Israeli television company Channel 10
A second investigation, known as Case 2000, is focused on whether the Israeli prime minister behaved properly in negotiating changes to the country's media market, including offering to lower the circulation of a strongly pro-Netanyahu title in exchange for improved coverage in the daily Yedioth Ahronoth in conversations caught on tape.
Israeli media suggested the interview on Friday related to the second case, as part of which the publisher of Yedioth Ahronoth has been interviewed five times.
Netanyahu's troubles have fuelled increasingly intense speculation in political circles that his coalition may be coming to an end.
Speaking before a scheduled hour-long question and answer session in the Knesset, Netanyahu denied wrongdoing. "It is legal to receive gifts from friends. They're investigating me? They're accusing me? This is a bad joke," he said.
The film-maker who took on Scientology and the Catholic church has now set his sights on the controversial media mogul and Republican presidential advisor
Oscar-winning documentary-maker Alex Gibney is to target fallen former Fox News chairman and CEO Roger Ailes in his next film.
Gibney, who specialises in films about controversial subjects such as the Church of Scientology (Going Clear), WikiLeaks (We Steal Secrets) and clerical sex abuse (Mea Maxima Culpa), told the Hollywood Reporter he is working on a film about Ailes, but would not provide any details, saying: "As a matter of course, I don't talk about what I'm working on."
Ailes, who started out as a producer in local television before acting as a media adviser to a string of Republican presidents – Richard Nixon, Ronald Reagan and George HW Bush – became the founding CEO of Fox News in 1996. He resigned from the position in 2016 after Fox News anchors Gretchen Carlson and Megyn Kelly made sexual harassment allegations. It was subsequently reported that Ailes helped Donald Trump with his presidential campaign, but Trump's team issued a denial.


Nearly all of these are English-edition daily newspapers. These sites have interesting editorials and essays, and many have links to other good news sources. We try to limit this list to those sites which are regularly updated, reliable, with a high percentage of "up" time.
Some of the available newspapers:
| | | |
| --- | --- | --- |
| Asia & CIS | | |
| | | |
| --- | --- | --- |
| China | | |
| | | |
| --- | --- | --- |
| China & Hong Kong | | |
| | | |
| --- | --- | --- |
| France | | |
| | | |
| --- | --- | --- |
| Israel | | |
| | | |
| --- | --- | --- |
| Norway | | |
| | | |
| --- | --- | --- |
| Palestine | | |
| | | |
| --- | --- | --- |
| Russia | | |
| | | |
| --- | --- | --- |
| Ukraine | | |
.